One Injury That Could Derail Each MLB Contender's Season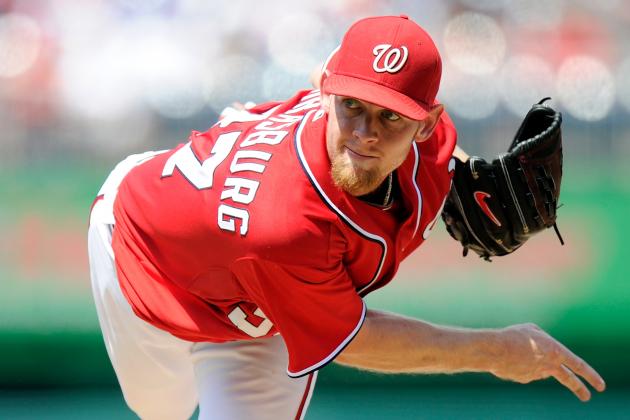 Greg Fiume/Getty Images

For football fans, the most devastating feeling one can have is to see your starting quarterback get injured early in the season and be out for the year.
Such was the case for New England Patriot fans when Tom Brady went down early in Week 1 of the 2008 season against the Kansas City Chiefs.
While the Patriots managed to still play strong throughout the year, they were unable to make the playoffs.
It can be a significant blow to the psyche of the fan. It can also hurt the momentum of a team.
The same can be said right around this time of the year for baseball fans. While injuries happen throughout the course of a season, August through October is the last possible time of the season you'd want to see the momentum of your team derailed.
With so many teams within a realistic grasp of the 2012 playoffs, truer words cannot be spoken.
The following teams certainly could not afford a major injury to their team as we head down the home stretch.
*For consideration a team needs to be within three games of a wild-card slot for the purpose of this article.
Begin Slideshow

»
Dustin Bradford/Getty Images

The Cincinnati Reds have been, well, red hot lately.
In their last 10 games they have posted an 8-2 record and own a .611 winning percentage on the season to date.
Their ace, Johnny Cueto, has been unstoppable this season. In his last five starts he has a 5-0 record in five starts with a 3.09 ERA and a 1.47 WHIP.
He has only given up 37 hits in his last 32.0 innings of service.
While you can easily make a case for Ryan Ludwick providing the team with offense in the absence of Joey Votto, Cueto has all but guaranteed a "W" on the board every time he takes the hill.
Heading into the playoffs, that is the type of pitcher you want fronting your rotation.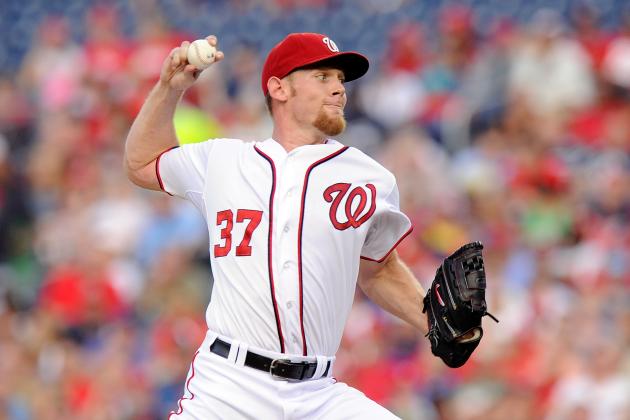 Greg Fiume/Getty Images

The Washington Nationals are a team that is heavily reliant on their excellent starting pitching.
Offensively they don't exactly tear the cover off of the ball.
That said, it is hard not to pick their ace, Stephen Strasburg, as the most essential piece to keep healthy.
The idea that Strasburg is on an innings limit should be concerning. The Nats certainly don't want to shut him down and have him lose his momentum.
He owns a 2.97 ERA with a 1.08 WHIP on the season and has proven to be dominant over the last 30 days as well, striking out 32 batters with a 3-1 record in his last five starts and 28.1 innings of work.
If Strasburg does get shut down at 160 to 190 innings, then this designation has to fall to Jordan Zimmerman, whom, over the last 30 days has been an animal.
Zim owns a 1.75 ERA in six starts with a 3-0 record and a 0.89 WHIP. He's arguably been the best pitcher on the Nats' staff lately.
Doug Pensinger/Getty Images

Despite having a pitching staff that has struggled as of late (the team is just 4-6 in their last 10 games) the San Francisco Giants have seen catcher Buster Posey turn into a monster before their very eyes.
True, pitching wins playoffs. That being said, the Giants have won this season despite a fluctuating pitching staff.
Posey, on the other hand, has been performing admirably.
In the past 30 days, he owns a .435/.490/.741/1.231 batting line with six home runs, 26 RBI and 11 runs scored in his past 22 games and 85 at-bats.
With Posey's statistics in mind, of those on the pitching staff, Ryan Vogelsong is arguably the most important cog in that wheel. He has been consistently solid all season for the Giants and if the playoffs started today, he would likely take the third slot in the rotation.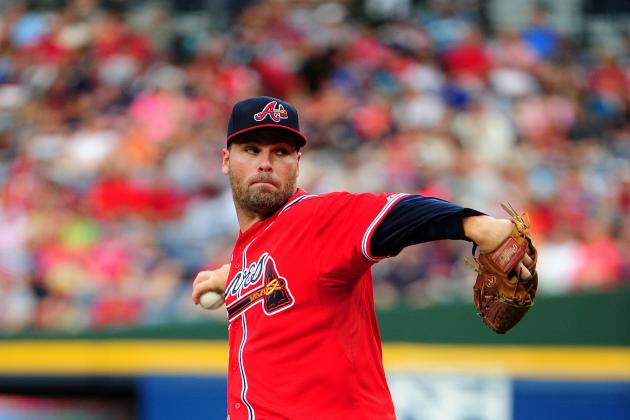 Scott Cunningham/Getty Images

If the Atlanta Braves want to go deep into the playoffs they will need Ben Sheets to keep up the pace he has been on as of late.
Over the last 30 days Sheets is 3-1 with a 1.46 ERA and a 1.22 WHIP in four starts and 24.2 innings of service.
He has been lights out for the Braves.
Sheets is second on the team only to Tommy Hanson over the last 30 days in strikeouts with 23 to Hanson's 27.
Honorable mention has to be given to Chipper Jones.
It is his swan song season and Chipper has been absolutely amazing for the Braves. He is batting .324 with 15 RBI over the last 30 days for the team.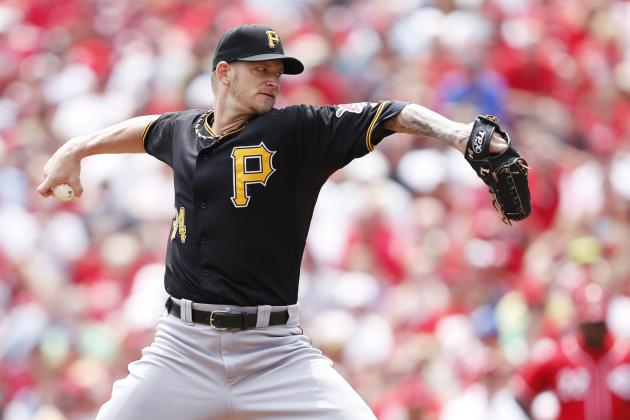 Joe Robbins/Getty Images

Who knew that when A.J. Burnett was traded to the Pittsburgh Pirates he would become this valuable to the team?
In the last 30 days he owns a 5-1 record with a 2.15 ERA and a 0.83 WHIP. The only pitcher with a lower WHIP in the past 30 days has been Felix Hernandez when comparing apples to apples.
Only Felix Hernandez has pitched comparable innings (46.0 for Burnett, 48.0 for Hernandez) and both have started six games.
Burnett has added 37 strikeouts leaving opposing batters bewildered, just hitting a paltry .180 off of him as of late.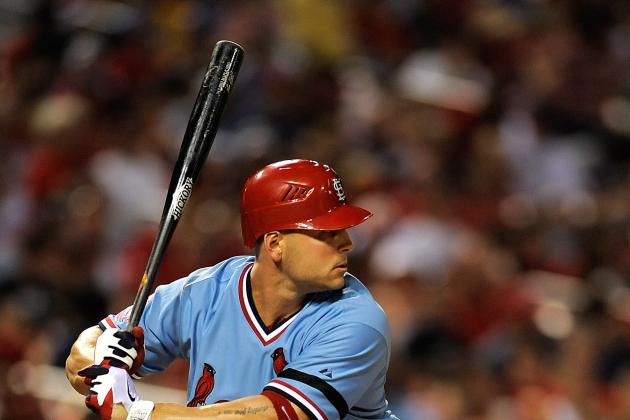 Jeff Curry/Getty Images

Since the All-Star break, the St. Louis Cardinals have seen Matt Holliday play amazing baseball.
In his 22 games played since the break, Holliday owns a .354 batting average, which is the best of any player on the Cards with 20 or more games played since the break.
He also leads the team in RBI with 20, adding seven home runs and six doubles in the mix.
That equates to 13 extra-base hits out of his 29 total hits post All-Star break.
Holliday is adding an impressive .442 OBP, .683 SLG and 1.125 OPS to his emergence.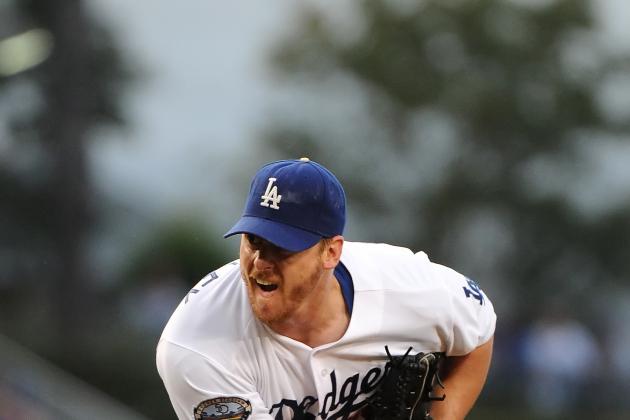 Lisa Blumenfeld/Getty Images

The Los Angeles Dodgers need to see Chad Billingsley continue to be like Clayton Kershaw.
At the trade deadline the Dodgers showed that they are all-in for the 2012 season. They've added offense as well as pitching and are ready for the playoffs.
One major hitch in those plans could come if Billingsley falls off of his winnings ways.
In the last 30 days he has led Dodgers starters with a 2.05 ERA and adding a rotation best 0.91 WHIP. He is 3-1 in his four starts striking out 18 while walking only three batters.
Kershaw shares the same 3-1 record in his last five starts.
Having an effective one-two punch like Kershaw and Billingsley is essential for the sustained success of the boys in blue.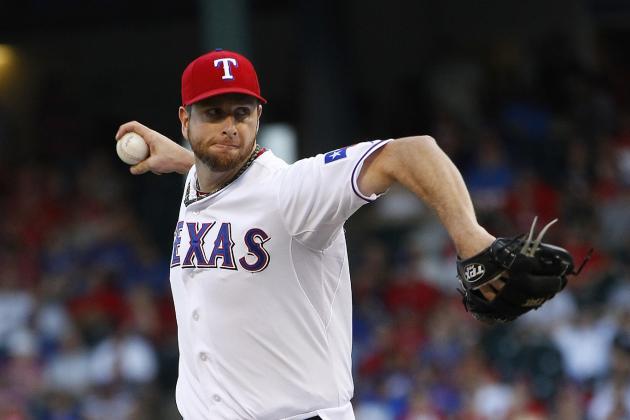 Rick Yeatts/Getty Images

The Texas Rangers are absolutely stacked. They have solid pitching and an explosive offense. Both are key ingredients to make it to the World Series.
The Rangers know—they've been there two years in a row.
What they haven't done is win it all either year. In order to do that, they need to remain consistent on the mound. Who has been the most consistent for the Rangers lately?
Scott Feldman, that's who.
In the last 30 days, Feldman has started three games, played in four and owns a 4-0 record with an American League best 1.09 ERA in that time span (second in all of baseball).
He hasn't been flashy, striking out just 14 batters, but he's been effective. The Rangers will need to lean on that consistency as the playoffs go on.
Rich Schultz/Getty Images

In what was expected to be an extremely deep position for the New York Yankees as the season began, the closer role has been depleted over the course of the season.
After Mariano Rivera went down, so did David Robertson. That left Rafael Soriano to take the reigns and shut the door on games for the Yanks.
His contributions cannot be overlooked.
In seven save opportunities over the last 30 days, Soriano has converted on six of them, posting a 2.61 ERA and a 0.97 WHIP.
While the pitching staff has been inconsistent, Soriano has been just the opposite. If the Yankees hope to go deep this season, a lot of pressure will fall on the shoulders of their veteran closer.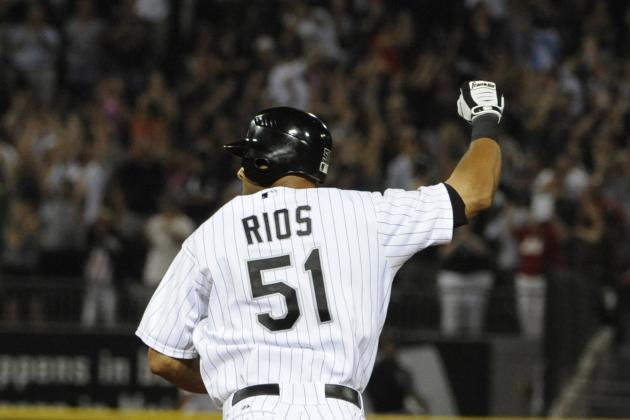 David Banks/Getty Images

Where has this Alex Rios been for the past few years?
The Chicago White Sox are seeing a rebirth of sorts for Rios. He has come into his own over the past 30 days and is tearing the cover off of the ball for the ChiSox.
Rios owns a .319/.347/.638/.985 batting line, adding 22 RBI in his last 94 at-bats.
That 22 RBI leads the team during that span. As does his 16 extra-base hits. Nine of which are doubles, seven of which being home runs.
Only Kevin Youkilis has homered as many times for the White Sox in that span.
Rios has become the most important offense piece of the puzzle for Chicago as they move towards the fall.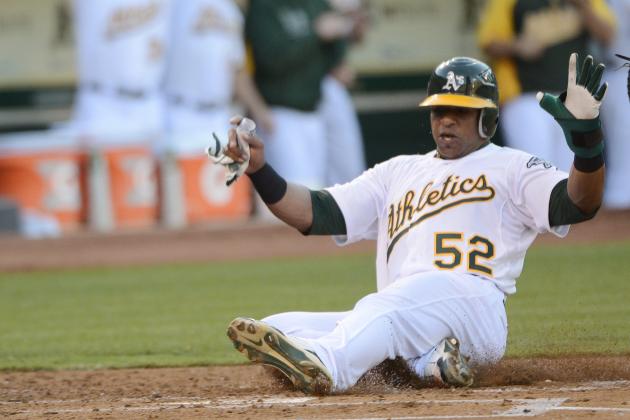 Thearon W. Henderson/Getty Images

Over the past 30 days only Buster Posey has a better batting average than the Oakland A's rookie sensation Yoenis Cespedes.
Cespedes is batting .398 with a .454 OBP, .626 SLG and a 1.090 OPS.
While the A's pitching staff has been incredible this season, what little offense the team gets has come in large part to Cespedes.
Since the All-Star break he has driven in 18 RBI while scoring 17 runs of his own.
All things considered those are impressive numbers for a player on a team that ranks 24th in all of baseball with their 410 total RBI on the season.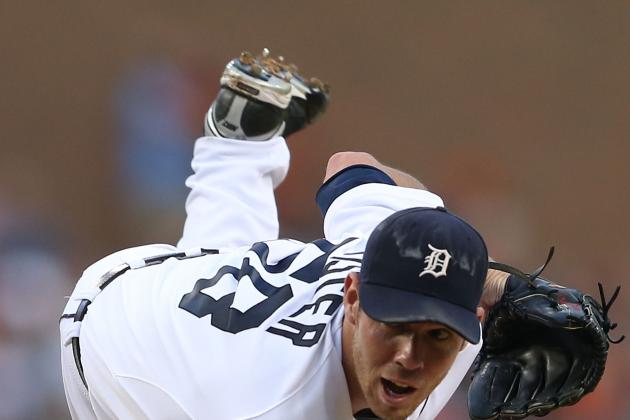 Leon Halip/Getty Images

The Detroit Tigers need Doug Fister to be as amazing as he has been over the last 30 days for the next two months, period.
Fister has led the Tigers in wins, with a 5-1 record in his last six starts.
In that same time he has only posted a 2.20 ERA which is lower than ace Justin Verlander and the rest of the starting staff.
He also has posted a minuscule 0.91 WHIP while striking out 39 batters in his 45.0 innings of service.
The Tigers have the offense, what they need is their pitching to be top notch heading into the playoffs if they want to be able to compete with some of the other amazing staffs they'll be facing.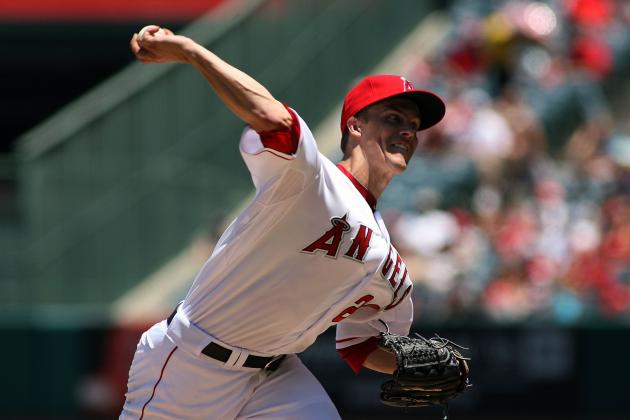 Jeff Golden/Getty Images

When you have a rotation that already has Jered Weaver, C.J. Wilson and Dan Haren, what do you do?
You add Zack Greinke and go all-in.
The Angels easily have (on paper) the best pitching staff in baseball. The problem is that they've been terribly inconsistent this season.
By bringing in Zack Greinke, the Halos are looking to make a major splash come playoff time. Unlike most teams that will be running a three-man rotation, the Angels can run with four, or, move C.J. Wilson back to the bullpen to make room for Greinke.
Either way, Greinke needs to be the ace he can be and help to settle down this rotation.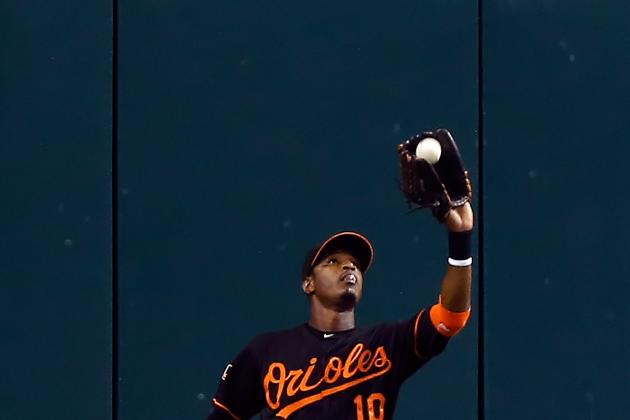 J. Meric/Getty Images

Even though he's been cooled off slightly over the past 30 days, Adam Jones is the lifeblood of the Baltimore Orioles.
Without him, the O's are not a playoff team.
With him, they have tremendous potential.
Players like Nick Markakis have seen a resurgence this season playing alongside Jones.
Though he's only managed a .278 average, he does still lead the Orioles in extra base hits over the last 30 days with 11 coming in the form of six doubles, one triple and four home runs.
Pitching wins you championships, but offense certainly helps to get you to the show.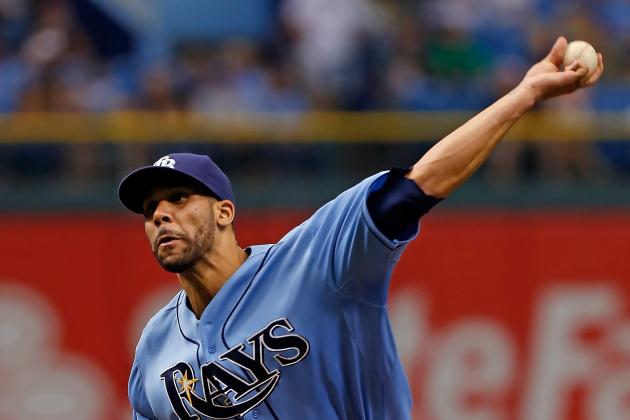 J. Meric/Getty Images

The Tampa Bay Rays have always been known for their pitching prowess.
This season is absolutely no different.
While their ace, James Shields (1-2, 4.67 ERA, 1.33 WHIP) has been faltering as of late, number two man on the rotation, David Price, has been picking up the slack.
In the past 30 days, Price owns a 3-0 record in his five starts.
He is adding a fantastic 1.49 ERA and 0.91 WHIP during that same time. In his 36.1 innings of work, Price has struck out 41 while allowing opposing batters to hit just .175 off of him.
If Shields can't turn things around, the success of the Rays will fall squarely on Price continuing his stellar pitching.