Olympic Gymnastics 2012 Individual Event Results: Sunday's Scores and Highlights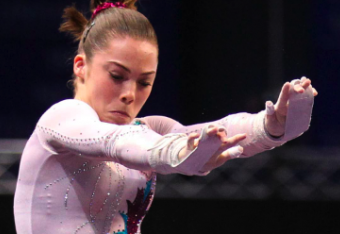 The first day of gymnastics individual event finals proved to be exciting as there were major upsets on vault and pommel horse.
Both America's McKayla Maroney and Britain's Louis Smith received silver medals.
Look back at the live updates from the men's floor exercise, women's vault and pommel horse finals.
That's all for today. We will be back with more event finals tomorrow.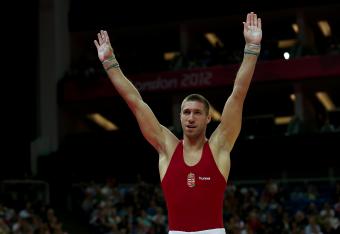 Sorry for the delayed update. We had another upset as Hungary's Krisztian Berki won the pommel horse gold because of ANOTHER tiebreaker.
Gymnastics tiebreaker count is at three.
The execution score is the tiebreaker in event finals. Smith had a 7 for difficulty and 9.066 for execution. Berki had a 6.9 for difficulty and 9.166 for execution.
Whitlock won the bronze and that's two medals for Britain on the pommel horse.
Louis Smith scored a 15.966 in the team finals. This is going to be beyond close.
Hungary's Berki scored a 16.066 on pommel horse. His legs were literally locked together. Wow, that is going to be tough for Louis Smith to beat.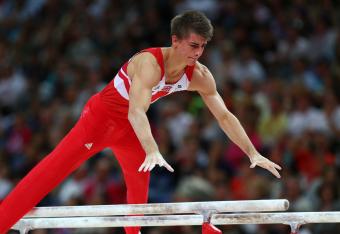 Brit Max Whitlock nails his pommel horse routine. Could he get a medal? How crazy would it be if TWO Brit's won pommel horse medals?
Britain gymnastics has come so far.
First fall of the day was Hungarian Hidvegi. Always heart breaking to see them fall.
Italian veteran Alberto Busnari gets 15.400. His routine is not as difficult as Smith's. Cyril Tommasone scored a 15.141 which is also beatable. But anything can happen as proven in the vault final, and every day of gymnastics finals.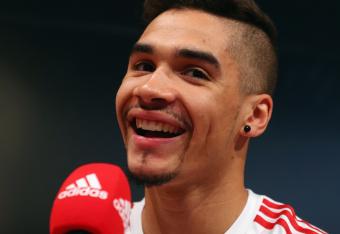 I don't know how anyone who won't root for Louis Smith today. He has such a heartwarming story and he cried after nailing his pommel horse routine during the prelims. Everybody wants him to do well. But will it be another Maroney style upset?
Picks
Gold: Louis Smith
Silver: Vitalii Nakonechnyi
Bronze: David Belyavski
Underdog: Vid Hidvegi
Routine to watch: Louis Smith
Sorry for the slight delay, I had a brief internet issue.
Now we're onto men's pommel horse, the last event of the day. There are no American contenders in this event.
Lineup:
Cyril Tommasone, France
Alberto Busnari, Italy
Vid Hidvegi, Hungary
Max Whitlock, Great Britain
Krisztian Berki, Hungary
Vitalii Nakonechnyi, Ukraine
David Belyavski, Russia
Louis Smith, Great Britain
Here's some reaction Tweets:
Maroney misses Olympic gold by just over one tenth of a point...

— Alexa Ainsworth (@AAinsworthNBC) August 5, 2012
still kind of in shock… Maroney is such a dynamic vaulter and defintiely the most beautiful in the world on this event, so tough to see...

— Inside Gymnastics (@InsideGym) August 5, 2012
The sure thing, McKayla Maroney on vault, clearly best in the world, finishes 2nd. Like Raisman's stumbles on beam in AA hard to believe.

— Kelly Whiteside (@WhitesideUSAT) August 5, 2012
Stunned! Women's vault finals, huge turn of events. Heart goes out to @mckaylamaroney#olympics #yahoosports

— Shannon Miller (@shannonmiller96) August 5, 2012
As the girl herself said last week, "that's gymnastics and sometimes it sucks." #2-timemedalist

— Will Graves (@WillGravesAP) August 5, 2012
Here are the results:
Gold: Izabasa
Silver: Maroney
Bronze: Paseka
The Twitterverse is saying that Maroney is simply stunned. She is probably just upset with herself, poor girl.
For all this American success there have also been a lot of American women's gymnastics upsets.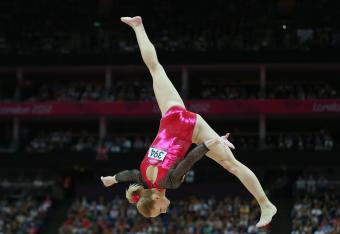 And the major upset happened. Who would have thought? Sandra Izbasa scored a 15.191 to become the Olympic vault champion. Absolute craziness.
The one event where I thought an upset was impossible.
OMG this really happened, McKayla Maroney sat on her vault. Drama is coming. She is still in the lead with a 15.083. Will Izbasa snatch the gold from her?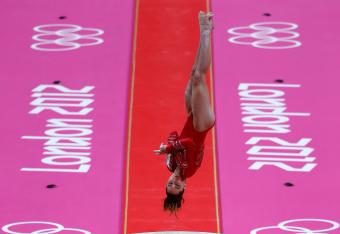 Maroney just did her Amanar. It wasn't as good as team finals but still great of course.
She scored a 15.866 for the first vault.
Finally someone attempts an Amanar that's not an American. It's about time!
Romania's Maria Paseka did it. She stepped on her landing and still scored a 15.4.
Chuosvitina scored a 15.1 on her first vault and then drilled her second vault with a 14.466. She has a 14.783 average which puts her in second place behind Berger. I hope she medals that would be such a great accomplishment. Three vaulters left.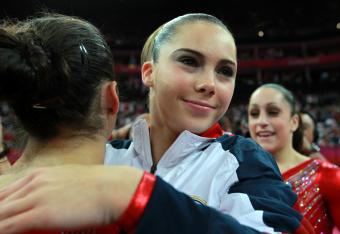 Solid vaults in the beginning but I feel like this is all just build up for Maroney. I wonder how she feels. Is there more pressure than usual right now?
Gabby Douglas on McKayla Maroney's vault: "That thing is a beast. How she gets so high, I'm just so amazed." Strong fave for gold

— Kelly Whiteside (@WhitesideUSAT) August 5, 2012
They are introducing all the gymnasts now. Maroney is wearing a very sparkly white leotard. Classy
Do you have any idea how McKayla Maroney does her vault or what she actually does?
Here's a slow motion video of Maroney's unbelievable vault, from team finals. A lot of people think she was robbed because she wasn't given a perfect score. What do you think.
Also here's a cool article breaking down her vault which helps you understand everything better.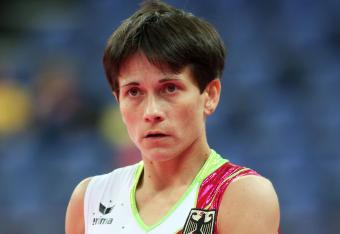 Fun fact for the vault final thanks to Chris Korotky from Inside Gymnastics: If 37-year old Oksana Chusovitina wins a vault medal today, then she'll be the oldest female individual event Olympic medalist in artistic gymnastics history.
Now it's the medal ceremony for the floor exercise. I love medal ceremonies. They just never get old. Zou Kai's gold helps China's medal count.... I wonder who is going to get more golds when it's all said and done, Team USA or China?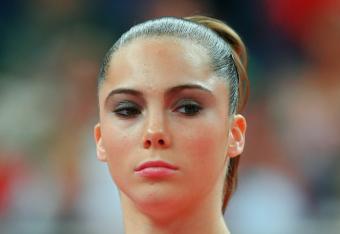 I don't even need picks for vault. It's Maroney, Maroney or Maroney. Can she win all three medals? Haha.
If she hits her vault, she is good to go. If she doesn't the other gymnasts will be swarming around like vultures to pick up the pieces but it doesn't matter, Maroney is going to hit.
This article is
What is the duplicate article?
Why is this article offensive?
Where is this article plagiarized from?
Why is this article poorly edited?