Olympic Track & Field Results 2012: Sunday Updates, Medal Winners & Analysis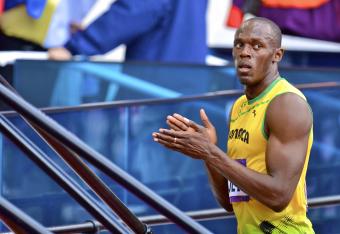 The stars came out tonight in London -- Usain Bolt, Sanya Richards-Ross and flying hammers. Here's how it unfolded:
And it's all over tonight. Usain Bolt has delivered once again, with an Olympic record in the 100. Sanya Richards-Ross finally has her gold in the women's 400.
Two Americans took bronze -- Justin Gatlin in the 100, DeeDee Trotter in the 400.
The hammer throw finished as we left it in the last update: Hungary's Krisztian Pars takes gold. Also in the field, Kazakhstan's Olga Rypakova took the triple jump gold.
Kenya's Ezekiel Kemboi won the ever-eventful steeplechase.
All three American men advanced in the high jump, but none advanced in the men's 400, where the USA once dominated.
And Oscar Pistorius failed to advance to the men's 400 final but succeeded in every other respect.
Some reaction:
Bolt can run way faster than me, but I guarantee you one thing: I can type way faster than him!

— Dan Rafael (@danrafaelespn) August 5, 2012
Well, that was certainly worth Aaron Ross missing some Jaguars training camp for. Incredible run by Sanya.

— Maggie Hendricks (@maggiehendricks) August 5, 2012
Besides Bolt winning gold, Justin Gatlin's 3rd (9.79) was the same time that Ben Johnson ran in 1988 is.gd/fTEjho (stripped of gold)

— Jason McIntyre (@TheBigLead) August 5, 2012
Usain Bolt: the only Olympic champion so iconic that other champion athletes strike the same pose, trying to be like him.

— GQ Recommends (@GQRecommends) August 5, 2012
Can anything top that? Track and field is just getting started.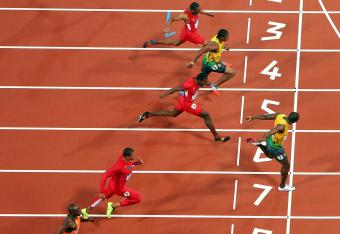 While Usain Bolt jogs around in celebration with countryman Yohan Blake (silver) and the USA's Justin Gatlin (bronze), the men's hammer throw is still going.
Perhaps that spoils the drama a bit, but we apparently had a long delay caused by an errant hammer. Eek.
But no one has improved on his fourth or fifth throws. With one to go, it's Hungary's Krisztian Pars, Slovenia's Primoz Kozmus and Japan's Koji Murofushi, the 2004 Olympic champion.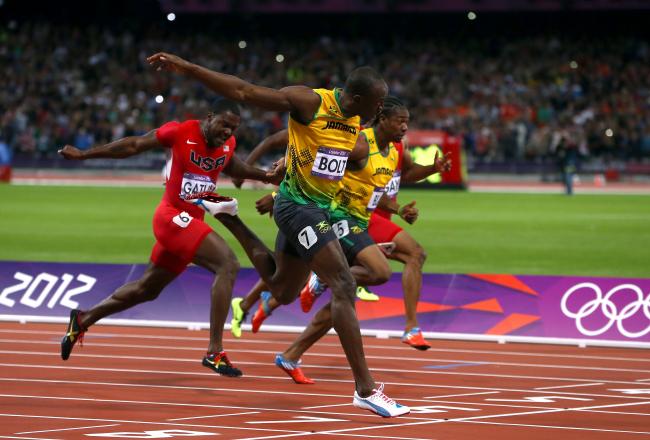 Any questions? Maybe Usain Bolt looked vulnerable in the Jamaican trials. Not here. It wasn't a runaway -- Bolt's 9.63 edged Yohan Blake's 9.75. But there was still daylight between the two Jamaican runners.
Blake just edged Justin Gatlin and Tyson Gay to take silver. Gay is the unlucky man in fourth, 0.01 seconds behind.
Asafa Powell basically stopped running, finishing in 11.99 seconds. Everyone else in the field broke 10 seconds.
USAIN BOLT HAS WON THE MEN'S 100-METER DASH in an Olympic-record time of 9.63 seconds.
Silver goes to Yohan Blake, tying his personal best at 9.75. Then Justin Gatlin in a personal-best 9.79.
Tyson Gay got out fast and finished fourth in 9.80. Ryan Bailey made it an American 3-4-5 with a 9.88, tying his personal best.
That is a fast, fast race, and Bolt had no time for celebration before the finish, leaning across the line at the finish.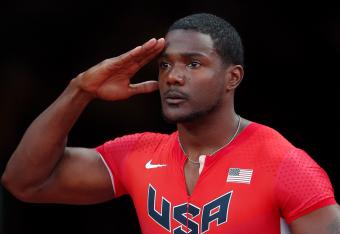 The men's 100-meter field is being introduced. The next update will be either a result, a disqualification or a meteor strike.
Let's set the field for the men's 100:
Lane 2: Richard Thompson, Trinidad and Tobago. Always in the "fast but not Bolt-fast" category
Lane 3: Asafa Powell, Jamaica. Overshadowed by Bolt and now by Blake but always a contender.
Lane 4: Tyson Gay, USA. Billed as Bolt's biggest challenger in the past. Has a personal best of 9.69, equal to the Olympic record, and is getting back to top form.
Lane 5: Yohan Blake, Jamaica. Beat Bolt in 100 and 200 at Jamaican trials. World champion in 100 after Bolt false-started.
Lane 6: Justin Gatlin, USA. Olympic champion in 2004, then served a doping suspension.
Lane 7: Usain Bolt, Jamaica. World record of 9.58.
Lane 8: Ryan Bailey, USA. Surprise of qualifying rounds.
Lane 9: Churandy Martina, Netherlands. Often a finalist but probably happy to be here.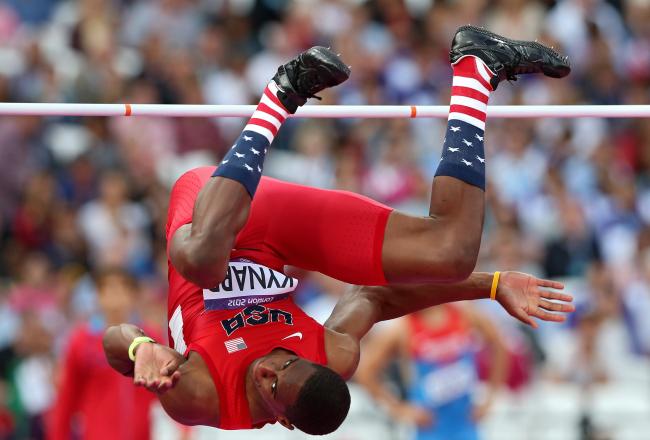 Our countdown for the Bolt-Blake-Gatlin-Gay showdown in the men's 100 is at 10 minutes.
We've had no change in the hammer throw standings through their fourth attempt out of six.
And the high jump qualification is over, with all three Americans (Jesse Williams, Erik Kynard and Jamie Nieto) advancing to the final. Six jumpers, including Williams and Kynard, cleared 2.29 meters. Nieto missed at that height but had no misses before that.
Fifteen minutes until the men's 100 final, and Ezekiel Kemboi has tried to do a Bolt-style victory dance after winning the 3,000-meter steeplechase. The world champion from Kenya stayed out of trouble and was so far ahead at the end that he drifted out to finish in lane 8, close to the fans.
That might account for the relatively slow time -- 8:18.56, not close to the Olympic record of 8:05.51 or the sub-8 world record.
France's Mahiedine Mekhissi-Benabbad finished second. Another Kenyan, Abel Mutai, took bronze. Americans Evan Jager and Donald Cabral were sixth and eighth.
The USA's Donald Cabral took the steeplechase lead through several laps. But then the Kenyans came up.
We have an opening, though - defending champion Brimin Kipruto stumbled. He's back up but has work to do.
Last lap ...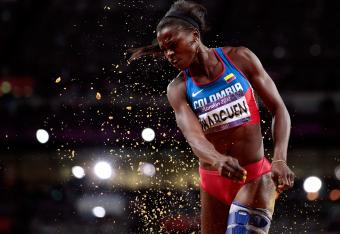 And in the hammer, Kibwe Johnson fouled on his last throw and finished ninth, one spot out of the final eight. The top eight get three more throws, but don't expect anyone to beat Hungary's Krisztian Pars, who broke 80 meters. The next two, Slovenia's Primoz Kozmus and Japan's Koji Murofushi, have already set seasonal bests.
The commentators have hyped American Evan Jager in the steeplechase, citing his North American record despite his inexperience in the event. But the steeplechase isn't a strong event on this continent. Kenya usually dominates.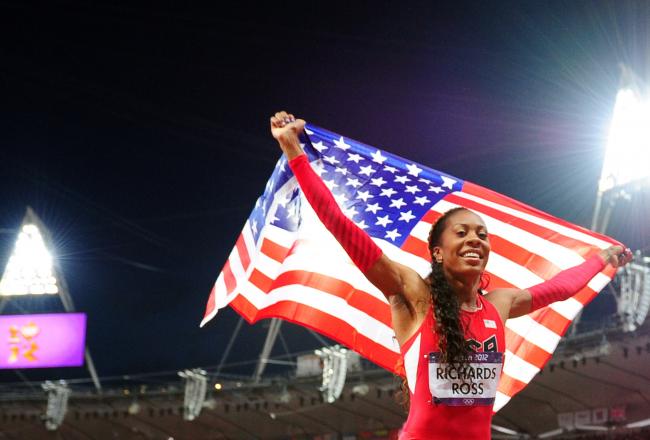 We're less than 30 minutes away from the 100-meter showdown. A quick look around the stadium in the meantime:
- Next up on the track: The men's 3,000-meter steeplechase.
- Men's high jump qualifiers: Erik Kynard and Jesse Williams cleared 2.29 meters (7'6'') on the second attempt. But Jamie Nieto did not. He'll need to see how many others clear that height. In his favor: He hadn't missed any jumps before then.
The congratulations roll in for Sanya Richards-Ross.
Yessir! congrats to my girl Sanya Richards-Ross on the Gold!!

— Kevin Durant (@KDTrey5) August 5, 2012
In Beijing, Richards-Ross faded to a bronze medal. Not this time.
After Richards-Ross's 49.55, the next three were close. Christine Ohuruogu finished in 49.70, just slower than her 49.62 that won the title in Beijing. Then DeeDee Trotter in 49.72 and Amantle Montsho in 49.75.
Sanya Richards-Ross has won the women's 400 meters. Defending champion Christine Ohuruogu (Britain) took silver; American DeeDee Trotter took bronze just ahead of world champion Amantle Montsho of Botswana.
Richards-Ross quickly caught Montsho in the lane next to her. But Russia's Antonina Krivoshapka, running in the lane inside Richards-Ross, came up alongside both of them.
Krivoshapka faded, and Richards-Ross took a slight lead over Ohuruogu and the surging Trotter. She seemed uncomfortable down the stretch but held on.
The time of 49.55 was well off Richards-Ross's best time of 48.70, but it's enough for a long-awaited and long-deserved gold medal.
.
Setting the stage for the women's 400 final: Lane 1 is empty. Americans are in 4 (DeeDee Trotter), 6 (Sanya Richards-Ross) and 9 (Francena McCorory). Defending champion Christine Ohuruogu of Britain is in 8. World champion Amantle Montsho of Botswana is in 7.
They're off.
Quick field events check before we see Sanya Richards-Ross in the women's 400:
- Hammer throw final: Kibwe Johnson needs a bit more distance on his third throw to make the final eight. Hungary's ultra-strong Krisztian Pars is the leader.
- High jump qualification: Fifteen men are over 2.26 meters, including all three Americans.
Thrilling finish in the women's triple jump ... for silver, anyway. Ukraine's Olga Saladuha leaped 14.79 meters to move into second place ahead of Colombia's Caterine Ibarguen.
So the heavily bandaged Ibarguen, on her final attempt, jumped 14.80.
It's gold for Kazakhstan's Olga Rypakova, then silver for Ibarguen and bronze for Saladuha. And Cuban-Briton Yamile Aldama placed fifth.
On the track in five minutes or so: Sanya Richards-Ross in the women's 400 meters.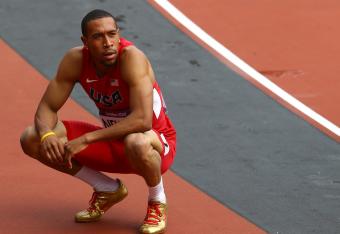 American Bryshon Nellum was told he might never run again after he was shot in 2008. He just ran and just missed the final in the men's 400 meters. He finished in 45.02. He needed 44.99 to make the final.
The 400-meter final, astonishingly, will have no Americans. Far cry from the days of Michael Johnson and Jeremy Wariner.
Both of Belgium's Borlee brothers are in the final. World champion Kirani James is the man to beat.
More details on Oscar Pistorius in the second semi:
Pistorius finishes last in his heat at 46.54. Rough heat for him. More than a second slower than his semifinal qualifying time.

— Charles Robinson (@CharlesRobinson) August 5, 2012
The third-place finisher in this third semi will need to break 45 seconds to advance. Just too fast for Pistorius here, but he'll always be an Olympian.
Oscar Pistorius is out of the Olympics. He had the slowest reaction time and never caught up with the top four, eventually finishing last.
World champion Kirani James (Grenada) won the semi in 44.59.
American Tony McQuay finished in 45.31, fourth place and not fast enough to make the final.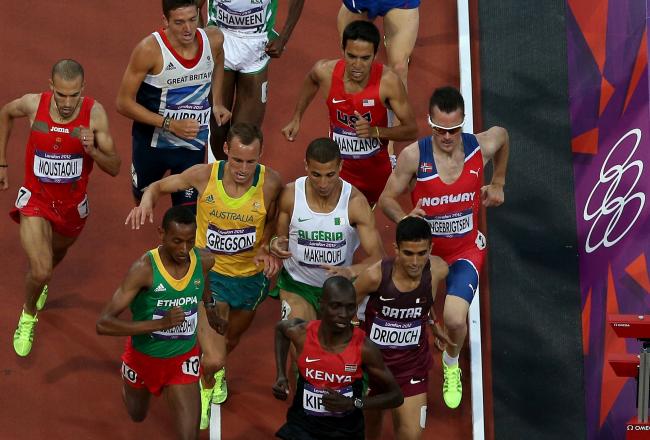 Now it really is Oscar Pistorius time. His personal best is 45.07, which would've placed in fourth in the first semi. Trinidad and Tobago's Lalonde Gordon won that in 44.58, then the Bahamas' Demetrius Pinder. Australia's Steven Solomon, at 44.97, might go through as one of the fastest times.
But if you want to catch the Blade Runner in action, do it now. We mean NOW. In all probability, this is as far as he's going in the Olympics.
Oscar Pistorius will be in second of three 400-meter semifinals. The first heat is relatively anonymous.
First two in each semi qualify, then the next two fastest times. Might take the race of the Blade Runner's life to make the final.
American Tony McQuay also is in the second semi. Bryshon Nellum is in the third. Defending champion LaShawn Merritt pulled up with a hamstring problem in the first round.
I am going to listen to Jaco Pastorius while watching Oscar Pistorius. #Meta #2PeopleWillEnjoyThisTweet. @realjeffcesario & @frankconniff

— Lizz Winstead (@lizzwinstead) August 5, 2012
Oh, we like it too, Lizz.
Two Americans will be in the men's 1,500-meter final. Matthew Centrowitz finished fifth in the second semifinal to clinch his berth. Leo Manzano is already through.
And the second semi did indeed go much faster than the first. Want to qualify by time rather than finishing in top five? Run in that race.
Little less than 10 minutes until the next race on the track, the men's 400-meter semifinals, with Oscar Pistorius.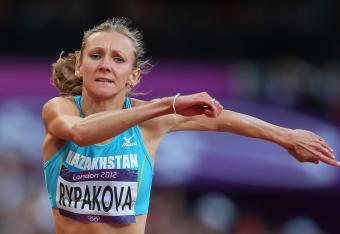 Russia's Tatyana Lebedeva, who has tons of medals in the long jump and triple jump from Olympics past, is out. Didn't make top eight.
Colombia favorite Caterine Ibarguen has leaped into second behind Kazakhstan's Olga Rypakova. And Cuban-Briton Yamile Aldama is still in the mix in sixth.
Now we'll have three field events to follow -- the men's hammer throwers have just been introduced.
Meanwhile, in the high jump, all three Americans are over 2.26 meters. And the second semi of the 1,500 meters has started ... safe bet would be that it goes a bit faster than the first so they'll get some more qualifiers through.
Our stumbler, Algeria's Taoufik Makhloufi, sprinted away and won the heat with ease. So again, we'll see if he's penalized for his wayward step.
We had a fall elsewhere in the pack, taking out Qatar's Hamza Driouch. But we can tell you the USA's Leo Manzano has qualified.
USA's Leo Manzano showed guts, heart to qualify fourth in that 1500 semi. Q is if that race took it out of him. He'd been boxed in.

— Alan Abrahamson (@alanabrahamson) August 5, 2012
Heat 2 coming up ...
This article is
What is the duplicate article?
Why is this article offensive?
Where is this article plagiarized from?
Why is this article poorly edited?