Misty May-Treanor & Kerri Walsh 2012 Olympics: Quarterfinal Results, Highlights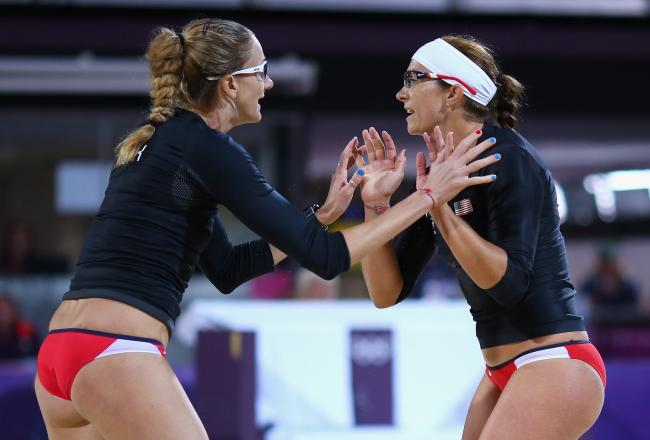 Ryan Pierse/Getty Images
And then there were eight...

Two-time defending gold medalists Misty May-Treanor and Kerri Walsh breezed into the quarterfinals with a win on Saturday that took just 30 minutes. Now is the seventh-seeded Italian team of Greta Cicolari and Marta Menegatti.
Well, May-Treanor and Walsh maintained their killer instincts and made sure they averted a similar fate.

The dynamic and dominant duo did just that as well. Taking both sets 21-13, the Americans move on to the semifinals.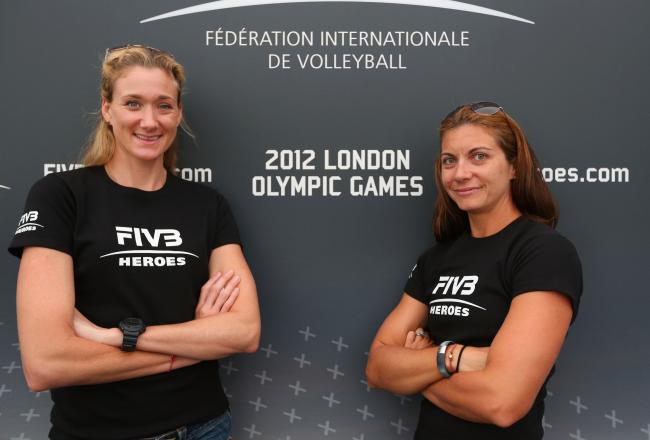 After winning both sets 21-13, Kerri Walsh and Misty-May Treanor are headed to the semifinals against Xue Chen and Zhang Xi of China.
The Americans simply controlled the tempo against Marta Menegatti and Greta Cicolari of Italy.
In a match that took just 33 minuted to complete, the U.S. had more successful blocks (two), attacks (33) and digs (19). Whereas the Italians had no successful blocks, only 22 attacks and 14 digs.
Walsh and May-Treanor are just on another level when it comes to simply keeping the ball alive. Doing so, significantly increases their odds of scoring, rallying and demoralizing the opponent into mental fatigue.
The semifinal round is slated to take place on Tuesday, August 7 with the time TBD. Can Kerri Walsh and Misty May-Treanor win thrice gold medals?
Keep checking back to b/r for full coverage of women's Olympic beach volleyball.
And the Americans close out in dominating fashion where Walsh lands a spike down the right side to win the second set 21-13.
Italians staying alive like that one song from the 1970s... Or whenever it was.
20-13 U.S.
Game point.
U.S. leads 20-11 after taking a long volley that involved multiple dug spikes and impressive set ups.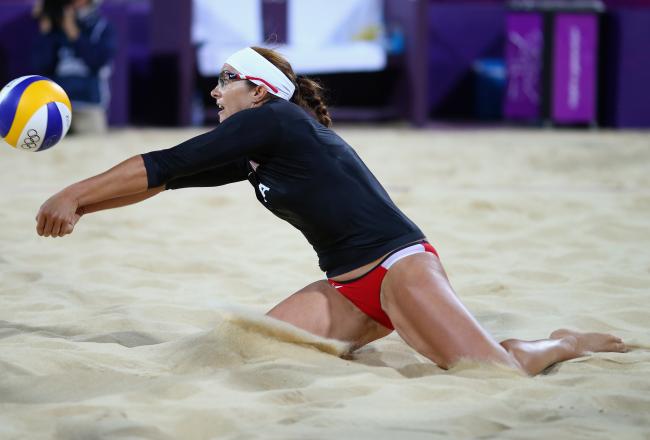 Nothing but sheer will coming from Walsh and May-Treanor.
Two straight digs to keep the ball alive and then a floater over Menegatti and Cicolari toward the back line that lands in.
This point seems to have knocked the wind out of the Italians as the U.S. leads 18-10.
Set 2 going eerily similar to set 1.
May-Treanor and Walsh up 13-8 after a quick break and continue to win the longer volleys.
Crowd seems to be favoring the Americans. Seems like May-Treanor and Walsh get a more exciting cheer when they score.
Then again, they are the two-time defending gold-medalists and are looking for a hat trick.
May-Treanor just won that point.
After her spike got blocked she immediately put it back up in play for Walsh to finish on the side. The score extends their lead 7-3 after 10 points.
Through seven points in set 2 the Americans lead 5-2.
Starting strong is just as important as closing out.
Perhaps the next volume of Jock Jams is in the works, because there's a lot more '90s house music going on in the background than expected.
And I'm okay with it.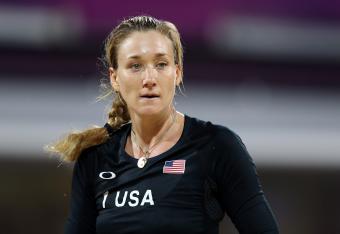 Walsh and May-Treanor displaying the power aspect of their game as well.
Menegatti and Cicolari have been able to come up with some impressive digs, but not consistently enough to stay in set 1.
Unsurprisingly, the Americans take the first 21-13 after a tough volley where Walsh touched nicely into the back corner.
The Americans are beginning to quickly pull away 17-11, but the Italians are a tough outing.
After a few finesse and placement scores, Walsh and May-Treanor are closing in on taking the first set.
Walsh and Treanor up 11-6 through 16 points in set 1.
This article is
What is the duplicate article?
Why is this article offensive?
Where is this article plagiarized from?
Why is this article poorly edited?