Which NFL Players Would Make the Best GM's?
Ron Chenoy-US PRESSWIRE
An NFL general manager needs to have a proper understanding of the game of football on many levels, and there are a few current players that could do a great job of managing a team. These players must know the game on a global level, and not just from the position they play.
NFL general managers must have the ability to evaluate talent and the patience to allow that talent to develop. They need to be able to look at the strengths and weaknesses on their current roster and bring players in that can immediately offer help. They also need to see the long-term to ensure that their teams will not be lacking down the road.
It should come as no surprise that the players that qualify for this job need to be extremely smart. A few of the dominant quarterbacks playing the game right now could make the list. The players that make the list have to be confident in what they see, and they need to be able to work well with their coaches and scouting staff.
Here are a few current NFL players that could step in and become general managers after they retire from playing football.
Matt Birk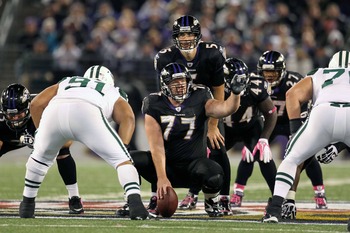 Mitch Stringer-US PRESSWIRE
Baltimore Ravens center Matt Birk is an extremely smart football player, and a player that could certainly transition from playing football to becoming a general manager. Birk played college football at Harvard and was drafted by the Minnesota Vikings in the sixth round of the 1998 NFL draft.
Birk has been a fantastic NFL player. He is a six-time Pro-Bowler and a two-time All-Pro. Birk also won the Minnesota Vikings Man of the Year award six times. In 2006, he won the Ed Block Courage Award and in 2011 he won the Walter Payton Man of the Year Award. Birk clearly excels on the field, but his off the field accomplishments are truly remarkable.
The center position is one that requires an immense amount of knowledge. A center needs to call out the assignments for the entire offensive line, and to do that he must have a tremendous understanding of the offense. He also needs to know what the defense is doing, and he needs to be able to adjust on the fly.
Birk has all of the qualities that a team would look for from a general manager. He has played in the NFL for an extraordinarily long time, as 2012 marks his 15th NFL season. He has played for multiple teams and he has played in many different offenses.
He also has faced many different opponents, and the position calls for him to have an understanding of defenses. Birk is the perfect candidate to build a team from the trenches, and his ability to be an excellent teammate tells us that he would build a very good staff and allow them to do their jobs.
Birk has a complete understanding of the game, is an exceptionally intelligent man and is the perfect player to move from the field to the front office.
Peyton Manning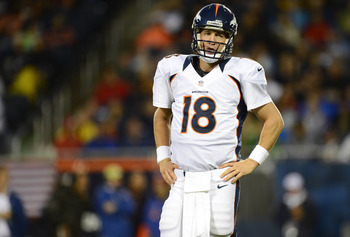 Mike DiNovo-US PRESSWIRE
Denver Broncos quarterback Peyton Manning just might be the most intelligent player in the NFL today. He has dissected defenses throughout his entire 15-year career. Manning has virtually been his own offensive coordinator for years, as he checks out of plays all the time.
Manning does more reading of the defense at the line of scrimmage than any quarterback in history. He has become a master of using the audible to call his own plays and he manipulates defenses with his pre-snap routine.
Jim Corbett of usatoday.com wrote an article in 2006 discussing Manning's pre-snap routine. Players and coaches marvel at Manning's ability to direct a team while calling plays at the line of scrimmage.
"His brain really works fast," offensive line coach Howard Mudd marvels. "I think of a guy who's dead serious about being a master craftsman about his work at all times. It isn't just about throwing touchdown passes. It's about the amount of victories. And we're not finished. He doesn't let anybody on this team forget that."
Manning is highly versed in the offensive part of the game, but his ability to read defenses speaks volumes about his understanding of what defenses are attempting to do and the attributes that defensive players need to play in the NFL.
Manning is an extremely passionate football player, and he is incredibly competitive. He knows what he is looking for, and this skill would help him as a talent evaluator. Manning is also an excellent teammate, and his understanding of the team concept would help him to build a talented team around him.
It should surprise no one if Manning were to build an exceptional team as a general manager in the NFL.
London Fletcher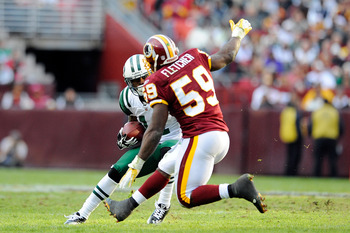 Patrick McDermott/Getty Images
Washington Redskins linebacker London Fletcher was told that he was too small to play middle linebacker in the NFL. Fletcher is another player on this list entering his 15th season in the NFL.
He has had an astounding career by using superior intelligence to locate the football and make tackles, and he has buried the idea that he is too small.
As an undrafted free agent, Fletcher was signed by the St. Louis Rams in 1998. He is a three-time Pro-Bowler, a Super Bowl champion and he won the Bart Starr Man of the Year Award in 2012. This award goes to the player who best exemplifies leadership at home, on the field and in the community.
Fletcher led the NFL in tackles as a 36-year-old in 2011. He has played in every game during his 14-year NFL career and he started every game for the Redskins over the past five seasons. Dan Graziano of espn.com wrote that Fletcher was the "heart and soul" of the Redskins defense.
Fletcher is an extremely gifted player, and it all starts with his football acumen. The middle linebacker is the quarterback of the defense, and he calls out the defensive assignments as well as any adjustments that need to be made when the offense changes the play.
Fletcher's long career has given him the opportunity to see many different players on both sides of the ball. He is extremely familiar with the unique skills that a player needs to have success in the NFL and he would make a fantastic talent evaluator.
He is an incredible football player, and he knows what it is like to work to make a team as an undrafted free agent. He has a first-hand understanding of the specific traits that make up a fundamentally sound football player. Fletcher is the ideal player to transition to a team's front office.
Keep Reading