2012 Olympics: Who Will Win Gold in the 100-Meter Dash?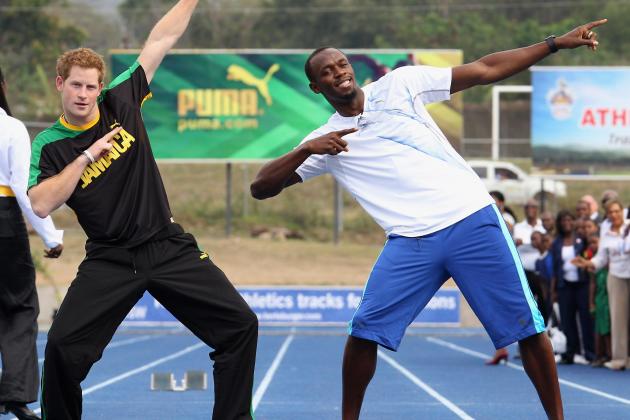 Chris Jackson/Getty Images
Will Bolt be victorious again on the Prince's home turf?
This year's 100-meter dash race is one of the most anticipated races on the big stage in some time. Every Olympic year there is always a standout and a few others that have the potential of winning, but this year is especially curious because there are five guys that on any given day can outrun their competitors and set a world record in the process.
Usain Bolt, the most notable and flashy of the bunch holds the world record in the event, boasting a time that did not seem imaginable to track fans before 2009. I personally never thought that anyone would be able to eclipse 9.6, but he did. It is three years later, but there is no reason that Bolt cannot rise to that level once again on the big stage that he relishes so much.
At the same time, the hottest runner in the world is his younger countryman Yohan Blake. Bolt has struggled of late to beat him, and Blake has all the momentum you could ask for going into this race.
In the background, but not to be forgotten are former world record holders Asafa Powell and Justin Gatlin, who still can win this race; who could forget about the best sprinter of this generation of American sprinters in Tyson Gay.
This race should be one for the ages, assuming no one false starts or gets injured. Who will win though? Anything can happen but here are the five sprinters that have the best chance of winning gold in London.
Begin Slideshow

»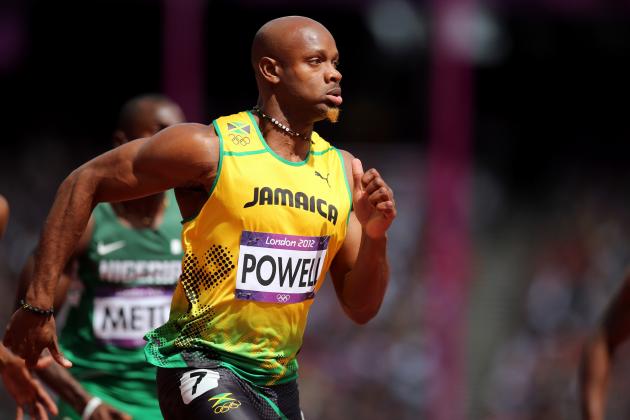 Streeter Lecka/Getty Images
Can Asafa overcome past failures and cash in on Gold late in his career?
Asafa is often the forgotten member of the formidable Jamaican 100-meter sprint team, but he is definitely someone to be taken seriously. He is the anchor of the world record holding 4x100 meter relay team and is a former record holder in this event. He held the record from 2005 to 2008 posting times of 9.77 and later 9.74. Overall, his best time is 9.72 (only two men have run faster) and he has broken the 10.00-second barrier more than any other track athlete in history (80+ times). Some may forget, but his track record is as stellar as anyone else in the field.
The issue for him however has often had nothing to do with his talent. It is no secret that Asafa Powell was a victim of being inferior mentally and psychologically at the Beijing Olympics when he let Usain Bolt's pre-race antics get into his head. He also was overcome with nerves, leading to a poor fifth place finish—given his status at the time. Now it is said that he has come up with a new ritual of thinking of cars (which is his pastime) before the race, which relaxes him, according to an Associated Press article.
If this is what it's going to take for him to rise to the top and make the medal stand in what is being considered the most competitive 100-meter Olympic race ever, then by all means he should do it! Despite his recent groin issues, expect him to perform well and challenge for a medal. He's certainly capable.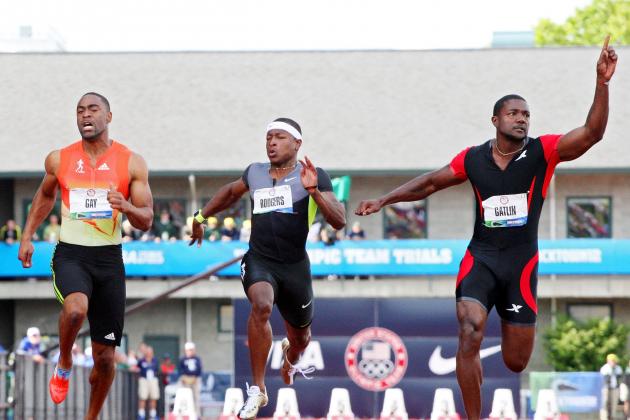 Christian Petersen/Getty Images
Can Gatlin return to previous form and grab a second gold medal?
Gatlin once would have been the favorite in the 100-meter race on this stage going away. However, after being caught for doping in 2006, after he won gold in Athens in 2004, it has been a long road back to success. In fact, it is said that some do not want him to win given his questionable past (also banned in 2001).
Nevertheless, Gatlin has been hot and has performed really well this year and is a threat to win gold this year in London. This year, he was able to win the US Trials with a time of 9.80, which is better than the time he ran when he won gold in Athens. That time also is the fastest by anyone over the age of 30. He is in the best shape of his life and gaining more and more confidence just two years after returning to competition after his four-year exile.
Prior to the ban, his best time was a tie of the world record with Asafa Powell at 9.77, but it has since been erased.
Outside of Usain Bolt, there may not be a runner with more swagger and confidence than Justin Gatlin. He fully believes that he should win any race he is in, and carries himself as such.
The big elephant in the room that cannot be ignored is Jamaican dominance in the 100 that seems to only be getting worse, but Gatlin is determined to overcome that. It's hard to imagine him getting down into the 9.6 range if that is what is required, but I would not bet against Gatlin. Don't count him out just yet.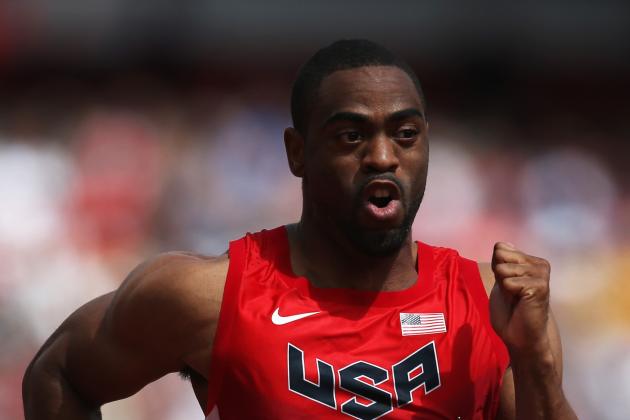 Streeter Lecka/Getty Images
Is it finally Gay's time to peak through the shadows of the Jamaicans?
Tyson Gay for the last several years has been right at the top of the 100 pecking order, and is always a threat to win. The problem has been that he often has struggled to time up his best performances with the big stage due to injuries, false starts and poor performances at the wrong time. While he is the anti-Usain Bolt in that he is very quiet and unassuming, he still is very talented and confident in his ability.
There is probably no one that wants to beat Usain Bolt and the Jamaicans more than Gay. It's almost like he has been penalized for how quiet and unassuming he is while the brash Jamaicans have grabbed the spotlight and backed it up with performance. Gay knows that he can win any given race; its all about him running his best and being healthy.
This year is no different; he has still struggled to come back from hip surgery last year. However, he has been very strategic in making sure he is in top form for the Olympics and it showed as he ran just well enough to get through trials without getting injured in June. He still holds the national record of 9.69 and is one of two people to beat Usain Bolt since Beijing, which I am sure was a rewarding win for him, given it was the first time and all the hype surrounding Bolt.
There is a rivalry that has been set up between them as he is the best American runner and Bolt is the best Jamaican runner. Bolt is brash and cocky, Gay is quiet and introverted, and Bolt seems to bring his best for the big stage while Gay has been hit or miss when it matters.
Gay's national record of 9.69 was set in a Grand Prix meet in 2009 and he did run a very good race against Bolt in the 2009 World Championships, but unfortunately his 9.71 paled in comparison to the world record run of 9.58 that Bolt ran in that race.
He just has never seemed to be able to overcome Bolt when it matters, but if Gay is healthy, do not count him out of making a statement against the Jamaicans that have overshadowed him in the prime of his career once and for all. If he is healthy, he certainly has the speed and ability to get into the 9.6-second range to beat Bolt if he runs anything less than his best.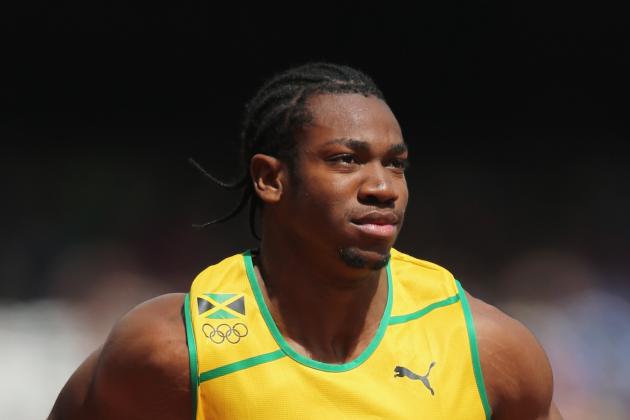 Streeter Lecka/Getty Images
Blake is the hottest runner in the world right now. Is it his time?
Blake has every reason to believe he can win gold in London. He is the hottest runner right now, and he is coming off multiple defeats of the world record holder and gold medal favorite Usain Bolt. Blake and Bolt are friends and training partners and it is said that Blake defeats Bolt more than occasionally in practice. He is a phenomenal rising talent who, unlike the others, is in the sweet spot of his racing prime.
His personal best is 9.75, which is a bit behind some of the other competitors, but the advantage he has is that he just did it at Jamaican Trials in June and he did it with a convincing win over favorite Usain Bolt. Word had it that Bolt had been training hard and was pretty healthy, so it was a legit win over the best sprinter of all-time. He followed up in shocking fashion with a win in the 200-meter as well over Bolt. The momentum he has going into this race knowing he has run his best recently. Also, Blake has the confidence that he can beat his training partner and friend and subsequently does not fear him.
The only issue is that this is Blake's first Olympic appearance. The hope is that nerves or rookie mistakes will not hamper him. He does have a World Championship under his belt (Bolt got disqualified), so he is not unproven on the big stage. He has never been under 9.7 like Gay and Bolt have, but with his young legs and documented tremendous upside, sky is the limit for Mr. Blake.
There is a possibility that the world might be watching the rise of the next great Olympic hero. Stay tuned.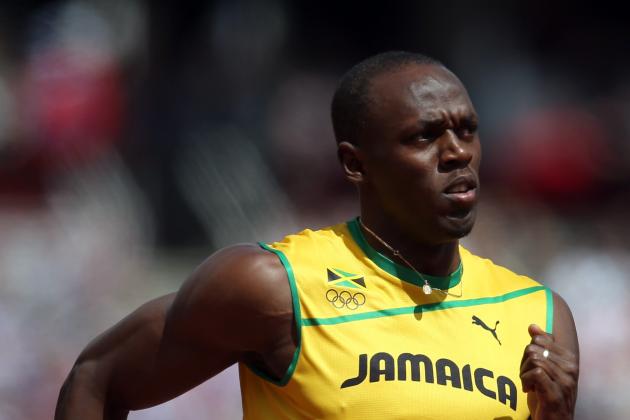 Streeter Lecka/Getty Images
Does he have one more run of insurpassable greatness in him?
Although Bolt has not been at his best this year and was bested by his protégé Yohan Blake in both the 100 and 200 at Jamaican Trials, there is no way you could favor any other runner over Bolt in this Olympic run.
He still boasts one of the most impressive times in ANY race on the track with his obliteration of incredible records in the 100 and 200. His 9.58 in the 100 at the 2009 World Championships simply still seems almost like a dream to the rest of the runners. It was probably the most impressive 100-meter race I have ever seen, but yet there was still a little bit of room for improvement.
If Bolt can get off to a solid start and accelerate through the finish, there is simply no human being that has ever been created with the combination of stride length, power, turnover and foot speed that Bolt possesses. Combine this with a history of success on the big stage and his tremendous confidence, no one can even come close to matching that profile.
With all of that said, the main reason that I believe he is the favorite is simply because of some of his patterns. Not only is he one that thrives on the big stage—and there is no stage bigger than the Olympics as shown from his rise from relative oblivion to rock star success following the 2008 games—but also he often has shown the proclivity to play possum over the course of his training and subsequent meets in previous years.
There have been years in which some said that Bolt was not on top of his game and did not train well, or was not performing well. In fact some of those years were prior to his magnificent Olympic and World Championship runs. Bolt has been beaten several times and run substandard times in trials, circuit meets and grand prixs, but he has always seemed to save his best for when it most matters. He is the type of athlete that few can understand. The type that can try hard and perform well when the circumstances are normal, but yet still have another level of performance for when it really matters, similar to a good NBA team that has championship aspirations.
Bolt is trying to be the first 100-meter champion to repeat as the "Fastest Man Alive" since Carl Lewis did it in 1988, which shows how short the window is for greatness. I do believe that the same man that lowered a ridiculous world record timing of 9.69 in Beijing, 0.11 seconds to the current time just a year later, cannot be limited by conventional logic.
I will never doubt this guy ever again. I will have to see Bolt beaten on the big stage with my own two eyes before I believe it.