How the Eagles Can Solidify Each Position for the 2009 Season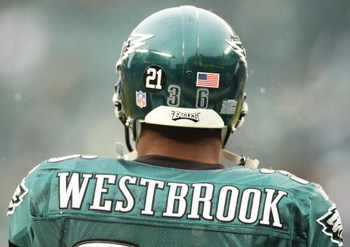 The franchise tagging period has passed. The NFL Combine is currently in full swing. The free agent period and draft will be here before you know it.
The NFL off season is not known to be a dull time and this year is no exception. A record has been set for the number of franchise tags placed. Two potential free agents have already signed humongous contracts that have made them the richest ever at their respective positions.
Where does that leave my beloved Eagles?? While some fans are depressed because a highly coveted player was locked up by their present team(i.e.-Carolina OT Jordan Gross), I think the Eagles are still in strong position to make themselves an early contender for a trip to Miami next year.
It's going to take some luck. It's going to take some brains. It's going to take some accommodations by the front office and the player (No need to go into training camp with any unnecessary drama). But, most of all, it's going to take some aggressive, confident moves.
No longer can Andy Reid afford to say "I believe we can compete with the guys we have." Joe Banner already told us the definition of insanity.
I'm going to look at each position category of the team. From there I'll look at 10 available players (the top five current free agents; the top five NFL prospects) and their strengths and weaknesses.
Please take into consideration the Eagles philosophy and the players that best fit that. Please enjoy the "HTK Solution" to a Pedal To The Metal approach...
Quarterback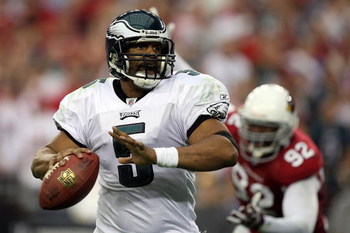 As of now, Donovan McNabb is the man best fitted to lead the Eagles to the promised land. Forget the past unless you can remember he's the only QB in team history to get the Birds to 5 NFC Championships. He needs players put in place to help elevate his game further, but I'll touch on that later.
The current issue would be the depth behind him. I feel that a younger QB that needs grooming should be the 3rd stringer. The 2nd string QB?? Well that depends on how McNabb's contract is treated.
A. If an extension is offered, McNabb's starting would be secure for 2-3 more years. Trade Kevin Kolb and give him a chance to start elsewhere put A.J. Feeley back in the 2nd spot being that he knows the offense.
B. If an extension isn't given, it means McNabb's future is still uncertain and Kolb will still be given a chance. Get rid of Feeley by cut or trade. He's too old and too expensive to be a 3rd stringer.
Who's available...
Free Agents
1. Kurt Warner(Arizona Cardinals)- Productive, but far from a backup. Will soon have another contract with the Cardinals.
2. Kerry Collins(Tennessee Titans)-He's either going to start somewhere or retire. He'll stay with the Titans(Poor Vince Young....)
3. Ryan Fitzpatrick(Cincinnati Bengals)- He's a #2. Productive down the stretch last year, but not what the Eagles need.
4. Byron Leftwich(Pittsburgh Steelers)-I could see him backing up McNabb if Kolb were to leave, but he'll be signed elsewhere by then. Besides, he doesn't necessarily fit the Eagles system.
5. Jeff Garcia(Tampa Bay Buccaneers)- One word: NO!!!
Draft Prospects
1. Matt Stafford(Georgia)-Future Detroit Lion in my opinion.
2. Mark Sanchez(USC)- A top #10 pick, to whom? Answer coming April 25.
3. Josh Freeman(Kansas St.)- Mid 1st rounder. Possible draft pick for Vikings.
4. Nate Davis(Ball State)-Possible Day1 pick.
5. Pat White(West Virginia)- Considered by many to be a receiver in the NFL, but he's adamant about playing QB.
Eagles solution: Draft a solid QB in the later rounds(6-RFA) that's got the physical attributes, but could still use some coaching. I'm thinking Hunter Cantwell(Louisville); Mike Teel(Rutgers) or Chase Holbrook(New Mexico St). Remember, Tom Brady was a 6th round pick.
That would make the depth chart:
1. Donovan McNabb
2. Kevin Kolb/A.J. Feeley
3. Hunter Cantwell/Mike Teel/Chase Holbrook
Halfback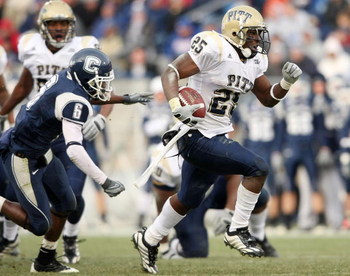 Brian Westbrook is not going anywhere yet obviously. Regardless of his recent health, his stats say he's going to stay. More than that, his contract extension says it.
That being said, there is no way Westbrook can handle the backfield alone. Correll Buckhalter was underused for whatever reason and that 4th round pick traded away for Lorenzo Booker sure could've been used on someone more likely to suit up.
The 30-year-old Buck will be in a different uniform next year. A youth movement is needed at running back this offseason, but with quality so Booker needs to go as well.
Free Agents
1. Derrick Ward(NY Giants)-Good change of pace to go with Westbrook, but he's going to want too much money(especially at his age).
2. Maurice Morris(Seattle Seahawks)-A career #2. Too old at this point for the Eagles.
3. Cedric Benson(Cincinnatti Bengals)-He wants to be #1 and his talent says so. His character says otherwise which is why the Bears cut him. Regardless, Benson will likely resign with the Bengals.
4. Tatum Bell(Denver Broncos)-Too many character flaws. He's lucky not to be suspended at this point.
5. Fred Taylor(Jacksonville Jaguars)-Cut by the Jaguars last week, the 33 yr old Taylor is considered ancient. Still, he'll be pursued heavily come Feb. 27.
Draft Prospects
1. Chris "Beanie" Wells(Ohio St)- He's going to enter the league like Mike Forte(Bears) and Adrian Peterson(Vikings). With his size(6'1", 235lbs), spead and field vision he's the complete running threat. His only downside is he's not known for receiving which is what the Eagles look for in their backs.
2. Knowshon Moreno(Georgia)-Some consider him better than Wells. Both are considered top-20 prospects. Had 27 receptions in 2008, but scouts don't rave over his receiving skills.
3. LeSean "Shady" McCoy(Pittsburgh)- Same size as McCoy(5'11", 207lbs), but better known for his receiving skills. Projected to be a late 1st round pick.
4. Shon Green(Iowa)- Definitely a between the tackles power back. At 5'11, 235lbs I wouldn't want to have to tackle him head on. His only downfall is his age(24) at a position already considered to be a short lived one. 2nd rnd prospect.
5. Donald Brown(Connecticut)- Regardless of the school being better know for it's #1 basketball team, Brown was very productive in 2008(1800+ yds, 17 TDs). Considered to go in the 2nd round.
Solution: I initially felt the Eagles should go after Wells with their first pick. He would definitely come in and contribute right away. The problem is the Eagles under Reid are going to be a pass first team. I don't see them getting a power back in the 1st round. With his rushing and receiving skills combined, I feel the Eagles should use their #28 pick on LeSean McCoy. He definitely looks like he could be the heir to Westbrook's throne.
I would go after a bigger, power back in the 3rd-4th round and select Rashad Jennings(Liberty), Andre Brown(N.C. State) or Arian Foster(Tennessee). Brandon Jacobs was a 4th rounder. For insurance purposes, look into Deuce McAllister(cut by New Orleans) in early May if he's still available. It wouldn't hurt to go into training camp with this RB depth chart...
1. Brian Westbrook
2. LeSean McCoy
3. Rashad Jennings/Andre Brown/Arian Foster
4. Deuce McAllister
Fullback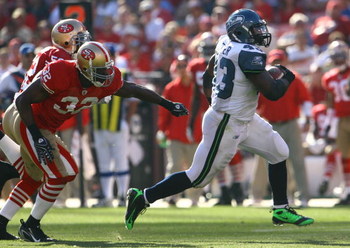 The short yardage failures of 2008 cost the Eagles at least two games. The Eagles went into the 2007 season experimenting with the kick returner position. They acknowledged that failure by drafting DeSean Jackson and Quiten Demps.
Hopefully, they'll view fullback position the same way this year. Dan Klecko is not the answer, regardless of how great his effort was.
Free Agents(I'm only going to list three)
1. Leonard Weaver(Seattle Seahawks)- He's still young(27) and he's a potent receiving weapon out of the backfield.
2. Tony Richardson(NY Jets)- He had a great year, but he's older than the Super Bowl winning coach.
3. Lorenzo Neal(Baltimore Ravens)- See Tony Richardson.
Draft Prospects
1. Brannan Southerland(Georgia)- Part of the reason Matt Strafford and Knowshon Moreno are considered the top at their positions. A pure blocker in passing and running situations. The only FB projected to go before the 6th round.
2. Quinn Johnson(LSU)- Solid blocker.
3. Travis McCall(Alabama)-Considered a fullback/tight end hybrid.
4. Jorvorskis Lane(Texas A&M)-The biggest fullback in the draft(6'0", 285lbs), scouts feel Lane's stock dropped by him staying for his senior year with a new coach(Mike Sherman).
5. Eric Kettani(Navy)- Unfortunately, Kettani wasn't permitted to attend the Combine and possibly will be active in the Navy for a few years.
Solution: Lane's size and skill are intriguing, but the Packer background that Reid and Sherman share might be enough to say he won't fit in with the Eagles. The Eagles should definitely pursue Leonard Weaver starting next Friday. He definitely fits their scheme. A late draft pick still should be made for a fullback. If Southerland falls to them in the 6th, grab him. Otherwise go with Johnson or Lane.
Training camp depth chart:
1. Leonard Weaver
2. Kyle Eckel
3. Brannan Southerland/Quinn Johnson/Jorvorskie Lane.
Wide Receiver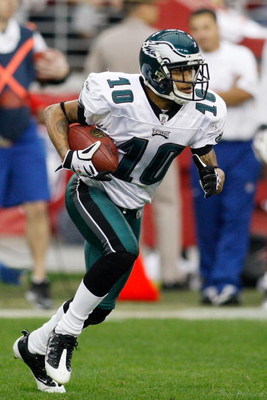 The wide receivers were very productive in 2008, but there's still more to be desired. DeSean Jackson and Kevin Curtis are home run threats, but they're not the biggest guys in the world.
Jason Avant is the most physical receiver, but he's not a starter. Reggie Brown's contract is the only reason I expect him to return in 2008. Hank Baskett was underused more than Buckhalter. Greg Lewis' time as a season locker holder should finally come to an end.
Free Agent(There's only one worth mentioning at this point)
1. T. J. Houshmandzadeh(Cincinnati Bengals)- He'll be 32 by the start of the 2009 season. That's still considered "prime" for wide receivers. Especially the good ones which is a category Housh fits in.
Draft Prospects
1. Michael Crabtree(Texas Tech)- Even with a stress fracture in his foot, he'll be a top 10 pick. No need to discuss him further.
2. Jeremy McClain(Missouri)- Awesome potential, but you don't hear much about him because he's not as good as Crabtree.
3. Percy Harvin(Florida)- Late 1st rounder. Had surgery on his foot last year.
4. Darrius Heyward-Bey(Maryland)- Same projection as Harvin. He's tall and speedy, but not physical enough to be considered necessary.
5. Hakeem Nicks(North Carolina)- Low 1st/2nd round projection.
Solution: There is NO reason....I repeat...NO REASON the Eagles can't get T.J. Houshmandzadeh. He's not the so called #1 guy many people crave for but what he does he does very well. He's a physical, crisp route runner with great hands. He would help improve the red zone and he would take a lot of pressure off of Jackson and Curtis.
Hakeem Nicks is another good option, but there's better options for the team that high in the draft. One receiver the Eagles should look at in the 4th round is Ramses Barden(Cal Poly-SLO). At 6'6' 225lbs he's a physical presence not known specifically for speed. Coming from a smaller school he's going to be a sleeper pick.
Training camp depth chart:
1. DeSean Jackson
2. T.J. Houshmandzadeh
3. Kevin Curtis
4. Jason Avant
5. Reggie Brown
6. Ramses Barden
7. Shaheer McBride
Tight End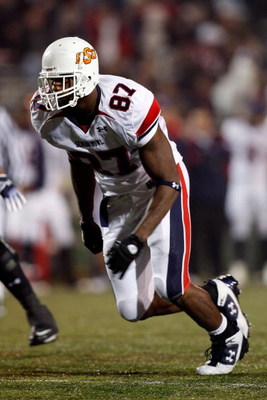 Brent Celek had a very good season which is the only positive thing you can say about the Eagles tight ends in 2008. L.J. Smith stole money from Jeff Lurie last season and I'm willing to help escort him out of town.
While Celek is good he isn't the complete package. Matt Schoebel is like A.J. Feeley where he's too old to be a 3rd stringer. He needs to be cut and the birds need to address this position aggressively.
Free Agents
1. Owen Daniels(Houston Texans)- Daniels is the best free agent tight end by far. He's restricted and I'm sure the Texans will issue a high tender.
2. Jim Kleinsasser(Minnesota Vikings)- 32 and not a pass catcher anymore, but a great blocking TE who's almost like a 6th lineman.
3. Jeff King(Carolina Panthers)- RFA. Another blocking TE, but he's developed into a potent receivier. Not sure if the Panthers will offer an RFA tender.
4. Chris Baker(NY Jets)- Released by the Jets last week. He's seems to be okay at most things and not have a huge notable strength in his game. Don't see him as a fit.
Draft Prospects
1. Brandon Pettigrew(Oklahoma St)- The best TE in the draft and possibly the best TE currently available. Very reliable pass catcher, but his strong point his blocking. Something he loves to do.
2. Jared Cook(South Carolina)-Pretty fast for a TE, but he needs a little more weight added to his frame(maybe 10lbs).
3. Chase Coffman(Missouri)- Very similar frame to Cook. A good receiving TE who's willing to put effort into blocking.
4. Travis Beckum(Wisconsin)- Productive and very strong, but considered undersized for a TE.
Solution: If he's available at pick #21(which is very likely due to a subpar Combine), the Eagles must select Brandon Pettigrew. He brings a dimension that would help the Eagles red zone woes in many ways.
If he's picked before that, I could see the Eagles pursuing a draft day trade for Kansas City's Tony Gonzalez or Cleveland's Kellen Winslow. Offering Kleinsasser a 1-2 year deal to bring in an added blocker wouldn't be a bad idea either.
Offensive Tackle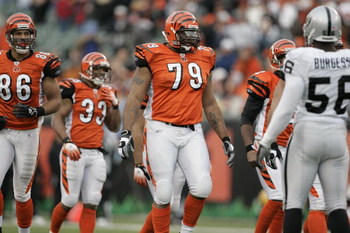 Any team faced with the task of replacing two long term starters on the offensive line would have some tough decision making to do. When you factor in the ages of Jon Runyan(35) and William "Tra" Thomas(34), it makes it even tougher.
Unfortunately for the Eagles, two sure fire replacement(Jordan Gross-Carolina; Vernon Carey-Miami) both signed 6 year deals to remain with their respective teams. The only question I have about Winston Justice is how to package him in a trade to get him out of here.
Free Agents
1. Tyson Clabo(Atlanta Falcons)- A restricted free agent, Clabo help the surprising Falcons emerge with his protection of Matt Ryan and assisting Michael Turner get MVP considerations.
2. Ray Willis(Seattle Seahawks)- While the Seahawks stumbled to 4-12, Willis started 10 games and only gave up 1.5 sacks. Pretty impressive.
3. Khalif Barnes(Jacksonville Jaguars)- Barnes gave up almist 8 sacks last year. He might be due for a change of scenery.
4. Mark Tausher(Green Bay Packers)- Tore his ACL and he's 32. Bad combonation.
5. Stacy Andrews(Cincinnatti Bengals)- Franchised for the 2008 season, Andrews is a risk due to his recent ACL surgery. He states that he's ahead of schedule and should be ready for the OTAs.
Draft Prospects
1. Jason Smith(Baylor)- Was the #3 tackle on the draft board about a month ago. Now he's established himself as a possible #1 overall pick.
2. Eugene Monroe(Virginia)- He's so good, the Chiefs' current starting LT Branden Albert was placed at guard his senior year to make room for Monroe on the line.
3. Michael Oher(Ole Miss)- His ranking has slipped during the combine. While this may be considered good for the Eagles if they wanted to trade up, his inconsistent pass protection doesn't fit with their style of play.
4. Andre Smith(Alabama)- Once prospected to be the #1 overall pick, he seems to be trying NOT to be selected in the first round. His handling of the combine this weeked was unacceptable. No excuses for a future starter.
5. William Beatty(Connecticut)- If the Eagles select an OT in the first round, Beatty is very likely to be that guy.
Solution: Re-signing Tra Thomas is the best option at left tackle for the Eagles 2009 season. He still needs to be replaced but the Gross and Carey signings eliminated any immediate solutions to protecting McNabb's blind side(K. Barnes is too risky to place at that position right now). On the other side, Runyan recently had micro-fracture surgery which makes him very risky to invest in at his age. Stacy Andrews' injury reduced his value, but he's a lot younger than Runyan. If the Eagles sign him at the right price and he's healthy, that may be the steal of the off season. Guards Todd Herremans and Shawn Andrews could both play tackle, but the Eagles need to be sure that their depth chart on the line is deep and reliable. The progress of 2008 draft picks King Dunlap and Mike McGlynn are important to keep an eye on as well.
Training Camp Depth Chart
LT
1. William Thomas
2. King Dunlap
RT
1. Stacy Andrews
2. Mike McGlynn
Offensive Guard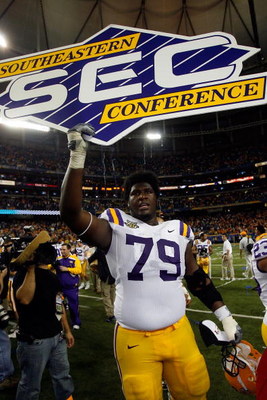 Todd Herremans is the most steady offensive lineman the Eagles had in 2008. That's not good considering he "should" be the weakest link.
Shawn Andrews grade for last year was a bold INCOMPLETE. His mental and back problems cost him all but 1.5 games last year. When healthy, he's the best guard in the league. Max Jean-Giles did okay in Andrews absence, but he's no Andrews. He ended up breaking his leg late in the season, making way for Nick Cole who did a fairly decent job. I don't feel either earned permanent starting positions but rather they epitomized the importance of quality depth.
Free Agents
1. Jahri Evans(New Orleans Saints)- The Saints gave the RFA the highest tender meaning if another team wants him they must give up a 1st and 3rd round pick. The Eagles have too many needs.
2. Harvey Dahl(Atlanta Falcons)- Just like with Tyson Clabo, the Falcons will do what they can to keep Dahl around.
3. Cooper Carlisle(Oakland Raiders)- He's 32 and a Raider. Not much positive to say...
4. Chris Kemoeatu(Pittsburgh Steelers)-The Super Bowl Champs weren't know for having the best O-line(remember their game against the Eagles).
5. Mike Goff(San Diego Chargers)- Goff is 33 and the Eagles need to get younger, not short term solutions
Draft Prospects
1. Duke Robinson(Oklahoma)- The best guard available in the draft. He should be a high second rounder.
2. Herman Johnson(LSU)- He was once 400lbs+ but came to the Combine in good shape(approx 360lbs). Considered a late 2nd round pick. His bench pressing(21 reps) for his size shows he's still quite out of shape.
3. Andy Levitre(Oregon St.)- Levitre is quietly climbing the draft boards, possibly past Johnson.
4. Trever Canfield(Cincinnati)- Past off-field issues are a slight concern.
5. Kraig Urbik(Wisconsin)- Has a history of knee problems.
2009 Solution: The only change needs to be made in the draft. Duke Robinson will be gone by the time the Eagles make their 2nd round pick. I'm going to suggest Herman Johnson. While he's had some weight issues, the birds offensive line coaches are some of the best. Shawn Andrews had similar issues and the Eagles traded up for him in 2004.
Training Camp Depth Charts
Left Guard:
1. Todd Herremans
2. Herman Johnson
Right Guard:
1. Shawn Andrews
2. Max Jean-Giles
3. Mike Gibson
Center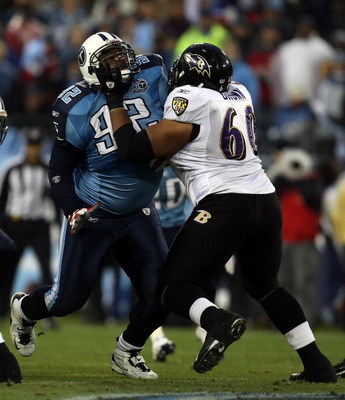 Jamaal Jackson is okay. He's definitely got the size which is why the Eagles didn't have a problem trading away Hank Fraley in 2006. Unfortunately, he's not consistent enough in the middle. While there are plenty of other holes to fill, the center position is one that could use an upgrade.
Free Agents
1. Jason Brown(Baltimore Ravens)- Brown's age(26), size(6'3, 320lbs) and experience in the AFC North all combine to make him a hot commodity Friday morning.
2. Jeff Saturday(Indianapolis Colts)-Age(34) aside, Saturday is still on of the top centers in the league.
3. Matt Birk(Minnesota Vikings)- Also getting up there in age(33), many say Birk is on a decline. I think he may still have 2-3 productive years left.
4. Brad Meester(Jacksonville Jaguars)-Old(32) and injury prone. I'll pass.
5. Geoff Hangartner(Carolina Panthers)-A backup center, Hangartner filled in nicely last year.
Draft Prospects
1. Alex Mack(California)- He will probably start immediately wherever he goes. I think Mack will be gone when the Eagles start considering drafting a center.
2. Max Unger(Oregon)- See Alex Mack
3.Jonathan Luigs(Arkansas)- Coming behind Mack and Unger, I think Luigs may be a sleeper pick.
4. Eric Wood(Louisville)- Wood had the best bench performance at the combine for centers(30 reps).
5. Antoine Caldwell(Alabama)- A first team All-American, Caldwell at one point was the #2-3 center on the board. Not quite sure what happened.
2009 Solution: People thought Asante Samuel wasn't worth pursuing in free agency last year, but the Eagles did it and both sides came out happy last year. I think the same approach should be made towards Jason Brown. He definitely would be an upgrade to the interior line.
Defensive Tackle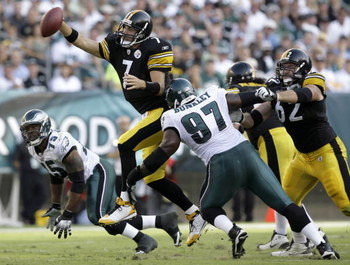 While some team is going to break a record by signing Albert Haynesworth, the Eagles might have the best DT "tandem" in the league next year. The also have a very competent backup in Trevor Laws.
A lot is invested in this trio, so none are going anywhere anytime soon. While Dan Klecko was good as the 4th tackle, he's overpaid and he spent more time as a fullback. Another option is need to shore up depth at this position.
Free Agents (only two worth mentioning)
1. Albert Haynesworth(Tennessee Titans)- Due to his asking price, I'd be surprised if the Eagles even mention his name Friday.
2. Tank Johnson(Dallas Cowboys)-Once one of the best DTs in the league, bu he has too many character issues.
Draft Prospects
1.B.J. Raji(Boston College)- Native of South Jersey. All I can say is....He'll be long gone before the Eagles are even in position to trade up.
2. Peria Jerry(Ole' Miss)- More of a pass rushing DT with his size and speed.
3. Sen'Derrick Marks(Auburn)- Considered a 2nd round prospect, Marks still has a chance to be a 1st rounder.
4. Evander Hood(Missouri)- Another pass russhing DT.
5. Ron Brace(Boston College)- Brace took Raji's spot during the 2007 season. Boston College is known more for nose tackles.
2009 Solution: Laws, Patterson, and Bunkley are all considered smaller, pass rushing defensive tackles with good techniques to get in the backfield. The Eagles could use a bigger, bull rushing run stopper as their 4th option to solidify this position. Forget investing in another first day pick(which the Eagles did 3 of the last four years at DT).
In the middle rounds, Terrance Tayler(Michigan) and Sammie Lee Hill(Stillman) come to mind. But, in the later rounds, I think the Eagles should get Antonio Dixon(Miami). At 6'3", 328lbs, a 2007 knee injury he had a little trouble recovering from dropped his stock. He definitely could be a sleeper.
Defensive End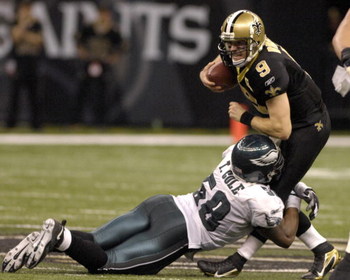 While this is one of the more productive units on the team, a more consistent threat is needed on the opposite side of Trent Cole. One who can not just rush the passer, but also be a bigger factor in stopping the run. Victor Abiamiri could be that guy, but an early training camp injury slowed that process.
Forget Julius Peppers, the 2 first round picks plus the $15-16 million/year required to obtain him isn't worth it. Darren Howard was very productive in 2008(10 sacks), but I have a hard time seeing him duplicate that this year. He and Jaqua Parker are both getting up in age. Right now, Howard could bring back decent value in a trade.
Free Agents
1. Chris Canty(Dallas Cowboys)- It's kind of hard to be productive when you line up on the same side as DeMarcus Ware. Canty's still a very good player.
2. Igor Olshansky(San Diego Chargers)- He had an off year, but who on the Chargers didn't? Olshansky's still a pretty decent player.
3. Demetric Evans(Washington Redskins)- The Redskins use Evans similarly to how the Eagles use Darren Howard.
4. Antonio Smith(Arizona Cardinals)- It would be wise for the Cardinals to try and keep Smith.
5.Bertrand Berry(Arizona Cardinals)- Very productive, but Berry's getting older(34).
Draft Prospects
1. Everette Brown(Florida St)-Considered a Top 10 pick. Sort of built like Hugh Douglas.
2. Brian Orakpo(Texas)- A top 15 pick. I personally feel teams should be cautious of top prospects from Texas. Orakpo may be an exeption.
3. Michael Johnson(Georgia Tech)- Some scouts feel he's going to be a bust. Nevertheless, his athlectisism can't be ignored.
4. Aaron Maybin(Penn St)- See Brian Orakpo. The same goes for Penn State products. Maybin's size(6'4", 240lbs) looks more like that of an outside linebacker.
5. Paul Kruger(Utah)- As a redshirt sophomore, Kruger only played one season. But that one season was a very productive one that helped Utah go undefeated.
2009 Solution: Chris Canty should be looked into when the free agency period starts. The problem is I think he's going to ask for a bith much, so it looks like Abiamiri's going to enter training camp as the starting left end. Trent Cole is going NOWHERE. He's a stud that the Eagles need to have a compliment for opposite him. Darren Howard should be trade bait to me.
With Parker, Chris Clemons and Brian Smith the Eagles have enough "fastballs" to rush the passer with. They need to look in the middle rounds for another decent sized run stopping end. Tyson Jackson(LSU) will be long gone, so they should go with Pannel Egboh(Stanford). He's 6'6", 280lbs. A knee sprain in 2008 dropped his stock, but he would be a steal.
Training Camp Depth Chart
Left End:
1. Victor Abiamiri
2. Jaqua Parker
3. Pannel Egboh
Right End:
1. Trent Cole
2. Chris Clemons
3. Brian Smith
Outside Linebacker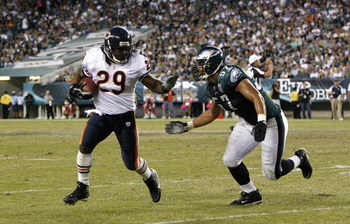 While the linebacking corp was considered one of the Eagles strengths, there's still some adjusting that could be made.
1. Chris Gocong is a converted DE that needs help covering tight ends. His strength is rushing the passer.
2. Not quite sure what happened with Omar Gaither, but Akeem Jordan took his starting spot after the Baltimore game and did a fairly decent job. Still, I have a hard time considering Jordan a full time starter.
Terrell Suggs or Karlos Dansby would've been great additions, but both were franchised last week for consectutive years.
Free Agents: Not really any free agents worth mentioning. Angelo Crowell(Buffalo Bills) is injury prone, Michael Boley(Atlanta Falcons) got benched like Gaither, and Channing Crowder(Miami Dolphins) is better suited as an insider linebacker.
Draft Prospects
1. Aaron Curry(Wake Forest)-Top 10 pick. No need to really discuss him.
2. Clint Sintim(Virginia)- Built in a similar mold to Trent Cole.
3. Brian Cushing(USC)- Could fit in perfectly, but I don't see the Eagles using their #28 pick on him.
4. Clay Matthews(USC)- Built like Cushing, but not quite as talented.
5. Tyrone McKenzie(South Florida)- Broke school record in tackles. Has a huge upside.
2009 Solution: The Eagles first need to figure out what they're going to do with Gaithers. If they're not going to start him, now is the time to see what the can get fro him in a trade. He deserves the chance to start somewhere.
Two players the Eagles should look at in the draft are Nic Harris (Utah) and Marcus Freeman(Ohio St). Harris is a safety/linebacker hybrid and Freeman can play all three LB spots. The Eagles love versatility, so both should be right up their alley.
2009 Training Camp Depth Chart:
1. Chris Gocong
2. Omar Gaither
3. Akeem Jordan
4. Nic Harris
5. Marcus Freeman
Middle Linebacker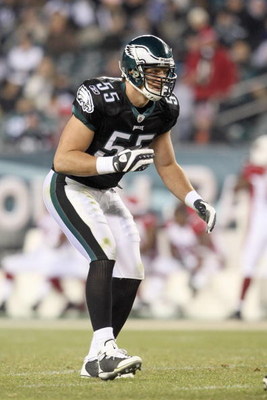 No need to look into options here. Stewart Bradley should be the Eagles MLB for years to come and I look forward to seeing him in the Pro Bowl. If you paid attention to the birds training camp and preseason last year, you know that Joe Mays is a very competent backup.
2009 Training Camp Depth Chart
1. Stewart Bradley
2. Joe Mays
Cornerback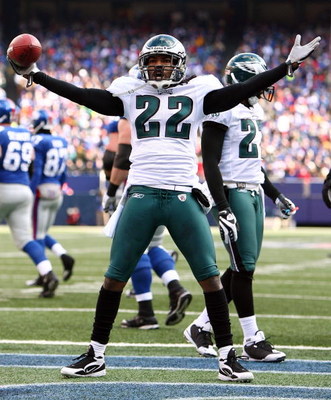 There are only two cornerbacks certain to be Eagles in 2009: Asante Samuel(An INT machine) and Joselio Hanson(A nickel back who just signed for 5 years). Lito Sheppard is as good as gone. The question is what the Eagles can get for him.
Sheldon Brown is a solid starter but his age(30 in March), height(5'10") and lack of athletisism(gets burnt by taller receivers) is a concern. His exceptional football IQ can only help but so much. Jack Ikegwonu is considered a steal, but until he steps on the field he's an unknown commodity.
Free Agents
1. Leigh Bodden(Detroit Lions)- Great at press coverage, a liability in a zone.
2. Domonique Foxworth(Atlanta Falcons)- Had a decent year, but can he duplicate it?
3. Ronald Bartell(St. Louis Rams)- Playing on a 2-14 team can cause you to be underated, but Bartell is very versatile corner. He's good in all phases of coverage(man, press, zone) and he's improving in run support.
4. Bryant McFadden(Pittsburgh Steelers)- Similar to Bartell where he's very versatile. Of course you saw more of him while being exposed as part of a championship team.
5. Chris McAllister(Baltimore Ravens)- A cap casualty cut by the Ravens, McAllister is still a top ranked corner. I'm not sure how much he'll command since he'll be 32 in June.
Draft Prospects
1. Malcolm Jenkins(Ohio St)- Top 10 pick
2. Vontae Davis(Virginia)- Will be picked not long after Jenkins
3. D.J. Moore(Vanderbilt)-A mid-late first rounder who can contribute in returns as well.
4. Victor Harris(Virginia Tech)-His 40 time may keep him from being pick in the first round.
5. Alphonso Smith(Wake Forest)- A first team All American. Smith is an INT machine. His height(5'8") keep him from being top rated.
2009 Solution: It's not a high priority, but the Eagles could use a little more height in their secondary. Bodden, Bartell and McFadden should all be looked into in free agency. If not, Domonique Johnson(Jackson St) and Keenan Lewis(Oregon St) should be available in the middle rounds. A signing by one of the veteran free agent may put Sheldon on the market(As hard as that may be to digest).
2009 Training Camp Roster:
1. Asante Samuel
2. Sheldon Brown
3. Ronald Bartell
4. Joselio Hanson
5. Jack Ikegwonu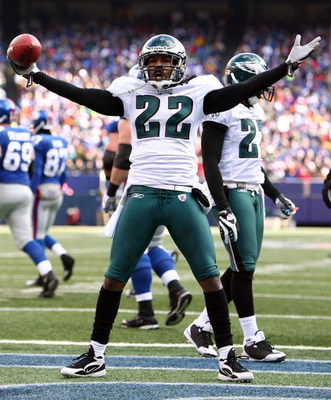 Safety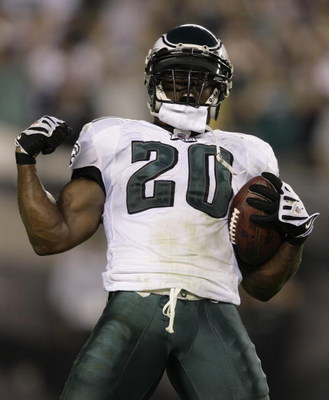 This position cannot be mentioned without bringing up Brian Dawkins. The longest tenured Eagle is the heart and soul of the team on the field, on the sideline and in the locker room.
If the Eagles don't resign him(which I just can't see them not doing), he could take a huge part of the fanbase with him. Many fans fell in love with Quinten Mikell in 2008. I'm not one of those people. I think he had one good season and he could be upgraded if the right player comes along. Quinten Demps made rookie mistakes but was brilliant in kickoff returns. Sean Considine isn't even worth mentioning.
Free Agents
1. Jermaine Phillips(Tampa Bay Buccaneers)- Phillips' injury down the stretch last year was a huge blow to the team. He'll likely be resigned by the Bucs.
2. Gibril Wilson(Oakland Raiders)-Last year a benificiary to the Giants Super Bowl run. This year, a cap casualty due to Nnamdi Asomugha's record contract.
3. Yeremiah Bell(Miami Dolphins)-Even though he's 31, the Dolphins put a higher priority on resigning him over Vernon Carey. Carey's already resigned, so you can definitely expect the same with Bell.
4. James Sanders(New England Patriots)- Sanders is only 25, so there's definitely an upside with him.
5. Dawan Landry(Baltimore Ravens)- A restricted free agent, Landry's spinal cord injury is a huge concern.
Draft Prospects
1. Louis Delmas(Western Michigan)- A free safety, Delmas is picked by the Eagles on some mock drafts. We'll see how he does at the Combine.
2. William Moore(Missouri)- Strong Safety. He may be a second round pick. He needs a good Combine performance to be considered a first round candidate.
3. Patrick Chung(Oregon)- See William Moore
4. Rashad Johnson(Alabama)- A free saftey, Johson his know for his high football IQ.
5. Sean Smith(Utah)- Smith can play the corner or safety positions.
2009 Solution: The Eagles need to go after Gibril Wilson. While some list him as a free safety, he might be better suited as a strong safety. When he was with the Giants, he played in a Jim Johnson-style defense so the Eagles would suit him well. He definitely would challenge Mikell.
The Eagles MUST re-sign Dawkins, no excuses!! The Eagles also should look more in to drafting Sean Smith. His size(6'3", 214lbs) and versatility are things you never can have enough of.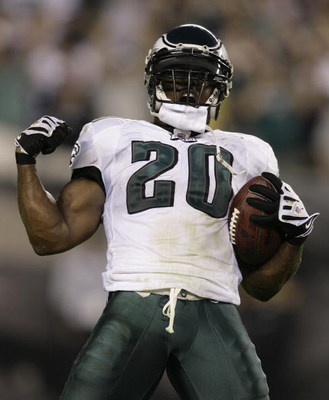 Special Teams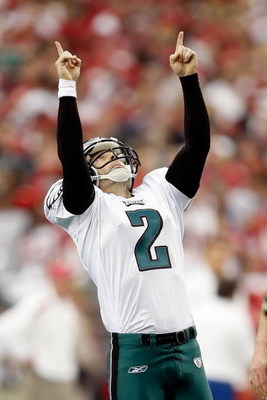 David Akers has been very reliable as an Eagle. He even had a very productive 2008 season. But "Mr Automatic" is on the verge of a huge decline and needs to be challenged by a younger kicker.
Sav Rocca, was a pleasant surprise last season and pretty much cemented himself as the Eagles punter for the next year or two. Besides, there's no way the Eagles get Shane Lechler. Jon Dorenbos is a decent long snapper. There's no need to go further into that position.
Free Agents
The only special teams free agent worth considering is New York Jets kicker Mike Nugent. He's only 2 weeks shy of 27 and he has a very strong leg. His downfall is field goals 50+yards(3 for 9 career), but that definitely could be improved on.
Draft Prospects(Two kickers)
1. Louie Sakoda(Utah)- He can place kick and punt. Seems like Utah is a breeding ground for versatility.
2. Graham Gano(Florida St)-Not many kicks he can't make. He's 5-7 from 50+.
Overall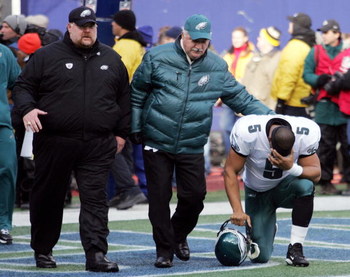 The Eagles have a solid core, plenty of cap space, 10 draft picks and trade bait. There's not reason they can't put together a formidable unit that would be favored to win the Super Bowl. They just have to be aggresive and get the pieces they need.
Keep Reading