UFC on FOX 4 Results: Best Move from Each Fight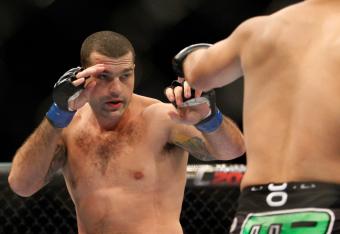 Richard Wolowicz/Getty Images
BleacherReport is sitting here cageside, detailing the best moves from the UFC on FOX event at the Staples Center, headlined by Mauricio "Shogun" Rua and Brandon "The Truth" Vera.


Light Heavyweight: Mauricio Rua vs Brandon Vera
Legend and former champion Rua takes on contender and fellow striking specialist Vera
Round one
Vera kicks to the body. Rua scores a takedown and methodically works to side control but Vera gets back up. Vera jumps into a tight guillotine but Rua eventually escapes and begins his top game attack again. Rua gets back mount and finishes out the round with punches from the position.
Round two
They exchange big strikes but Rua is landing bigger. Vera rocked big time but still fighting back. Rua eats a big shot and then fires back and Vera is hurt again. Knees from the clinch but Vera keeps surviving. Vera clinches against the cage and trips Rua down but both men are exhausted.
Round three
War of attrition. Big strikes exchanged with Vera using good kicks, but Rua finishes well by scoring a takedown working from top again.
Round four
Vera scores again with an elbow as Rua comes in. Rua pressing against the cage trying to work the thai clinch. Crowd chanting "Vera". Rua maintaining a good pace but Vera showing a lot of grit too. Until Rua tags him one too many times and Vera practically face plants. The ref lets Rua hammer away a little more, but Vera is out.
Verdict: It wasn't as easy as some thought it would be, but Rua blitzing forward with punches was ultimately the move that won him the war.
Light Heavyweight: Lyoto Machida vs Ryan Bader
Contender Ryan Bader faces former champion Machida.
Round one
Lots of feeling out but Machida lands a good kick and then a good knee when Bader tries a quick shot. Bader stayed patient but his ribs are a little red from a couple body kicks.
Round two
The crowd starts to boo and Bader charges in. Machida drops him with a perfect punch, a couple more short punches but Bader is already unconscious.
Verdict: Machida's perfect straight right hand that landed on Bader's chin and puts him out.
Lightweight: Joe Lauzon vs Jamie Varner
Varner tries to continue his resurgence against the dangerous Lauzon.
Round one
Varner circling away and looking for big hooks and body shots. One stumbles Lauzon but he recovers. Right hand drops Lauzon as he's coming in and Varner jumps on him, settling into guard.
Round two
Two big leg kicks from Varner to start. Lauzon gets a take down due to Varner attempting a guillotine. Varner stands with Lauzon on his back and then gets free. Lauzon starts landing punches and takes Varner to the ground for some ground and pound but Varner stands back up. Lauzon takes a tired Varner down again and moves to mount but Varner eventually squirms out. Great round.
Round three
Lauzon fails a take down on the wrestler so Varner shows him by landing a double leg take down. Lauzon back up. Varner does another takedown but Lauzon reverses and then locks in a triangle. Varner has to tap. Great finish to a great fight.
Verdict: Lauzon's transition from the bottom to rolling Varner over and then swiftly turning and latching onto the triangle.
Welterweight: Mike Swick vs Damarques Johnson
Mike Swick finally returns to action against recent staple Johnson after a lengthy layoff.
Round one
Huge right hand from Swick wobbles Johnson. Johnson eventually manages a takedown and lands a solid elbow. They exchange big shots and Swick lands a nice knee from the clinch, but Johnson takes him back down again. Johnson with great top control and threatens with a D'arce choke. Crazy good round.
Round two
Feeling out process ends when Swick grabs a kick, dumps Johnson, then follows down with a huge right hand that knocks Johnson unconscious. About two more shots follow but they are unnecessary. Johnson takes a while to wake up but is okay.
Verdict: Swick tripping Johnson and diving in with an incredibly devastating knockout blow. Cringe worthy finish from Swick.
Featherweight: Cole Miller vs Nam Phan
Well rounded veterans go to battle.
Round one
Miller starts sharp with strikes but Phan lands one of his patented hooks to the body. Phan starts finding his range. Miller took some punishment but kept fireing back gamely.
Round two
Big punches land from both fighters but Phan is the one controlling the center of the octagon.
Round three
A few flashes of diversity but mostly more of the same with Phan looking like he's getting the better of the punching exchanges.
Verdict: Phan's ability to utilize his left hook, especially integrating into combos, earns the move of the fight. Phan also earned the split-decision.
Light Heavyweight: Phil Davis vs Wagner Prado
Brazilian prospect, Prado, gets a tough draw in his UFC debut by facing top 10 ranked Phil Davis.
round one
Prado tries to close in and gets an incidental eye poke for his trouble. The doctor takes a look at Prado's eye and calls off the fight. The crowd chants "let them fight". Officially announced by Bruce Buffer as a "no decision".
Verdict: Do I have to give one? Not really anything positive to take out of it. Phil Davis's entrance music was pretty exciting though.
Featherweight: Josh Grispi vs Rani Yahya
Submission artists looking to rebound and reestablish contendership.
round one
Yahya gets a takedown, lands some ground and pound in Grispi's guard and is able to pass to side control and north/south position. Beautiful north/south choke seals the deal as Grispi taps.
Verdict: Yahya using a slightly modified north/south choke is front runner for "submission of the night" and clearly the move of the fight.
Heavyweight: Phil De Fries vs Oli Thompson
British Heavyweights square off.
Round one
Lots of clinching. Best move of the round was a counter straight right hand landed by De Fries.
Round two
Big punch drops and hurt Thompson. De Fries swarms to finish, but Thompson gets back to his feet. More big punches from De Fries and he trying to sit into back mount on his downed opponent. De Fries eventually snakes his arm for a rear-naked choke and Thompson submits.
Verdict: De Fries back control and submission on a powerful and savvy grappler is the move of the fight.
Featherweight: Manny Gamburyan vs Michihiro Omigawa
Two high-level Judo fighters in this featherweight match-up. Both have been knocked out of the top 10 in recent stretches, but make no mistake, they are two top flight fighters. It should be pretty good battle.
Manny clearly with more of the crowd in his corner.
round one
Big left cross drops Manny, but he pops back up.
Manny mixing up more strikes though. Leg kicks, body shots, high kick, flying knee...
Very measured round, Manny looking for big shots and Omigawa waiting for openings.
round two
Omigawa deciding to turn it up. Manny gets a little suplex, but Omigawa stands.
Manny dragged Omigawa and now has his back with plenty of time to work.
Omigawa eventually stands and they circle around until the bell
round three
Big high kick lands for Manny and Omigawa is hurt!
Omigawa recovers and is wearing Manny down now.
Manny has pressure against the cage and is muscling Omigawa around a little bit.
Close fight, crowd cheers them on as time ticks down.
verdict: Manny's big head kick in the third round was the best move of the fight. He takes the fight by unanimous decision.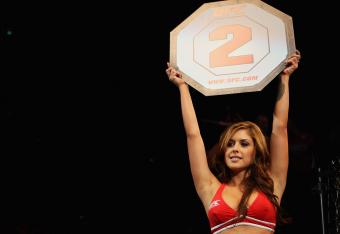 Flyweight: Ulysses Gomez vs John Moraga
Well, we had a beautiful first round knockout, so I would go ahead and say that the move of the fight was the brutal barrage of strikes against the cage John Moraga landed to render Ulysses Gomez knocked out.
This article is
What is the duplicate article?
Why is this article offensive?
Where is this article plagiarized from?
Why is this article poorly edited?