What Every Non-Contending MLB Team Must Do to Compete Next Year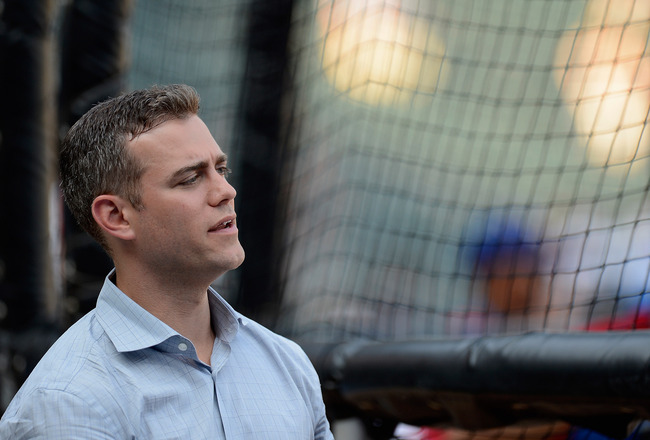 Cubs' President Theo Epstein knows how to build a contender.
Jonathan Daniel/Getty Images
In Major League Baseball, you have your contenders and you have your pretenders.
With that being said, some teams that can't contend are only a piece or two away from switching roles while others, well, they have a long road ahead of themselves.
But looking ahead to 2013, the question needs to be asked—what do the non-contenders need to do in order to change their fortunes?
Let's take a look.
Boston Red Sox (53-55)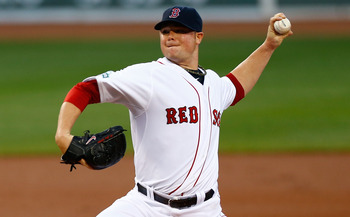 Is Lester part of the answer or part of the problem?
Jared Wickerham/Getty Images
Position Players
Other than shortstop, where it's evident that prospect Jose Iglesias is a virtual automatic out with the bat in his hands and Mike Aviles is a solid but unspectacular option, the Red Sox infield is pretty well set.
Jarod Saltalamacchia has hit for power (20 home runs), but his .234 average and 43 RBI on the season leave something to be desired. With Ryan Lavarnway having nothing left to prove in Triple-A, Boston could look to move Salty as part of a package to upgrade elsewhere.
The outfield has been a revolving door of players in 2012 as Jacoby Ellsbury has not been able to stay healthy, and Carl Crawford has battled injury and made Sox fans wish that he was still on the DL when he does play.
Even with their injury issues, the Red Sox offense has not been the problem—their 524 runs scored put them third in all of baseball while their combined .758 OPS ranks sixth.
Starting Pitching
The rotation is a mess, with only the Indians, Rockies, Royals and Twins posting a higher ERA from their starting pitchers than the Red Sox. Only Daisuke Matsuzaka is a free agent following the season, and the injured John Lackey—a major disappointment and distraction in 2011—is set to take his place in 2013.
Rumors circulated about Boston potentially moving both Josh Beckett and Jon Lester as the trade deadline approached, though neither was moved.
Felix Doubront is a fine back-of-the-rotation arm, but for him to lead the team in victories is emblematic of the problem with the rotation—nobody has pitched up to even the most modest of expectations.
Bullpen
The bullpen hasn't been terrible, though the return to health of Andrew Bailey will be a major key for Boston in 2013. Alfredo Aceves has done a commendable job in the ninth inning, but he's not a closer.
A healthy Bailey will allow the Sox to move Aceves back into either a long relief role or to put him in as as the fifth starter in the rotation. The Daniel Bard as a starter experiment failed miserably, and his return to effectiveness out of the pen will make an already solid group even stronger.
Bottom Line
Boston tried to patchwork things together in 2012 and hoped that Bobby Valentine could change the atmosphere in the clubhouse. Valentine has failed to do so, as talk of a "rat in the clubhouse" emerged yet again this week.
GM Ben Cherington needs to address the situation in the clubhouse head on this winter, and if that means moving some of the old guard for less than market value, so be it. You can assemble the most talented roster in the world, but if the players don't trust each other or the manager, there's no chance a team can succeed.
Chicago Cubs (43-62)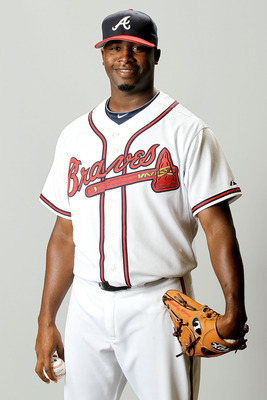 It's amazing that the Cubs were able to land Vizcaino. He's THAT good.
Matthew Stockman/Getty Images
Position Players
Starlin Castro and Anthony Rizzo are excellent pieces to build around, and while Alfonso Soriano is a prime candidate to be traded this offseason, he continues to produce in the middle of the Cubs' lineup.
Brett Jackson and Josh Vitters should get a chance to play every day in center field and third base, respectively, starting next season. Their additions should help an offense that has scored the fewest runs in baseball.
Starting Pitching
If the Cubs cannot get the package of players that they want for Matt Garza this winter, they should re-sign him to a long-term deal and go forward knowing that they at least have one quality veteran arm that they can rely upon.
Arodys Vizcaino, out for the season with Tommy John surgery, has the potential to become the ace of the pitching staff. He could also become the closer of the future, or he could be a major bust and never amount to anything. But he is as talented a pitcher as the Cubs have in their organization.
Bullpen
Carlos Marmol leaves something to be desired in the ninth inning, but Shawn Camp, Manny Corpas and James Russell have been solid contributors out of the bullpen in 2012.
Bottom Line
The Cubs are years away from contending, so adding big free agents simply isn't in the cards for this team. Theo Epstein and Jed Hoyer know how to build a contender, and they are not going to make any rash decisions that could derail the plan that they have set in motion.
Cleveland Indians (50-57)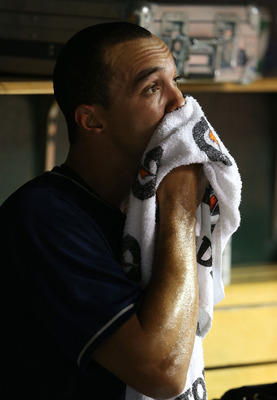 Ubaldo Jimenez is the poster boy for what ails the Tribe.
Leon Halip/Getty Images
Position Players
Jason Kipnis and Michael Brantley have put together excellent seasons and represent the future in Cleveland, but the team desperately needs a right-handed bat to plug into the middle of their lineup. With the potential to upgrade at first base and left field, doing so shouldn't be a major issue for the Tribe.
While their 450 runs scored on the season place them in the bottom half of baseball, run production isn't a major issue.
Starting Pitching
Fixing the starting rotation, however, is a major issue. Justin Masterson has taken a step backwards, Ubaldo Jimenez continues to be awful, and the Derek Lowe experiment was bought to a merciful end when they designated him for assignment last week,
Adding at least one quality starting pitcher has to be the priority in Cleveland—they simply cannot contend when their starters are posting a combined 5.13 ERA.
Bullpen
While closer Chris Perez and setup men Vinnie Pestano and Joe Smith have had outstanding seasons, the Tribes' bullpen has a combined 3.98 ERA, a number that is entirely too high—though as we'll see with other teams, the starting rotation's inability to pitch deep into games has left the group somewhat overworked.
Adding a veteran or two to the mix this winter could go a long way towards helping to turn things around in the later innings for Cleveland.
Bottom Line
While adding a right-handed bat is key, so is upgrading the starting rotation. Failing to do both will find Cleveland getting similar results in 2013 as they did in 2012—they'll remain competitive for a bit but fade as the season continues to progress.
Colorado Rockies (38-67)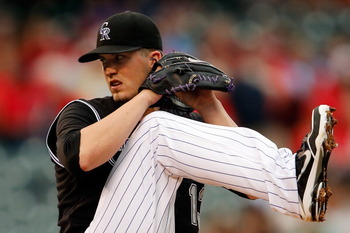 Pomeranz needs to show marked improvement in 2013.
Doug Pensinger/Getty Images
Position Players
Colorado has never had an issue scoring runs, and that remains the case even without perennial MVP candidate Troy Tulowitzki in the lineup. Nolan Arrenado should be ready to take over at third base in 2013, leaving the Rockies searching for a long-term solution at first base and second base—Todd Helton can't play forever, you know.
Starting Pitching
If Jhoulys Chacin, Jorge de la Rosa and Juan Nicasio can return healthy and effective in 2013, the Rockies' pitching staff will be in far better shape—but those are big "if's."
Drew Pomeranz and Alex White have struggled, but they are the future of the Rockies' rotation. Adding a bonafide front-of-the-rotation starter is easier said than done, but it's what the Rockies need most of all.
Bullpen
Rafael Betancourt has been outstanding in the closer's role, but aside from that, the Rockies' bullpen has been somewhat underwhelming in 2012. All they can do is continue to mix-and-match pieces, either currently in the organization or reasonably priced free agents until they find a mix that works.
Bottom Line
It's all about pitching for the Rockies—both starting and in relief. If Pomeranz and White can show marked improvement next season, that will go a long way towards plugging the holes in their rotation.
Houston Astros (36-72)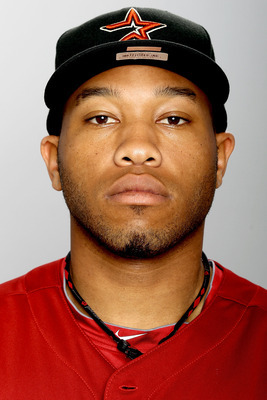 Singleton will be the next big thing in Texas.
Matthew Stockman/Getty Images
Position Players
Jose Altuve and J.D. Martinez are solid pieces to build around, and first-base prospect Jonathan Singleton—whether he starts the season with Houston or is a late-season call-up—will add another dimension to the Astros offense.
Starting Pitching
The Astros need their young arms, like Bud Norris, to turn a corner more than they need to go out and sign a high-priced free agent because even if they did, they still aren't contending in 2013. Like Singleton, Jared Cosart could break into the majors in 2013, giving the Astros their fist big-time young pitcher in years.
Bullpen
Wesley Wright and Wilton Lopez have been outstanding out of the 'pen in 2012 and you have to wonder if Wright is the future closer in Houston, averaging more than 10 strikeouts per nine innings of work.
As with the rest of the team, adding a high-priced veteran to the mix makes no sense.
Bottom Line
Like the Cubs, the Astros are years away from contending, so there isn't much they can do to become contenders in 2013. GM Jeff Luhnow will continue to add pieces as he can with an eye towards the future.
Kansas City Royals (44-62)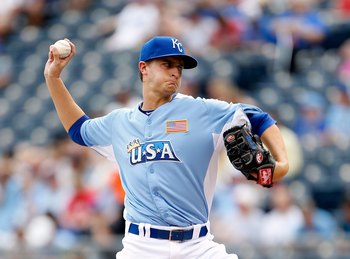 The Royals have a lot riding on Odorizzi's right arm.
Jamie Squire/Getty Images
Position Players
With Wil Myers set to take control of the center field position in 2013, the Royals are in pretty good shape around the diamond. If Johnny Giavotella can prove that he can handle major league pitching, it'd be hard to find a real weakness with any of the Royals everyday players.
Starting Pitching
An absolute disaster and the primary reason that the Royals find themselves out of the playoff race. Only five teams—the Astros, Blue Jays, Indians, Rockies and Twins have gotten less from their starting pitchers than the Royals in 2012.
Right-hander Jake Odorizzi is a big-time prospect whom the Royals expect big things from in 2013, but the 22-year-old can't be expected to do it all by himself.
It will be interesting to see if the Royals can—or will—open the team's coffers to bring Zack Greinke back home as a free agent, something Greinke did not rule out when talking to Rustin Dodd of the Kansas City Star.
Royals' GM Dayton Moore wouldn't rule anything out either when it came to signing free agents this offseason, telling MLB.com's Dick Kaegel: "I'm confident we'll receive support from [owners] Dan and David Glass to do what we have to do."
While bringing Greinke back might be a stretch, the Royals need to think big when it comes to the rotation. Adding players like Bruce Chen, Jeremy Guthrie and the like no longer works for a team with a chance to have a dynamic offense.
Bullpen
Can Joakim Soria come back strong after his second Tommy John surgery? It's hard to see the Royals exercising the $8.75 million team option they hold on his contract for 2013, but the two sides should be able to work something out where the former All-Star stays in Kansas City.
All things considered, the Royals' bullpen has not been a real area of concern. Aaron Crow, Greg Holland, Tim Collins, Kelvin Herrera and Jose Mijares have all put forth solid campaigns in 2012 and are under team control for the foreseeable future.
While Holland has taken over as closer with Jonathan Broxton being traded to the Reds, he, Crow and Herrera, among others, could be in line to assume the closer's role on a more permanent basis in 2013 if Soria winds up leaving Kansas City.
Bottom Line
Whether it be through free agency, trades or a combination of the two, bolstering their starting rotation has to be Moore's top priority between now and opening day in 2013. While a front-line starter like Greinke would be ideal, the Royals simply need an influx of quality arms.
Should the Royals be able to accomplish that, there is no reason why they couldn't make a run not only for one of the AL's wild card spots, but the AL Central as well.
Miami Marlins (49-59)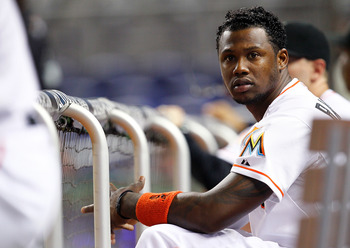 Moving Hanley Ramirez has left a void.
Sarah Glenn/Getty Images
Position Players
While the trade of second baseman Omar Infante left a hole in the infield, center fielder Emilio Bonifacio has the ability to play the position—and adding an outfielder via free agency is far easier to do than a starting second baseman.
Third base, however, remains a gaping hole with the departure of Hanley Ramirez. Prospect Matt Dominguez was dealt to Houston earlier this season as part of the package for Carlos Lee, and the Marlins don't have any real options to fill the void.
The offense has been underwhelming all season as the Marlins are one of only two teams who has yet to score 400 runs on the season—only the Cubs have been worse at producing runs.
Keeping Giancarlo Stanton and Logan Morrison healthy from spring training on will be a key to getting the offense clicking. Both youngsters were battling leg injuries early in spring training, and those injuries ultimately cost both players their seasons.
Starting Pitching
Adding Nate Eovaldi and Jacob Turner in separate moves fills the void left by the trade of Anibal Sanchez and the move of Carlos Zambrano to the bullpen, with Turner having the potential to become the future ace of the staff. Josh Johnson, Mark Buehrle and the underachieving but talented Ricky Nolasco are on board for 2013.
Bullpen
Heath Bell continues to look like a free-agent bust, while Randy Choate and Edward Mujica have been traded—leaving a massive void between Steve Cishek and the rest of the bullpen.
While the team was no doubt snake bitten by the Heath Bell signing, they'll have to dip into free agency again to rebuild their bullpen behind Cishek, while hoping that Bell can get himself straightened out.
Bottom Line
The Marlins saved a boatload of cash with the deals they made leading up to the deadline—and they need to take that savings and put it towards bolstering the offense and bullpen if they have any hopes of contending for the NL East crown in 2013.
Milwaukee Brewers (48-58)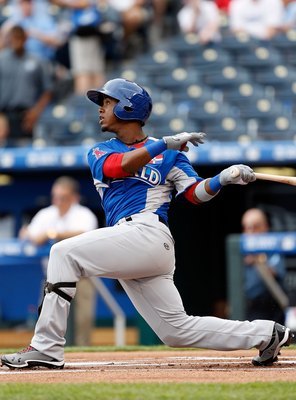 Jean Segura will prove to be a solid addition to the Brew Crew.
Jamie Squire/Getty Images
Position Players
Ryan Braun, Aramis Ramirez and Jonathan Lucroy comprise a solid base, and the addition of shortstop Jean Segura to the mix will only make things better in Milwaukee when you go around the diamond.
You'd like to upgrade from Rickie Weeks at second base, but he's not going anywhere with more than $40 million owed to him through the 2015 season, so the attention goes to first base, where they could either keep Corey Hart (a solid choice) or look to put Hart back in the outfield and upgrade over Mat Gamel.
The Brewers' problems don't lie in their inability to score runs—the 487 they've scored puts them 10th overall in all of baseball.
Starting Pitching
Some of the Brewers' problems lie in the rotation. While replacing Greinke is near-impossible, the Brewers don't have much of a choice but to re-sign the injured Shaun Marcum, who, when paired with Yovani Gallardo, comprises a pretty decent one-two combination.
Adding a quality veteran to the mix can only help things while taking some pressure off of youngsters Michael Fiers and prospects Wily Peralta and John Hellweg, who both could find themselves in the Brewers' 2013 rotation.
Bullpen
Here lies the biggest problem for the Brewers. Other than setup man Kameron Loe, no Brewers reliever has an ERA under 4.00.
Milwaukee has to add some experienced pieces to the bullpen if they have any hopes of making the playoffs in 2013.
Bottom Line
The Brewers don't need massive changes, just tweaks here and there.
Minnesota Twins (47-60)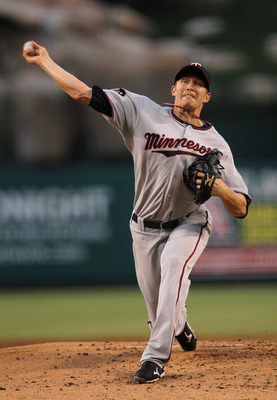 Scott Baker could help solidify a shaky rotation.
Stephen Dunn/Getty Images
Position Players
Brian Dozier has looked over-matched at times, and the excellent plate discipline that he showed in the minors (151 walks to 168 strikeouts) has seemingly disappeared in the majors as he's whiffed 54 times while only drawing 12 walks—contributing factors to his .270 on-base percentage for sure.
The Twins could look to upgrade over Dozier at shortstop as not only has his offense left something to be desired, but his defense has been below average as well, though there isn't much to choose from among the expected group of free agents.
Other than shortstop, the Twins are pretty well set around the diamond, though an off-season trade of first baseman Justin Morneau, center fielder Denard Span or left fielder Josh Willingham would change the situation.
Starting Pitching
Southpaw Scott Diamond is the best of a pretty sorry bunch of starting pitchers that the Twins have trotted out to the mound in 2012 and is definitely a piece that they can build a rotation around.
But the Twins need to add quality starting pitching desperately—other than Liam Hendriks, who showed that he's not quite ready for the big leagues earlier this season, they lack anyone on the farm who can be counted on to contribute in 2013.
What happens with Scott Baker will be something to watch. Out for the season after undergoing Tommy John surgery in April, the 30-year-old was nearly 20 games over .500 since 2008, going 46-28 with a 3.92 ERA and 1.22 WHIP for the Twins.
The team holds a $9.25 million option on him for the 2013 season, and they find themselves with a difficult decision on their hands. Exercise it knowing that Baker isn't likely to be 100 percent for at least another year, or allow him to hit the open market where another team could swoop in and snag him.
Bullpen
The Twins' bullpen has been solid if unspectacular in 2012, led by Glen Perkins who continues to show that 2011 was no fluke. Over his last 109 innings of work, he's pitched to a 2.63 ERA and 1.22 WHIP while averaging nearly 10 strikeouts per nine innings.
Adding an experienced closer to the mix would allow them to move Perkins and Jared Burton back to a setup role, adding more depth to the pen, but it's not an absolute necessity for them to do so.
Bottom Line
The Twins need an influx of quality starting pitching, and that likely means moving one of their bats. While doing so will take away from their effectiveness at the plate, it's a tradeoff that they simply have to make if they want to return to relevancy in 2013.
Philadelphia Phillies (48-59)
A healthy Ryan Howard should change the Phillies' fortunes in 2013.
Scott Cunningham/Getty Images
Position Players
A healthy Ryan Howard and Chase Utley heading into the 2013 season will do wonders for the Phillies' offense, one that struggled without their two biggest bats in the middle of their lineup for much of the 2012 season.
Finding a permanent solution at third base remains a priority, and while it's hard to see the team bringing Placido Polanco back, re-signing Ty Wigginton to fill the spot in 2013 isn't the worst decision they could make.
Starting Pitching
Six words—Roy Halladay, Cliff Lee and Cole Hamels.
Adding a starter to the back of the rotation would be ideal, but Vance Worley and Kyle Kendrick can get the job done.
Bullpen
Jonathan Papelbon and Michael Schwimmer have been very good for the Phillies, and Josh Lindblom will become a staple of their bullpen in 2013 as well—but they need to add one or two experienced relievers to the mix if they hope to improve upon the group's 4.37 ERA in 2013.
Bottom Line
Health is the key for the Phillies' return to being a perennial contender. The impact that the absence of Howard and Utley made on this team cannot be understated—the two of them can atone for the shortcomings of other position players at the plate and change the dynamic of the entire offense.
San Diego Padres (45-64)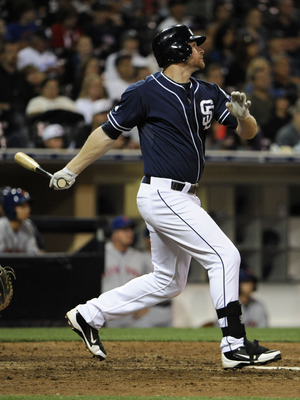 Moving Headley could expedite the Padres' rebuilding efforts.
Denis Poroy/Getty Images
Position Players
San Diego has a solid group of youngsters to play around right fielder Carlos Quentin—first baseman Yonder Alonso, catcher Yasmani Grandal, shortstop Everth Cabrera and second baseman Alexi Amarista.
Third baseman Chase Headley, the most sought after bat at the trade deadline, remains a Padre but a prime candidate to be moved this winter with Jedd Gyorko ready to assume the everyday role.
The Padres' problem on offense isn't that they have terrible players—though an upgrade over Cameron Maybin in center field is in order. It's that they play in a massive ballpark known as Petco, and that in and of itself is where much of their offensive woes lie.
Starting Pitching
Edinson Volquez and Clayton Richard are solid pieces in the rotation, but there's little else after that. Adding an experienced starter has to be on GM Josh Byrnes' list of things to do this winter.
Bullpen
Closer Huston Street is an All-Star closer, and Luke Gregerson remains one of the best setup men in baseball. As with the rotation, adding an experienced reliever can only help things.
Bottom Line
The Padres have a solid base of youngsters to build around on offense and decent starting pitching at the front of their rotation. With their ownership situation seemingly worked out, the team can begin to take the next step forward toward a return to competitive baseball.
Seattle Mariners (51-58)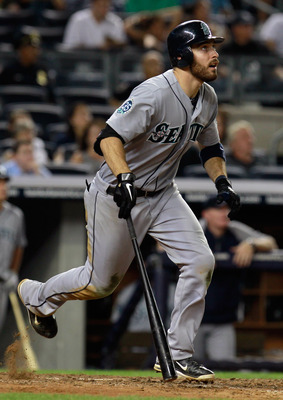 Dustin Ackley is one of the youngsters who needs to improve at the plate for Seattle to take the next step.
Mike Stobe/Getty Images
Position Players
Second baseman Dustin Ackley, catcher/designated hitter Jesus Montero and third baseman Kyle Seager are all solid building blocks on offense for the Mariners, but the trio has struggled in 2012, and major improvements will be needed from all of them if the Mariners have any thoughts about contending in 2013.
Every other position on the diamond could use a major upgrade, especially first base, where Justin Smoak continues to prove that he is not an everyday player, and shortstop, where Brendan Ryan continues to show that he cannot handle major league pitching.
Starting Pitching
Felix Hernandez and Jason Vargas are a solid one-two combination, and with Danny Hultzen, James Paxton and Taijuan Walker all on the way from the minors—it's conceivable that two of them, if not all three, are members of the Mariners' starting rotation in 2013—the Mariners are in solid shape with the starting rotation.
Bullpen
Like the starting rotation, Seattle's bullpen isn't in bad shape. Tom Wihelmsen has emerged as a viable major league closer, and Lucas Luetge is one of, if not the most under-appreciated relief pitchers in all of baseball.
Adding a veteran reliever to the mix isn't a terrible idea, but the Mariners have a number of young pitchers who can play a role in the bullpen—including D.J. Mitchell and Danny Farquhar, the two players they received from the Yankees in exchange for Ichiro.
Bottom Line
Seattle is one of the only teams where pitching isn't a major issue going forward. It's all about adding impact bats to help their youngsters. Short of trading King Felix or Vargas, their best bet to accomplish that is through free agency.
Even if they do make the needed improvements, there's no guarantee that they can contend for a playoff spot in 2013—when you share a division with the Angels and Rangers, it's tough to keep up.
Toronto Blue Jays (52-55)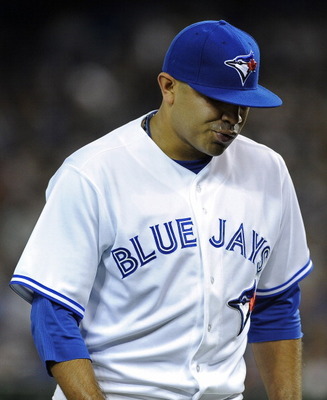 Ricky Romero can't do it by himself.
Brad White/Getty Images
Position Players
Offense hasn't been a problem for the Jays, who rank fourth in runs scored (516) and 10th in OPS (.746) in all of baseball.
Shortstop Yunel Escobar was rumored to be on his way out of Toronto as the trade deadline approached, and while he remains a Blue Jay, he could be moved this winter as prospect Adeinny Hechaverria is ready to take over the position on a daily basis.
With injured über-prospect Travis d'Arnaud expected to be the Blue Jays' catcher in 2013, injured incumbent J.P. Arencibia could also find himself used as part of a package to bolster the starting rotation.
Starting Pitching
Ricky Romero has wilted under the pressure of having to carry the load for the Jays in 2012, putting together the worst season of his four-year career and going from preseason Cy Young candidate to .500 pitcher with an ERA north of 5.00.
The rotation has been decimated by injury as five starters have either spent time on the DL or suffered season-ending injuries—a prime reason why as a group, the starting rotation has posted a 4.72 ERA, a number that puts them in the bottom third of all teams in the league.
Adding an established starting pitcher to pair with Romero atop the rotation has to be a priority for the Jays, whether it be through free agency or by packaging one of their major league trade chips with some of their minor league prospects to acquire one.
Bullpen
The bullpen hasn't been quite as bad as their starting rotation, posting a combined 4.10 ERA, but they have left plenty to be desired—though, to be fair, they have been overworked thanks to an ineffective group of starting pitchers.
Closer Sergio Santos needs to come back from injury and prove that he can get the job done in the ninth inning—some stability at the back of the 'pen will allow the Jays to do a better job of setting up the rest of the group.
Bottom Line
As we have seen with other teams, it's all about starting pitching.
Toronto has enjoyed the distinction of having the deepest and most talented farm system around for the past few seasons—it's time for these prospects to start to make an impact with the big club or to use some of them to acquire the pitching help that the team desperately needs.
Keep Reading