Roger Federer: Rivalry with Andy Murray Looms Large in Final Match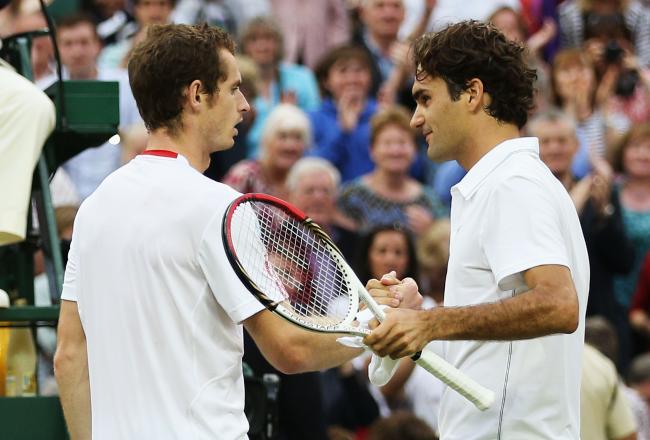 Clive Brunskill/Getty Images
When Roger Federer faces Andy Murray in the Olympic finals, tennis fans can look forward to a tightly contested match between two players who have consistently produced exciting matches.
The two have had a hotly contested rivalry since their first match in 2005, and their history will certainly loom large as they face one another in the Olympic finals.
Currently, the series between the two is tied 8-8, as it has been a back-and-forth rivalry that never favors one player for very long.
Murray jumped out to an early lead in the series, winning six of his first eight matches against Federer. Federer, though, managed to defeat Murray in their only Grand Slam match before 2009.
Midway through 2009, the power in the rivalry began to shift to Federer. He rattled off three straight wins against Murray, culminating in a win in the 2010 Australian Open finals.
The rivalry continues to go back and forth, with their last match producing a classic that trumps all of their previous matches.
Their three-hour, 24-minute match was the longest the two have ever participated in with one another.
Murray smashed 16 aces in the match, but it was not enough to defeat Federer. Despite 38 unforced errors, Federer was just too good, once again keeping Murray from winning his first Grand Slam.
Defeating Federer in the Olympics would be a nice consolation prize for Murray, but both have intense motivation to win gold.
Federer is seeking his first Olympics singles title. This would complete a career golden slam for Federer, a rare feat that only four have ever accomplished.
Murray, on the other hand, has never won a Grand Slam tournament. An Olympic gold medal would look nice on a resume that is lacking in major tournament wins.
Beyond their motivations, the two have conflicting styles of play that make matches between the two fascinating.
Federer is an elite all-around player, equally capable of attacking or waiting for an unforced error. He has one of the most dynamic forehands in the game, and he has the versatility to make any shot.
In contrast, Murray is a purely defensive player who waits for unforced errors. He is one of the few players who can consistently force Federer into significant totals of unforced errors. His ability to force errors is why Murray has found success against Federer in the past.
The poetic justice of these two dynamic rivals facing off again at Wimbledon is perfect and sets up what should be a thrilling match. Expect Federer to once again rob Murray of a major victory, stepping up once again on the biggest stage.
This article is
What is the duplicate article?
Why is this article offensive?
Where is this article plagiarized from?
Why is this article poorly edited?