Why Brock Lesnar Should Appear More on WWE TV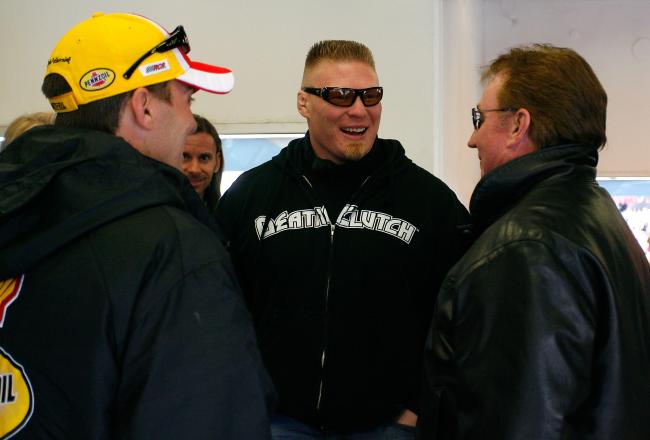 Jason Smith/Getty Images
This past Monday on Raw we witnessed something very interesting happen in the ongoing feud between Brock Lesnar and Triple H.
Brock Lesnar was in the ring with both Hunter and Shawn Michaels when he zeroes in on HBK and said "I will be seeing you before SummerSlam."
The idea of a physical confrontation between Lesnar and Michaels has made a lot of noise in the WWE Universe as the two never had the chance to lock up due to how their careers lined up.
HBK is retired from the ring, but he will be in Hunter's corner at SummerSlam when he takes on Lesnar. But before then, it is likely we will see Michaels be taken out by Lesnar, or Lesnar will at least attempt to.
This has added fuel to a fire that seemed like it was dying out a bit due to how infrequently Lesnar and Triple H have been appearing on TV.
The fact is that Lesnar is a magnet for attention. WWE knows this which is why he was offered the kind of unique deal they gave him, but when it comes down to it he needs to be on TV more to be as effective as possible.
Most of Lesnar's appearances have been a few minutes long with no actual physical encounter. For a feud that is supposed to span several weeks, that is not ideal.
Lesnar is on the poster for SummerSlam, a spot that could have gone to any number of superstars who work year-round, but it was given to the part-time Lesnar because of his level of fame.
Has Lesnar been used to his fullest potential?
I am not against WWE using Lesnar in a reduced role to gain some mainstream attention, but the way he has been used has not had the same effect it would if he were appearing on a weekly basis.
Lesnar has a limited number of dates on his contract which is why he only appears leading up to a planned match, but there has to be a middle ground.
Even the Lesnar haters have to admit that he brings in the viewers, which equates to more money, which leads to WWE doing bigger and better things.
Hopefully the buildup to WrestleMania 29 sees Lesnar used in a more effective way because the match he has at SummerSlam is not garnering the hype it should be.
This article is
What is the duplicate article?
Why is this article offensive?
Where is this article plagiarized from?
Why is this article poorly edited?