2012 Olympics: 5 Things We Learned from Team USA's Narrow Victory over Lithuania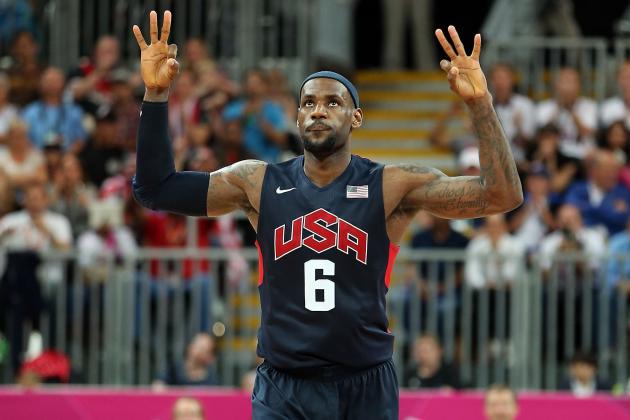 Christian Petersen/Getty Images

The phrase "cutting it close" doesn't even begin to describe what nearly was in Team USA's narrow 99-94 win over Lithuania. Down as late as four minutes into the fourth quarter, the Americans needed a furious late-minute rally to avoid an upset and maintain their standard as the best basketball team in the world.
Led by Carmelo Anthony and LeBron James (20 points each) and Chris Paul (7 points, 6 rebounds, 7 assists), they turned what was nearly a complete disaster into merely a blip on the radar.
Linas Kleiza led the way for Lithuania, scoring 25 points as he continues to prove himself on the international stage.
While the game ended in the same result—an American victory—the style and journey was completely different then the team's first three blowouts of the tournament. Lithuania proved that grit and determination can be enough to overcome a talent disparity even in the loss. They showed the US that pulling up for lazy shots and not hustling for loose balls will take its toll on even the best of rosters.
Obviously, lessons can always be learned, but in this case Coach K and his team better take a hard look and themselves and ask, "Is that we want the world to see?" There are plenty of things to take away from a game like this, and here are five that could play an important role in Team USA's success going forward.
Begin Slideshow

»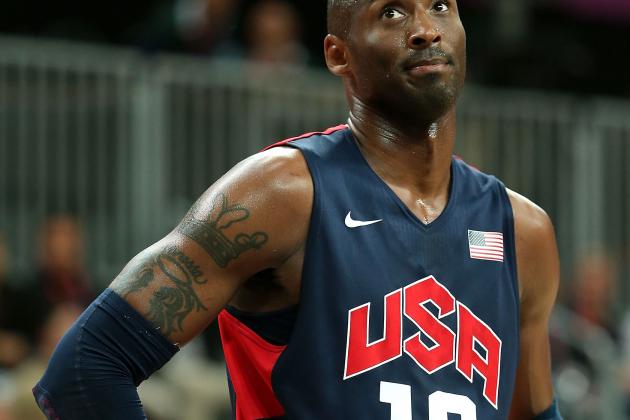 Christian Petersen/Getty Images

Skilled. Fun to watch. Athletic. Overconfident. All four traits describe Team USA, but the last one is what nearly lost the game against Lithuania on Saturday.
From poor defensive intensity to a lack of urgency, the Americans played so poorly at times that it seemed like they deserved to lose and embarrass themselves in front of the entire world.
Sure, watching Carmelo Anthony hit three after three in a 83-point, video game-like win over Nigeria was fun and all, but the Americans came into the game expecting much of the same against a team that is ranked in the Top Five by FIBA. They looked listless throughout much of the game, allowing Lithuania to use their toughness and grit to hang around and make things interesting until the final buzzer.
This kind of play may have been good enough against Lithuania, but it certainly won't be against the likes of Argentina—who they play on Tuesday—and Spain, two teams that will be the biggest challengers in USA's path to hoops gold.
Talent alone won't be enough against those teams if chemistry and effort aren't there, so Coach K better shape up his players soon or it'll be deja vu of the forgettable 2004 Athens Games.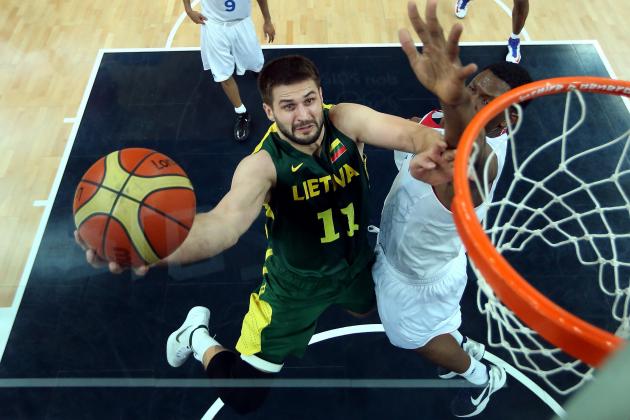 Christian Petersen/Getty Images
Kleiza penetrates against France.
Team USA might have great perimeter defense and quick hands—evidenced by their incredible 17 steals—but the defensive rotations along the baseline were just not good enough against Team Lithuania.
Linas Kleiza and Darius Songaila, two players who don't match up talent-wise against Tyson Chandler and Kevin Love, had their way. Kleiza scored 25 points while shooting 8-of-14 from inside the arc while Songaila had 11 on 5-of-6 shooting.
We've seen before that the USA can play extremely well defensively when they're hitting outside shots on offense, but they need to bring the same intensity whether the offense is there or not. They almost let things get away late in the second quarter and early in the third, and the coaching staff will have to work on the team's interior defensive play before they face dominant inside teams like Spain and Brazil.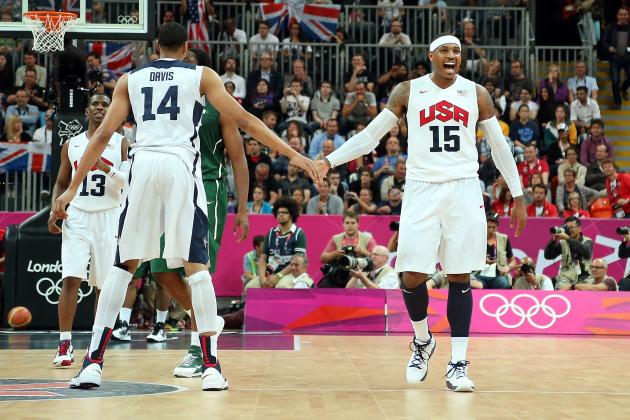 Christian Petersen/Getty Images

Besides the USA, no team in the Olympic Games can boast five All-Stars and the reigning Sixth Man of the Year starting the game on the bench, but then again not many teams can score 156 points in a game.
While the starting five of Paul-Kobe-Durant-James-Chandler is quite impressive, the bench play has been key over the last few games. Deron Williams, Kevin Love, Carmelo Anthony and Andre Iguodala have been especially good; 'Melo's been the scoring presence, Williams the outside shooter and facilitator, Love the tough rebounder and Iguodala the All-World perimeter defender.
With Kobe Bryant playing a nominal role and Tyson Chandler seeing reduced playing time, it's becoming more clear that Mike Krzyzewski trusts his bench to come in and make an immediate impact like they did against Lithuania.
If the Americans want to be able to overcome slow starts and put teams away early, they'll continue to need excellent spurts from their bench players.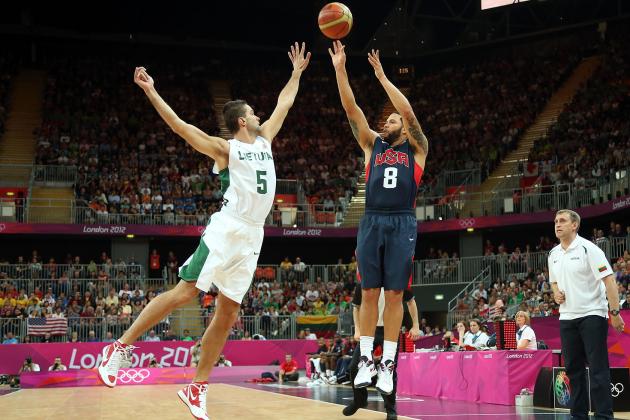 Christian Petersen/Getty Images

After a record-setting performance against Nigeria, Team USA thought that they were impeccable from behind the international three-point line.
Talk about a reality check.
In a bizarre turn of events, the Americans struggled mightily from beyond the arc, going 10-for-33 (30.3 percent) and going nearly a dozen minutes at one point without making a single three-pointer.
This team consistently settled for lazy jumpers and ridiculous outside shots, allowing Lithuania to claw away at the early lead. As LeBron James showed in the last quarter, Team USA is at their offensive best when they penetrate and attacks the rim with reckless abandon. James, Durant and the like are simply so talented offensively that it becomes nearly impossible to stop them once they're within five feet of the basket.
If the US wants to avoid long offensive droughts, they'll need to find a more consistent scoring source. Sure, there will be games where the three-pointers fall, but when they saw early that the shots weren't falling against Lithuania, the stars needed to take over and re-establish a precedent for getting to the hoop and making easier shots.
Christian Petersen/Getty Images

Carmelo Anthony has been exciting, Deron Williams has been a pleasant surprise and Kevin Love is making a name for himself, but the fourth quarter showed why the team still belongs to reigning NBA Champion and three-time MVP LeBron James.
James simply took over late in the game, seeming to actively dispel any thought of him being a "choker" that still remains even after his incredible NBA Finals performance. In the last four minutes alone, with his team only up one, James scored nine of his 20 points and put any thought of a Lithuania upset to rest.
He's been quiet so far these Olympic Games, which is just an even larger testament to No. 6's excellence. James wasn't needed in Team USA's first three lopsided victories, but when the game was on the line his teammates knew to give him the ball and get out of the way.
It's pretty simple, actually: If Team USA wants the gold, they'll need LeBron to be LeBron.
Check out more of my work here.