Tim Tebow: Is His Role with New York Blown out of Proportion?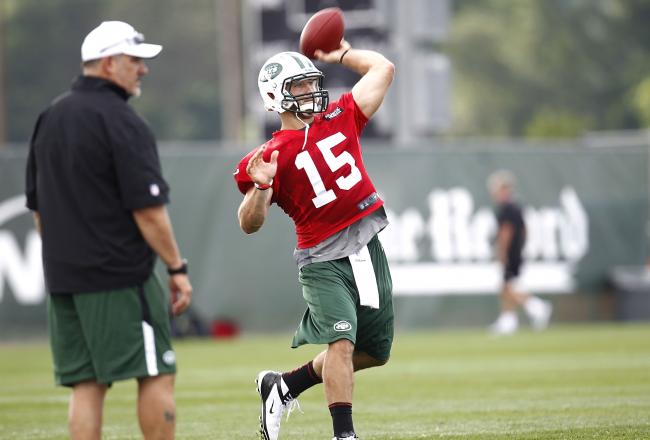 Jeff Zelevansky/Getty Images
After all, it was inevitable that Tim Tebow going to the New York Jets would spark a mass interest in the quarterback situation there.
From the first day it was announced that Tebowmania would take his act to the big stage, coach Rex Ryan said Mark Sanchez would remain the starting quarterback. Love him or hate him, the California kid had taken the Jets to the AFC Championship Game in his first two seasons, an accomplishment that deserves to be respected.
And for those who would prefer Tebow over Sanchez in New York, understand that the job is Sanchez's to lose. For as mediocre as his performance has been, the Jets have always been competitive and they invested a lot into the former Trojan.
But it seems that everybody has something to say when it comes to the humble, unconventional and polarizing quarterback that is Tim Tebow.
The Jets didn't trade for a playoff-winning quarterback to sit on the bench. Yet they didn't trade for Tebow with the intent of starting him from day one.
Sanchez knows the first part, Tebow knows the latter.
So what is absolutely unbelievable is the number of controversies being made out of thin air. ESPN and Skip Bayless always find a way to throw Tebow into a conversation. In fact, the network finds more airtime to drag out the Jets' quarterback situation than to cover the Olympics.
Sanchez is fine with his role. He is OK with the fact that Tebow will come onto the field in the red zone to make plays. He understands that Tebow brings a different element to the Jets and can help the team win games.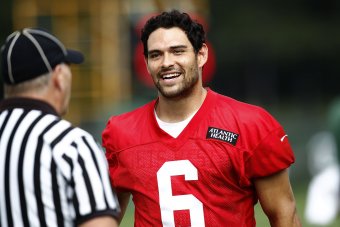 Jeff Zelevansky/Getty Images
If Sanchez, the only person who should really care, is fine with Tebow stealing a few snaps a game, why is this situation so controversial?
The idea of a two-quarterback system ruining team chemistry is ridiculous. The Jets aren't going to split the snaps 50-50. The Jets have special plays and packages for Tebow. He can be and will be used in a Wildcat role. The team will have prepared for these plays and will know what to expect when Tebow enters the game.
And if Sanchez is hot, Ryan won't just throw Tebow into the game for the heck of it.
This Jets quarterback situation is unlike anything ever seen in the NFL. It's not a battle of two pocket passers. It's a traditional quarterback complemented by a bruising rusher who can also make plays with his left hand.
Ryan is excited to have a dynamic player in Tebow on the bench. He can be used at any point to spark the Jets and keep a defense vulnerable and off-guard. Sanchez is the starter and Tebow is a dose of magic and an element of surprise.
Tell me, how many other statistics from a training camp practice are nationally aired? Only the Jets' quarterbacks. It's borderline ridiculous.
And for any gamers out there, Sanchez is rated three points higher than Tebow in Madden NFL 13. Make your own interpretation for that before ESPN throws its own in your face.
The media is simply trying to make this situation something it's not—a controversy. The quarterbacks get along and understand their roles in helping the Jets win football games. Instead of getting praised for taking lesser roles in the pursuit of winning, everything the quarterbacks do gets blown out of proportion.
Call it what you will, but this is no controversy. The media will write anything and ESPN will say anything about the situation for more attention. The Jets brought Tebow in with a special purpose and he will help the Jets win games.
Sanchez is the traditional quarterback and starter. Tebow is a dynamic player to be used in special plays and packages. Simple as that.
This article is
What is the duplicate article?
Why is this article offensive?
Where is this article plagiarized from?
Why is this article poorly edited?

New York Jets: Like this team?