Minnesota Vikings: Update on the Offensive Line from Camp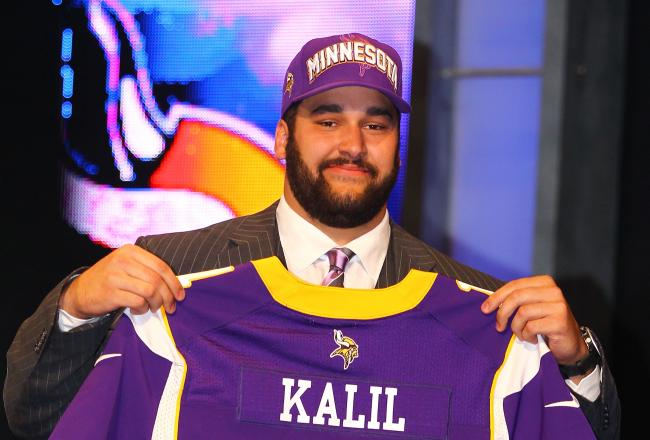 Al Bello/Getty Images
While we watch for signs of Christian Ponder's emergence as the true franchise quarterback of the future for the Vikings, there have been some equally vital events on the offensive line worth noting this week.
Some of it, not so great.
Injury at Right Guard
Geoff Schwartz was battling Brandon Fusco for the right guard job when he began having troubles turning to one side. The pain persisted until the team sent him back to Minneapolis for an MRI, which revealed a sports hernia.
It hasn't been announced yet, but if he needs surgery Schwartz will miss about a month after the fact.
That likely leaves Fusco with the job which, while not a horrible thing, is disappointing. I said in my NFCN offensive line breakdown of the right guard that Schwartz's biggest issue was staying healthy—it's a bummer to see it come to a head so early on.
One hopes he recovers quickly, as I still feel he is the right man for the job.
But as the Jets' quarterback recently said, you can't make the club from the tub.
Schwartz has to get healthy.
Kalil is the Real Deal
There was some debate around the 2012 NFL draft as to whether the Vikings should select left tackle Matt Kalil, defensive back Morris Claiborne or even wide receiver Justin Blackmon, but I never wavered.
Kalil was going to be a stud, and while an offensive line can be great without an All-Pro at left tackle, you don't pass on one when he falls in your lap.
So far, Kalil has made me (and many if you) look very smart.
Kalil has benefited from some intense reps with Jared Allen, ones where he has become increasingly able to stymie the longtime stud.
So much so that Allen doesn't even want to talk about it anymore.
This doesn't really prove anything, but it's a great sign for Kalil and the offense. Ponder had issues trusting the line last year and has been super-excited to have Kalil on board.
He has to trust the line more this year, take his time and read his progressions better and make better choices.
So far it looks like, at least as far as left tackle, he should have no problem doing so.
Switch to Left Guard Fits Charlie Johnson
Johnson struggled at times when he was at left tackle and the position never seemed a great fit.
His work at left guard, a result of the arrival of Matt Kalil, has been an improvement so far.
It remains to be seen how he holds up under pressure but so far he appears to look better at guard than he ever did at tackle.
Preseason games will go a long way to seeing how he stacks up against other teams.
Check out the B/R NFC North Facebook page—like us and keep up with everything NFC North on Bleacher Report! Follow me on Twitter at @andrew_garda.
This article is
What is the duplicate article?
Why is this article offensive?
Where is this article plagiarized from?
Why is this article poorly edited?