Olympic Swimming Results 2012: Day 8 Updates, Medal Winners, Analysis and More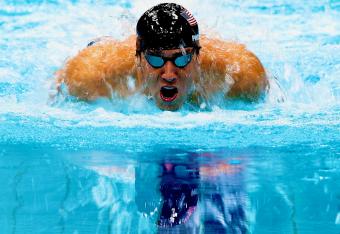 It's official: Michael Phelps is going out a winner.
The greatest Olympian of all time (debate pending), swam a stellar butterfly leg to lead Team USA's gold-medal change in the men's 4x100-meter medley relay.
Elsewhere 'round the pool, Missy Franklin won her fourth gold medal and fifth overall at these Games. The four golds tie Franklin with fellow American Amy Van Dyken for the most at one Olympiad by a female swimmer.
I think you know who holds the record for male swimmers.
China's Sun Yang broke his own world record in the 1,500 free, picking up his second gold and fourth medal in London.
And everyone had a rollicking good time on the final night of Olympic swimming action.
Let's do it again in four years, shall we?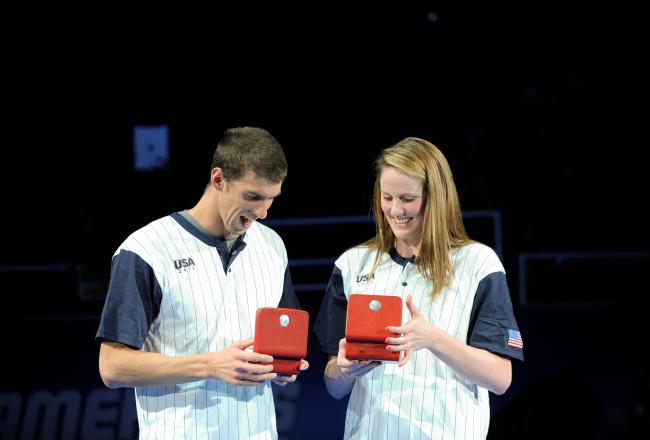 A perilously quick recap of the day:
Ranomi Kromowidjojo (Netherlands) wins the women's 50 free, her second individual gold of these Games.
Sun Yang (China) sets a new world record in the men's 1,500 free.
Swimming leadoff in the women's medley relay, Missy Franklin captures her fourth Olympic title.
Michael Phelps gets a proper sendoff, winning gold in the men's medley relay.
Goodbye, Michael. Hello, Missy. And to all the water fiends out there...we'll see you in Rio.
Some might dare call Phelps' performance in London disappointing...
This is what disappointment looks like for Michael Phelps: 4 gold, 2 silver, 1 fourth place finish.
Yeah. A real let down.
Final tally in the men's medley relay:
United States - 3:29.35
Japan +1.91
Australia +2.23
Great Britain +2.97
Hungary +3.67
Germany +3.71
Netherlands +4.11
Canada +4.84
What you need to know: Phelps went out on top. And all is right with the world.
No world record...
But it was still a fantastic swim for Phelps and Team USA. The Great One gets a fitting swan song.
Phelps gave the Americans a lead after the third leg--one they would never relinquish.
IT'S GOLD FOR TEAM USA
That's 18 gold medals for Phelps, and 22 overall.
Adrian was the difference down the stretch. He turned a close race into the rout we all expected.
Japan finishes second, giving Kitajima one more medal in his legendary career.
Another disappointing swim for Australia. They finish third.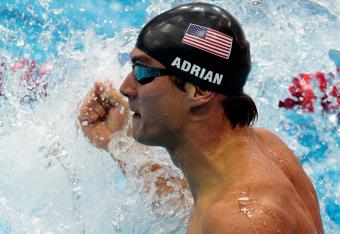 Adrian is blowing away the field...
Unbelievable swim. And it's gonna be Team USA.
Will they get the world record?
Phelps gives Team USA the lead...
But it's tight...Japan just 0.26 behind.
Adrian should have enough juice to salt this away.
After the breaststroke...
Brendan Hansen gives up the lead to Japan's legendary Frog King, Kosuke Kitajima.
But they won't have the firepower to hold on.
Phelps into the pool...for the last time.
After the first 100...
Grevers gives Team USA a 0.34-second lead.
Grevers is in the pool...
And they're off.
Grevers will be expected to get Team USA an early lead.
This is the 24th Olympic race of Michael Phelps' career.
The man has more gold medals (17) than Larry Bowa has home runs (15).
Pehlps comes out with hood up, earphones on. Like it's just another race.
I wonder what he's grooving to?
My guess: Reba McEntire.
Team USA's lineup for the medley relay
Matt Grevers (gold medal, 100 back)
Brendan Hansen (bronze medal, 100 breaststroke)
Michael Phelps (gold medal, 100 fly)
Nathan Adrian (gold medal, 100 free)
Australia, as usual, is the chief nemesis. If they can keep things close through the first three legs, James Magnussen can make things interesting in the free.
That said, the Americans are a heavy favorite.
A bit of startling history: Team USA has NEVER lost this event.
And now, the maaaaiiiiiiin event...
Something different is in the air.This is gonna be special. I don't remember such hype for any swimmer's last race. ow.ly/i/Pah7

— Summer Sanders (@SummerSanders_) August 4, 2012
What a meet by the American women.
The team won 14 medals, 8 of them gold.
And the future looks mighty bright with Franklin, Schmitt and Katie Ledecky leading the way.
Final tally in the women's medley relay:
United States 3:52.05 (WR)
Australia +1.97
Japan +3.68
Russia +3.98
China +4.36
Netherlands +5.23
Denmark +5.71
Great Britain +7.41
Are we excited, yet?
There have been empty seats at Aquatics Centre like most venues. But none tonight. Place is packed for #PhelpsFinale. #London2012

— Paul Newberry (@pnewberry1963) August 4, 2012
Just to recap:
Missy Franklin is 17 years old and she now co-holds the record for most gold medals won in a single Olympic Games by a female swimmer.
Alright, I'm impressed.
A bit of history, as viewed by a former history maker...
Missy Franklin is going to tie my record of 4 golds in one games..$100 says @rowdygaines won't even mention my name! #notnice

— Amy Van Dyken-Rouen (@AmyVanDyken) August 4, 2012
That's five medals for Missy Franklin in her Olympic debut, four of them gold.
Schmitt gets five medals, as well.
These are happy times for Team USA swimming.
TEAM USA WINS!
AND IT'S A WORLD RECORD.
Australia finishes a distant second. Japan takes third.
Vollmer turns this one into a laugher.
America is waaaayyy out in front.
Only one question left: Can Allison Schmitt get America the world record?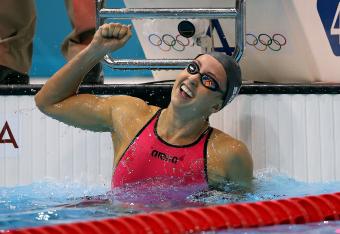 Soni extends the lead after the 100 breast.
Russia in second. 0.79 seconds backs.
The Aussies drop back to fourth. They've got some serious ground to cover.
After the 100 back...
Franklin has the lead for America. Emily Seebohm of Australia in second.
Team USA:
Missy Franklin (gold medal, 100 back)
Jessica Hardy (silver medal, 100 breaststroke)
Dana Vollmer (gold medal, 100 fly)
Allison Schmitt (did not swim 100 free event final, gold medal in 200 free)
Heckuva team. Schmitt is ostensibly the weak link, but she's been on fire this year. hard to spot a weakness.
Franklin leads it off. She'll be expected to stake Team USA to an early lead...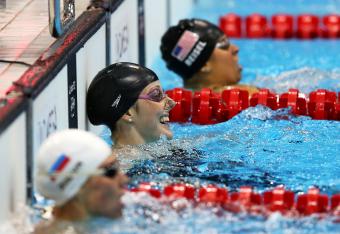 Next up...the women's 4x100 medley relay
USA and Australia are the teams to watch.
Missy Franklin will swim the backstroke leg for the Americans.
Sports Illustrated's Nick Zaccardi has a nice breakdown of the splits burried in this larger preview piece.
It should be a tight one.
This article is
What is the duplicate article?
Why is this article offensive?
Where is this article plagiarized from?
Why is this article poorly edited?