Los Angeles Galaxy vs. Seattle Sounders: Analysis, Reaction and More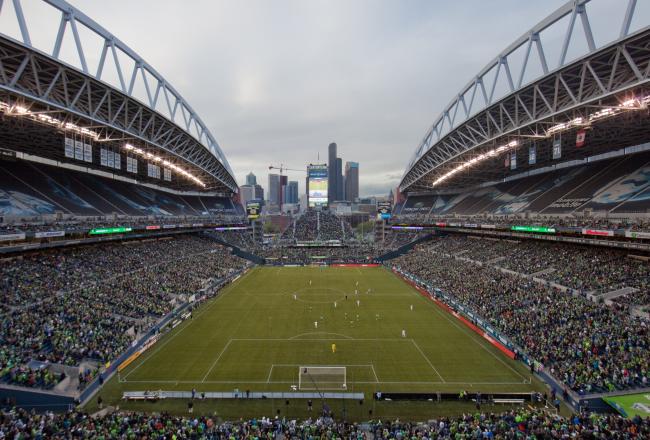 Otto Greule Jr/Getty Images
Bruce Arena's Los Angeles Galaxy knew they were up against an impossible task in stopping Real Madrid. This Sunday, the task is a little bit more manageable, as the Galaxy face Sigi Schmid's Seattle Sounders at CenturyLink Field in Seattle, Wash.
The Galaxy are currently 10-10-3 (33 points) and are fifth in the MLS Western Conference. The Sounders, meanwhile, are third in the West with a record of 9-5-7 (34 points). They could be staring at fifth place if Los Angeles gets payback for its 2-0 defeat to Seattle at CenturyLink Field on May 2.
Can the Galaxy bounce back against their Northwest rivals, or will Seattle shift the balance of power even further?
Kickoff is scheduled for 6 p.m. PT/9 p.m. ET and will be televised on ESPN2.
Keep it right here on Bleacher Report for continuing coverage of the 2012 Major League Soccer season, the Olympics and all things world football.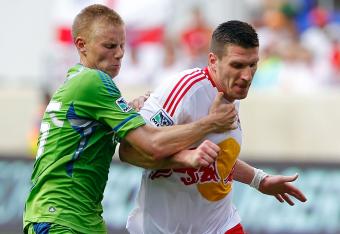 Well, the Seattle have proven their can give up four goals to the LA Galaxy at home. But did you know they can score four against Los Angeles? Andy Rose has made it 4-0 Seattle at CenturyLink Field, and it's a final.
Christian Tiffert, the new acquisition for the Seattle Sounders, nearly broke through for his first-ever MLS goal in the 70th minute of play. A chance for Mike Magee in the 72nd minute was poorly headed but the Sounders were unable to capitalize on the transition.
It has been a below-average performance from Los Angeles in terms of finishing. It has been a broken record of failure. A.J. DeLaGarza wasted an opportunity in the 75th minute. Marcelo Sarvas's attempt in the 76th minute was off the mark. A header attempt from Landon Donovan in the 78th minute from Mike Magee was also wide.
In the 81st minute, Eddie Johnson nearly got a brace, but the shot was wide right.
With the defeat, Los Angeles fall to 10-11-3 (33 points) and give Chivas USA an opportunity to catch up ahead of the final match of the Honda Superclasico next weekend.
A full recap of this match will be posted on Bleacher Report and the View from Victoria Street.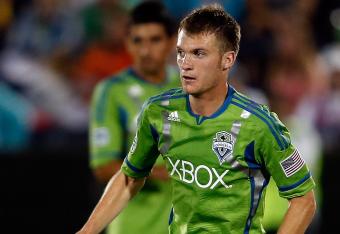 The rout is officially on here in CenturyLink Field in Seattle, Wash. Alex Caskey has made it 3-0 Seattle Sounders in the 63rd minute of play over the Los Angeles Galaxy, and just like the second goal given up by LA goalkeeper Josh Saunders, it came off a poor save attempt.
Fredy Montero nearly had a chance at a brace in the 58th minute, but he was offsides. Another chance for Montero went astray.
The Los Angeles Galaxy are setting themselves up for failure with inept goalkeeping from Saunders. They are staring at a harrowing month of August with performances like this. There is no pride. There is no purpose. There is no intensity from this Galaxy team that is required to secure a successful defense of their MLS Cup.
This is a performance that is typical of their season and they have no one to blame but themselves for not playing with the intangibles that are expected of MLS Cup Champions.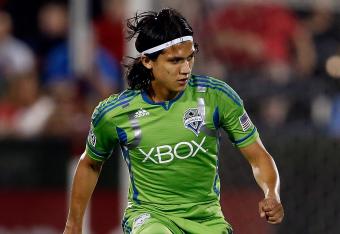 The rout may be on here at CenturyLink Field. It's 2-0 Seattle Sounders thanks to Fredy Montero in the 52nd minute of play.
Early on in the second half, a 47th minute corner from LA's David Beckham was cleared, and the second chance sailed wide left. Another free kick in the 49th minute from Becks was also cleared, adding to another subpar performance from the No. 23 of LA.
A poor save effort from embattled Galaxy goalkeeper Josh Saunders fell at the feet of Montero to double Seattle's advantage.
Well, the Galaxy are not helping themselves with their poor decision making and inability to score on the opportunities. Don't be surprised if the margin gets wider at the second half goes along; the Galaxy's performance against Real Madrid is rearing its ugly head again.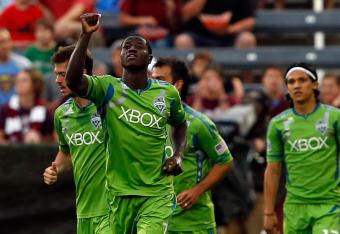 Eddie Johnson opened up the scoring in the sixth minute for the Seattle Sounders, but the Los Angeles Galaxy have adjusted to the pace. The Sounders lead 1-0 at the break.
In the 23rd minute, a chance for Osvaldo Alonso from Fredy Montero just sailed wide left. In the 23rd minute, A.J. DeLaGarza's terrible day at the office continued with him getting issued a yellow card for showing his lack of class. That spurred a free kick opportunity for Montero, an enduring fan favorite of the Sounders. Montero's free kick hit the wall, and the Sounders earned a corner that was cleared.
Landon Donovan had a great opportunity in the 31st minute to equalize the contest, but he and Robbie Keane wasted the chance.
In the 34th minute, a David Beckham free kick was cleared for a corner that was also swept aside by Austrian goalkeeper Michael Gspurning. A cross from Mauro Rosales intended for Eddie Johnson went wide left.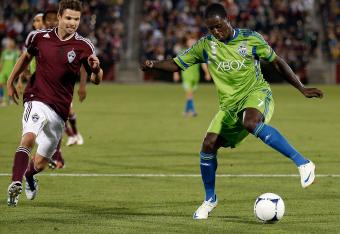 The high school-esque gong show defending of the Los Angeles Galaxy is putting them under the microscope today against the Seattle Sounders, who lead 1-0 at CenturyLink Field after 20.
Mauro Rosales nearly found Eddie Johnson for his brace in the 11th minute. Juninho had a speculative effort, typical of his caliber in the 12th minute. In the 14th minute, another chance from Juninho was skied over the bar and out for a goal kick.
Johnson's next chance in the 15th minute triggered Josh Saunders to come off his line. A.J. DeLaGarza was challenge in the 16th minute but did not do well enough to convince referee Chris Penso to give a penalty. In the 20th minute, a Mauro Rosales free kick was collected.
So far, the lack of creativity from this LA Galaxy team is typical of their 2012 campaign. They can be their own worst enemy against any team they face and are capable of giving up goals within the first ten minutes of a contest. If they don't respond quickly, this could get ugly for them.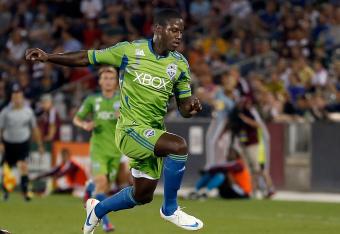 Real Madrid's 5-1 beatdown of the Los Angeles Galaxy proved to be no fluke. Sigi Schmid's Seattle Sounders proved that theory correct thanks to Eddie Johnson, who was able to break open the scoring in the sixth minute to make it 1-0 to the good of the Sounders.
Early on in the first half, Seattle had a chance to break open the deadlock 35 seconds in but the shot was collected by LA goalkeeper Josh Saunders. Robbie Keane's first volley in the third minute was cleared for a David Beckham corner. Omar Gonzalez nearly got a header in on a Beckham cross in the fourth minute. Saunders was quick to anticipate the transition.
Keane's second attempt in the seventh minute was just saved.
Seattle are a team on a mission: to catch the San Jose Earthquakes and Real Salt Lake at the top of the MLS Western Conference standings. With this goal just six minutes in, they are on their way.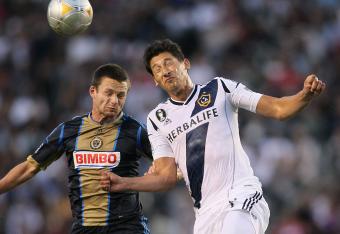 With the midseason friendlies officially under their belt, Bruce Arena's Los Angeles Galaxy turn their attention to tonight's crunch-time contest with Sigi Schmid's Seattle Sounders at CenturyLink Field (kickoff: 6 p.m. PT/9 p.m. ET, ESPN2). LA are currently 10-10-3 (33 points) and can leapfrog ahead of the Sounders with a win.
For defender Omar Gonzalez, the dog-and-pony show with Real Madrid is in his rear view mirror.
"It doesn't matter at all, who cares about that game. It's for fun, fun for the fans, fun for us, but the score line doesn't matter," Gonzalez told LAGalaxy's Adam Serrano. "We want to do well against that type of team, but they play in another league and another world even. [The game against Seattle] is the game that matters and I wish that we wouldn't have even played that game.
"We've been having a lot of games and for a friendly to happen and then to go into a tough place like Seattle where we need to be at our best is tough."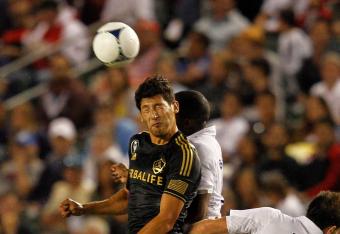 As it stands, Los Angeles Galaxy defenders Omar Gonzalez and David Junior Lopes form a center-back tandem with plenty of potential.
However, it will take some time before some chemistry is built between both center backs, and that chemistry will need to be on display on Sunday against the Seattle Sounders at CenturyLink Field in Seattle, Wash. (kickoff: 6 p.m. PT/9 p.m. ET, ESPN2).
"I think a way we can get better is if I raise my game," said Gonzalez to MLSSoccer.com's Scott French. "There are things that take a little bit of time coming back from this injury, not playing in six months, that I've just got to be aware of so I can be at my best on the backline.
"A lot of it has to do with more talking. I think I need to talk a lot more so we can be that much more organized."