Pittsburgh Steelers: 6 Players Impressing Early in Camp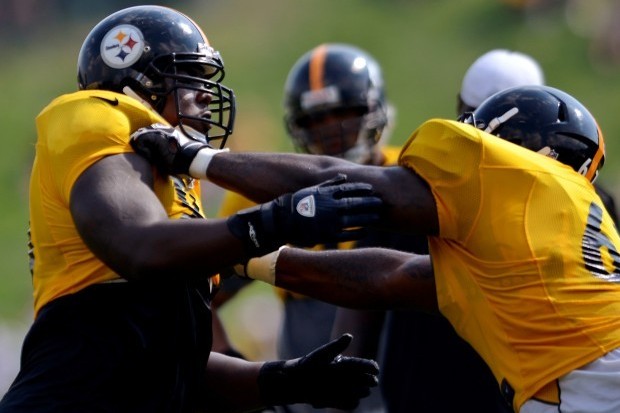 http://www.google.com/imgres?q=steve+mclendon+training+camp&num=10&hl=en&biw=1525&bih=655&tbm=isch&tbnid=-dv4dt-uHETDRM:&imgrefurl=http://www.timesonline.com/sports/steelers/steelers-training-camp/collection_931e6adb-c078-5815-a4d2-1db3c2b9eb52.html&docid=Tj7B0Ecd60UitM&imgurl=http://bloximages.newyork1.vip.townnews.com/timesonline.com/content/tncms/assets/v3/editorial/f/3a/f3ad107f-4a72-56ae-a54a-7438cac9e463/501aebebe9c81.image.jpg&w=620&h=446&ei=DM4eUI20K4fb6wHokIH4BQ&zoom=1
The Pittsburgh Steelers have been in camp for a little over a week now, and they are creeping up to their first preseason game against the Eagles on August 8th.
It is way too early to start declaring camp battles over or calling for someone's job. However, that doesn't mean we can't recognize who has come out of the gate on the right foot.
There are a ton of great competitions going on in camp. Here are six players who have been impressing early for the Steelers.
Begin Slideshow

»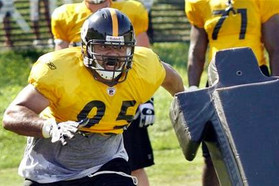 http://www.google.com/imgres?q=cameron+heyward+training+camp&hl=en&biw=1525&bih=655&tbm=isch&tbnid=qvAf6Ek7cGqNSM:&imgrefurl=http://www.examiner.com/pittsburgh-steelers-in-pittsburgh/opening-days-of-steelers-training-camp-2011-picture%3Fslide%3D36054231&docid=PatfeVbZXUtoQM&itg=1&imgurl=http://cdn2-b.examiner.com/sites/default/files/styles/image_full_width_scaled/hash/d2/cd/d2cdac0b9359aa654dcfa9d6d969d6e4.jpg&w=436&h=279&ei=Vs4eUMTRLuyK6QGoyYGYCQ&zoom=1&iact=hc&vpx=513&vpy=308&dur=86&hovh=179&hovw=281&tx=152&ty=70&sig=110715320842228875213&page=1&tbnh=143&tbnw=191&start=0&ndsp=21&ved=1t:429,r:9,s:0,i:100
Cameron Heyward is not expected to be a starter this season. However, he is certainly making his presence known so far in camp.
Heyward has especially been destroying rookie Kelvin Beachum and is just being generally disruptive when on the field.
I still do not see Heyward overtaking Brett Keisel or Ziggy Hood for a starting job, but we are definitely going to be seeing a lot of him on defense this season.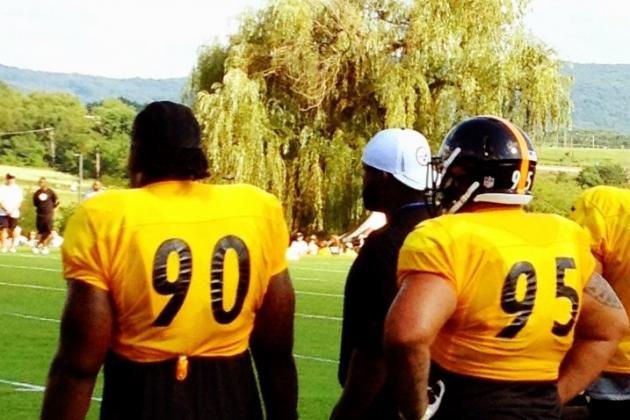 http://www.google.com/imgres?q=steve+mclendon+training+camp&num=10&hl=en&biw=1525&bih=655&tbm=isch&tbnid=JrxP7jnANmFn8M:&imgrefurl=http://www.steeleraddicts.com/2012/07/2012-steelers-training-camp-july-29-recap-pics-included-decastro-lewis-minor-injuries/brentson-buckner-with-the-nose-tackles/&docid=pWo7Amr_xZwwCM&imgurl=http://www.steeleraddicts.com/blog/wp-content/uploads/2012/07/Brentson-Buckner-with-the-Nose-Tackles.jpg&w=717&h=967&ei=DM4eUI20K4fb6wHokIH4BQ&zoom=1&iact=hc&vpx=719&vpy=120&dur=278&hovh=261&hovw=193&tx=112&ty=124&sig=110715320842228875213&page=1&tbnh=144&tbnw=107&start=0&ndsp=21&ved=1t:429,r:3,s:0,i:86
There were a lot of people who were worried about who would be the starting NT for the Steelers if Casey Hampton was unable to play Week 1.
Then the Steelers drafted Alameda Ta'amu in the fourth round, and it was assumed that he would be able to beat out Steve McLendon for the starting spot.
Well, McLendon is showing so far in camp that he has what it takes to anchor the defensive line. And at this point, it looks like the Steelers won't have to push Ta'amu to play too early.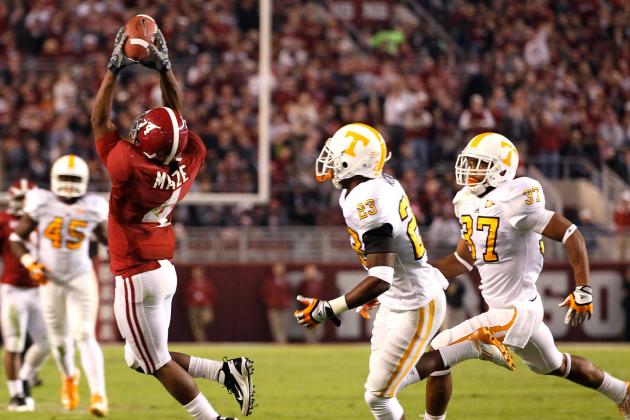 Kevin C. Cox/Getty Images

Marquis Maze was not given much of a chance to make the Steelers roster because of his size and the fact that manyexpected seventh-round pick Toney Clemons to get that last receiver spot.
But Maze has been catching nearly everything thrown at him. Meanwhile, it seems like every other receiver in this competition has been struck with a case of brick hands.
Although it is still very early in camp, I actually have Maze ahead of Clemons and the other receivers competing for what is probably one spot available.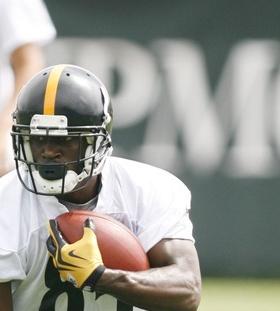 http://www.google.com/imgres?q=antonio+brown+training+camp&hl=en&biw=1525&bih=655&tbm=isch&tbnid=uafan1RSMt4EtM:&imgrefurl=http://www.behindthesteelcurtain.com/photos/pittsburgh-steelers-training-camp-who-to-follow&docid=Yb0utOhhwl9kNM&imgurl=http://cdn1.sbnation.com/photo_images/7389570/20120612_kdl_al8_061.jpg&w=467&h=700&ei=-c4eUKf9BaqO6AGKpYDgCg&zoom=1&iact=hc&vpx=972&vpy=265&dur=70&hovh=275&hovw=183&tx=96&ty=177&sig=110715320842228875213&page=2&tbnh=156&tbnw=115&start=19&ndsp=28&ved=1t:429,r:11,s:19,i:175
Antonio Brown has far and away been the best receiver in camp, which is exactly what the Steelers have needed with the Mike Wallace holdout.
There were some who questioned whether or not Brown would be as good without Wallace on the field ,and he has shown to be deserving of every bit of the contract extension he just recently received.
With as good as Brown has looked in camp, just imagine when Mike Wallace does come back and the Steelers line up with Brown, Wallace, Emmanuel Sanders and Jerricho Cotchery at receiver.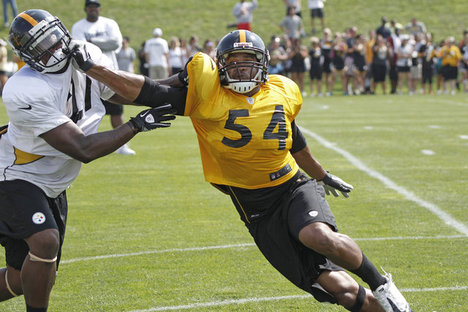 http://www.google.com/imgres?q=chris+carter+training+camp&hl=en&biw=1525&bih=655&tbm=isch&tbnid=DJnsNToDHEnH5M:&imgrefurl=http://www.sacbee.com/2012/07/28/4670478/trainingcamps.html&docid=TgYO0FSsW15OJM&imgurl=http://media.sacbee.com/smedia/2012/07/28/20/28/TQUFt.St.4.jpeg&w=640&h=468&ei=OM8eUMm0G-aI6AHBhoD4DQ&zoom=1&iact=hc&vpx=1107&vpy=157&dur=99&hovh=192&hovw=263&tx=105&ty=105&sig=110715320842228875213&page=1&tbnh=149&tbnw=229&start=0&ndsp=21&ved=1t:429,r:5,s:0,i:90
With both James Harrison and Jason Worilds starting camp on the PUP list, Chris Carter has been the starting OLB opposite LaMarr Woodley.
He has not disappointed, showing better strength this year, along with the speed to get into the backfield to disrupt plays.
I was very impressed with Carter during his rookie year, and with a strong camp, I think he will surpass Jason Worilds as the top backup to Harrison and Woodley.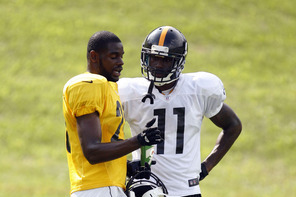 http://www.google.com/imgres?q=cortez+allen+training+camp&hl=en&biw=1525&bih=655&tbm=isch&tbnid=81thyvKNgffg6M:&imgrefurl=http://bleacherreport.com/articles/1283372-pittsburgh-steelers-observations-from-thursdays-training-camp-practice&docid=bZz4YSuOKm2VHM&imgurl=http://cdn.bleacherreport.net/images_root/slides/photos/002/470/492/hi-res-6414860_display_image.jpg%253F1343956456&w=296&h=400&ei=kM8eUILAOeTL6wGO64HgAw&zoom=1&iact=hc&vpx=179&vpy=125&dur=90&hovh=261&hovw=193&tx=78&ty=99&sig=110715320842228875213&page=1&tbnh=155&tbnw=115&start=0&ndsp=22&ved=1t:429,r:0,s:0,i:72
I have to say that Keenan Lewis has also had a strong start to camp. However, Cortez Allen is really showing that he may be a future No. 1 corner for the team.
Even though Lewis will probably open the season as the starter opposite Ike Taylor, Allen is definitely close behind.
Hopefully Allen's play will motivate Lewis even more to come through on those Pro Bowl predictions he had for himself.
Either way, the future at the cornerback position looks very bright at this point for the Steelers in camp.