Olympic Track and Field Results 2012: Saturday Updates, Medal Winners, Analysis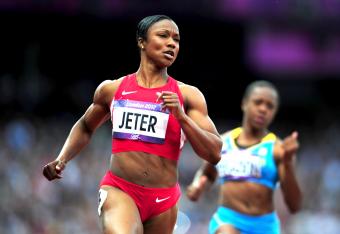 The Greatest Night in British Athletics History.
That about says it all. In front of a raucous, partisan crowd the British athletes ran and soared to a night none of the 80,000 in attendance will ever forget.
Here are your Gold Medalists of the Night:
Jessica Ennis- Britain Golden Girl blows away the field in the Heptathlon
Greg Rutherford- British Long Jumper stuns the home crowd with a win
Shelly-Ann Fraser-Pryce- Diminutive Jamaican repeats in the Women's 100-meter dash
Mo Farah- An emotional moment as British 10,000 runner powers home to gold with USA's Galen Rupp a magnificent silver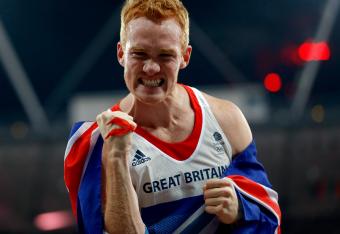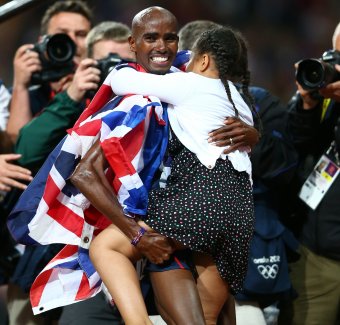 Michael Steele/Getty Images
Wrapping Up a Sensational Night of Track and Field:
Where to begin? There were amazing performances all around. Best of all, most came from the British athletes in front of one of the greatest crowds in track history.
British Heptathlete Jessica Ennis kicked off the night in triumphant fashion. Her 800 meters wrapped up the 7 events in perfect fashion. It saw her cross the line first and seal a unforgettable victory in the Heptathlon.
The momentum continued in the long jump as another Briton, Greg Rutherford, took Gold and sparked the crowd into further frenzy.
Your turn, Mo? With the weight of a nation on him, British 10,000 meter runner Mo Farah lived up to all of the hype and kicked away for a dazzling victory in front of Team USA's Galen Rupp.
Lastly, Jamaican sprinter Shelly-Ann Fraser-Pryce repeated as women's 100-meter dash champion, holding off American rival, Carmelita Jeter.
Magnificent action, can track and field produce anything better? It does not seem possible.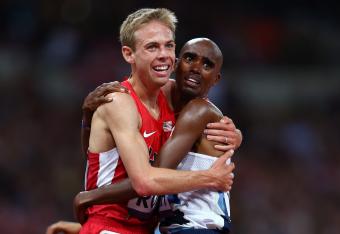 USA Going Wild for Galen Rupp:
Nearly lost in Farah's emotional victory was American Galen Rupp's shocking silver medal. This was something that had not happened since 1964, and frankly, it hasn't been close. A huge moment for USA track and field.
Galen Rupp (@g_rupp) wins SILVER in men's 10,000m!Rupp is only third American ever to medal in the event - first since Billy Mills in '64!

— US Olympic Team (@USOlympic) August 4, 2012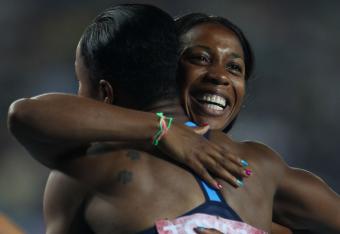 Women's 100 Meter Dash Final Wrap-Up
Gold: Shelly-Ann Fraser-Pryce (Jamaica) Silver: Carmelita Jeter (USA) Bronze: Veronica Campbell-Brown (Jamaica)
Twitter Reaction (Rare Accomplishment, Lolo fails to give play-by-play)
Shelly-Ann Fraser-Pryce becomes the first athlete to defend her Olympic 100m title since Gail Devers in 1996!

— Athletics Weekly (@AthleticsWeekly) August 4, 2012
It hard to cheer for a 10 second race, no live tweeting for women's 100

— Lolo Jones (@lolojones) August 4, 2012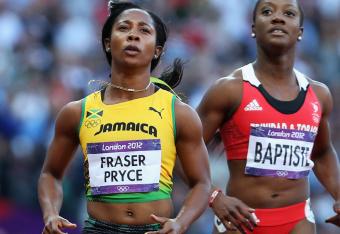 Shelly-Ann Fraser-Pryce Wins Gold in Women's 100 Meter Dash
The Jamaican repeats as she holds off a big challenge from the USA's Carmelita Jeter. Bronze goes to Veronica Campbell-Brown. Fraser-Pryce was out well, and ran a stellar 10.75 unofficially.
Women's 100-Meter Dash Final on the Line:
Has to do a quite a bit to top that!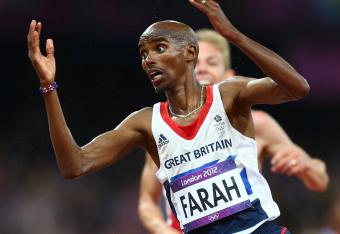 Olympics 10,000 Meters Wrap-Up
Gold: Mo Farah (Great Britain) Silver: Galen Rupp (USA) Bronze: Tariku Bekele (Ethiopia)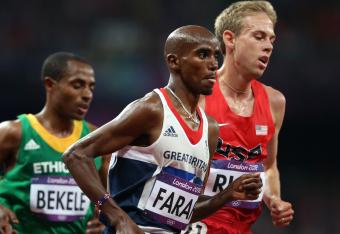 Twitter Reaction and Stadium Reaction
Deafening roar at the crowd as Farah finished off an unbeatable final kick. This is the only conclusion one can come to, and the BBC's James Pearce has it.
THE GREATEST NIGHT IN HISTORY OF BRITISH ATHLETICS #nodebate

— James Pearce (@Pearcesport) August 4, 2012
Mo Farah GOLD; Galen Rupp SILVER
53.48 last lap for the sensational British runner. Galen Rupp makes history for the USA with a stunning final kick to pass for a shocking silver.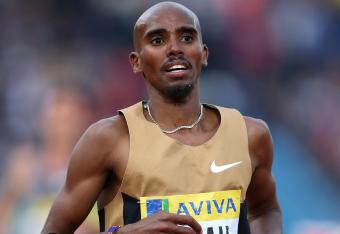 400 to go in Men's 10,000:
Mo Farah hits the front and makes his move. It's his gold medal bid. Everyone is still in it.
3 Laps to go in Men's 10,000:
Ethiopians Tariku Bekle and Gebre Gebremariam control at the front, but not running hard.
Men's 10,000 Meters Update:
1600 Meters, roughly a mile, to go! Mo Farah grabs the co-lead on the outside, and is in great position to strike for the lead.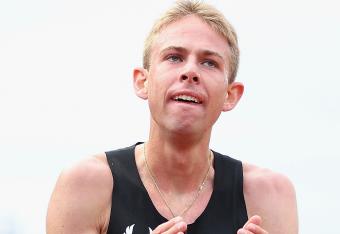 Men's 10,000 Meters Update:
American Galen Rupp is running strongly in 4th. Just behind lurk Kenenisa Bekele and Mo Farah. The pace is decent, but no bold moves yet.
Greg Rutherford Soaking It Up:
The surprise champ is enjoying his victory tour. Meanwhile, the men's 10,000 has slowed down with Tadesse alternating harder laps with some steadier ones and letting the Kenyans doing some of the leading.
Huge cheers for Greg Rutherford as he does a victory walk draped in a union flag. He's rightly loving this.

— Orla Chennaoui (@SkyOrla) August 4, 2012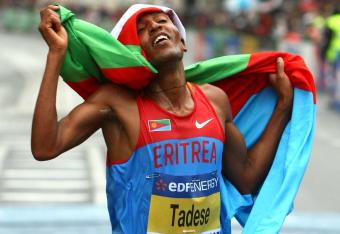 Men's 10,000 Meters Update:
They are running steady 64's. Tadesse is laying the pain on the field, as the protagonists are working hard to keep up with him. Tadesse is a stellar endurance athlete with incredible half-marathon credentials. His finish is not a strength, so this is what he has to do.
Men's Long Jump Wrap-Up
Gold: Greg Rutherford. Silver: Australia's Mitchell Watt; Bronze: Will Claye. ESPN's Bill Simmons chimes in with his typical snarkiness on the British champion.
In 2012, the year of the Mayans, we now have a redheaded British guy as our men's Olympic long jump champ.

— Bill Simmons (@sportsguy33) August 4, 2012
Men's 10,000 Meters Update:
Zersenay Tadesse of Eritrea takes over the pace at about 2000 in after a pedestrian first 1600. Serious running is starting to begin. There was a fall that resulted in a Kenyan falling. Farah/Rupp were out of trouble.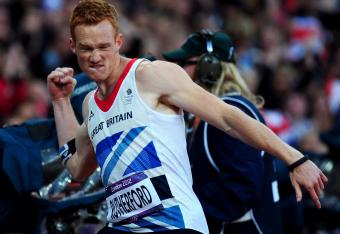 Men's Long Jump- Greg Rutherford Wins Gold!
The stadium erupts with American Will Claye's foul. It is clinched, Rutherford wins gold. Will Claye gets a bronze to take into his better event, the triple jump. Madness for the Brits.
Britain's Greg Rutherford is the Olympic long jump champion, the crowd goes nuts again! Can Mo get a third gold of the day for Team GB?

— Flotrack (@Flotrack) August 4, 2012
Mo Farah All Business
Mo walked by Jessica Ennis in the wake of her stunning performance. What happened? Oh, not a whole lot, as he's all focus.
Mo Farah and Jessica Ennis just passed within a foot of each other on track at end of Ennis's victory lap. They did not appear to interact.

— Tim Layden (@SITimLayden) August 4, 2012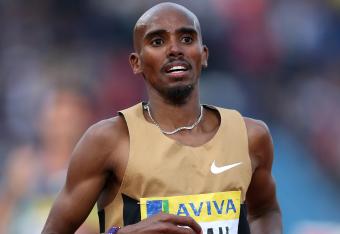 Men's 10,000 Meter Run Final:
Men to watch-
1. Great Britain's hope and last year's World Championship silver medalist, Mo Farah 2. Ethiopian Kenenisa Bekele, the greatest of all time arguably, has struggled with injury 3. American, Galen Rupp, who hopes to end a huge drought of medals in this event
Abby Wambach Chimes In
Jessica Ennis. #she'soverthemoonaboutit
— Abby Wambach (@AbbyWambach) August 4, 2012


Reaction to Ennis' Coronation
Tim Layden says this moment evokes Australian Cathy Freeman's inspiring run in Sydney (video coming). Can't argue considering the crowd's enthusiasm and the sparkling moment at the biggest possible stage. Ennis finishes with a 300+ pt. victory with 6955 score. Amazing.
Jessica Ennis just crossed line first to wrap up hep. Stadium shook. I dare say it was almost Freeman-esque.

— Tim Layden (@SITimLayden) August 4, 2012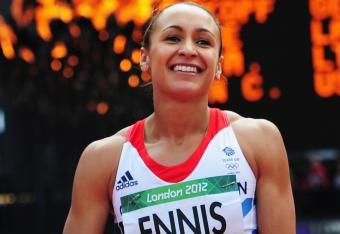 She's Done It:
Jessica Ennis to the uproarious British crowd blasts the field in the last 100 win in 2:08.65. Breathtaking stuff. She won't crack the 7,000-point barrier, but she has decimated the field. Announcer just asked 'Could this be the greatest night in British track history?' Certainly looks like it
Men's Long Jump:
Greg Rutherford goes big, meanwhile. It's looking like it's his as the British also rejoice in Ennis' front-running 800. It's bonkers in the stadium. I'm getting goosebumps.
Greg Rutherford seems the winner of the men's long jump with 8.31m #London2012 @mibjamaica

— trackalerts.com (@trackalerts) August 4, 2012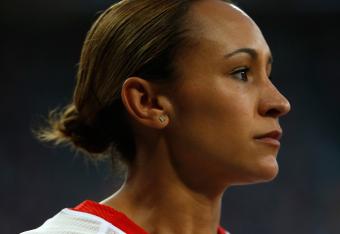 And Here She Comes....
#jessennis has come out to the track. The stadium erupts. #london2012

— Jude Machin (@judemachin) August 4, 2012
This article is
What is the duplicate article?
Why is this article offensive?
Where is this article plagiarized from?
Why is this article poorly edited?