UFC on FOX 4 Results: Questions Heading into UFC 150 Henderson vs. Edgar II
Al Bello/Zuffa LLC UFC via Getty Images
UFC on FOX 4 is in the books and UFC president Dana White wasted no time in naming Lyoto Machida as the next opponent for the winner of the upcoming UFC light heavyweight title fight between Jon Jones and Dan Henderson at UFC 151.
The full fight card results for UFC on FOX 4:
Mauricio Rua defeats Brandon Vera via TKO at 4:09 of Round 4.
Lyoto Machida defeats Ryan Bader via knockout at 1:32 of Round 2.
Joe Lauzon defeats Jamie Varner via submission at 2:44 of Round 3.
Mike Swick defeats DaMarques Johnson via knockout at 1:20 of Round 2.
Nam Phan defeats Cole Miller via split decision (29-28, 28-29, 29-28)
Phil Davis and Wagner Prado called no decision after accidental eye poke by Davis in Round 1.
Rani Yahya defeats Josh Grispi via submission at 3:15 of Round 1.
Phil De Fries defeats Oli Thompson via submission at 4:16 of Round Two
Manny Gamburyan defeats Michihiro Omigawa via unanimous decision (29-28, 29-28, 30-27)
John Moraga defeats Ulysses Gomez via knockout at 3:46 of Round 1.
With UFC on FOX 4 behind us, we can turn our eyes toward the fight card that will take place on Saturday, August 11, from the Pepsi Center in Denver, CO.
That fight card, UFC 150, will be headlined by a title bout between current UFC lightweight champion Benson Henderson and former UFC lightweight champion Frankie Edgar.
What follows are some questions we have heading into that event.
Begin Slideshow

»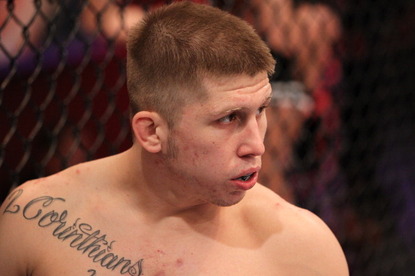 Josh Hedges/Zuffa LLC UFC via Getty Images
Justin Lawrence was coach Dominick Cruz's No. 1 pick during the 15th season of The Ultimate Fighter. Lawrence would dispatch Cristiano Marcello in the first round of TUF fights but would be unable to get past the quarterfinal round when he was TKO'd by eventual TUF winner Michael Chiesa.
Despite not being a finalist on the show Lawrence was given a shot with the UFC, debuting during the TUF 15 finale even. The young fighter made the most of the opportunity, turning the lights out on John Cofer at the 19-second mark of Round 3.
The win brought Lawrence a nice chunk of bonus money, as he took home "Fight of the Night" and "Knockout of the Night" honors, earning himself an extra $80,000 for his UFC debut.
At UFC 150, the 4-0 Lawrence will face off against Max Holloway, the question is, will he be able to top what he showed us back in June?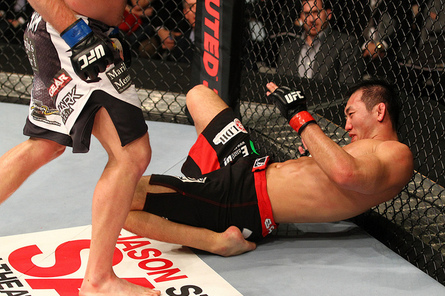 Al Bello/Zuffa LLC/Zuffa LLC via Getty Images
The last time we saw Yushin Okami, this is how his night came to a close.
When the third round of their UFC 144 fight began, Okami looked well on his way to defeating Tim Boetsch, but "The Barbarian" had other plans and turned the tables on Okami, earning a TKO victory less than a minute into the final stanza.
Okami was also TKO'd in his previous bout, falling to UFC middleweight champion Anderson Silva earned at 2:04 of Round 2 during the main event at UFC 134. The two straight defeats put Okami's career record at 26-7 heading into UFC 150, where he will face late replacement Buddy Roberts. Roberts moved into the slot vacated by an injured Rousimar Palhares.
Beside the losses to Boetsch and Silva, Okami's only other defeats inside the Octagon have come to Chael Sonnen and Rich Franklin, so it's not like he's losing to average fighters. With that in mind, it's unlikely that he's facing a win-or-be-cut situation in Denver, but you never know in the fight game.
If he's not in a must-win situation, he is, at the very least, in one of the most high-pressure situations of his long professional career.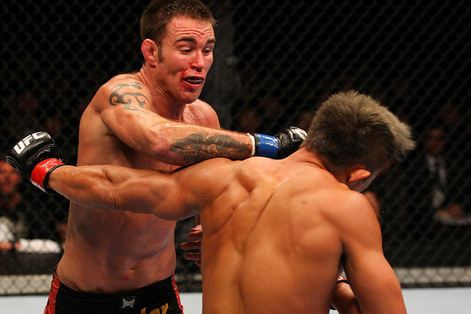 Al Bello/Zuffa LLC/Zuffa LLC via Getty Images
Jake Shields has not exactly lit it up since moving from Strikeforce to the UFC. He arrived to the promotion amid much fanfare. After all, he had run up a 14-fight winning streak before joining the UFC, dispatching fighters such as Dan Henderson, Paul Daley, Carlos Condit, Mike Pyle, Robbie Lawler and Yushin Okami.
When the time came to make his UFC debut, he did so at welterweight, and he looked unspectacular in defeating Martin Kampmann via split decision at UFC 121.
Shields, then, dropped his next two fights, losing to UFC welterweight champion Georges St-Pierre by unanimous decision and being knocked out by Jake Ellenberger. Shields bounced back after those losses and was able to secure a victory at UFC 144, defeating Yoshihiro Akiyama by unanimous decision.
After that win Shields made the decision to jump back up to middleweight, and he will meet Ed Herman at UFC 150. Shields' stock has fallen since joining the UFC, he needs an impressive and dominating victory over Herman to raise that stock.
The question is: Will he be able to do so, or will he be another fighter who fans remember as being something special until he hit the big time that is the UFC?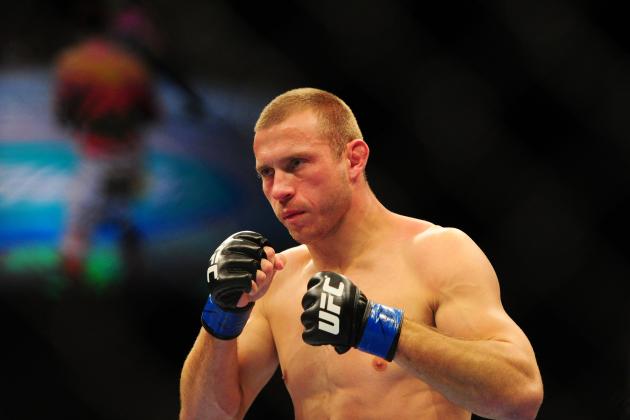 Mark J. Rebilas-US PRESSWIRE

Donald Cerrone was on a tear during 2010-11, running up a six-fight winning streak before tasting defeat at the hands of Nate Diaz at UFC 141. He followed that loss up with a masterful performance against Jeremy Stephens at May's UFC on Fuel TV card and immediately set about getting himself booked for UFC 150.
He had hoped to land a bout against Anthony Pettis, but that was not to be. Instead, he will face Melvin Guillard in Denver. Cerrone has made it clear that his short-term desire is to fight Pettis.
He even called him out during the recent UFC 150 media call, saying (via Franklin McNeil of ESPN), "'I've been trying to fight Anthony for a while now and every time I suggest it his manager comes back and says, 'well, we're not ready, maybe we'll fight somebody else right now.' There's always an excuse."
Perhaps, tiring of Cerrone's constant call-outs, Pettis' trainer Duke Roufus told ESPN staff (via McNeil), that "He (Pettis) did get the shoulder surgery and is hoping to get on the Nov. 17 card."
You can bet that Cerrone then circled that date on his calendar and logged it into his memory bank. If Cerrone can get past Guillard on August 11, then look for him to start his campaign to get booked on the November 17 card to face Pettis.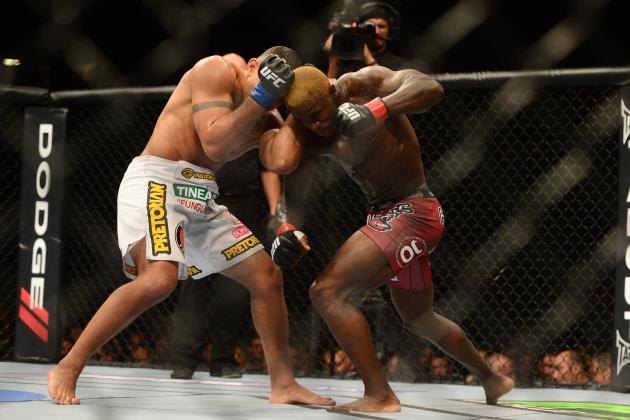 Mark J. Rebilas-US PRESSWIRE

Not long ago, Melvin Guillard was hearing his name mentioned as a potential candidate to fight for the UFC lightweight title.
Guillard had put together a five-fight winning streak heading into UFC 136, and it looked like he was one or two wins away from getting the title shot that had eluded him for so long. Forty-seven seconds into his fight on that card, those title dreams evaporated as he tapped out to a Joe Lauzon rear-naked choke.
Guillard took a few more steps back in his next fight, when Jim Miller forced him to tap to the same submission hold.
Guillard then defeated Fabricio Camoes at UFC 148 and will now face Donald Cerrone in Denver. The win over Camoes came on July 7, so Guillard will have only one month between fights—the shortest time he has had between bouts since joining the UFC in 2005.
Guillard is one of those fighters who seems to always be on the cusp of a breakthrough but fall short at the moment of truth. UFC president Dana White recently offered his take on Guillard:
"Melvin Guillard is one of these guys that should have been a champion already. He's nutty in the head. Over the last several years he's been with good camps that have settled him down personally, got his ass in the gym, got him working on things he needs to, but I think that kids has and still has so much potential."
Despite having a career record of 30-10-2-1, Guillard is still a relatively young fighter at 29, so he still has time to deliver on the potential that White speaks about, but will he ever do so?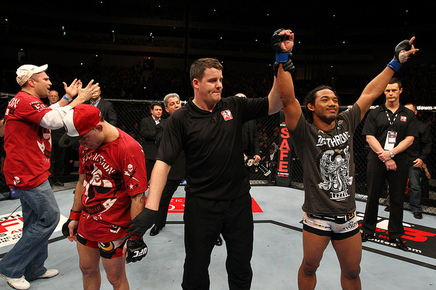 Al Bello/Zuffa LLC/Zuffa LLC via Getty Images
The UFC's lightweight division is recognized as one of the more stacked divisions within the promotion. Some of that may have to do with the level of competition, and some of it may have to do with the fact that, at the championship level, it has almost become the automatic rematch division, which has prevented some fighters from getting title shots that may be deserved.
A little history on the rematches.
Frankie Edgar captured the UFC lightweight title from BJ Penn at UFC 112. Penn was then given a rematch at UFC 118, which Edgar also won. At UFC 125, Edgar and Gray Maynard fought to a draw, which resulted in a rematch at UFC 136—a fight that Edgar won via knockout.
At UFC 144, Edgar lost the title to Benson Henderson via unanimous decision, which now brings us to the main event of UFC 150 where Henderson and Edgar will meet for their rematch.
While this has all been happening, Nate Diaz has been buzzsawing his way up the rankings and lies in wait for a shot at the title—a shot that seems likely to come no matter what the outcome of Henderson vs Edgar II.
UFC president Dana White recently said via MMAJunkie.com, "We have to get [the division] moving again. It's the unfortunate position that Ben is in." White then added, "If Ben loses, he gets back in line. There's definitely some pressure on Henderson for that fight."
Will Henderson be able to respond to the pressure? His last title defense didn't end in his favor as he dropped the WEC lightweight title to Anthony Pettis in what was the final fight in the history of that promotion.
Since the loss to Pettis, Henderson has won four straight, including his victory over Edgar. Can he make it five in a row?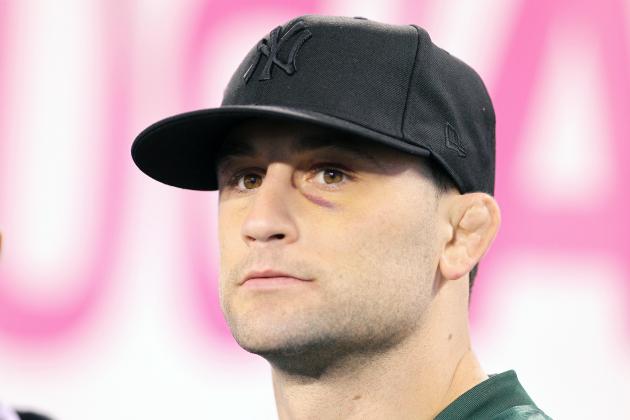 Ed Mulholland-US PRESSWIRE

Frankie Edgar walks around very close to the 155-pound limit of the lightweight division. That he does so is a rarity for a sport where some fighters can cut an enormous amount of weight leading up to fight night.
Since he does walk around at that weight, Edgar has been subjected to countless questions about if and when he's planning on dropping to the 145-pound featherweight division. Even UFC president Dana White has gotten in on the act, according to John Morgan of MMA Junkie, saying "I think he should have cut down already, but who knows? He doesn't listen to me. He should. We'll see what happens."
You can guarantee that Edgar will hear this question in the days leading up to the fight, just as you can guarantee that, win or lose, he will be asked about a drop to featherweight at the post-fight press conference.
I wouldn't be surprised if Edgar took to wearing a shirt emblazoned with the slogan "Don't Ask Me About 145" or something similar.
I'd say this is almost drinking-game material, but the reality is that if you played that game, you would most likely find yourself in the emergency room, so please, don't make a game of it and let's hope the media cuts Frankie a break as well.