Manchester City vs. Chelsea: 5 Bold Predictions for Community Shield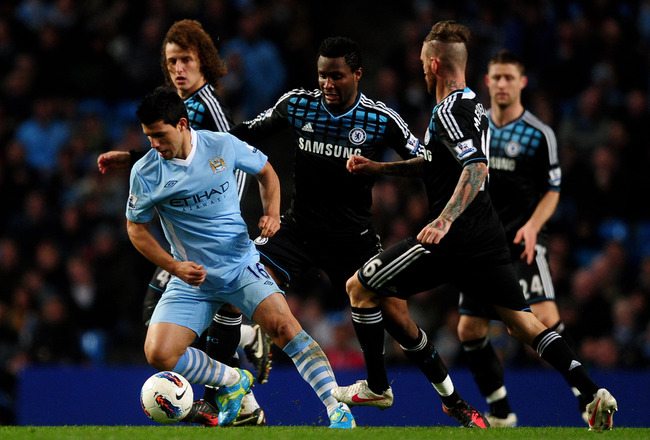 Laurence Griffiths/Getty Images
Manchester City's and Chelsea's seasons could not have been more different, but both ended with incredible success.
The Citizens were crowned League Champions for the first time since 1968 while Roman Abramovic's Chelsea team won the elusive Champions League and FA Cup double with what is perhaps the weakest team to represent the Blues since the Russian oligarch took over a decade ago.
Their reward is an encounter at Villa Park in the FA's annual Community Shield season opener.
Both teams will have aspirations of winning more fashionable silverware come the season's end, but this Sunday's encounter will provide an opportunity for both clubs to hit the ground running.
As the name suggests, this slideshow will put forward five predictions for what could happen when the two teams line up against one another in three days' time.
Man City's Defence Will Be Heavily Tested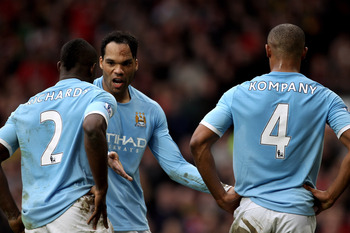 Alex Livesey/Getty Images
In a team full of superstars only the most critical eye can find weaknesses in Manchester City's squad.
Close analysis, however, suggests that the Citizens' weak spot is depth in defence.
Remove Vincent Kompany or Joleon Lescott from the starting XI, and the back four that has kept the most clean sheets in the past two seasons all of a sudden looks a lot more average.
Last season's Chelsea team might not have been expected to rigorously test Mancini's back four, but this season Roberto Di Matteo's team will look a lot different.
The acquisitions of Eden Hazard, Marko Marin and Oscar (who will not feature) have injected youth and flair into an aging and one dimensional midfield. Combined with the pre-existing talent of Juan Mata and Frank Lampard, chances will be in abundance for Fernando Torres up front.
The Spaniard should feel rejuvenated after European success on a domestic and international level. He won the Golden Boot in the Euros and scored a goal against Italy in the final.
This, combined with the absence of Didier Drogba, should give Torres the ideal platform to re-establish himself as one of the world's leading strikers.
In the likely event that Torres flops, there will be plenty of midfield reinforcement to Chelsea's attack, especially with Hazard and Marin exposing Manchester City's lack of width.
All of this provides the Citizens with a fantastic opportunity to test their defence against a team with a plethora of attacking promise; if any weaknesses have crept in, they will easily be addressed ahead of their Premier League opener against Southampton.
Pablo Zabaleta Will Get the Nod Ahead of Richards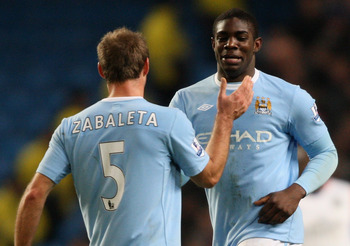 Ross Kinnaird/Getty Images
Micah Richards had an impressive start to last season's Premier League campaign but, towards the end Pablo Zabaleta's performances, eclipsed the 24-year-old's.
When it came to the decisive fixtures Mancini opted for the versatile Argentine to cover the right-hand side of defence and not the marauding Micah Richards, which would suggest Zabaleta has established himself as Mancini's first choice.
If that is the case, it would make little sense in playing your second choice when the first choice is also match fit.
If this theory is wrong, then Richard's Olympic campaign may also count against him. In an underwhelming Team GB side, the 24-year-old's performances were uninspiring and clumsy when placed in the centre of defence.
Zabaleta, on the other hand, has been a consistent feature in City's preseason tour and has been training with the rest of the squad for almost a month. This would suggest the Argentine is in better tuned to his teammates at this stage in time.
Tevez and Aguero to Start, Balotelli and Dzeko Benched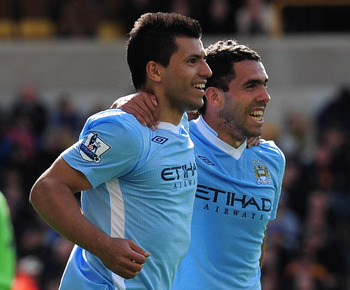 Shaun Botterill/Getty Images
Five months and 23 days since that night in Munich Carlos Tevez returned from obscurity. His opponents were Chelsea.
That same game saw Manchester City set a Premier League record of 20 successive home wins, and since then Tevez has been a prominent feature in Roberto Mancini's preseason plans.
Alongside his Argentine compatriot Sergio Aguero, Tevez has featured heavily in Manchester City's preseason tour while Eden Dzeko has remained a disgruntled figure, watching on from the stands as he witnesses the two strikers, who cost more than £60 million between them, outclass him.
The Bosnian will not find reassurance in the fact that Mario Balotelli impressed on international duty at the European Championships, but will perhaps find some solitude in the fact Mancini is likely to allow his body more time to recover from a busy season.
One thing's for sure, Balotelli's woeful performance against LA Galaxy one year ago is a distant memory, and his performances for Italy the final step towards redemption.
Aguero and Tevez will most likely start alongside each other, with Tevez perhaps occupying a deeper role that will bridge the gap between midfield and attack.
Starting Lineups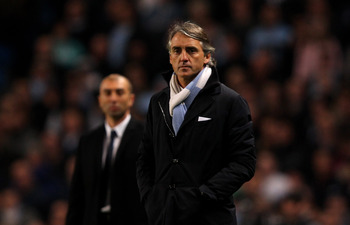 Alex Livesey/Getty Images
Chelsea Manchester City

Petr Cech Joe Hart
Branislav Ivanovic Pablo Zabaleta
John Terry Vincent Kompany
Gary Cahill Joleon Lescott
Ashley Cole Gael Clichy
Ramires Gareth Barry
Frank Lampard Yaya Toure
Eden Hazard David Silva
Marko Marin Samir Nasri
Juan Mata Carlos Tevez
Fernando Torres Sergio Aguero
Man City to Win 2-1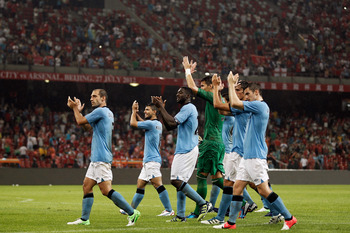 Lintao Zhang/Getty Images
On paper, Chelsea have improved vigorously during the transfer window, but their newly assembled squad is yet to be tested in a competitive match.
Yes, yes the Community Shield may be classified as a preseason friendly, but the reality is Manchester City are a step up in class to the opponents Chelsea have faced as they prepare for their league campaign. City will not want to lose after squandering their lead to Manchester United last year.
What's more the Blues have been unimpressive in the buildup to their encounter with Manchester City with defeats to Brighton and the MLS All Stars emphasising an uninspiring preseason.
With that in mind it would be foolish to dismiss Chelsea completely; they have more than enough creative talent in their ranks to cause problems for the Citizens, but a lot depends on what Fernando Torres turns up at Villa Park. If Torres is on song, this prediction could be wayward; if he is rusty, however, Kompany and Lescott will not fear his presence.
With Tevez, Aguero, Dzeko and Balotelli at Mancini's disposal, the Citizens boast plenty of attacking threat. Unlike Chelsea, they have more than one world-class striker to turn to in order to get goals, and this will most likely be the difference between the two.
I'm going to stick my neck out and say 2-1 to Manchester City with Yaya Toure and Carlos Tevez nicking a goal. A Frank Lampard penalty, however, will ensure that the win is far from comfortable.
Keep Reading

Manchester City: Like this team?