WWE: Ranking the 10 Most Shocking Moments in SummerSlam History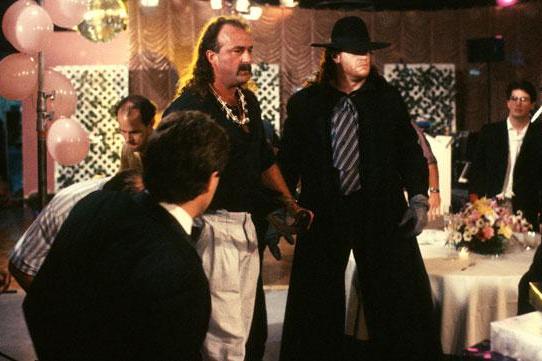 photo from wwe.com
WWE's biggest event of the summer is almost upon us.
SummerSlam is one of the company's oldest pay-per-views, and one of their most prestigious.
We've come a long way since Hogan and Savage teamed up to fight Andre the Giant and The Million Dollar Man in the main event of the inaugural show.
There's been a lot of classic matches in the history of SummerSlam and a lot of classic moments that have kept fans talking for years.
Which moments stand out as the most unforgettable, craziest and most shocking from the event's lengthy history?
This list looks to uncover all of those unforgettable, unexpected moments that stand out the most from WWE's biggest party of the summer.
Begin Slideshow

»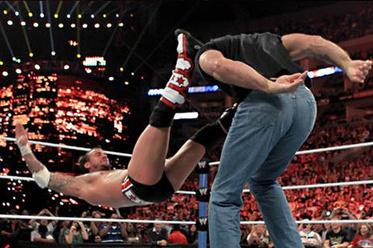 photo from wwe.com
This may not be shocking in the sense of "wow, that was great!"
It was more shocking in the sense of "Kevin Nash? What the hell?"
We had last seen Nash in a cameo at the Royal Rumble where he portrayed his old Diesel character. Fans thought they may see him again someday, but probably in a another brief appearance or a short TV program.
Most weren't expecting that he would be injected into the main storyline of WWE programming in the year 2011.
The over 50-year-old Nash attacked CM Punk after his match with John Cena at SummerSlam. Nash emerged from the crowd, and then Jackknife Powerbombed Punk. This left Punk vulnerable for Alberto Del Rio to take advantage and win the title.
It was an odd moment to say the least.
The follow up was even worse as the storyline became even more convoluted (Kevin Nash texted himself?), and there was no payoff.
Nash couldn't pass a WWE physical, and instead moved into a feud with HHH when he returned.
Still, the sight of seeing Kevin Nash out of nowhere in this day and age was pretty unexpected.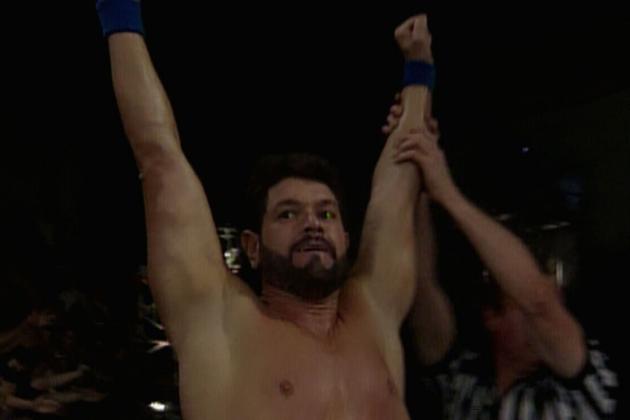 photo from wwe.com
Horowitz wins! Horowitz wins!
Barry Horowitz had the biggest moment of his career at SummerSlam 95.
The thing is, Horowitz never won. He went years losing every match, where his record must have been 0-300. Why WWF would employ a man who lost hundreds of times is another mystery, seems almost a bit reckless on their behalf. Anyway...
For some reason, Horowitz had Skip's number.
A few weeks before, he shockingly pinned Skip for his first WWF victory. Skip was doing push-ups in the middle of the ring and Horowitz took advantage.
A couple weeks later, he took him to the edge again when Skip failed to beat him in a 10-minute time limit.
Surely Horowitz' luck was about to end.
Things weren't looking good for Barry at the SummerSlam match until Hakushi walked down to ringside. A distracted Skip was rolled up in a school boy, and Horowitz got the three-count again on the Bodydonna.
It may not have been pretty, but Barry Horowitz finally won a match on a big stage.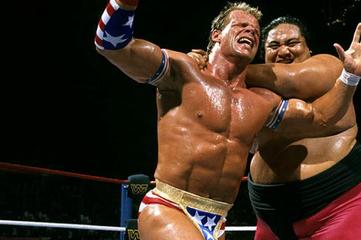 photo from wwe.com
Shocking isn't always a good thing.
Sometimes, it's a case of being shocked into wanting your money back.
For fans that paid to watch SummerSlam 93, the ending of the show was a shocking disaster.
The Lex Express was finally getting his big match against Yokozuna. It looked like Lex was finally going to take down the monster and win the World Title.
It seemed like a sure thing.
After a surprisingly decent match, Lex delivered a brutal clothesline and knocked Yokozuna out of the ring... and he never got up.
Lex Luger won the main event of SummerSlam by a countout.
Unfortunately, titles don't switch hands by disqualification, so in reality this was a real downer of a moment.
Other babyfaces on the roster didn't see it this way though, as they came out from the back and celebrated this historical moment. Balloons fell from the sky, the announcers were excited.
It looked and felt as if Luger won the WWF title. But he didn't.
It just made Luger look like an idiot for not breaking up the count.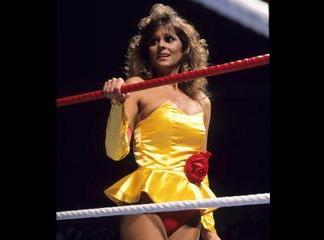 photo from wwe.com
WWF was a very tame company in the late 80's, but for one brief moment at the very first SummerSlam, they got a little sexy.
Hulk Hogan and Macho Man Randy Savage (known as "The Mega Powers") took on Andre the Giant and Ted DiBiase (called "The Mega Bucks") in this gigantic tag team match for the main event of the show.
The heels were up to their usual bag of tricks. With The Million Dollar Man's large bank account, they even had guest referee Jesse Ventura in their back pocket.
The odds were heavily against The Mega Powers.
After Andre laid out Hogan and Macho, they needed something to fight back with, and they found it in Elizabeth's panties.
When things looked their bleakest, Elizabeth jumped up on the ring apron and tore off the lower half of her dress. All the men in the ring couldn't help but stare, and Hogan and Savage used this distraction to finally take the upper hand.
A quick elbow drop later on DiBiase, and the Mega Powers saved the day.
This was years before evening gown matches or lingerie pillow fights were shown on WWE TV, which made Elizabeth's little strip tease one of SummerSlam's most shocking moments.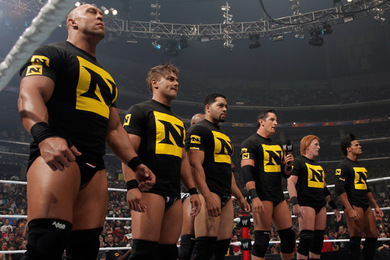 photo from wwe.com
Again, shocking isn't always a good thing.
You can be shocked at how a company can make such a stupid decision and cost themselves a lot of money. This was one of those moments.
In 2010, The Nexus was on a tear in WWE.
Debuting in early June, the group was the top storyline in the company, and was taking the main event spot at SummerSlam.
It was an exciting time. After years of the company dragging their feet, we finally had some new guys in big roles.
To try to fend them off, John Cena assembled a team of seven guys to take on the seven members of Nexus in an elimination style tag match.
This short into the group's run, it looked like a sure thing that The Nexus was headed for victory. The WWE side already had a built in excuse for losing because their team couldn't get along.
This would then set up months more of Nexus terrorizing the roster, until the babyfaces finally banded together and defeated them.
That must have made too much sense.
Instead, The Nexus lost their match at SummerSlam even when they had John Cena all by himself against Wade Barrett and Justin Gabriel.
Near the end of the match, Barrett laid out Cena with a DDT on the concrete floor.
It looked like it was over.
Super Cena then Hulked up and pinned the last two members in quick succession. It was like he hadn't been fighting the past 35 minutes and just had his face forcefully planted on concrete.
WWE sent the crowd home happy that night, but The Nexus never fully recovered.
It was a shocking and disappointing end to SummerSlam, and the beginning of the end of the promising young group.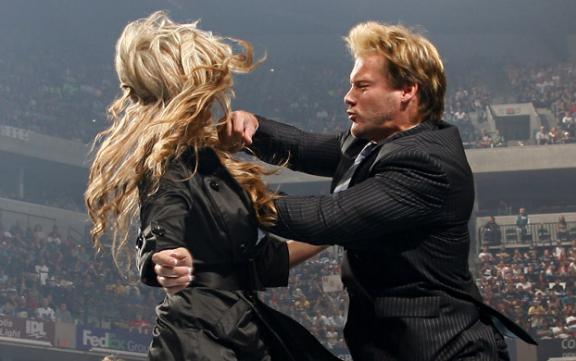 photo from wwe.com
Chris Jericho and Shawn Michaels had been involved in one heck of a feud.
In the storyline, due to an eye injury, HBK was getting ready to sail off into the sunset. At SummerSlam, he was going to announce his retirement.
Jericho didn't give Michaels his moment, though, as he came down to the ring to interrupt.
With Michaels' wife Rebecca at his side, he tried to stay cool even as Jericho got right in his face. Jericho demanded that Michaels tell the world that it was he who put HBK out of action forever.
Michaels admitted that Jericho forced him into retirement, but said that Jericho will have to tell his kids he was never as good as him.
Jericho took a swing at Michaels who ducked, and instead Rebecca was punched right in the face.
She was knocked out cold. Michaels looked concerned, and Jericho showed remorse.
What may have seemed like the end of the feud was only another chapter. Getting Michaels' real-life wife involved (and taking one hell of a bump) was a shocking inclusion into their epic feud.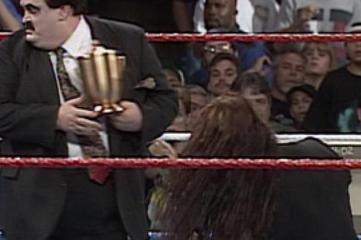 Photo from wwe.com
Well that's one way to urn a victory.
After five years of being by each other's side, Paul Bearer turned his back on The Undertaker and aligned himself with the demented Mankind.
Mankind and Undertaker were competing in a brutal boiler room brawl match, and the winner had to make their way to the ring and grab the urn from Paul Bearer.
It looked like The Undertaker had things wrapped up as he was the first one in. He got down on his knees and waited for Bearer to hand it to him.
Instead, after some hesitation, he turned his back on the Undertaker.
Mankind slid in to the ring and laid out Taker with a Mandible Claw. Bearer stood in the corner laughing, and then proceeded to slap and stomp away on his longtime partner.
In the long run, this was a great angle as Undertaker became less cartoonish and transitioned himself into the Attitude era nicely.
At the time though, it was shocking to see Bearer turn his back on The Undertaker, and fans couldn't wait to find out why.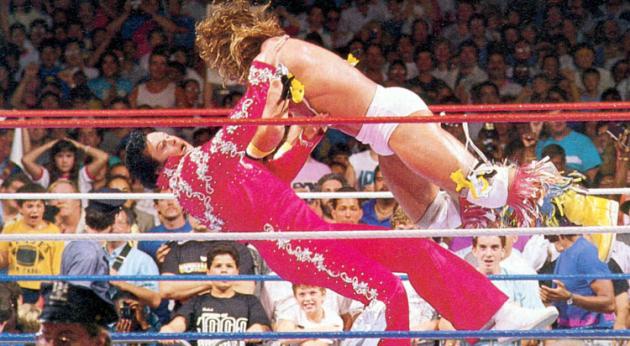 The Honky Tonk Man had a record-breaking Intercontinental title run, until it all came to a crashing end in 31 seconds.
Honky Tonk Man was a little too cocky that night at Summerlam, and issued an open challenge to the locker room.
After a brief pause, an electric guitar started to blare throughout the arena, and The Ultimate Warrior burst down the aisle full speed.
After an astounding 64-week reign reign, the Honky Tonk Man had no time to think, let alone remove his entrance outfit.
The Ultimate Warrior quickly pummeled Honky Tonk and splashed him to capture the title.
The crowd went crazy watching this unexpected surprise, and it made The Ultimate Warrior an overnight star.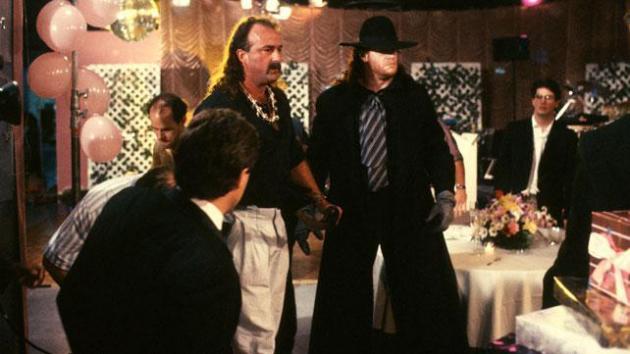 photo from wwe.com
Technically, this one happened at the reception. But it's an unforgettable wrestling moment tied to SummerSlam, so it makes the list.
A Match Made in Heaven, a Match Made in Hell read the SummerSlam poster. Macho Man and Elizabeth were the Match Made in Heaven, and WWF fans were invited to take part in their special day.
In reality, they'd been married for years, but their TV characters were going to make it official.
It went as well as a wrestling wedding could go, but afterwards is when the real trouble began.
Macho Man and Elizabeth were opening up their gifts when they came to one that was an unpleasant surprise.
It wasn't a toaster or some silverware like they were expecting, but a living, breathing snake!
Elizabeth looked absolutely terrified as Jake the Snake and The Undertaker crashed the party. Jake grabbed the snake and slowly inched snake closer to her face. She was helpless!
Luckily, Sid Justice ran out (in a buttoned down red shirt and jeans, he should probably dress more appropriately in future weddings... at least he was wearing pants, though) and chased the two villains off with a white folding chair (he couldn't find a squeegee?).
Who would have thought that a wrestling wedding could end up so badly?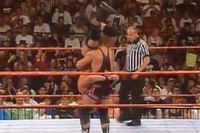 photo from cagesideseats.com
Owen Hart vs. Steve Austin at SummerSlam was a memorable moment in wrestling history.
But for all the wrong reasons.
Austin was fast on his way to becoming a huge superstar. A win over Owen and capturing the Intercontinental title was the logical next step.
Stone Cold was set on winning the match, and even proclaimed that he would kiss Owen's ass if he lost.
After a solid match, Owen went for a tombstone piledriver on Austin. The problem is, Austin's head was a good few inches under Owen's legs.
He was spiked on the mat hard and broke his neck.
It was immediately clear something was wrong. Austin laid on the ground near motionless, and Owen walked around the ring for an entire minute not quite sure what to do.
Austin then slowly dragged himself towards Owen, and (understandably) delivered the worst roll up in the history of professional wrestling.
Amazingly after the match, Austin was able to get back up to his feet but had to be helped to the back.
Austin became a huge star over the course of the next year, but watching this match was a horrible and shocking reminder of what can happen in a professional wrestling match.