Why Andrew Bynum Shouldn't Commit to Anything Until 2013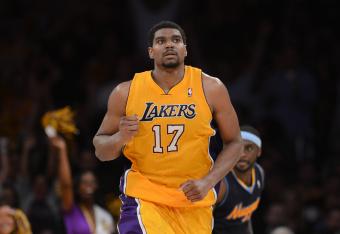 Harry How/Getty Images
The 2013 class of NBA free agency is shaping up to be one for the ages. From superstars on the open market to the next generation of the elite finishing their rookie contracts, there are more than a handful of great players available to alter the face of the league.
At the heart of the greatness is one of the game's premier big men. No, not Dwight Howard, but Andrew Bynum.
The Los Angeles Lakers' big man has established himself as one of the top players in the NBA. He's fundamentally brilliant on offense, defensively dominant when focused and young enough to warrant belief in his legendary upside.
He's also a two-time NBA champion and has firmly established himself as 1b to Dwight Howard's 1a. "Highly touted" doesn't even begin to do Andrew Bynum justice.
The fact of the matter is this: Andrew Bynum has the same option to re-sign during the 2013 offseason as he would during the regular season. The difference is, Bynum can talk up the asking price during free agency while fielding offers from the other teams who are bound to target him.
If it's all about money, then there is no better move than to wait to sign until the offseason. For once in our generation, however, the decision will not rely on the financial possibilities.
On the contrary, Bynum will be placed in a position in which he can truly gauge his value. The fact that he's under Bird rights guarantees more money with the Lakers, but the chance to be a franchise player may not be there. Until the day Kobe Bryant retires, that title will rest on his shoulders.
Should Andrew Bynum re-sign during the 2012-13 season?
More importantly, the burden of the future will rest on Bynum's.
With a simple relocation, Bynum will become the face of a franchise. The difference is, he wouldn't be playing for a team whose history suggests anything but a title is a failure. That is, unless he takes a significantly lesser amount to sign with the Boston Celtics, Miami Heat or San Antonio Spurs.
For the sake of reality, we'll count those three teams out of the running.
All in all, this comes down to a matter of opportunity. Does Andrew Bynum want to live in a shadow, all the while feeling the heat of the ever-glowing spotlight that shines over the Los Angeles Lakers?
Or does he want to explore the option of relocating to a team whose focus will be to build around the big man?
If he's wise, Andrew Bynum will wait until the 2013 offseason to make his move.
This article is
What is the duplicate article?
Why is this article offensive?
Where is this article plagiarized from?
Why is this article poorly edited?