Olympics 2012: Which Team USA Basketball Players Are Under the Most Pressure?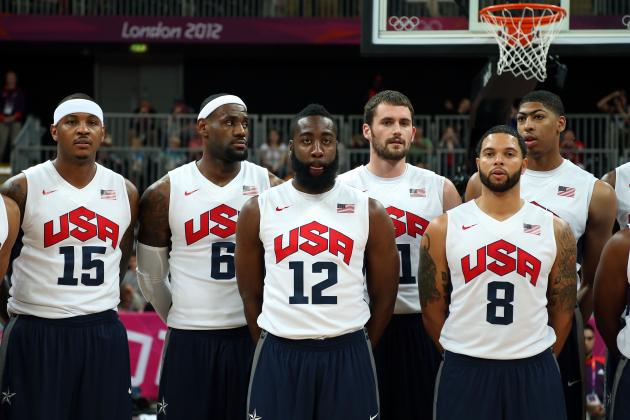 Christian Petersen/Getty Images

Pressure? What pressure?
If Team USA is feeling any heat about bringing home more basketball gold from the 2012 London Olympics, they certainly aren't letting on about it. They're currently leading the Olympic field in just about every statistical category, including scoring—121.3 points per game, well ahead of the 86 points Argentina and Spain have mustered—and have beaten their three opponents so far by an average of 51.7 points per contest.
Of course, those numbers were boosted by Thursday's 156-73 thrashing of lowly Nigeria, giving all those gullible folks who fell for those e-mails from African princes a modicum of poetic justice.
But while Team USA remains the clear favorite to capture the shiniest of medals, there's still no guarantee that they'll come through. What's more, any slip-up would be considered cause for alarm.
That's to be expected, though, for a team that's lost once since Mike Krzyzewski took over as the head coach of Team USA in 2006.
As such, the Americans won't be off the proverbial hook until they return to the states with Olympic plunder around their necks. These three superstars, in particular, will need to come up big, lest they subject themselves to an additional smattering of jeers when the NBA season tips off this fall.
Begin Slideshow

»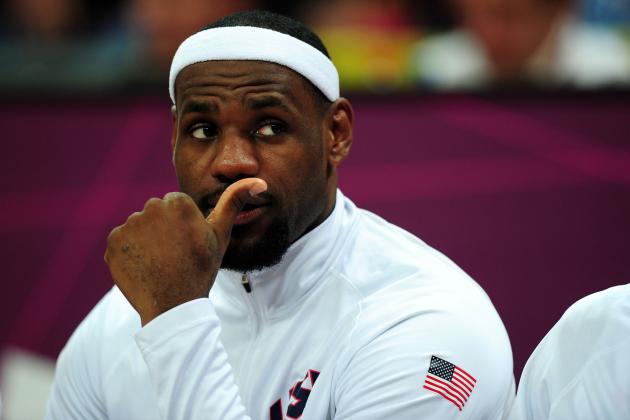 Mike Hewitt/Getty Images

If any player on Team USA is bound to catch flak for any hiccups, it's LeBron James.
Winning an NBA title with the Miami Heat may have relieved LeBron of the burden that came with going ringless for so long, but the fact remains that he's the best player on the planet and is expected to win at everything—including (and especially) the Olympics.
To be sure, James doesn't really need to prove that he can win on the international stage. He already has an Olympic gold medal to his credit after helping the "Redeem Team" eke its way to the top at the 2008 Beijing Games.
So far in London, James has seemed content to take a backseat to the rest of Team USA's star-studded roster, as his line of 6.7 points, three rebounds and 5.7 assists per game would suggest.
In defeat, though, those numbers might instead look like they came from a guy who shrunk from the responsibility of carrying his team, as was the knock against him for so long prior to the NBA playoffs earlier this year.
And if LeBron is ever to find himself mentioned in the same breath as Michael Jordan in the annals of NBA history among those who dominated their respective eras, he'd do well to be the first player since His Airness to be an MVP, an NBA champion and an Olympic gold medalist in the same calendar year.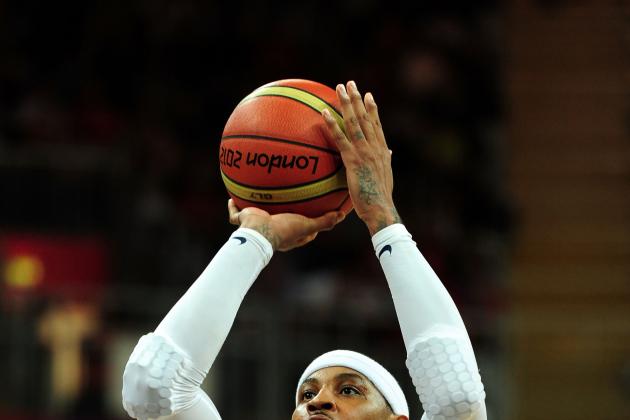 Mike Hewitt/Getty Images

Like LeBron, Carmelo Anthony is a veteran of the international game who's fulfilled his Olympic duties ably before. He's one of three players (along with LeBron and David Robinson) to compete with Team USA at three different Summer Games and has served in a crucial role in the effort to turn the program around since the bronze debacle at the 2004 Athens Games.
However, unlike LeBron, 'Melo doesn't have the laurels of trophies named after Larry O'Brien, Bill Russell and Maurice Podoloff on which to rest. His only comfort is the cold kind offered up by disgruntled New York Knicks fans who've thus far been left wanting by their once-and-former favorite son.
The Olympics, then, have become a refuge of sorts for Carmelo, and so far, he's taken full advantage of the opportunity. He set a new U.S. Olympic scoring record against Nigeria on Thursday, hitting 10 three-pointers to pile up 37 points in 14 minutes.
Of course, setting records and winning championships amongst a cast of All-Stars won't necessarily alleviate the stream of hate headed 'Melo's way when he gets back.
But should he and the Americans come up short, the failure would lend itself as but more juicy fodder on which the frenzied New York sports media may feast when he returns to Madison Square Garden.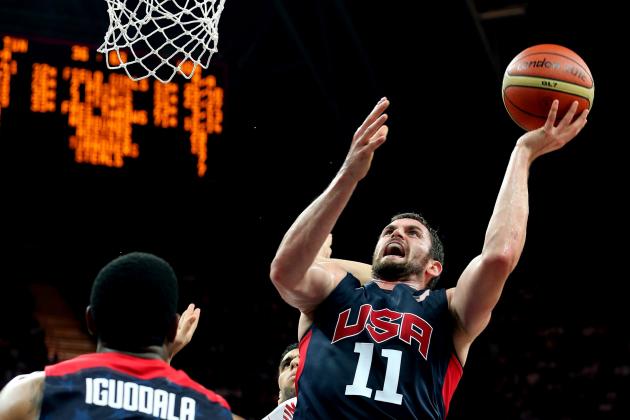 Christian Petersen/Getty Images

Two years ago, Kevin Love broke out as one of the catalysts of Team USA's run to the gold at the 2010 FIBA World Championship. He parlayed that success into two All-Star seasons, in which he established himself as one of the best rebounders in basketball and perhaps the finest power forward on the planet.
Trouble is, he looked like anything but, leading up to the Olympics. He averaged a measly 3.8 points and 4.4 rebounds in 12.0 minutes per game in five tune-ups, all the while complaining about (via Marc J. Spears of Yahoo! Sports) the state of his Minnesota Timberwolves back home and putting in the sort of effort one would expect from an entitled, egotistical child.
Something must've changed since he landed in London, though. He currently ranks third on Team USA in scoring (15.0 points per game) and rebounding (five boards) while hitting 65.4 percent of his shots, including seven three-pointers.
Love may not be the best player on this squad, but his contributions are among the most crucial. He's one of three bigs on Team USA—along with Tyson Chandler and Anthony Davis—and, as such, if he doesn't continue to produce, the U.S. may well suffer the consequences on the court.