New York Knicks: Why Fans Should Love the 2012-13 Roster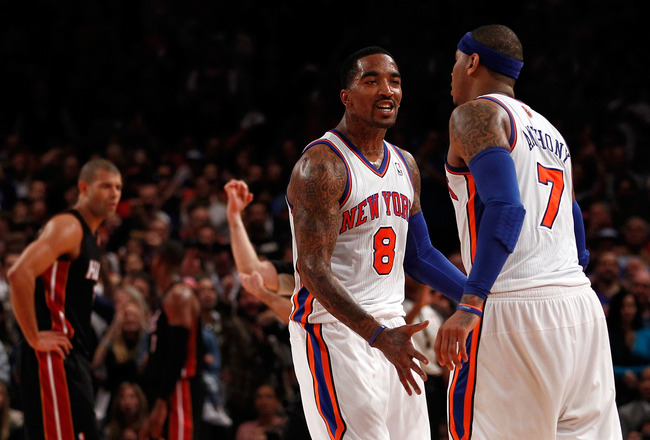 Jeff Zelevansky/Getty Images
As the dust clears on yet another eventful offseason for the New York Knicks, we are left now with a reasonably clear picture of who exactly will be suiting up in orange and blue for the 2012-13 season.
Free agency saw the departure of Jeremy Lin and Landry Fields—two fan favourites—and the Knicks missed out on Steve Nash, who would undoubtedly have emerged as one of the team's more popular players had he ended up in New York.
But despite the disappointment that certain offseason moves have left Knicks fans with, the roster Glen Grunwald and company have completed is still one fans should appreciate for a number of reasons...
Star Power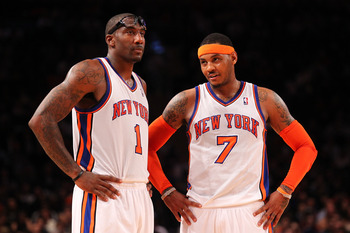 Al Bello/Getty Images
The Knicks finished off acquiring their big-name superstars back in December when they acquired Tyson Chandler from the Dallas Mavericks via sign-and-trade to join forces with Amar'e Stoudemire and Carmelo Anthony.
With the assembly of their "big three" now complete, the Knicks have themselves one of the best groups of core players in the NBA.
In Melo they have one of the best offensive players in the game, who arguably has the most developed scoring arsenal of any player that we see out there today.
The Knicks also have one of the better players on the other side of the floor in Chandler, who was officially the very best defender in the NBA last season after winning the Defensive Player of the Year award.
The original piece of the puzzle, Amar'e Stoudemire, is coming off a down year, but now that he's back in shape and working with Hakeem Olajuwon, he's set to repeat the form that had the Garden chanting "MVP!" at him a little more than a season ago.
They Want to Be Here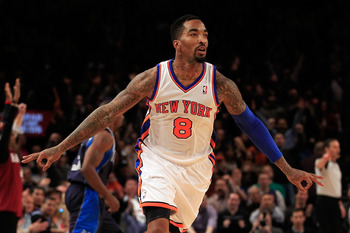 Chris Trotman/Getty Images
When players are put in situations they don't want to be in in the NBA, it tends to have an adverse effect on their play.
For the Knicks, though, this shouldn't be the case next season, as players are no longer looking to bolt from New York as soon as possible.
Starting with Amar'e Stoudemire, we have a player who chose to leave a great situation in Phoenix, just to get an opportunity to start something special in New York.
His fellow star, Carmelo Anthony, even forced himself to New York via trade over the course of half a season, sacrificing his image just to suit up for the franchise he followed as a child.
As recently as this offseason, we've had J.R. Smith and Ronnie Brewer choose to take pay cuts to be in New York, when they could have had a lot more money signing elsewhere.
Jason Kidd even chose the Knicks over a return to either the Mavericks or the Nets—two franchises with which he has had great times with over the years.
A situation is opening up in New York with players who are as passionate about the franchise as the fans are and want that title just as much as those cheering them on at MSG.
Defense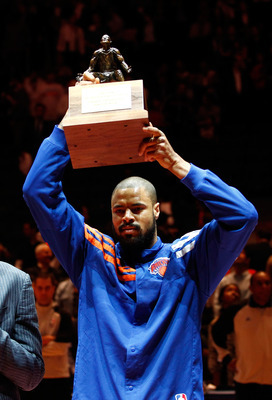 Jeff Zelevansky/Getty Images
When the Knicks have been successful, it almost always appears to come down to their defensive play, which is fitting considering that old adage about defense winning championships.
From Dave DeBusschere and Willis Reed to Patrick Ewing and Charles Oakley, the great Knicks teams have always had great defenders, much like the ones on the roster we see today.
The NBA is not the physical league it was a decade ago, but Tyson Chandler, Marcus Camby and Kurt Thomas are the closest players you'll find to the ones Knicks fans fell in love with back in the '90s (and rightly so, seeing as Camby and Thomas played for the Knicks back then).
With Mike Woodson now the full-time head coach, this roster is bringing defense back to the Big Apple, which could signal some more good times on the road ahead.
Continuity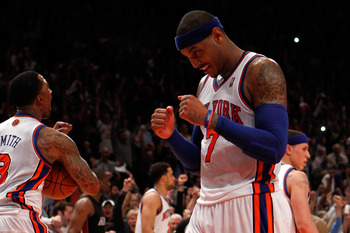 Jeff Zelevansky/Getty Images
Over the past few seasons, the Knicks' roster has faced an unbelievable amount of turnover.
In fact, Amar'e Stoudemire is the only member of the 2010-11 opening day roster that has maintained his place on the roster.
Now, the Knicks appear tied down to this group of players until 2015—the year in which everyone but Iman Shumpert and Carmelo Anthony (assuming their options are picked up) come off the books.
Instead of wondering who'll be coming and going for the next few seasons, Knicks fans can get used to seeing this roster—which is not a bad thing considering how deep and talented it is.
Depth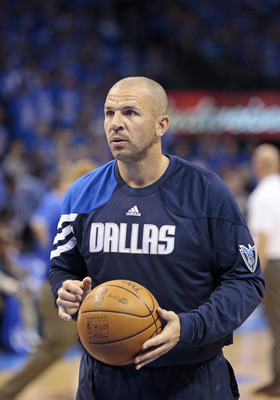 Brett Deering/Getty Images
Injuries are inevitable over the course of an NBA season, but it certainly doesn't help to ease the pain when you've got the likes of Mike Bibby and Jared Jeffries being forced to start in key games when others are out.
This offseason, though, the Knicks' depth has improved considerably with a bench headlined by Jason Kidd and Marcus Camby—two players who started for their respective teams last season.
As a team in win-now mode, the Knicks can't afford to miss a beat if a key player misses time, and the depth of this roster will make sure of that.
Along with Kidd and Camby, the Knicks also have J.R. Smith, Ronnie Brewer and Pablo Prigioni coming off the bench—all of whom are perfectly capable of starting a few games when need be.
Keep Reading

New York Knicks: Like this team?