Green Bay Packers: Update on the Secondary in Training Camp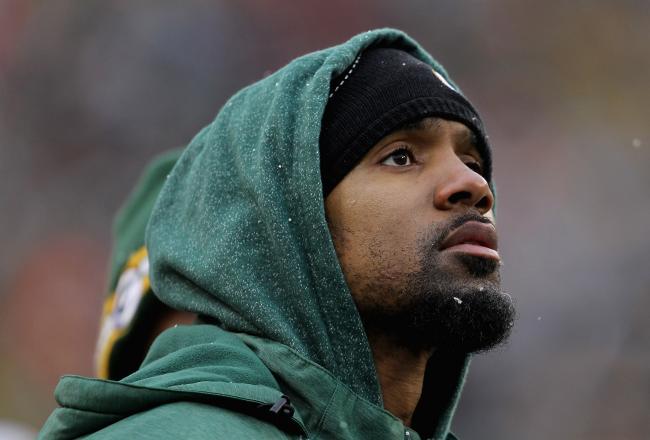 Jonathan Daniel/Getty Images
The Packers began a quest this offseason to repair their once proud defense, which ended up ranked dead last in the league in 2011.
While some of that comes from the lack of pass rush, some of the play of the secondary was just poor.
Add to it the departure of All-Pro safety Nick Collins, and you have some concerns.
The Packers set to work on both problems. Today we look at the secondary and see what its status is.
Charles in Charge
Charles Woodson began training camp by playing safety in the base defensive package, which means: well, not much given the fact that the Packers play it maybe 25 to 30 percent of the time.
What is more significant has been his presence in safety meetings, a sure sign that either he won't be limited to just being a safety in the base package or that they might play the basic more often.
We won't truly get an indication of which one it is until the season is under way.
The ripple effect is that there is less pressure, in many ways, on second-year safety M.D. Jennings and rookie Jerron McMillian to perform instantly.
The Packers already have two rookies under pressure expected to be good from jump—outside linebacker Nick Perry and defensive end Jerel Worthy. It doesn't look to me like they want to push the safeties quite as hard.
Both will have to perform though—something we'll get back to in a minute.
Woodson will be playing safety both in the nickel package the team uses quite often as well as other sets like their "okie corner" scheme, which essentially has three corners (Woodson being the third).
The idea is to get Woodson in a position to make plays (according to Tyler Dunn of the Milwaukee Journal Sentinel). How and where doesn't matter half as much as just doing it.
So, no: Woodson isn't a starting safety—at this point he doesn't appear to be at least. He will play safety and by year's end might be a full-time safety, something I thought might happen when Collins was not cleared to play.
For now, he's a piece of the puzzle and they'll fit him in wherever he can do the most good.
McMillian and Jennings
So far, Jennings has the edge, but really, this spot is wide open—when Woodson isn't on the field.
There's no rush, as long as Woodson can play either position. The Packers are thinking long-term gain, not just about the immediate future.
They won't hesitate to toss guys in there if they are playing well and there is a need.
However, they are looking to develop a long-term replacement, and they have Woodson, so the team need not put all the weight on the shoulders of developing safeties immediately.
Rest assured, if they end up being great right away, they'll get their chance.
It's just not the end of the world if they aren't.
Take it to the (Davon) House
With Woodson shifting at least part-time to safety, there is the chance for one of the remaining cornerbacks to step up and make an impression, potentially earning themselves a long-term gig.
Casey Hayward, Sam Shields and Jarrett Bush have all had their moments.
Davon House has stood out though, getting a large percentage of the starting cornerback work in base dime and nickel sub packages.
Consider him the No. 3 cornerback with benefits. He's not starting over Woodson unless Woodson is starting at safety, in which case—you get the idea.
This is a huge upgrade in play by a guy who last season played two games. If he keeps it up, he can hold onto the job.
Whomever ends up across from Tramon Williams when Woodson is at safety is going to get a lot of work. Williams is rounding back into form after a banged up, underwhelming 2011.
When on his game, Williams is a shutdown corner. Quarterbacks don't attack him. If you have Woodson on the other side, you have to pick your poison. If it's House though, no offense to the second-year player, but he's getting tested.
So far he appears to be up to the challenge.
Check out the B/R NFC North Facebook page—like us and keep up with everything NFC North on Bleacher Report! Follow me on Twitter at @andrew_garda.
This article is
What is the duplicate article?
Why is this article offensive?
Where is this article plagiarized from?
Why is this article poorly edited?