Ask Andrea: The AFC North Mailbag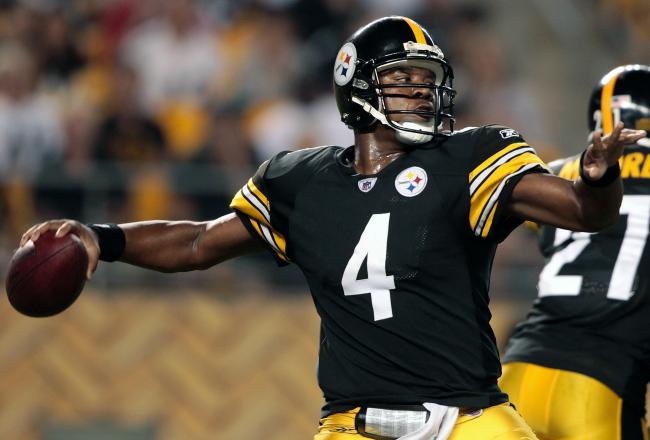 How would the Steelers fare if Byron Leftwich is their starting quarterback for an extended period of time?
Jared Wickerham/Getty Images
With training camps underway and preseason football starting this weekend, the questions are pouring into the Ask Andrea AFC North Mailbag; as such, it was hard to get to every question sent in.
But do not fret: If you submitted one and you don't see it here, it may pop up next week depending on how many questions I receive.
Now let's get to it.

The situation at backup quarterback for the Steelers isn't great, but it's not terrible either. Pittsburgh has two fairly capable veterans behind Ben Roethlisberger—Byron Leftwich and Charlie Batch, with the former likely winding up No. 2 on the depth chart.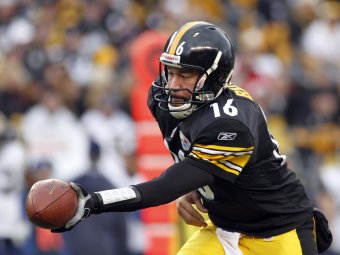 It's no Jay Cutler-Caleb Hanie situation, but this isn't something Steelers fans would want to see for too many weeks this season.
Justin K. Aller/Getty Images
In 2008, Leftwich won four out of the five games in which he started for Pittsburgh, and Batch has also had some moderate success when he's had to start. However, there is a noticeable shift in the Steelers' offensive philosophy when they're forced to switch from Roethlisberger to one of their backups, and if that happens this year, expect to see more conservative passing and a lot more running.
The Steelers won't be in terrible shape should Leftwich need to start a game or two in Roethlisberger's stead. But if Roethlisberger's slight rotator cuff tear turns into a bigger deal and he ends up missing eight or 10 games, it's bad news.
Chances are that Roethlisberger's minor injury won't get worse, but if it does and he's forced to miss an extended period of time, that clearly will hurt the Steelers' odds to return to the postseason this year.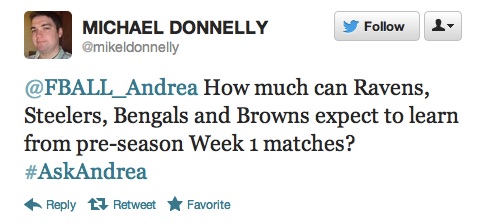 Week 1 is generally a time for talent evaluation, with few starters getting any significant playing time. As such, all four teams will likely be approaching next week's first preseason games similarly.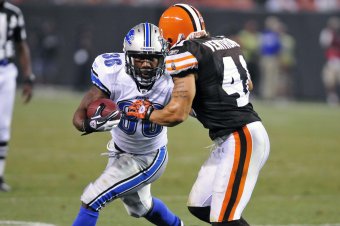 The Browns open their preseason next Friday against the Detroit Lions.
Jason Miller/Getty Images
They'll be looking at their second- and third-team players to see if there are any breakout performances or anyone who distinguishes himself. They'll be looking for last year's practice squad players to show signs of development.
They'll be watching closely at underperformers or those who make mistakes as the first round of roster cuts are looming. And finally, they'll see what areas of their playbook the players have mastered and what needs more work.
You'll likely learn a lot about the more marginal players on the Bengals', Ravens', Steelers' and Browns' rosters and less about whether certain starters (like Mohamed Massaquoi in Cleveland or LaQuan Williams in Baltimore) have made a big leap forward. Weeks 2 and 3 are more suited for players with starting potential to see extended on-field time.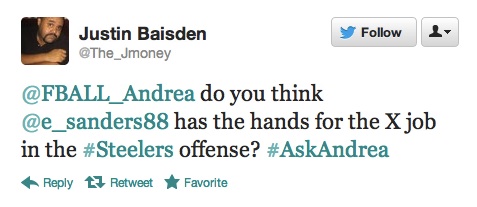 If it comes down to Mike Wallace holding out into the regular season, I absolutely believe that Emmanuel Sanders has what it takes, when it comes to his hands, to be the Steelers' starting "X" receiver.
The question about Emmanuel Sanders isn't about his talent, it's about his health.
Jared Wickerham/Getty Images
However, I don't know if he has the durability. Questions have lingered about Sanders' ability to stay healthy, considering the knee injuries and foot injuries (and surgeries) that have plagued him throughout his now-three years in the league.
Even Mike Tomlin has expressed concern about Sanders' health and he's missed some practice time with another leg injury (he's back on the field as of today). In terms of skill, speed and route running, all the tools are there for Sanders to succeed. His body just needs to comply.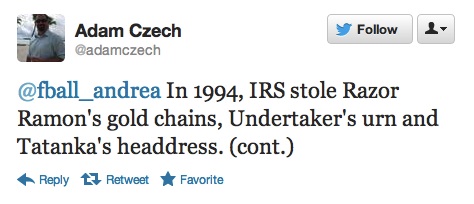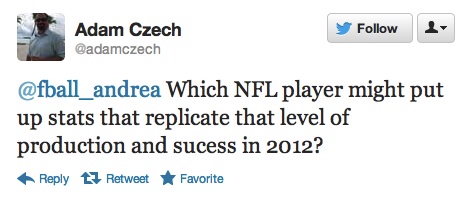 Adam, I am really digging the combination of wrestling reference and football question that you have put together there. I am guessing what you're asking is who is going to come out of nowhere and become a real force in the AFC North.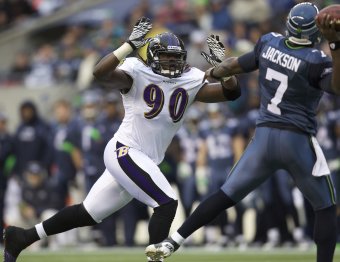 After this year, Pernell McPhee may be a household name.
Stephen Brashear/Getty Images
I really like Ravens defensive end Pernell McPhee to make a name for himself this year. In limited snaps in his rookie 2011 season, he had 23 total tackles, six sacks, a forced fumble and a fumble recovery.
This year, he'll be asked to do much more, considering that linebacker/defensive end hybrid Terrell Suggs will be sidelined for at least the first six weeks of the season as he recovers from a torn Achilles' tendon. McPhee is projected to be the defensive end who picks up those Suggs snaps, giving him ample opportunity to rush the passer and make an impression.
I also like rookie Browns receiver Josh Gordon to help turn around the leaguewide impression that the team has a terrible receiving corps. Gordon's looked the part thus far in training camp, and if he can get up to speed and shake off the rust in the intervening weeks before the regular season begins, I expect him to make an impact early and often.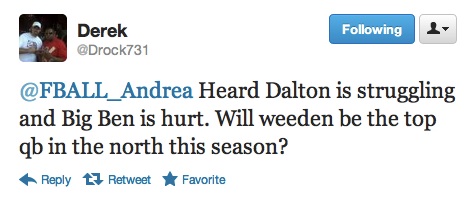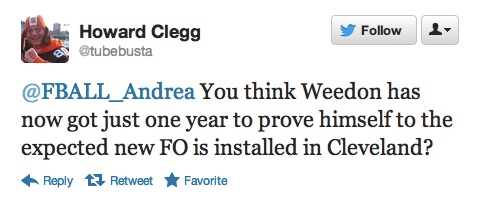 Howard and Derek, I almost see these questions as related. On the one hand, Derek is asking if Brandon Weeden will step up and become the strongest AFC North quarterback; on the other, Howard wonders that if he doesn't, whether or not that will jeopardize his starting job now that the Browns have new leadership.
While I think there is a good deal of pressure for Weeden to perform well in his rookie season, that pressure would be there regardless of the Browns' ownership. If he struggles mightily, then it makes sense that they would look elsewhere for a solution next year.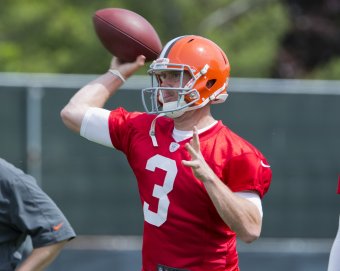 Brandon Weeden's seat isn't any hotter just because the Browns changed ownership.
Jason Miller/Getty Images
However, I don't see Weeden having so many problems this year that the new, Jimmy Haslem-led front office and ownership would want to move on from him after one season. After all, Weeden is a first-round pick with a nice amount of guaranteed money coming his way, so cutting or demoting him after one season makes little sense.
As for Derek's part of the question: Well, Roethlisberger is injured, but it has yet to affect his throwing arm and he claims he's no longer in pain. Though there is still a risk that he could injure his rotator cuff further once the season starts, it hasn't done enough harm to him yet for there to be any concern for a drop off in his production.
Dalton has struggled at Bengals camp, but he's also had some shining moments. Remember, that's a very young receiving corps out there, with a glut of first- and second-year receivers, so not all of the mistakes in the passing game at practice can be ascribed to Dalton alone.
Also, curiously, you left out Joe Flacco of the Ravens. While Flacco has a lot yet to prove before he's considered one of the league's elite quarterbacks, he has helped the Ravens reach the playoffs in each of the four years he's been under center. His receiving corps was also young last season, which helped in part for his week-by-week inconsistency, but he should still put up respectable numbers and play well this year.
Weeden has a lot of promise, yes, but it would take a lot for him to be the AFC North's top quarterback this year. While I don't think it is out of the question in a season or two, it's extremely hard for a rookie quarterback to dominate a division.
That's it for this week. Thanks to those who sent in questions. If you want to send one of your own in next week, be sure you're following along on Twitter. There's a button for you to do so right below.
This article is
What is the duplicate article?
Why is this article offensive?
Where is this article plagiarized from?
Why is this article poorly edited?