Would Red Sox Returning Derek Lowe to AL East Be Tossing a Lamb to Slaughter?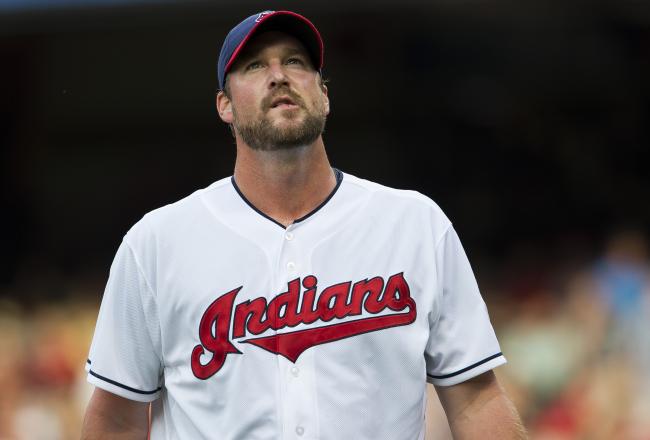 Jason Miller/Getty Images
A couple days into the month of August, the Boston Red Sox have yet to give any indication that they're ready to shake the one-step-forward-two-steps-back pattern that has plagued the team all season.
The Red Sox entered the month with some momentum, having won four straight games against the New York Yankees and Detroit Tigers, two very good teams. They've begun August with two straight losses, the most recent of which was a two-hit shutout at the hands of some guy named Samuel Deduno and the pitching-starved Minnesota Twins.
So what's clear now is the same thing that's been clear for months: the Red Sox need something.
Exactly what that something is varies depending on who you ask, but Boston's key problem area all season has been their starting rotation.
That hasn't changed. Though Jon Lester pitched very well on Thursday night, Josh Beckett is dealing with a bad back and Aaron Cook has surrendered six earned runs in each of his last two starts.
There aren't many external options out there for the Red Sox, but one man they could pursue happens to be an old friend of the organization.
The name Derek Lowe no doubt rings a bell.
As reported by Paul Hoynes of The Plain Dealer, Lowe was designated for assignment by the Cleveland Indians on Wednesday. If any team wants him, they're basically welcome to have him.
According to Scott Lauber of the Boston Herald, the Red Sox were "still gathering info" to determine whether or not they want to make a run at Lowe at last check. The fact that they are gathering info goes to show that they have some level of interest in Lowe.
Presumably, part of what they're trying to find out is whether or not Lowe has anything left in his tank. For his part, Lowe told Nick Cafardo of The Boston Globe that he's still game to keep pitching, and that he would welcome a return to his old team:
Derek Lowe said he just needs "a tuneup" working with personal trainer chris correnti atfort myers home. Would love red sox reunion

— Nick Cafardo (@nickcafardo) August 2, 2012
So at the very least, the Red Sox know that Lowe is willing. If they conclude that they need him, it wouldn't be at all surprising if they picked him up.
But should they come to that conclusion?
Um, no. Not if they want to save themselves a headache, anyway.
Things would have been different if we were having this discussion a couple months ago, say, right around May 20.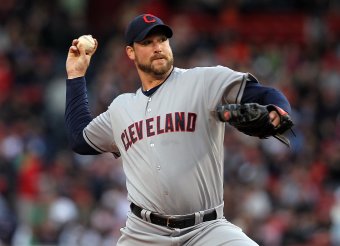 Lowe pitched six strong innings against the Red Sox at Fenway Park on May 10, picking up his fifth win in the process.
Jim Rogash/Getty Images
At the end of that day, Lowe had made nine starts and was sitting on a 6-2 record and a 2.15 ERA. Hitters were hitting off of him at a .286 clip, but with a mere .370 slugging percentage, according to Baseball-Reference.com. Most of the hits he was giving up were mere singles, a sign that Lowe's sinker was still good enough to get the job done.
Alas, things fell apart from there.
In his last 12 starts this season, Lowe went 2-8 with an ERA of 8.80. Hitters hit him at a .351 clip with a .502 slugging percentage.
Granted, you can point out that Lowe has been dealing with a high BABIP this season, and that this may reflect just as poorly on Cleveland's defense as it does on his pitching. One thing that's always been true about Lowe is that he's going to get hitters to put the ball on the ground, so it's absolutely imperative that his fielders perform well behind him.
But there's a limit to how much one can rationalize Lowe's struggles this season. It's awfully hard to blame them on Cleveland's defense, seeing as how the Indians have some pretty good defensive infielders in Jason Kipnis, Casey Kotchman and Jack Hannahan. Asdrubal Cabrera has been inconsistent in the field this season, but he's a fielder with a knack for making brilliant plays.
Plus, Lowe bears a FIP of 4.48 this season, according to FanGraphs. That's a sign that he would have a mediocre ERA even if he was backed by an above-average defensive infield.
This has much to do with the fact that Lowe hasn't helped himself by striking hitters out this season. He was never a great strikeout artist, but this season his K/9 has plummeted to 3.10. He's balanced that with a 3.40 BB/9, the worst mark he's posted since 2004.
The writing on the wall is this: Lowe just doesn't have it anymore.
The Red Sox would be banking on Lowe being rejuvenated by a return to Boston, and he clearly thinks he's capable of said rejuvenation.
But what the Red Sox would be getting in Lowe is an unreliable starting pitcher. Goodness knows they already have enough of those. They don't need another one.
Should the Red Sox pursue a reunion with Derek Lowe?
And we haven't even mentioned the fact that Lowe would be moving from the AL Central to the AL East, which houses two of the best run-scoring teams in the league in the New York Yankees and Toronto Blue Jays. The Red Sox have a total of 15 games remaining against those two teams this season.
They also have three games remaining against the Texas Rangers, six remaining against the Los Angeles Angels and three more remaining against the world-beating Oakland A's.
If this was 2002, the Red Sox could be confident in Lowe's chances of holding his own against these clubs. Nowadays, all bets are off. Lowe's glory days were a long time ago.
If the Red Sox still seriously think that they have a shot at making the postseason, the last thing they want to do is place their hopes in a pitcher who wasn't even good enough for an Indians team that has an even worse rotation ERA than the Red Sox do.
If the Red Sox are merely playing at being contenders now and are in fact just going through the motions, then what would be the point in adding Lowe? If they've already privately given up on this season, all they have to do is make it until roster expansion season in September and let the kids take it from there.
What it comes down to is this: the Red Sox should only make a move for a starting pitcher in the next few weeks if they think said starting pitcher is better than what they have.
Lowe isn't better than what they have.
If you want to talk baseball, hit me up on Twitter.
This article is
What is the duplicate article?
Why is this article offensive?
Where is this article plagiarized from?
Why is this article poorly edited?