Philadelphia Eagles Training Camp: 3 Things We Learned This Week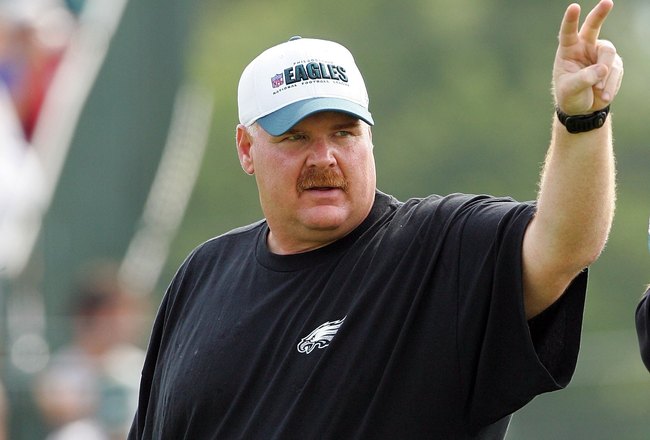 Jim McIsaac/Getty Images
We're already into the second half of the Philadelphia Eagles' 2012 training camp in Bethlehem, Pa., and all the team has lost is its entire starting defensive line.
At this rate, they'll be putting in a call to Jevon Kearse before fan appreciation day arrives on Aug. 14.
We'll touch on that as we focus on three training-camp trends from the week that was at Lehigh.
In case you missed it Wednesday, we took a look at what kind of first impressions the Philly rookies have made so far. Today, we'll take a broader look at coverage from the second week of camp in order to draw three concrete conclusions.
It would be easy to go far beyond that, but we're doing our best not to overreact to each good or bad play. Twitter makes it easier to track camp, but the drawback of instant coverage via social media is that the media and fans seem to be reacting in knee-jerk fashion more than ever.
Here's a chance to focus on three trends that have overcome 140-character barriers.
We're Going to Find out How Deep This Team Is Very Soon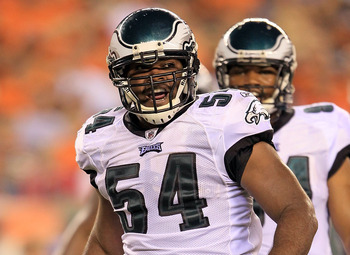 Andy Lyons/Getty Images
OK, technically, I'm telling you that we've learned something we're about to learn, which makes little to no sense, but the point is that the Eagles have been crushed by a series of less-than-serious injuries this week, which could put them in an interesting spot when they host Pittsburgh next Thursday night.
The strongest unit on the roster has been ravaged, with all four defensive-line starters missing practice time this week. Jason Babin, Trent Cole and Cullen Jenkins should be fine for the start of the season, but we're going to have a chance to see a lot of Brandon Graham, Fletcher Cox, Derek Landri, Vinny Curry and Antonio Dixon this month.
Offensive linemen Evan Mathis (vertigo) and Todd Herremans (shoulder) have also been out, along with Jamar Chaney and Nate Allen in the linebacking corps and secondary. Last, but not least, wide receiver Riley Cooper is expected to miss the entire preseason, according to Jeff McLane of The Philadelphia Inquirer.
We already know what King Dunlap can do, so expect to see even more of rookie Dennis Kelly at right tackle early this month. I don't think they're crazy enough to put Kelly on Michael Vick's blind side in real-game situations in August, but he'll definitely get a lot of chances to prove himself, just as Cox and Curry will on defense.
We've also learned that we'll be seeing a lot of rookie receiver Marvin McNutt, and Dallas Reynolds might get extra reps at guard.
Dion Lewis Has a Chance to Earn a Lot of Reps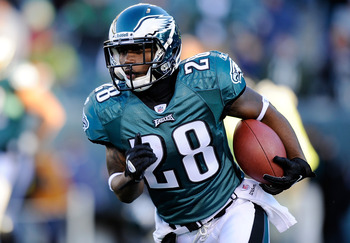 Patrick McDermott/Getty Images
As LeSean McCoy's backup for the majority of the 2011 season, Dion Lewis failed to impress the majority of those who kept a close eye on the Eagles, but the rookie fifth-round pick was adapting to a complex offense without an offseason of preparation under his belt.
That's why it's not overly surprising to hear that Lewis has been one of the most impressive players thus far in Bethlehem.
Zach Berman of The Philadelphia Inquirer reports that Lewis has a clear edge over rookies Bryce Brown and Chris Polk, both of whom were talked up quite a bit earlier this offseason.
We've also heard multiple times this offseason that the Eagles will try to lighten McCoy's work load after he played more snaps than any back in football last season, but Andy Reid has never been very disciplined when it comes to resting his primary backs.
That said, McCoy himself—possibly realizing that he might have the longevity for one more big contract—is willing to surrender reps to Lewis:
"Yeah, I think it works better because sometimes I might be getting tired, instead of being selfish taking that rep, I think Dion deserves to play," McCoy said Thursday, via CSNPhilly.com's Dave Zangaro. "He's a good player. You go out in the league and see a lot of teams who rotate and last year we didn't rotate...not enough really so I think it will be a good year."
This essentially means that Brown and Polk will be fighting for a roster spot in the preseason, and I can assure you that'll be a fun battle to watch.
DeMeco Ryans Is Ready to Lead the Defense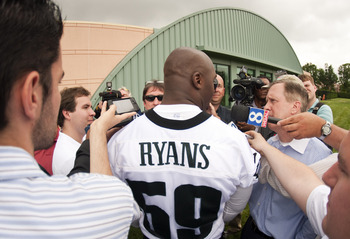 Howard Smith-US PRESSWIRE
There's no doubt that landing DeMeco Ryans from the Houston Texans in the offseason was at least a minor coup for the Eagles. They desperately needed help in the middle of the defense and leadership all over, and Ryans was a proven leader with a reputation as a tackle machine.
I haven't shied away from stating that Ryans is at least a slightly overrated player. He's always missed a fair chunk of tackles, too, has a bad history with injuries and has always been considered somewhat of a one-dimensional player.
But early in camp, Ryans—who is still only 28 years old—has shined. If, in fact, he was simply struggling last year in Houston because he was still readjusting after an Achilles injury while trying to adapt to a new 3-4 defense, then, there's a chance Ryans will flourish with a full offseason to keep improving from every perspective.
The most important detail regarding Ryans that has emerged from Eagles' camp comes from The Philadelphia Inquirer's Bob Ford, who notes that Ryans has been able to stay on the field for all three downs, despite a perceived weakness on passing downs.
Again, it's really early, but the Ryans' era in Philly is off to a fantastic start.
Keep Reading

Philadelphia Eagles: Like this team?