Power Ranking Shin-Soo Choo and the Cleveland Indians' Most Reliable Players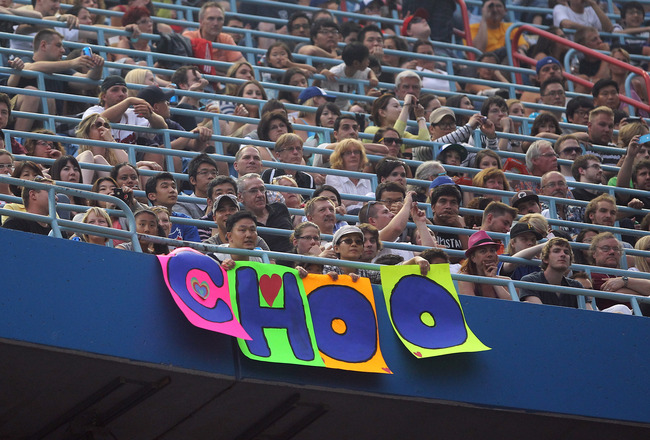 Shin-Soo Choo receives some love.
Tom Szczerbowski-US PRESSWIRE
The Cleveland Indians avoided the longest losing streak in franchise history by beating the Minnesota Twins 6-2 on Wednesday to halt their skid at 11 games. The team has been anything but consistent in 2012.
The team once again teased the fanbase with a quick start and seized first place, which they held late into May. They reclaimed the top of the AL Central for a brief stretch in mid-June, but lost the top spot and have never gained it back and have slipped all the way down to third place as of this writing.
Since the All-Star break, the Indians are 7-19 including suffering two-straight sweeps to the mighty Minnesota Twins (and a 1-5 record against them) and Kansas City Royals.
Despite all these black clouds following the team lately, the Tribe boasts players who are mostly reliable in their production for the team.
This slideshow will attempt to put a smile on Tribe fans' faces by ranking the Indians' most reliable performers in 2012.
The ranks are my opinion from least reliable at No. 8 to most reliable at No. 1.
No. 8: Zach McAllister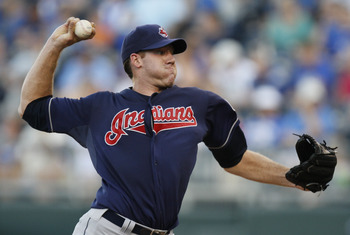 Zach McAllister has been one of the most reliable starters for the Tribe this season.
Ed Zurga/Getty Images
Yes, I'm giving some love to Zach McAllister.
Despite his last effort on Monday (1.2 IP, 6 H, 9 R, 2 ER, 2 HR, 2 BB, 3 SO), McAllister has arguably been the Indians' most reliable starter.
That's not really saying a lot on a current starting rotation that now only has two pitchers (Ubaldo Jimenez and Justin Masterson) that started the season in the rotation.
Derek Lowe has been designated for assignment. Josh Tomlin has been demoted to the bullpen, and Jeanmar Gomez was demoted to the minors.
McAllister has turned in six quality starts (6 IP or more with 3 ER or less) in 12 efforts. Monday's start was the only one so far that he hasn't gone at least five innings. Take out the last two starts where he was hit hard, and McAllister has only given up four earned runs once in the remaining four non-quality starts.
He tends to keep his team in games, and he has definitely been more reliable than either Jimenez or Masterson.
McAllister (4-4, 3.60 ERA) could be an important piece in the Indians' starting rotation for years to come.
No. 7: Jason Kipnis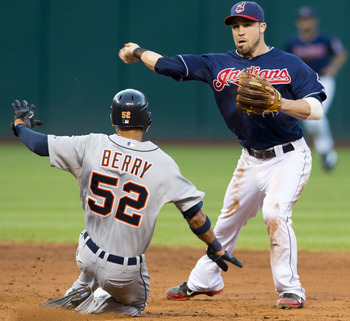 Jason Kipnis is a rising star for the Indians.
Jason Miller/Getty Images
Jason Kipnis is currently in a horrendous 6-for-48 skid over his last 14 games, so he has been slipping badly as of late, but over the course of the season Kipnis has been one of the Indians' most reliable offensive threats.
He has been reliable but not consistent as he has had OPS numbers of .765 in April, a high so far of .810 in May, .703 in June, .694 in July and so far a ghastly .374 through eight games in August. These numbers fluctuate a little too much for a player who the Tribe looks to for more consistent production.
Despite the up-and-downs in production, he currently leads the team in runs batted in with 58 and is two off the team lead in home runs with 11, two behind team leader Shin-Soo Choo. Kipnis also leads the team with 23 stolen bases and currently has a slash line of .259/.335/.386.
Defensively, Kipnis has been very consistent (despite two horrendous, costly errors against the Twins) and has shored up this weakness in his skill set. According to ESPN, Kipnis is tied for fifth in the majors with a .992 fielding percentage and has committed only four errors so far on the season.
The Tribe's second baseman is a rising star, and it is crucial that Kipnis become a more consistent offensive threat as he is a vital element in any long-term success that the team experiences.
No. 6: Asdrubal Cabrera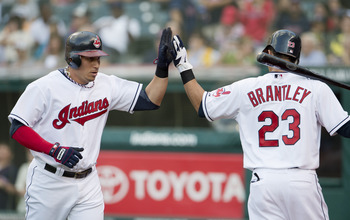 Asdrubal Cabrera is one of the Indians' most reliable offensive weapons.
Jason Miller/Getty Images
Asdrubal Cabrera (.281/.346/.433) is fifth on the team (among regulars) with his on-base percentage and is third on the squad in OPS at .779. He is also fourth on the team in runs batted in with 47.
He has been very consistent in the OPS category month-by-month throughout the course of the season. He posted .854 in April, a high of .880 in May and .871 in June. Inexplicably in July, his OPS dipped to a season-low month mark of a paltry .557 and so far in August he has stunk up the joint just like the rest of the team and has a mark of .700.
Despite these consistent showings over the course of the year, it seems that Cabrera needs to battle a little more when it appears as if no rally is materializing with at least one out.
According to yahoo.com's situational stats for Cabrera, he has had an OPS of .622 with no men on base with one or two outs. Conversely, he has posted an OPS of .891 with none on and none out, .910 with men on and two outs, and .775 with a man on third with less than two outs.
Defensively, A-Cab is a highlight reel waiting to happen. Despite having 15 errors, according to ESPN's fielding stats, he is tied for first in the majors with J.J. Hardy with a 4.99 range factor (put-outs plus assists divided by 9 inning groups played).
This stat is backed up by Cabrera's high ranking on Baseball-Reference.Com's shortstop rankings. Among regular shortstops, Cabrera and Hardy are tied for first with the best range factor per nine innings at 4.99.
Cabrera has made the All-Star team the last two seasons and was 20th in Al MVP voting in 2011, so he certainly is a reliable and important cog in the Indians lineup.
No. 5: Chris Perez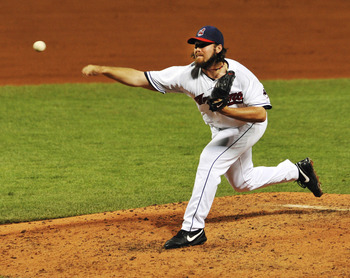 Chris Perez has been reliable but has had some epic blow-ups in 2012.
David Richard-US PRESSWIRE
Chris Perez has saved 29-of-33 games this year for the Indians. He has had some stretches where he has been almost automatic.
After blowing the save on Opening Day, Perez converted the next 24 save opportunities before blowing his next save.
So, why isn't he rated higher on this list?
Perez has had some epic blow-ups this season. Yes, I know a closer is allowed to blow a save once in a while, but when Perez blows a save, he really blows a save. The following lines are from his four blown saves in 2012:
April 5 vs. Toronto (Opening Day): .2 IP, 3 H, 3 R, 3 ER, 2 BB, 0 SO
July 8 vs. Tampa Bay: 1 IP, 4 H, 3 R, 3 ER, 1 HR, 0 BB, 3 SO
Aug. 5 at Detroit: .2 IP, 3 H, 5 R, 5 ER, 1 HR, 2 BB, 0 SO
Aug. 7 vs. Minnesota: .2 IP, 4 H, 3 R, 1 ER, 1 BB, 1 SO
According to ESPN's closer stats, Perez ranks eighth in MLB in save percentage (87.9) among the top 16 saves leaders, T12 in WHIP with 1.23, seventh in K/BB at 4.2, eighth in K/9 with a 10.2 mark and 15th in BA against with .242.
As the numbers show, Perez is mostly in the middle of the pack among closers, but should be considered as reliable. The numbers say you can count on him to get the job done (for the most part), but it is always a roller-coaster ride when "Pure Rage" enters the game.
No. 4: Joe Smith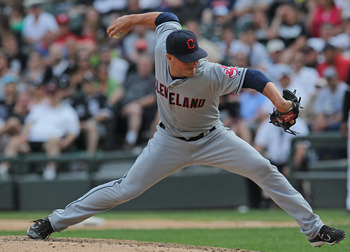 Joe Smith has been very reliable in setting up Vinnie Pestano and Chris Perez.
Jonathan Daniel/Getty Images
Joe Smith has been the seventh-inning guy who has been getting the ball to Vinnie Pestano and Chris Perez.
For the most part, this combination has been extremely effective, and Smith has been a big reason why the Indians' back end of the bullpen is a huge strength for this team.
Smith has a gaudy 7-2 record with a 3.11 ERA and is sporting a nifty 1.19 WHIP and has 14 holds, second on the team to stud setup man Vinnie Pestano.
Smith has only given up three earned runs twice and two earned runs once in his 49 appearances and has shut down the opposition for zero earned runs in 38 of those outings.
According to fangraphs.com, among qualified relievers, Smith ranks 10th in ground-ball percentage at 60.4 percent and in the top third in lowest home runs per nine innings rate at .58.
Smith tends to keep the ball on the ground and in the park, thus avoiding huge, blow-up innings and gets the ball in good shape to the automatic Pestano and the usually reliable Perez.
No. 3: Shin-Soo Choo
Shin Soo-Choo is the team leader in several offensive categories for the Indians in 2012.
David Richard-US PRESSWIRE
Ever since Shin-Soo Choo was moved in May to the leadoff spot in the Indians lineup, he has had a very consistent, productive season for the Indians.
He started out a little sluggishly with an April OPS of .697, but then improved to OPS marks of .825 in May, a fantastic individual and monthly team high of .961 in June and .857 in July. So far through eight games in August, Choo has dipped to a .625 mark.
He has the most home runs on the team with 13 and has the highest OBP at .373 and is second with 12 stolen bases. He ranks fifth on the team in runs batted in with 44 and is one ahead of Michael Brantley for the most doubles on the team with 34. Choo ranks T-4 with Adrian Gonzalez in the majors with this mark.
Despite having the most strikeouts on the team by far with 102, Choo is one of the most dangerous offensive weapons that the Indians possess.
If he could develop a little more plate discipline and cut down on his strikeouts, he could be an an even more reliable and dangerous threat for the Tribe.
Defensively, Choo is reliable and doesn't make many mistakes and has a cannon for an arm. He is tied for first in the majors for right fielders with a .995 fielding percentage with only one error.
No. 2: Michael Brantley

Brantley highlight reel: 2012 highlights start at just past four-minute mark.

This year has been a coming out party of sorts for Michael Brantley.
He was acquired in the CC Sabathia trade in 2008, and a lot was expected of him. The other three pieces that the Indians received in the deal have been complete busts. Matt LaPorta has not lived up to his potential and is in the minors. Zack Jackson and the immortal Rob Bryson have virtually done nothing in the bigs.
So, for the time being, that leaves Brantley as the only player who could make fans feel like they got something, anything, out of the deal that sent former Cy Young award-winning Sabathia packing.
Brantley has been steadily improving every year since 2010 when he started to get regular at-bats. His OPS marks went from .623 in 2010 to .702 in 2011 to a career high so far of .769 up to this point in this season.
Brantley gets the top position player nod for reliability because he has been remarkably consistent and productive throughout the course of the year.
Through 111 games, Brantley has had hitting streaks of 22,10, seven (twice), six (twice) and five. His 22-game streak is third in the majors so far in 2012 behind only Jose Reyes' current streak of 25 games and Robinson Cano's 23.
He has only had an amazing 25 games where he didn't record a hit and has only gone three-straight games without a hit twice on the season. He has never gone four-straight contests without a hit.
Now that is a reliable player.
He has not only been reliable and consistent, but he has been one of the most productive offensive players on the team. He is first on the team with 122 hits, third in RBIs with 48 (behind Kipnis with 58), first in triples with four, second behind Choo for the team doubles lead with 33, fourth (among regulars) in OBP at .347 and fifth (among regulars) in OPS with a .769 mark.
Brantley only has four home runs on the season, so if he could develop a little more power, he will be an even more reliable and potent threat for the Indians.
Defensively, Brantley has been solid and has turned in some highlight-reel worthy catches in center field and ranks T4 in the majors with a .996 fielding percentage and has only committed one error on the season. He also ranks T7 in MLB with four assists.
No. 1: Vinnie Pestano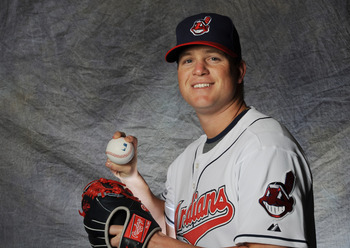 Vinnie Pestano has been virtually unhittable in 2012.
Rich Pilling/Getty Images
Au-to-matic.
That's what Vinnie Pestano has been for the Indians this year. When he gets the ball in the eighth inning, he takes care of business. When he yields to Indians closer Chris Perez in the ninth, Perez will have the lead.
He has been that good.
Pestano leads the world in holds with 30 and has some other miniscule stats to boot. He is 3-0 with a 1.26 ERA and a microscopic .92 WHIP.
Pestano has struck out 57 batters in 50 innings and has a K/9 mark of 10.26. His frisbee slider and 92-94 mph fastball are usually deadly accurate, baffle hitters and find the corners.
In his 50 appearances and 50 innings pitched, he has given up seven total runs. In his 50 appearances, the Indians have gone 38-12, and four of the losses he has pitched in have been in his last four appearances where the Tribe was in the middle of an 11-game losing streak. This, all for a team who is currently nine games under .500!
Can you say Cleveland Indians MVP?
Pestano has been so good, that closer Chris Perez was shopped around at the trade deadline with the belief that Pestano would fill in admirably for Perez.
With numbers like these, it's hard to see how Pestano would not be a very good closer for the Indians.
Along with Perez and Smith, Pestano is the main reason why the Indians' back end of the bullpen is one of the best in baseball.
He is invaluable to the Indians and has been the most reliable, consistent and productive player for the Indians in 2012.
Keep Reading

Cleveland Indians: Like this team?