One Burning Question for Every Member of the Washington Redskins' Roster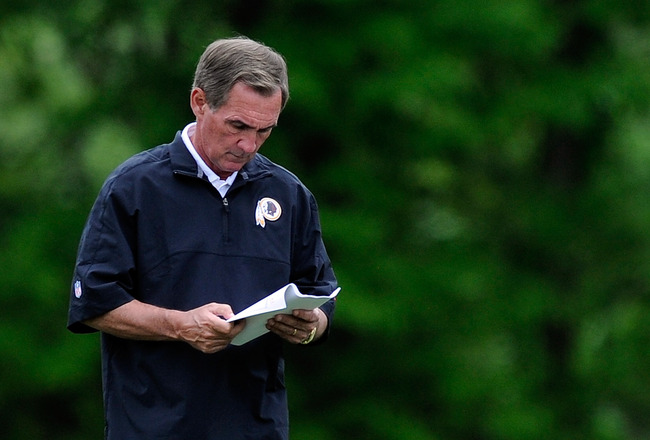 Patrick McDermott/Getty Images
With football season officially underway, this is the time of year that arguments are started, competition is fiery and questions are burning.
The Redskins have drastically improved over the last three years under head coach Mike Shanahan, but they're far from complete. A rookie quarterback now takes over, the offensive line is still a work in progress and the defense has the potential to be top-10 in the league.
With high expectations going into this season, it's only natural that Redskins fans put their concerns and questions on paper. The following slides can serve as the starting line.
Quarterbacks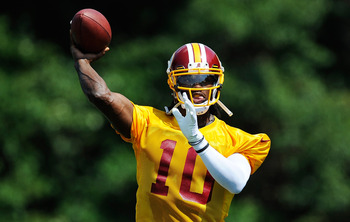 Patrick McDermott/Getty Images
Perhaps the largest question surrounding the Redskins and their upcoming season is the success and/or progression of rookie quarterback Robert Griffin III.
Through the first couple weeks of training camp, Griffin has looked good. Not necessarily great or dazzling, but going through the motions as a normal rookie would. Great throws here, nice speed there and the occasional mistake.
The answers to questions regarding Griffin, however, will rest largely on the shoulders of the Redskins' offensive line.
While the ups and downs of a rookie season are expected, having an ineffective group of blockers that give Griffin no time, security or comfort will make for an extremely long and painful season.
Beyond the starting quarterback, questions surrounding the second-string passer remain.
Veteran Rex Grossman was retained during the offseason and the Redskins selected Kirk Cousins in last April's draft. The battle between the two may not be a pretty one, but eventually one will prevail. If Grossman can't beat out a rookie and keep himself out of the third quarterback spot, coaches will then have to question why Grossman is on the team at all.
Backfield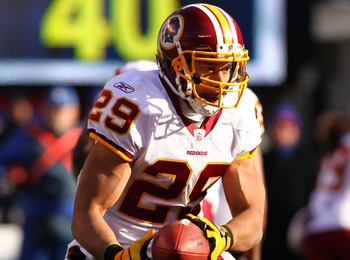 Al Bello/Getty Images
As one of the more intriguing Redskins positions this season, numerous questions surround the backfield.
Who receives the starting nod?
In Mike Shanahan's system, the "starting" label doesn't hold nearly the significance that it does with other teams. And this season is no different in Washington.
Roy Helu appeared to be the favorite heading into camp. Not only did he receive a bulk of the carries last season as a rookie, but he also possesses the speed and shiftiness that the front office have worked to incorporate since the end of last season.
According to local chatter, it's actually second-year player Evan Royster who has looked the most impressive in early practices. He's a strong runner who points primarily north and south. His value, however, comes by way of his vision and timing.
Regardless of who comes out on top for Week 1, fans can rest assured that both young men will be used. Both appear to be trusted runners in the system and each offer their own unique set of skills.
What can we expect from Tim Hightower and his knee?
After losing him last season to a blown ACL, all eyes will be on Tim Hightower this season to see if he can return to early-2011 form.
Aside from the injury that cut his season short, Hightower was also forced to adapt to a new team without a training camp or team-based offseason. In all fairness, Hightower was never able to find a groove in order to prove his worth as a runner.
Arguably Hightower's most valuable contribution is his pass-blocking. And with a rookie quarterback prepared to start, the Redskins can use all the effective blocking they can find.
How does Roy Helu look in pass-protection?
Although Roy Helu might not be on the level of Tim Hightower when it comes to pass-blocking, I was one of those crazies who thought the rookie did a pretty decent job last year. And it appears I wasn't the only one.
That being said, Helu does have a ton of room to improve. Helu may not be the biggest back on the team, but effective blocking is so much more than size. If Helu can prove himself as a reliable pass-blocker—while also demonstrating durability—coaches would have a tough time taking him out of games.
Receivers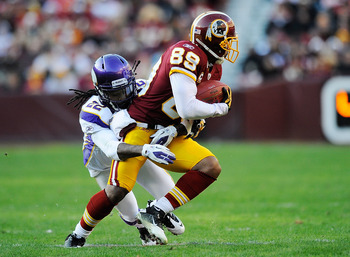 Patrick McDermott/Getty Images
It's the most crowded position on the roster, yet one of the more entertaining ones. The coaching staff will have their hands full when it comes to making the final 53, but at least they're working with a lot of talent.
We've heard he's in great shape, but what can we really expect from Santana Moss?
Entering camp having lost 15 pounds, Santana Moss is set to have a huge season.
Not that Moss has disappointed since joining the Redskins seven years ago, but last year's injury raised concern and some wondered if the 33-year-old had lost a step.
Through camp so far, Moss has put those suspicions to bed. His speed is there, his quickness has been restored, and his reliability as a pass-catcher never left.
A veteran receiver can be a quarterback's best friend—especially when that quarterback is a rookie. In my opinion, Santana Moss has a big year in 2012.
Can we count on Leonard Hankerson for 16 games?
Not that I can categorize injuries or gauge their severity, but I consider hip injuries to be one of the worst in football. Although ACLs are up there, we've seen athletes make full recoveries. Hips, on the other hand, tend to linger and continually harass.
Leonard Hankerson enters 2012 after recovering from a torn labrum that ended his rookie season early last year. And while he appears to be on his way to a starting role, the thought of lingering hip injuries looms.
As one of the team's largest redzone targets, Hankerson will play a key role in the Redskins' offensive execution and potency.
Who can we expect to take over the slot receiver position?
When the Redskins went out and signed free agent Josh Morgan, the idea was to have him play in the slot. But with the latest from Santana Moss, perhaps there's more of a competition at the position than originally anticipated.
No one should count Morgan out, or automatically assume that one week of camp is enough for Moss to take the job. But it's going to be one guy or the other, and fans should be happy with either one.
Which receiver is the Redskins' best deep-threat?
Robert Griffin III made a living in college with his ever-so-accurate deep ball that he could launch 50 yards down the field to an electrifying receiver, who got off the line quick and used his straight-line speed to get behind defenses. So when the Redskins went shopping this offseason, you can bet that they had RG3 and his college reel in mind.
For the first time in a while, the Redskins are equipped with genuine speed at the receiver position and Pierre Garcon seems like the easy choice for the team's best threat. And while that may be true, guys like Moss, Morgan, Terrence Austin, Aldrick Robinson and Anthony Armstrong are all capable of turning on the burners and getting under RG3's deep ball.
Tight Ends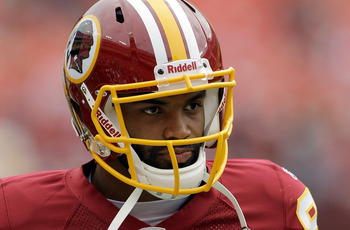 Rob Carr/Getty Images
With only three or four guys on the roster with a real chance of making the team, the tight end position seems simple. But off-field mistakes, injuries and position conversions spice it up a bit.
Is Fred Davis reliable?
After losing Fred Davis for the final four weeks of last season, the Redskins opted to tender the fifth-year tight end in a sort of preliminary role. Can the Redskins trust Davis to conduct himself in a professional manner?
If Davis can prove that he's a responsible adult, the Redskins could look to offer him a long-term deal. But after run-ins with failed drug tests and sketchy relationships with local escorts, the Redskins are intelligently staying cautious.
Will Chris Cooley be healthy enough to contribute for a full season?
Assuming Chris Cooley is healthy, his spot on the Redskins roster is nearly guaranteed. A possible contract restructuring is a completely different story.
Over time, Cooley has slowed down a bit. Whether it's age, injuries, or a combination of the two, Cooley is showing signs of wear. However, as the team's best pure tight end, his presence with the Redskins would be a huge asset this season.
What can we expect from Niles Paul?
After converting from wide receiver to tight end in just his second season, Niles Paul is one of the most intriguing Redskins stories of this offseason.
Paul has the size, he has the pass-catching skills and he's an effective blocker. If given playing time, I believe Paul can turn into the Redskins' version of a hybrid end.
Pehaps Paul doesn't make the Pro Bowl in his first season as a tight end, but 2012 should be more about progression and how he continues to learn his new position.
Offensive Line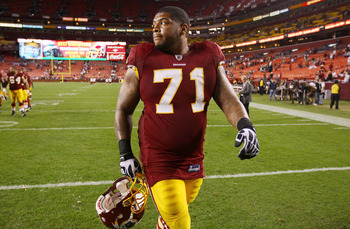 Win McNamee/Getty Images
The offensive line is the engine behind the Redskins in 2012. If they aren't healthy, they can't block. And if they can't block, Robert Griffin III suddenly threatens to look like David Carr in Houston.
Chilling, isn't it?
Who can we expect to see at right tackle?
Since we haven't seen Jammal Brown all camp due to injury, the chances of him making the roster at all this at point seem slim. Yes, the contractual aspects surrounding his future with the team appear murky. But the Redskins may be willing to bite the bullet if it means opening up a roster spot.
Second-year UDFA Willie Smith would likely be the second option at right tackle. He has the size and athleticism to play on the left, so switching sides shouldn't be much of a hassle.
Since Smith twisted his knee last week in practice after getting steamrolled by Rob Jackson, veteran Tyler Polumbus has been the team's starting right tackle.
Polumbus played a bit last season and some were pleased with his physicality (including myself). Because of his experience and versatility, Polumbus should make this team and he may very well be the opening week starter if other options can't stay healthy.
How do the rookies fit in?
At this point, it appears to me that Josh LeRibeus and Adam Gettis are the two rookie linemen set to make the roster. And while that doesn't count out long-shots Tom Compton or Grant Garner, it appears that LeRibeus and Gettis are farther along in becoming NFL product.
With a healthy front-five, neither LeRibeus or Gettis should start. But with the combination of injuries and perhaps even talent, Redskins fans could see LeRibeus crack the starting lineup.
I do believe Gettis makes this team and I think Shanahan may even try him at center. Current starting center Will Montgomery can't be the team's long-term answer at the position.
Which lineman is under the most pressure?
As a former No. 4-overall pick of the Redskins in Mike Shanahan's first season with the team, the most pressure has to fall on left tackle Trent Williams.
Before he served a suspension for the final four games of last season, Williams was playing very solid football. And although we hadn't been used to such dominance earlier in his career, it's better late (this is only Williams' third season) than never.
Williams has the talent and skill to be a top tackle in the NFL. In 2012, I predict Williams to answer the call, step up to the plate, and position himself as one of the most promising young left tackles in the league.
Defensive Line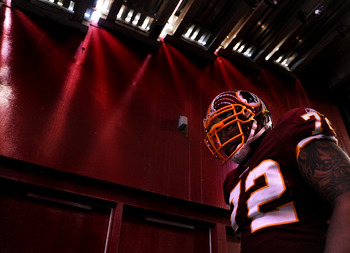 Patrick Smith/Getty Images
If there's one area of the team that fans should be completely comfortable with, it's the defensive line. The Redskins' two-deep is one of the better units in the league.
Can the Redskins front line be one of the best in football?
Assuming that the Redskins start Stephen Bowen, Barry Cofield and Adam Carriker up front, the Redskins definitely have a shot at having one of the top defensive front lines in the league.
Down linemen in the 3-4 rarely receive the credit they deserve and the Washington Redskins (at least from last season) are a good example. Despite not having the flashy stats, the Redskins were stout. And with the offseason to get better and another year in Jim Haslett's scheme, the unit can only go up.
How does Jarvis Jenkins fit the rotation?
After hearing so much about rookie Jarvis Jenkins during training camp last year, it was a huge disappointment when he was lost for the season before ever playing a meaningful game.
The good news? Jenkins is reportedly back and in last summer's form—displaying speed, strength and explosiveness.
As much as I like Adam Carriker holding down the end, I wouldn't be surprised to see Jenkins take that starting job by Week 4. Even with Carriker's progress over the years, Haslett and the coaching crew may prefer Jenkins' athleticism and burst off the line.
Linebackers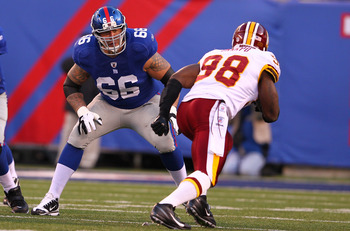 Al Bello/Getty Images
An aging nucleus surrounded by youthful talent, the Redskins' linebacker situation isn't in bad shape either.
Who starts alongside London Fletcher?
If you're asking today, the answer is likely Perry Riley. But we all know how position competition and training camp battles can stir the pot.
Originally, I thought free-agent pickup Jonathan Goff had a chance to compete. But a blown ACL last week ultimately led to his release.
After that, veteran Lorenzo Alexander seems to be the next guy in line. He has all the tools and his teammates have been high on him all camp.
At the end of the day, I believe it's Riley who gets the start and it'd be tough to argue anyone over him.
How much has Brian Orakpo improved as a pass-rusher?
Entering his fourth year with the team, Brian Orakpo has become a fan favorite in just a short while. But even some of those who are big fans of Orakpo question whether or not he's actually an elite pass-rusher.
Camp chatter leads me to believe that Orakpo has worked on his pass-rush moves all offseason—looking to develop more of a repertoire than just a go-to speed rush. And so far, so good.
With Ryan Kerrigan causing double-teams on the other side and an effective defensive end playing in front of him, Orakpo is positioned to have a big year. Career-best sack totals, anyone?
Defensive Backs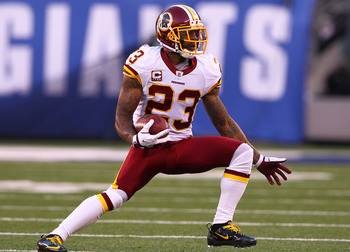 Al Bello/Getty Images
It has been a concern since before the draft: how much can fans count on the Redskins' secondary?
Where is DeAngelo Hall best-suited?
He isn't a great tackler, he gambles on nearly every play and he makes things happen with the ball in his hands.
With that description, the idea of lining Hall up at the nickel spot is exciting. And if the Redskins are serious about doing so, fans can prepare to see more than enough plays on the ball when it's thrown in Hall's direction.
Hall's quickness and aggressiveness make him an ideal fit in the slot. Not to mention, defensive coordinator Jim Haslett can incorporate Hall in blitz packages coming off the edge.
Assuming Hall takes that role, look for Kevin Barnes to play opposite Josh Wilson.
Is the cornerback depth reliable?
Beyond DeAngelo Hall, Josh Wilson and Kevin Barnes, I don't think anyone is prepared to use the word "reliable" when it comes to the cornerback position.
Through camp so far, acquired free agent Cedric Griffin has struggled and second-year player Brandyn Thompson has been disappointing.
While there's hope that rookie Richard Crawford continues to impress in camp and account for a roster spot, he's only one guy. The Redskins are undoubtedly thin at the position and they can't afford anything when it comes to the durability and experience of Hall, Wilson and Barnes.
Is this the best safety talent we've had in quite some time?
Arguably since Sean Taylor.
While I would rather say that the safety position was made from drafted and developed talent, it's hard to bash a front office that went out and acquired the free agents that they did for such a good price.
Between Brandon Meriweather, Tanard Jackson, Reed Doughty, Madieu Williams and DeJon Gomes, the Redskins have enough talent in camp to give us fans a good feeling moving into the season.
The question, however, begins with which guys the Redskins can rely on for a full 16 weeks. Both Jackson and Williams have had their history of injuries, but both have generated some sort of excitement through camp so far.
Having come a long way since April, I'm beginning to feel more and more comfortable with the safety talent. As with any position, though, health will play a major role. When each of these guys are healthy and at their best, they can be very productive safeties.
Special Teams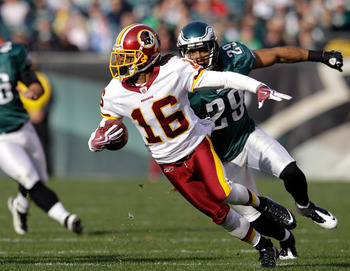 Rob Carr/Getty Images
Can't forget about the special teamers!
How does Brandon Banks make the team?
As I've mentioned before, unless Brandon Banks can show that he's capable of handling other duties on the field besides just kick returner, his chances of making this team are slim.
Banks has said that he's 100 percent healthy during this year's camp and he's committed to proving himself as a receiver—both of which are requirements for the third-year man.
Although limited in size, Banks has the game-breaking ability and insane speed to be a playmaker on an NFL roster. If offensive coordinator Kyle Shanahan can somehow find a way to get Banks the ball on offense, then I'd say he's worth the roster spot.
Does Graham Gano find his consistency?
Veteran kicker Neil Rackers was brought in to show Graham Gano that his job was far from guaranteed. Although possessing the leg strength to be a successful NFL kicker, Gano has been unable to show up strong for an entire year and give the Redskins some comfort at the position.
Based solely off gut, I feel that Gano will beat out Rackers and get it done in camp. But that doesn't mean special teams coach Danny Smith is making any exceptions. Regardless of the name on the jersey, the Redskins are going to go with the best kicker through August.
Keep Reading

Washington Redskins: Like this team?