Will NBA Free Agency Be Strikingly Different in 2013?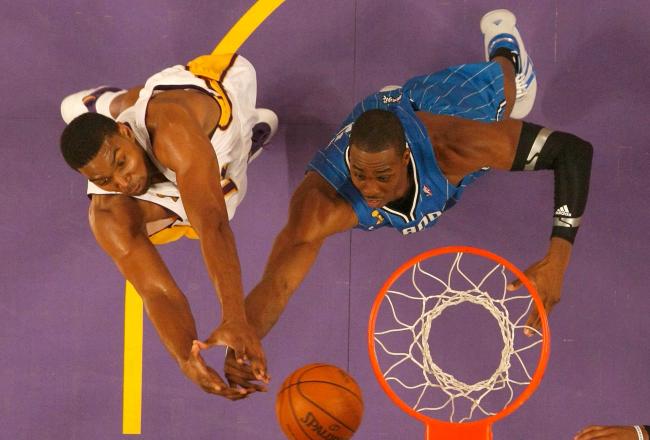 Jed Jacobsohn/Getty Images
At first glance, NBA free agency won't look all that different next year from the way it has in the past. Players who are out of contract will return to the open market in search of new homes, find teams and deals that suit their needs and sign on the dotted line accordingly.
Of course, the names will be different, especially the big ones—Dwight Howard, Chris Paul, Andrew Bynum, Manu Ginobili, Josh Smith, Al Jefferson and Paul Millsap.
But the devil here is in the details, in the not-so-fine print of the collective bargaining agreement that the players and the owners came to as a means of ending last year's drawn-out lockout.
Last November, cap guru Larry Coon spelled out the changes in store for the new CBA in an extensive breakdown for ESPN. Many of the most notable tweaks to the financial particulars of league business are due to take effect in 2013. They won't all mess with marquee free agents, but do figure to have a significant impact on the rest of the market.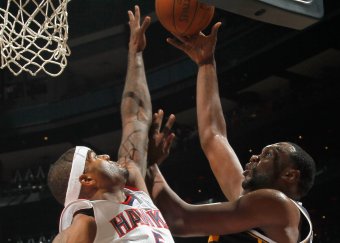 Kevin C. Cox/Getty Images
Of greatest concern are the new rules governing the so-called luxury tax. Prior to the new CBA, teams paid an extra dollar for each dollar spent on salary over the luxury tax line, which currently sits at approximately $70.3 million.
Starting this season, those penalties will stiffen. The owners had been pushing for a hard salary cap, like the ones used in the NFL and the NHL, but instead settled for an increasingly punitive luxury tax.
With each increment of $5 million spent over the luxury tax, a team will see its per-dollar bill jump—$1.50 per dollar for the second interval, $1.75 for the third, $2.50 for the fourth, $3.25 for the fifth and so on. Teams that have paid the luxury tax in four of the previous five years will have an additional dollar tacked on at each level, thereby costing them $2.50 per dollar for the second interval, $2.75 for the third and so on.
What does that mean in practical terms? I'll let Larry Coon explain:
For example, the Lakers' tax bill in 2011 (when the tax was dollar-for-dollar) was about $19.9 million. Under the new system, being that far over the tax line would cost them $44.68 million. If they were a repeat offender (paying tax at least four of the previous five years) they would owe $64.58 million!
In other words, %&$#'s about to get really expensive for those teams—like the Lakers, the Miami Heat and the Orlando Magic—who are already knee-deep in luxury tax territory and have been for some time.
And, thanks to massive increases in revenue sharing, franchises with more lucrative TV and media deals won't be able to use much of that additional income to offset whatever losses they figure to incur as a result of dipping into the new, stricter luxury tax.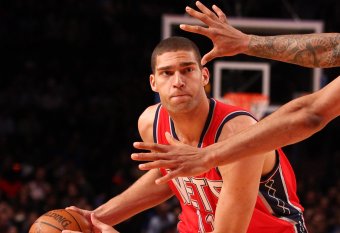 Al Bello/Getty Images
In theory, those who don't currently pay the luxury tax will soon curtail their free-agent spending, as well, to ensure that they don't wind up in the "danger zone" down the line. That likely means fewer max contracts for good-but-not-great players, like the ones handed out to Roy Hibbert and Brook Lopez this summer.
At least, that's what the intent of the owners seems to be. Whether it results in any actual change in spending habits remains to be seen.
However, if the New York Knicks' hesitation in re-signing Jeremy Lin—whose "poison pill" contract would've cost them approximately $43 million (including tax penalties) in 2014-15—is any indication, it just might.
Those teams in luxury tax land also won't have as much leeway to improve their rosters either. Taxpaying teams have already seen the amount of money they can spend on mid-level free agents and acquire via trade reduced, and had the biannual exception taken away.
These have and will continue to affect lower and mid-tier free agents looking to sign on with big-spending contenders. Those who want to do so will either have to hope that the teams in question haven't already used up their mini-mid-level exceptions or resign themselves to the veteran's minimum.
Unless, of course, they'd rather spring for more money with more flexible outfits around The Association.
Furthermore, beginning in 2013-14, teams that are more than $4 million into tax territory won't be allowed to take back players in sign-and-trade deals.
Christian Petersen/Getty Images
This figures to have far-reaching ramifications for players across the quality spectrum, both directly and indirectly. No longer will teams like the Lakers (with Steve Nash this summer) be able to add players by coaxing their old squads into signing them and shipping them off in exchange for draft picks.
Some stars already appear to be planning ahead. According to Adrian Wojnarowski of Yahoo! Sports, Dwight Howard is pushing for the Orlando Magic to trade him to the Lakers now or the Brooklyn Nets in January. Those two teams are presumably his top destinations, but—because they're both up the neck in luxury tax bills—if he isn't traded to either franchise while still under contract with the Magic, then he won't have the option of signing with one of them when he hits free agency next summer.
Otherwise, he'd have to either consider re-signing for more money in Orlando or chase a shorter contract with, say, the Dallas Mavericks or his hometown Atlanta Hawks.
Clearly then, there are still ways for the most creative GMs, players and agents to circumvent the new rules to their respective advantages.
And the new CBA isn't all bad for free agents either. After next season, teams will be required to spend at least 90 percent of their cap space on player salaries. That'll open up more money for some players, even if it means signing with losing teams in less attractive locales.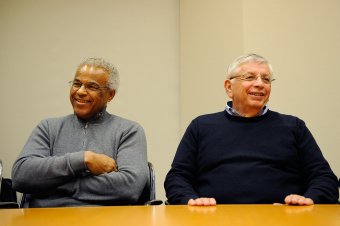 Patrick McDermott/Getty Images
Overall, these new rules will probably result in shorter, cheaper contracts for most free agents and more quality players being funneled to a wider array of teams—which, in theory, should create more parity around the NBA—rather than concentrating on the benches of contenders.
That is unless free agents prove willing to take significant pay cuts to play where and with whom they want. Or, if NBA owners demonstrate (as they always have) that they're not afraid to spend themselves into oblivion, only to turn around and complain about their own habits when either the players or the owners opt out of the CBA in 2017.
This article is
What is the duplicate article?
Why is this article offensive?
Where is this article plagiarized from?
Why is this article poorly edited?