The Biggest Bros in Sports Right Now
Pictured: Gronk, King of Gronk Nation
Jim Rogash/Getty Images
Just by their very nature, many jocks are bros. The jock culture is pretty much synonymous with bro culture—drinking, male bonding, shirtlessness, working out, competing in athletic competitions and competing for the attention of women all contribute to a thriving bro culture in sports.
There are a lot of bros in sports, but much like snowflakes, no two bros are exactly the same. Some bros are lovable lunkheads who are essentially a walking, talking party—always guaranteeing a good time. Then there are those who lean far more towards the jerk end of the spectrum—far less likable.
Here are 20 of the biggest bros in sports right now!
20. Cole Hamels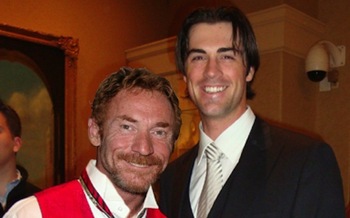 Image via 94wysp.radio.com
At the ripe old age of 28, Phillies pitcher Cole Hamels is getting on in bro years. Hamels is also a married man, doing the whole suburban dad thing. But apparently he hangs with aging troubled child star Danny Bonaduce.
DiagBROsis: Aging Bro
19. Kyle Orton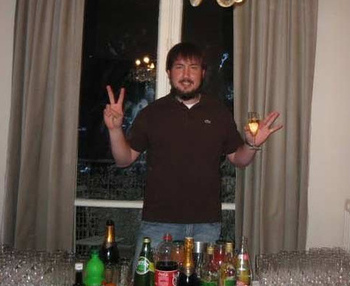 Image via DrunkAthlete
DrunkAthlete.com is a veritable treasure trove of quarterback Kyle Orton's drunken antics. Orton is the stereotypical drunken frat boy: sweaty, sloppy, stumbling, and more at home with a collection of liquor bottles than a group of women.
DiagBROsis: Drunken Bro
18. Rickie Fowler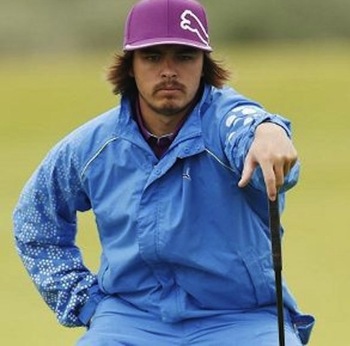 Image via supersport
PGA golfer Rickie Fowler is always in the conversation for the worst dressed man in professional golf. Ball caps, wind breakers and the ridiculous mustache are all major contributing factors. Fowler definitely walks the often fine line between d-bag and bro.
DiagBROsis: Borderline D-Bag Bro
17. Tyler Seguin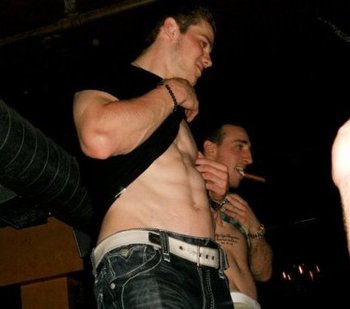 Image via dirtydangle
When the Bruins won the Stanley Cup in 2011, Boston forward Tyler Seguin was a mere 19 years old. But that didn't stop him from hitting the town like it insulted his mother. I realize that in Canada 19 is "of age," but any drinking he did stateside was definitely frowned upon by the fuzz.
DiagBROsis: Underage Bro
16. Ryan Howard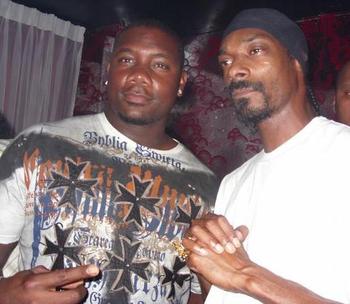 Image via sportscracklepop
Phillies slugger Ryan Howard definitely knows how to party like a bro, but he keeps substantially cooler company than your average bro. Snoop Dogg is about as cool as it gets, which makes Howard more awesome than your average bro.
DiagBROsis: Uber Cool Urban Bro
15. Andy Roddick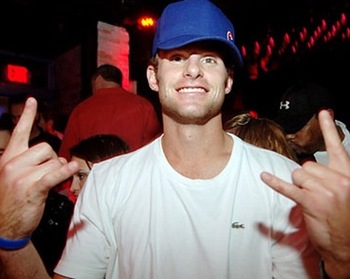 Image via Philly.com
Tennis disappointment Andy Roddick isn't really any good at his day job, which is probably why he bros it up at night. The alcohol, oversized ball caps and the super smoking hot wife are all attempts to overcompensate for his professional failures.
DiagBROsis: Overcompensating Bro
14. Patrick Kane
Image via Deadspin
One trait that comes standard in every bro is an absolute devotion to partying. It may fade a bit as they age, but every legit bro has passed out with a drink in his hands. There may be no bro in sports that enjoys his drinking and partying more than the Blackhawks Patrick Kane.
Naturally, Kane's favorite holiday is one that is just an excuse to get stark raving day drunk: Cinco de Mayo. Read about his recent holiday exploits over at Deadspin.
DiagBROsis: Day Drinking Buffoonery Bro
13. Kevin Love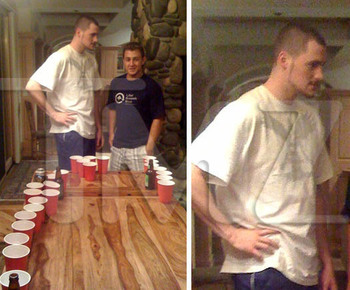 Image TMZ
We just covered the bro devotion to drinking, and nothing is more demonstrative of that devotion than a solid game of beer pong. In August 2010, TMZ ran photos of Timberwolves superstar Kevin Love taking part in one of the most cherished of all bro rituals.
DiagBROsis: Beer Pong Bro
12. Rory McIlroy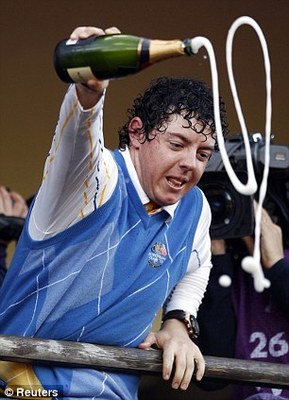 Image via Reuters
We've already long since established that PGA golfer Rory McIlroy is not the next Tiger Woods, but he definitely outdoes him in the public partying department. Obviously Tiger kept his "partying" on the down low for quite some time, but young Irishman Rory lets it all hang out—not exactly dispelling any Irish stereotypes.
DiagBROsis: Irish Boozing Bro
11. Matt Stafford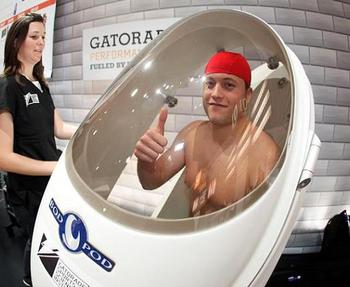 Image via mashable
If you asked someone to sketch out the prototypical frat boy, he would probably look exactly like Lions rising star quarterback Matt Stafford. If you Google image search Mr. Stafford, you'll see that he made the very most of his college years at the University of Georgia. Broads, brews, boats and big-ass grins—it's good to be Matt Stafford.
DiagBROsis: Typical Frat Bro
10. Nick Swisher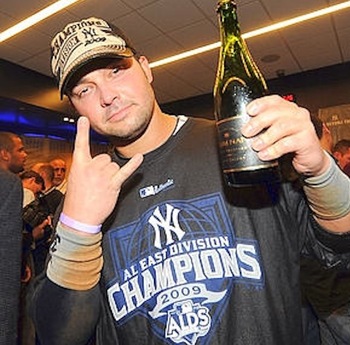 Image via NYPost
As if this picture of the Yankees' Nick Swisher doesn't confirm his bro status on its own, but if you need further conformation, just visit the Facebook page "Nick Swisher is a bro." I didn't start it and it's not very popular, but it is hilariously stupid. Under "Public Figure" all it says is "BROOOOOO!" That says it all.
DiagBROsis: BROOOOO! Bro
9. Max Talbot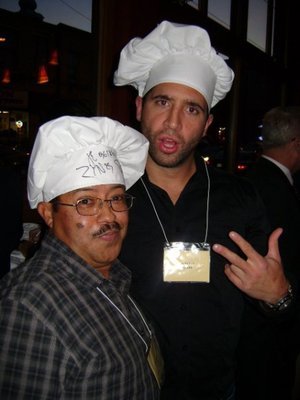 Image via PensHead
Flyers fourth liner Max Talbot is the kind of bro you can see/smell from 50 yards away. Look out for: Greased hair, tight T-shirt, a gallon of cologne and he'll either be flashing some kind of faux gang sign or showing off the guns to a crowd of mildly impressed drunk women.
DiagBROsis: Sleezoid Bro
8. Matt Leinart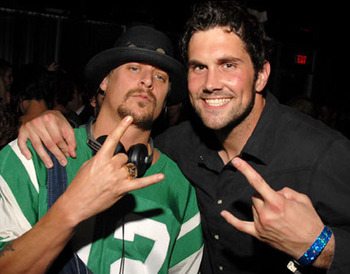 Image via ESPN
I wish they all could be California brooooos—wait, that's not how that song goes! Either way, USC alum and career backup quarterback Matt Leinart is your prototypical "big man on campus" bro. Leinart is kind of like Al Bundy; even though he went to college, his best days are far behind him—and I'm not sure if he ever scored four touchdowns in one game.
DiagBROsis: Big Man on Campus turned Kind of a Loser Bro
7. Bryce Harper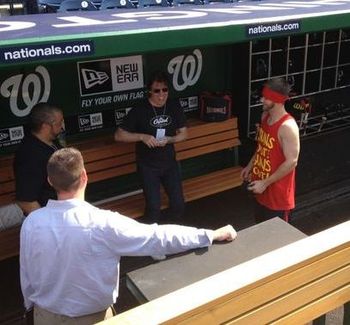 Image via Twitter/@NationalsPR
The Nationals young superstar Bryce Harper has been walking the very thin line between douche and bro since his debut in the majors earlier this season. I was on the fence about his bro status up until he responded to a reporter's question with a question of his own: "That's a clown question, bro." If you use the word "bro," you're definitely a bro.
And more recently, Harper met blues singer George Thorogood at Natties batting practice while donning a red sweat band and tank top that read "Sun's out, guns out." Definitely veering sharping into jerk territory.
DiagBROsis: Bro with Increasing D-Bag Tendencies
6. Ryan Lochte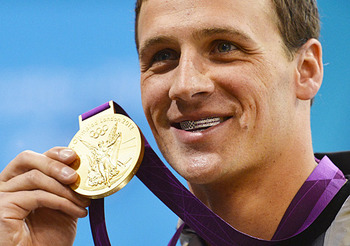 Image via style.mtv.com
Olympic swimmer Ryan Lochte has definitely solidified his bro status on a global scale by posing with his gold medal and his American flag grill. The Olympic committee specifically told Lochte to lose the grill, but he broke the rules because he couldn't bear to be without his beloved grill in such a special moment—too bad he's about a decade late to the game on the whole grill thing.
And then there's all the fuss about Lochte's dating life. His mom told NBC's Today show that her baby boy doesn't have time to wine and dine a bunch of needy broads, so he prefers the casual atmosphere of the one night stand. Impressive when you have your mom on board with your womanizing—dude knows how to work the ladies.
DiagBROsis: Wannabe a Rapper Bro and Ladies Man Bro
5. Alex Ovechkin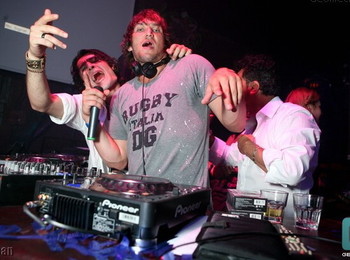 Image via nhlsnipers.com
Capitals superstar forward Alexander Ovechkin is basically the mayor of Washington, DC and essentially the king of Russia. So you can't really blame him for living life like a young Silvio Berlusconi with no political concerns during the offseason.
Wanna know why Ovi shows up to training camp 20 pounds overweight each summer—it's because he's living an amazing life of leisure and splendor that you can't even being to comprehend. Plus he has a Russian rap career.
DiagBROsis: International Playboy Bro
4. Brad Marchand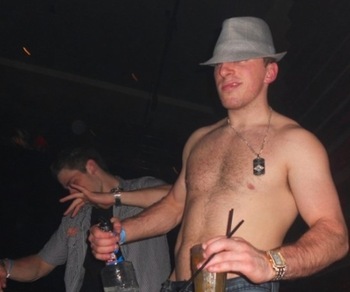 Image via dirtydangle
When the Bruins won the Stanley Cup in 2011, the only person who partied harder than underage Tyler Seguin was forward Brad Marchand. At least he was of legal drinking age! Marchand covered three bro bases: He partied shirtless, he wore a Fedora and he danced on a bar with his underage bro.
DiagBROsis: Shirtless Bro
3. Logan Morrison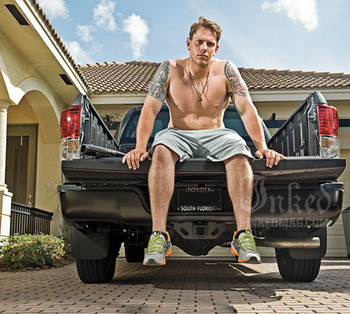 Image via inkedmag
The Marlins Logan Morrison is MLB's preeminent bro.
Tattoos: Check!
Pickup Truck: Check!
Goofy Nickname (LOMO!): Check!
Super Bro Bromance: Check!
Frat Boy Humor: Check!!
DiagBROsis: Hysterical Bro
2. Bryan Petersen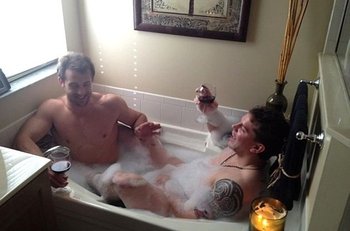 Image via Amy K. Nelson
If the Marlins Logan Morrison is MLB's preeminent bro, well then coming in a close second is the bro he shares a bathtub with on occasion: teammate Bryan Petersen.
DiagBROsis: No Boundaries Bro
1. Rob Gronkowski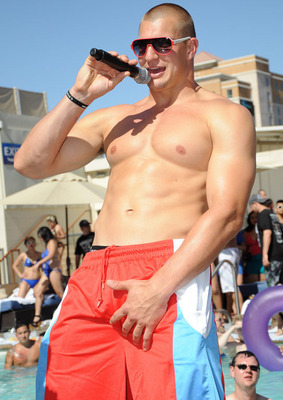 Image via 2daysports
Patriots superstar tight end Rob Gronkowski is basically the living embodiment of that "College" poster from the John Belushi classic Animal House. Gronkowski is the shirtless, brew crushing king of the bros—and Gronk Nation are the people he reigns over.
DiagBROsis: Animal House Bro
Keep Reading