Lessons Learned from Cleveland Browns' Training Camp This Week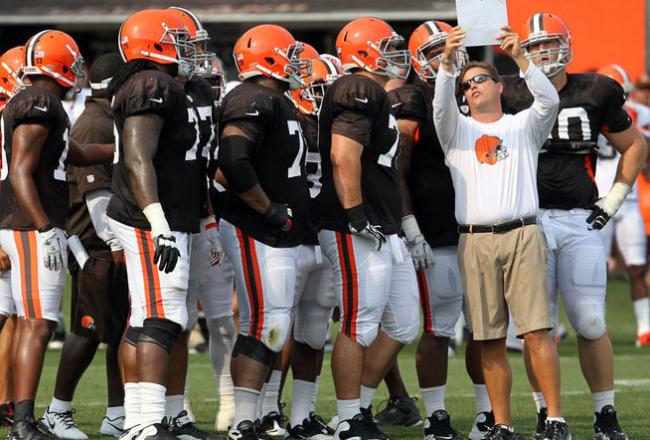 There's a lot of positive energy at Browns' training camp so far (Photo: Scott Shaw, Cleveland Plain Dealer).

The Cleveland Browns continued their 2012 training camp this week with the specter of change looming. Earlier this week, the sale of the team from Randy Lerner to Jimmy Haslam III was confirmed, and as a result, it's not entirely likely that every member of the front office or coaching staff will be staying on longer than this season.
Otherwise, it was business as usual—even though the new owner was on hand on Friday. Rookies got more time to work with the starting veterans, players began separating themselves from the pack and the team is trying to get things together for next week's preseason opener.
Here are the three biggest takeaways from this week in Browns training camp.
Josh Gordon Delivers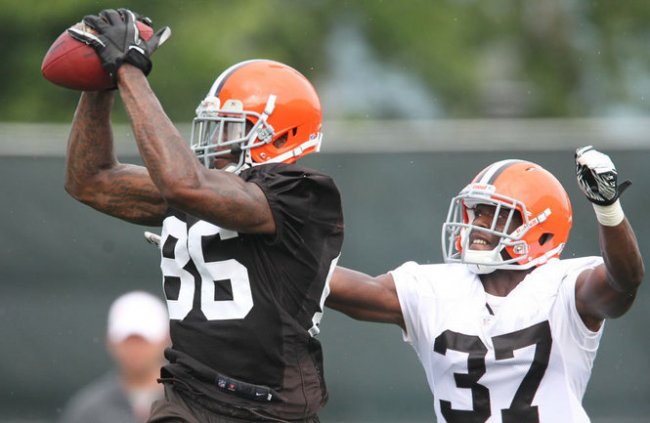 Josh Gordon has been extremely impressive thus far (Photo: Josh Kuntz, Cleveland Plain Dealer).
Much of the buzz coming out of Browns training camp this week concerned rookie wide receiver Josh Gordon.
Gordon, who did not play college ball in 2011, has been impressive on the field, bringing down big passes and looking like he hasn't missed time at all. He's drawn praise from the team's top cornerback, Joe Haden, as well as from CBS Sports' Jason LaCanfora and Pat Kirwan, the latter declaring Gordon "the real deal" after attending camp on Thursday.
Overall, the entire Browns receiving corps looked good this week. Fellow rookie Travis Benjamin, second-year player Greg Little and veteran Mohamed Massaquoi were all sharp, and that has in turn helped out quarterback Brandon Weeden immeasurably.
Though it's only camp, and optimistic reports are pouring out about all 32 teams in the league, those who are still slamming the Browns for lacking playmaking receivers may have to re-check their facts with these recent developments.
Mitchell Schwartz Likely the Starting Right Tackle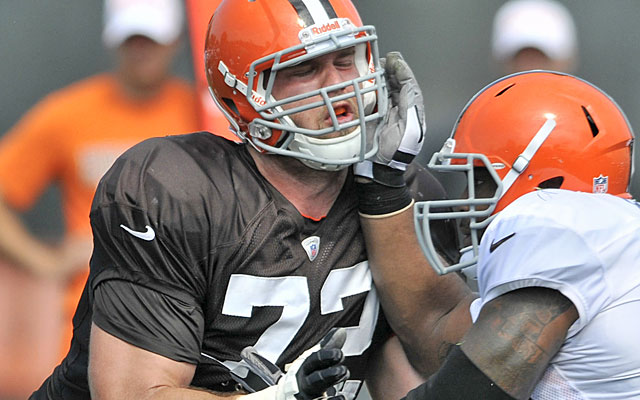 Mitchell Schwartz seems to have won the starting right tackle job (Photo: US Presswire).
When training camp began, rookie Mitchell Schwartz was splitting time on the first-team offensive line with Oniel Cousins, but in the past three days the job of right tackle has been his alone, with Cousins moved to the second-team line.
The hope when the Browns drafted Schwartz in the second round is that he'd quickly win over the starting job that once belonged to Tony Pashos, and indeed it looks like it's almost certainly his even at this early point in the season.
That's great news for Cleveland. The Browns desperately needed an upgrade at right tackle in order to provide greater quarterback protection and, most importantly, help their running game get back on track. Though Schwartz will still need to adjust to the faster pace of the NFL, he'll get ample opportunity to do so in the four upcoming preseason contests.
Montario Hardesty Has Stepped Up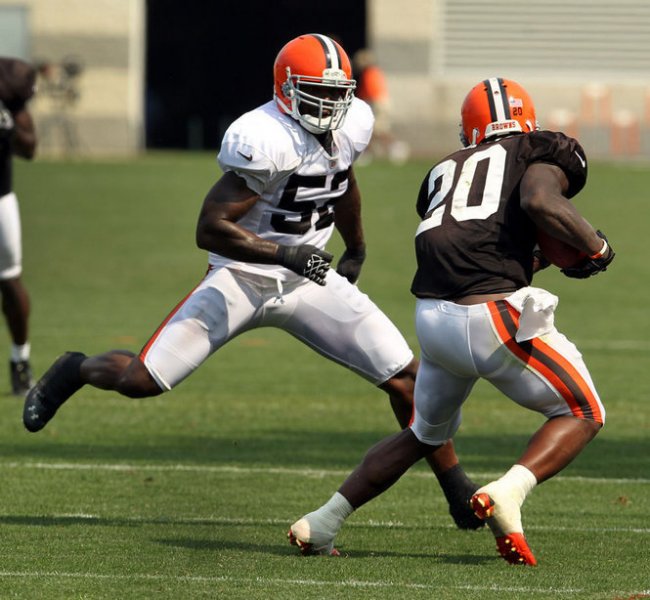 Montario Hardesty has been taking on defenders with no hesitation and appears fully healthy (Photo: Scott Shaw, Cleveland Plain Dealer).
Heading into camp, it seemed like running back Montario Hardesty was on the roster bubble. Everyone expected Brandon Jackson to step up and surpass him as the team's No. 2 running back behind Trent Richardson, and depending on how camp and the preseason played out, that could have resulted in Hardesty being out in Cleveland.
Instead, Hardesty has taken his precarious position and used it as motivation, according to Jeff Schudel of the News-Herald. Schudel says that Hardesty looks completely healthy and has regained his burst. Furthermore, Hardesty isn't shying away from contact, repeatedly blowing up defenders and hitting them with a highly-audible, head-turning crack.
Hardesty's biggest question mark remains his health, but he's looking strong presently and just may be able to contribute for a full season. With him getting limited action behind Richardson in the regular season, the Browns might have found a way to prevent him from injury.
This article is
What is the duplicate article?
Why is this article offensive?
Where is this article plagiarized from?
Why is this article poorly edited?