Spain vs Russia: Preview, Analysis and Predictions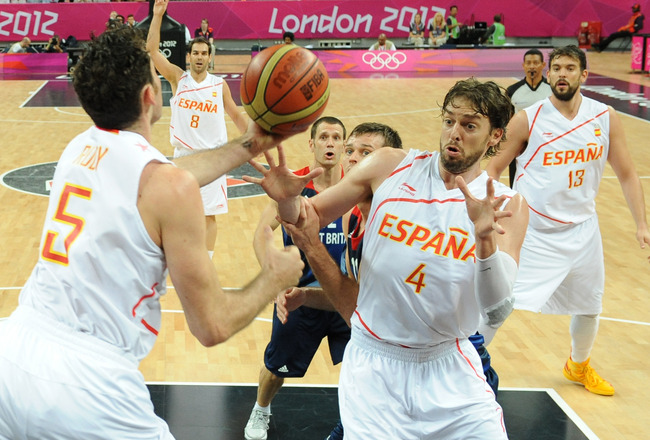 Pool/Getty Images
Three preliminary games are in the books of the London Summer Olympics, but the excitement surrounding the men's basketball race for gold is only just beginning.
That excitement isn't limited to the United States and Argentina in the Group A pool of nations. Group B has its share of intrigue as well, and its two best teams are set to face off this weekend. Spain and Russia both stand undefeated at 3-0.
Only one of them will remain unscathed after Saturday, though.
Date: Saturday, August 2, 2012
Time: 6:15 a.m. ET
TV: NBC or watch online at NBCOlympics.com
Here's a look at what to expect from the much-anticipated throw down.
What to Expect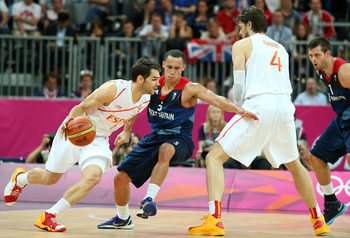 Christian Petersen/Getty Images
No one is surprised that Spain has gotten off to a hot 3-0 start in the preliminary rounds.
The same can't necessarily be said for Russia.
The Spanish team stands out from the pack thanks to its depth of NBA-experienced talent and a frontline of big men that puts even Team USA to shame. Of course, this isn't just a team that will look to feed the post and let those big men go to work.
It's also a squad that's willing to share the ball and do so quite capably.
Let by point guard Jose Calderon of the Toronto Raptors, Spain can run a half-court offensive set just about as well as any club in these Summer Olympics. It doesn't hurt that both Pau and Marc Garsol are two of the best passing seven-footers on the planet.
Meanwhile, look for Russia to throw finesse to the wind and rely on a combination of scrappiness that has caught the world by surprise. Forward Andrei Kirilenko, recently signed by the Minnesota Timberwolves, is proving he's more than just an energetic defender and averaging over 23 points through his first three contests.
Whatever happens, this will be a hard fought battle between two contrasting styles.
Breaking Down Russia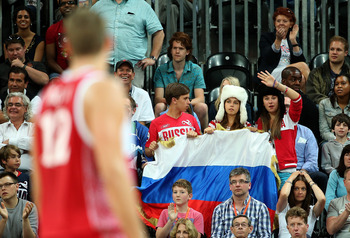 Christian Petersen/Getty Images
Probable Starters
Point Guard: Anton Ponkrashov
Shooting Guard: Alexey Shved
Small Forward: Andrei Kirilenko
Power Forward: Viktor Khryapa
Center: Timofey Mozgov
Who to Watch
You know Andrei Kirilenko will be busy blocking shots, causing turnovers and getting his hands on rebounds. Keep an eye on him while he's off the ball. He does much of his damage on the offensive end when cutting to the basket.
Kirilenko isn't the only Russian making a difference, though.
Timofey Mozgov of the Denver Nuggets is emerging as one of the best centers in the tournament. He can score in the paint, rebound and guard the rim by blocking or otherwise intimidating shots. He'll be a vital resource against Spain's elite bigs.
Mozgov can't afford to get into foul trouble or otherwise come up short against the Gasol brothers and Serge Ibaka.
Alexey Shved has also quietly emerged as one of most important guys in the competition. He'll be joining Kirilenko on the Minnesota Timberwolves this season, and the fans up north have to like what they've been seeing this summer.
The talented guard scored 17 points and six assists in a crucial one point win against Brazil, and Russia will need more of the same against Spain.
Breaking Down Spain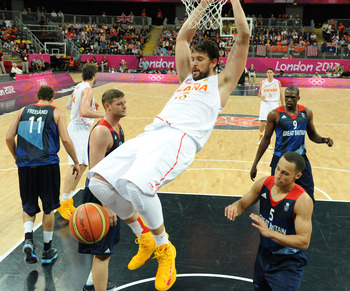 Pool/Getty Images
Probable Starters
Center: Marc Gasol
Power Forward: Pau Gasol
Small Forward: Rudy Fernández
Shooting Guard: Juan Carlos Navarro
Point Guard: José Calderón
Who to Watch
It should go without saying that both Pau and Marc Gasol are absolutely essential to Spain's success. Pau has proven he can step out on the perimeter and do his best impression of a small forward while Marc is nothing short of a tank in the painted area.
But, Spain has a lot more going for it than a couple of seven-footers.
Point guard Jose Calderon and swingman Rudy Fernandez were born to make plays. Indeed, those big guys wouldn't nearly as good doing their job were it not for the fact they have a couple of incredibly talented passers creating opportunities for them.
And, more than any single player, enjoy this club's ability to share the ball in general. They play intelligently and with a lot of flare. There may not be as many highlights as you'll see when Team USA is on the floor, but there will still be a show.
Key Matchups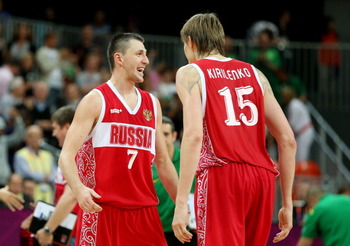 Christian Petersen/Getty Images
Andrei Kirilenko vs. Pau Gasol
Sure, technically Kirilenko is better-suited to play on the wing, but his quickness and length could come in handy against Gasol. With the seven-foot Spaniard showing such a propensity for hovering around the three-point line, Russia will want to put someone on him who's similarly comfortable with leaving the paint.
They'll also want to utilize someone who can put a hand in Gasol's face and frustrate him any time he has to put the ball on the floor.
You can see why Kirilenko fits the profile.
Timofey Mozgov vs. Marc Gasol
Mozgov scored 18 points against Brazil, so we know the guy can get some baskets. If he can do so again on Saturday, all the better.
But, his primary responsibility will be bodying up against Marc Gasol, denying him premium post position and keeping him as far away from the basket as possible. If Russia can make Gasol and mid-range shooter, they're halfway to victory.
Alexey Shved vs. Rudy Fernandez
Both of these guys are streaky shooters. Neither of them is shy about shooting.
That's a recipe for something interesting to happen one way or the other.
If one of them gets hot from behind the arc, it could very well be the difference in the game. On the other hand, it's entirely possible for either to shoot his team out of the game.
Predictions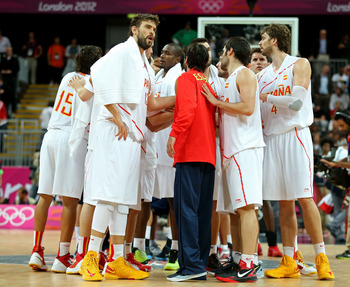 Christian Petersen/Getty Images
The Russians certainly have a chance to win this game, and Spain knows that as well as anyone.
That's why they won't.
If this were the first or second preliminary game, things would be different. Spain would be far more likely to find itself surprised by a club they underestimated. After what Russia has done through three games, however, that's not going to happen.
Expect Spain to show a lot of focus. If the game is indeed a close one, the Spaniards' ability to execute in the halfcourt will prove decisive. They have big guys who know how to set screens and guards who know what to do with them.
Final Score Prediction: Spain 77, Russia 70
Keep Reading