Top 10 Flashiest Fighters in Boxing History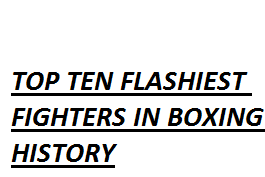 Is it swagger, over the top ring entrances or something totally unique that puts you in the top 10 flashy fighters list?
Make no mistake folks, these pugilists changed the game of boxing and broke orthodox rules in their favor to win big. So without further ado, here is the top 10 flashiest fighters in boxing history listed for your reading pleasure.
Begin Slideshow

»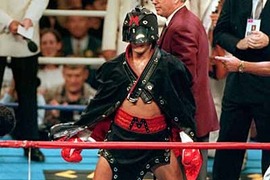 Hector "Macho" Camacho was like the weird uncle of boxing that you kept away from.
A three-time world champion, he reminds me of Ric Flair's boxing counterpart; wide-eyed, looking at you with a strange, haunting stare.
Hector was the first fighter to win in seven different divisions, forcing Sugar Ray Leonard into retirement in 1997 with a fifth-round knockout.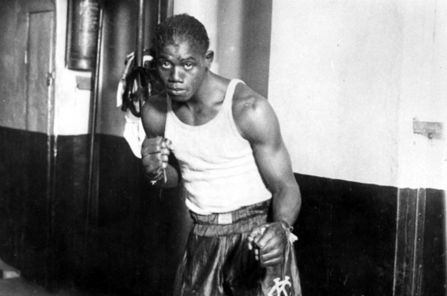 http://www.topclassboxing.co.uk
Montalvo learned how to fight watching old fight films in Cuba. He also sparred with one of the greatest: Jack Johnson.
Kid Chocolate had better footwork for his time than most of his opponents. Whereas a lot of fighters of his era relied on brute strength, rushing into their opponents, Montalvo was more tactical and agile. His skinny frame helped him with this.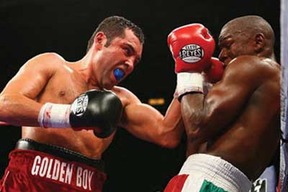 http://boxingfights.net
Oscar is a living legend in the sport of boxing, finding enormous success as both a fighter and promoter. In fact, he is the first American of Hispanic descent to own and remain active in his own boxing promotional firm Golden Boy Promotions.
De La Hoya was a great defensive and offensive fighter. Just when you thought he was hurt, he'd come flying at you with a flurry of combinations that had strength, speed and accuracy.
Many fans regard Oscar's fight with Vargas as his most prominent moment in the ring.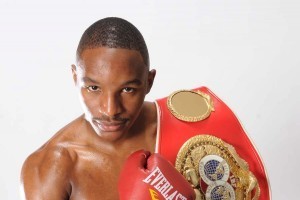 http://www.stlamerican.com
Devon Alexander "The Great" is a southpaw with charisma, massive speed and punching power.
Alexander fought as an amateur over 300 times until turning pro at age 17. His last fight with Marcos Maidana showed much improvement in his defensive capabilities, as he kept Maidana at bay during the whole fight.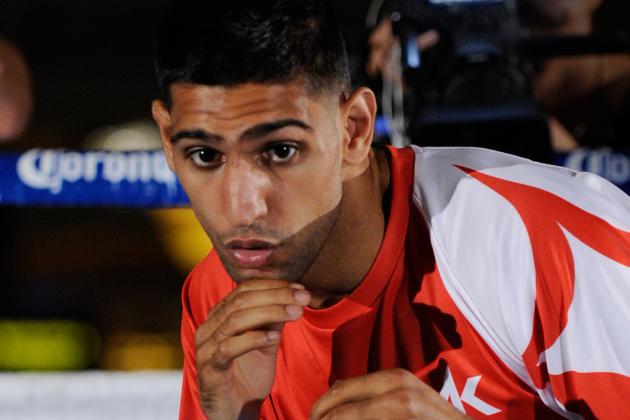 David Becker/Getty Images

Amir "King" Khan, with the tutelage of boxing Hall of Famer Freddie Roach, is one of youngest and most talented fighters in the sport today.
Khan was the sole British representative at the Athens 2004 Olympic Games, earning a silver medal at the age of 17. Khan takes all challenges and flies to his opponents' backyard like a speedy pizza delivery man.
Presently, Khan has beaten some pretty talented opposition, including fighters such as Antonio Barrera, Andreas Kotelnyk, Dmitry Salita, Paulie Malignaggi, Marcos Maidana, Paul McCloskey and Zab Judah.
After his loss to Danny Garcia and controversial loss to a steroid-induced Lamont Peterson, he's also at a point in his career where he must come back stronger than ever. Khan's blazing hand speed and top-notch footwork are some of the best weapons in his arsenal and it also doesn't hurt that he has power in his punches.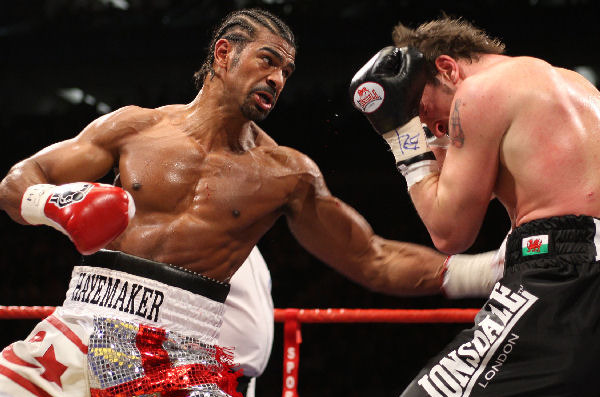 GETTY IMAGES
David "The Haymaker" Haye is yet another fighter whose cocky attitude made him fun to watch in the ring.
His t-shirt depicting him holding the head of one of the Klitschko brothers while standing on their decapitated body was a precursor to his own encounter with an even cockier, bigger bully than himself. His fight with Dereck Chisora solidified his status as a champion one year after being retired from his defeat to Wladimir Klitschko.
Time will tell if he gets the rematch with Wladimir or even a fight with Vitali, as both brothers ponder retirement. Haye has incredible power in his punches and surprisingly fast hands. He's one of the few fighters I've seen who can knock you out with his hands down Prince Naseem-style.
His victory against the bigger and possibly stronger Nikolai Valuev proved that he can fight tactically when pushed.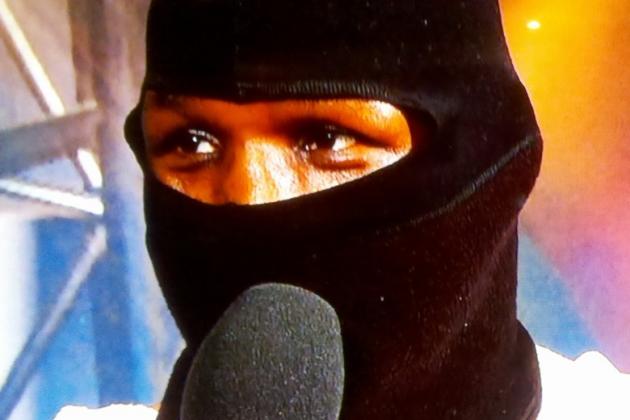 Dan McQuade
Hopkins, at the age of 13, was stabbed in Philadelphia subway, puncturing his lung and narrowly missing his heart. At the age of 17, he found himself in prison. After being released at 22, he got his GED and sought a new life through boxing.
At age 46, Bernard "The Executioner" Hopkins made history as the oldest Heavyweight Champion in the world after defeating Jean Pascal. Hopkins is also a showman, entering the ring at times masking his face and crossing his arms in X formation.
Malignaggi, like Prince Naseem Hamed, brought entertainment to the sport.
His hand speed, at the time, was unmatched as he usually kept his left hand down with his right around his waist. Paulie loved changing things up, especially his appearance. He reminds me of a fighting game character that has 10 extra costumes or downloadable skins.
Malignaggi also had good footwork, and dodged shots easily. His hand speed was relatively easy to spot, especially during his second fight with Juan Diaz, dominating the pace all night long. His lack of punching power was always an issue, but his charisma and entertainment value always added to him overall as a fighter.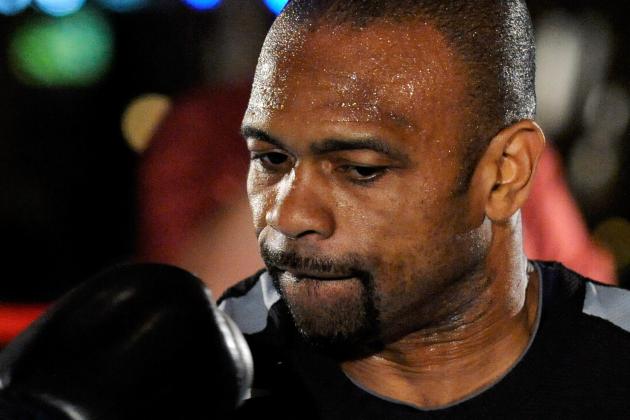 Ethan Miller/Getty Images

Roy Jones was another fighter who could make the impossible possible. His unorthodox style was very similar to that of Prince Naseem. He was the only boxer in history to start at light middleweight who went on to hold a heavyweight title.
Jones' fight with James Toney, dubbed the "Uncivil War," showed the world that Jones not only had talent, but the skill to back it up. Other great bouts include his win against Bernard Hopkins and his comeback victory against Felix Trinidad, which was perhaps his last great legitimate appearance in the ring.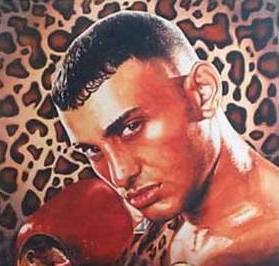 Naseem was only the tender age of eight when he began his boxing training. Watching a Prince Naseem Hamed fight was more than a boxing match; it was literally a spectacle.
Loud music and props lit up stadiums from the UK to America. His famous front flip into the ring before and after winning became Prince's trademark. His cocky attitude was backed by fast hands, knock-out power and the ability to strike from wide angles.
Prince would smile maniacally, petrifying the challenger and creating an atmosphere of fear in the ring similar to the effect Mike Tyson had on his opponents. His style was something no one in the boxing world had ever seen and more than likely never will again.