Tyson Gay 2012 Olympics: Results, Analysis and More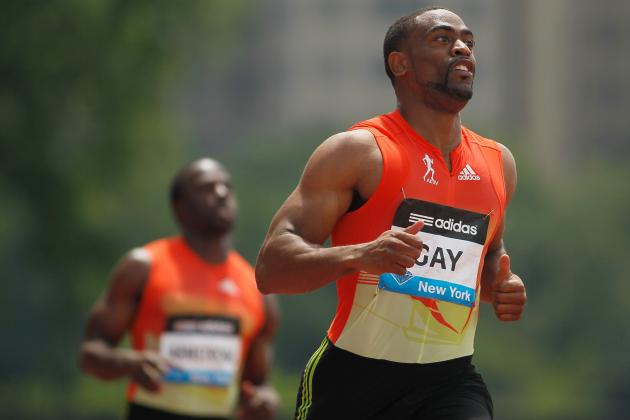 Mike Stobe/Getty Images

Redemption is on Tyson Gay's mind.
In the 2012 London Summer Olympics, Team USA's star sprinter will be in position to rid himself of the ghosts still haunting him from his nightmare 2008 track season.
At the U.S. Trials that year, Gay set a national record in the 100-meter running a 9.77—only 0.05 seconds behind the world record at the time held by Usain Bolt.
That time would've been fast enough to win silver in Beijing, but Gay injured his hamstring in the Trials' 200-meter dash. He never fully recovered and because of that, he ran the 100 in 10.05 seconds at the Olympic semis and failed to qualify for the final.
London will provide Gay with one last shot to win Olympic gold. He'll participate in the 100-meter and 4x100-meter relay. His ability to make up for his Beijing debacle is without a doubt one of the most intriguing stories to watch at the Games.
Stay tuned for updates on Gay's results.
Begin Slideshow

»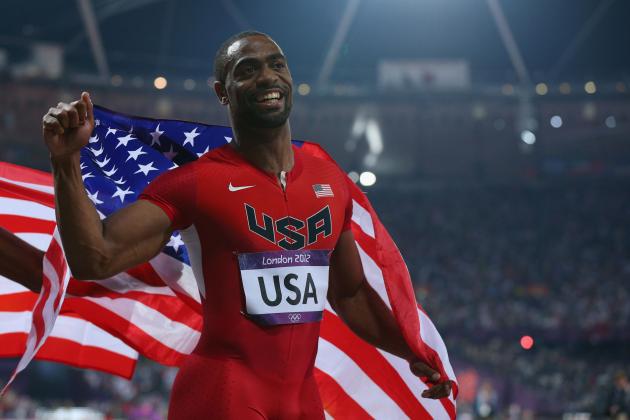 Cameron Spencer/Getty Images

Tyson Gay and his American teammates tied the time that was the world record when this race started, and they walked away with a silver medal.
The Americans posted a magnificent 37.04, but Jamaica was untouchable as they set a world record with a time of 36.84.
Gay ran the third leg for the U.S. and he had a decent lead when he got the baton, but not when he passed it off. Jamaica's Yohan Blake had essentially drawn even with Gay, and Usain Bolt did the rest.
Gay didn't run badly at all. He just wasn't quite as fast as Blake. There is no shame in that, and Gay can now celebrate his first Olympics medal.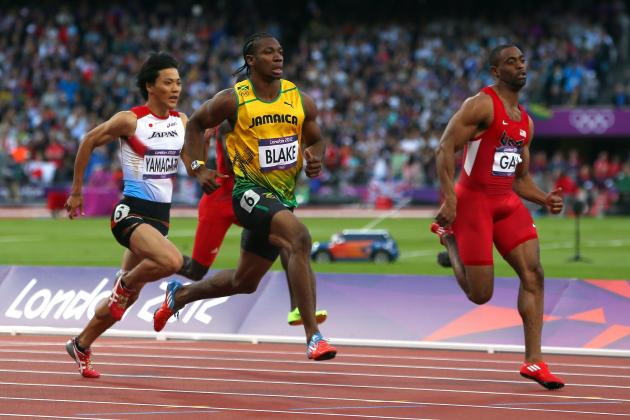 Phil Walter/Getty Images

UPDATE: Sunday, August 5 at 5:00 p.m. ET by Ian Hanford
Tyson Gay was unable to earn his first Olympic medal in the 100-meter final on Sunday. He finished in fourth place with a 9.80 second run. His teammate, Justin Gatlin, took the bronze with a 9.79.
Ultimately Usain Bolt stole the show. He dispelled all speculation with an Olympic record run of 9.63. He ran away with the race in the final 50 meters, and his victory was impressive.
Gay got off the blocks strong, but he didn't have the speed when it mattered most. His Olympic resume remains bleak, despite his outstanding achievements otherwise. He will have one other chance to medal when he joins the men's 4x 100-meter relay team in their quest for Olympic gold.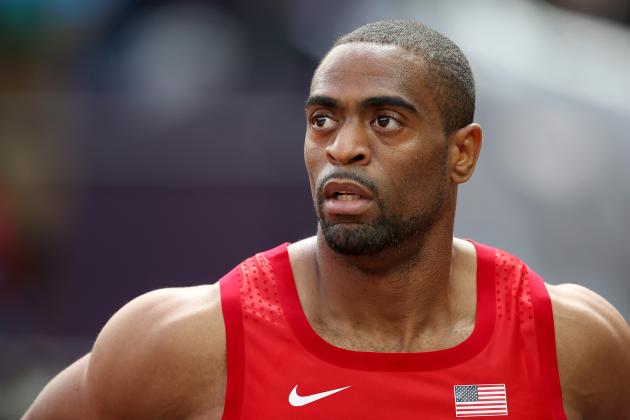 Streeter Lecka/Getty Images

Tyson Gay is officially in the 100-meter finals. There wasn't much doubt that he would qualify, and he showed why as he cruised to an easy second place finish in his semifinal with a time of 9.90.
Yahoo Sports Charles Robinson tweeted out some results.
Yohan Blake goes 9.85 and Tyson Gay goes 9.90. They are both in the final. USA has three men in the 100 final - Gatlin, Gay, Bailey.

— Charles Robinson (@CharlesRobinson) August 5, 2012
This was a strong showing by Gay, but it was hard to watch this race and see a way he could beat Jamaica's Yohan Blake.
Blake looked stronger, faster and he had no problem keeping gay in his wake.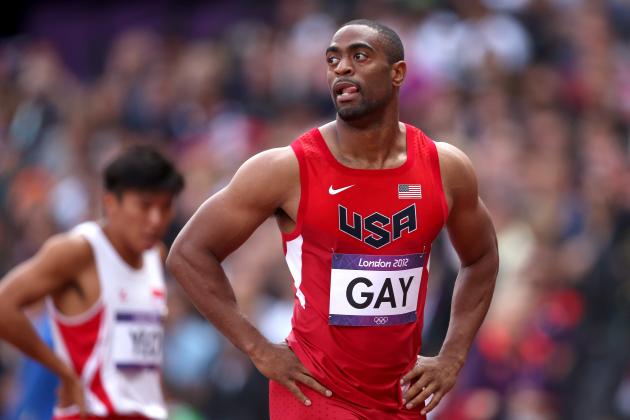 Streeter Lecka/Getty Images

Team USA's track sensation Tyson Gay officially started off his 2012 Olympic journey with a great performance in Round 1 by finishing first in his heat with a time of 10.08 seconds.
As solid as Gay looked, he has advanced to the third heat in of the semifinals and will have to run a great race to make it into medal contention.
Lucky for Gay and Team USA's hopes for gold, he will avoid Jamaican sensation Usain Bolt until the finals if he makes it that far.
Unfortunately, he will have to face Bolt's teammate Yahon Blake, though.
After heartbreak in 2008, Gay's road to redemption is on the right track. He just needs to stay focused and run the best races of his life; no pressure.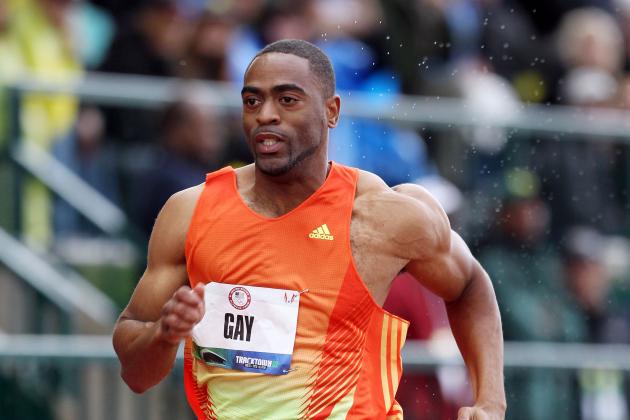 Andy Lyons/Getty Images

The nearly 30-year old Gay didn't enter the Games with the same hype that he garnered four years ago, but now that he's healthy, his odds to medal are higher than ever. Pat Graham of The Associated Press reported that Gay said of his ability to find the podium in London (via Atlanta Constitution-Journal):
I have a lot of driving forces coming into these games. I feel like I'm really, really focused mentally and physically to leave here with a medal. I can only hope my body is able to go there as well. But on this stage, it's all about medals. Regardless of if they run 9.8 seconds, 9.7 or 9.6, it's something I'm going to have to hope my body can do and go from there. But I'm feeling good.
According to Bovada, Gay is the favorite to win bronze in the 100-meter.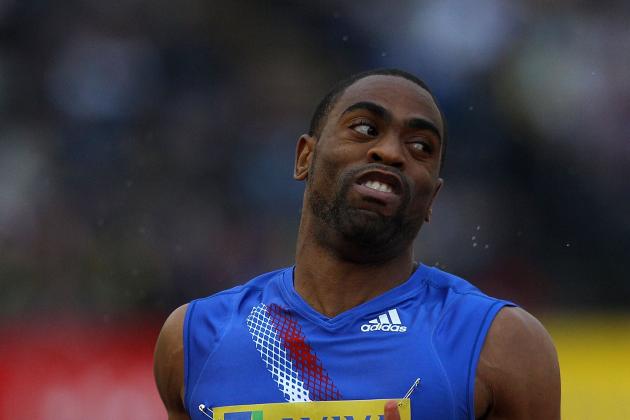 Stu Forster/Getty Images

Saturday, August 4 at 7:30 a.m. ET
Gay, along with other household names such as Usain Bolt, Yohan Blake, Justin Gatlin, Asafa Powell and Keston Bledman. will receive byes in the preliminaries.
In the first round, four different heats of eight sprinters will run and the three fastest times from each, along with the next fastest overall, will advance to the semifinals.
Gay should have no problem advancing. Even with a poor hamstring back in 2008, he still finished second in his heat only behind Trinidad and Tobago's Richard Thompson who went on to win the silver medal.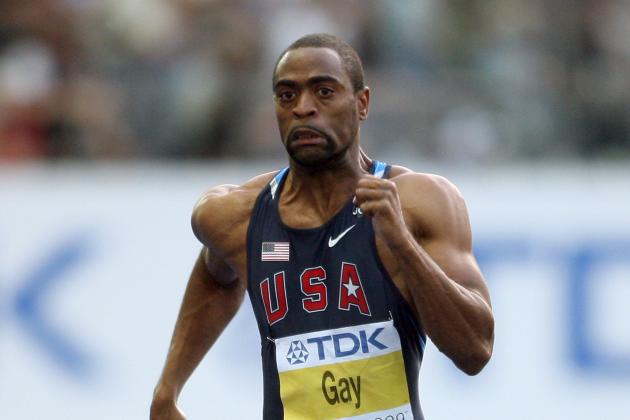 Andy Lyons/Getty Images

Sunday, August 5 at 2:45 p.m. ET
Gay shouldn't struggle to advance past the semifinals, but the challenge to move on will obviously increase. The four fastest times from two separate heats of eight sprinters will qualify for the final later that day.
In 2008, two runners, Jamaica's Michael Frater and America's Darvis Patton each advanced despite failing to record times faster than 10 seconds. On June 19th in the Adidas Grand Prix, Gay ran a 10.0 into the wind. Throw in the fact that he's aiming for a 9.7 and it'd be a shocker if he doesn't race twice on Sunday.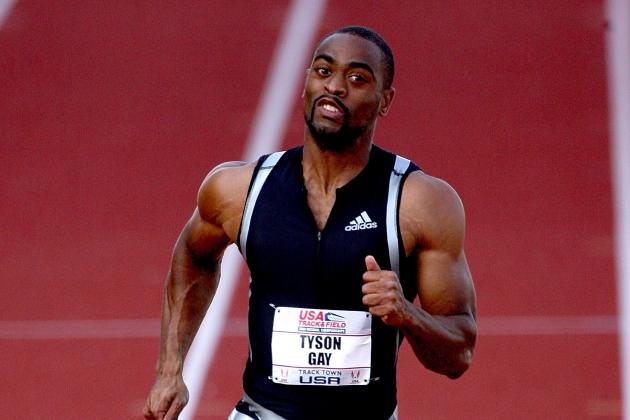 Matthew Stockman/Getty Images

Sunday, August 5 at 4:50 p.m. ET
If Gay gets onto the podium in the 100-meter, it'd be a phenomenal accomplishment. This year's field isn't your average talent—to say the least.
Bolt is the fastest man to ever grace the planet. And how many times will a single race feature the fastest man ever as well as three others sprinters—Gay, Yohan Blake and Asafa Powell—that have defeated the fastest man ever? It's no wonder why Bolt believes this year could feature one of the fastest 100s ever.
While Bolt and Blake are heavy favorites to take gold and silver, it's anyone's guess who wins bronze. No one would be surprised to see Gay, Powell, Justin Gatlin, Ryan Bailey or even Christophe Lemaitre sneak onto the podium. That's how deep the final will be.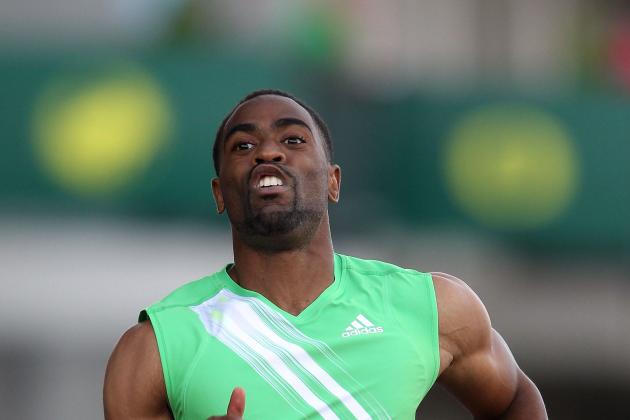 Christian Petersen/Getty Images

In 2008, Gay dropped the baton in the 4x100-meter relay eliminating Team USA from medal contention. Jamaica went on to break the Olympic record which had been held by the U.S. since 1992.
Gene Cherry of Reuters reported that Gay stressed the significance of the U.S. regaining their dominance in the event. He said: "I think it is very important for the U.S. to really try to get back on top in the sprints. I think it is very important for us to win the (4x100) relay."
Winning and medaling are two different animals, though. According to Bovada, Team USA is favored to win silver in the 4x100, but winning gold would be difficult.
Led by Bolt and Blake, Jamaica broke the world record back in 2011. If the U.S. were to knock them off, it'd be a shocking upset.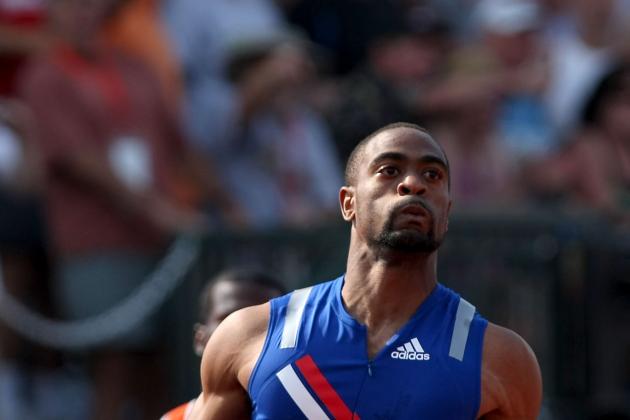 Jonathan Ferrey/Getty Images

Friday, August 10 at 2:45 p.m. ET
Gay, Gatlin, Bailey and Michael Rodgers recorded the four fastest times in the 100-meter final at the U.S. Trials. Rodgers was forced to withdraw from the Olympics, though, due to a stress fracture in his foot. Darvis Patton, Trell Kimmons and Jeff Demps make up the other three sprinters eligible to run for Team USA.
Given that Gay, Gatlin, Bailey, and Patton all ran sub-10-second 100-meter dashes at the Trials, they'll advance to the finals barring another baton drop or disqualification. The top three teams from a pair of heats, as well as the next two fastest squads, advance.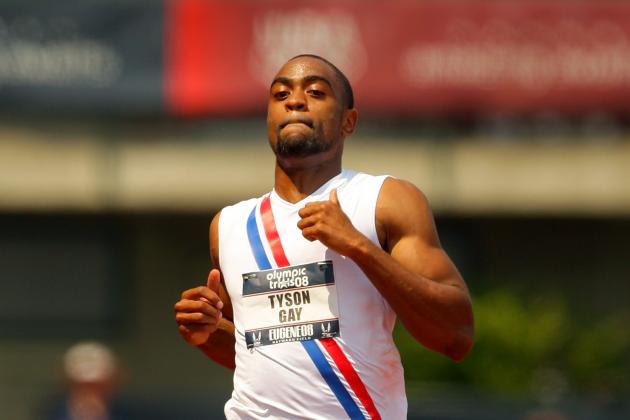 Matthew Stockman/Getty Images

Saturday, August 11 at 4:00 p.m. ET
If any team other than Jamaica, the USA and Trinidad and Tobago medaled in the 4x100-meter relay, it'd be a fairly big surprise. According to Bovada, France has the best chance to win outside of those three at just 28-to-1 odds.
The Jamaicans are obviously the massive favorite. Bolt, Blake, Powell, Nesta Carter and Michael Frater all boast awing resumes in international competition. They're the greatest 4x100 team ever and no one would be shocked if they break their own world record this year.
Team USA should be content with silver.
David Daniels is a featured columnist at Bleacher Report and a syndicated writer.