USA vs. Lithuania: Most Memorable Moments in Countries' Olympics Hoops Battles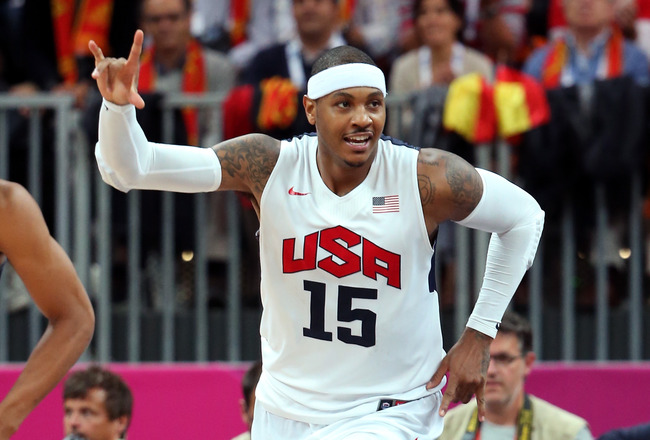 Christian Petersen/Getty Images
Saturday will mark the first time Team USA has faced Lithuania in Olympic competition since winning the 2004 bronze medal in Athens.
The Team USA in London is a far different bunch than the 2004 disappointments and is coming off a record-smashing 156-73 drubbing of Nigeria on Thursday.
On the flip side, Lithuania has been one of the Summer Games biggest disappointments, falling to 1-2 after an 82-74 loss to France.
With Team USA at an all-time high and Lithuania nosediving to its low, it's not looking like Saturday will be much of a contest.
So instead of previewing what we'll see in London, let's take a trip in the DeLorean and take a look at the best moments in Team USA-Lithuania history.
Dream Team 51-Point Blowout in 1992 Olympic Semifinal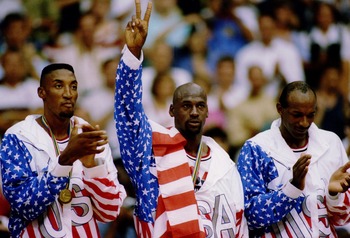 Mike Powell/Getty Images
Armed with four of the six top scorers from the disbanded Soviet Union national team from 1988, the Lithuanians were thought to be the Dream Team's toughest competition in Barcelona.
But like every other team in that magical run, the Lithuanians could only stay as close as the Dream Team allowed. Team USA stormed out to a 34-8 lead and never looked back, beating the newly-minted Lithuanian national team 127-76.
Nine U.S. players scored in double figures in that game, led by Michael Jordan's 21 points and a brilliant 14 points and eight assists from Magic Johnson.
Team USA went on to win against Croatia in the gold medal match while the Lithuanians took down their former countrymen, Russia, to earn bronze.
Lithuania Comes Closest of Any Team in 1996 to Team USA...Still Loses by 22 Points
Rick Stewart/Getty Images
The vastly underrated roster Team USA sent to Atlanta in 1996 was nearly as dominant as its predecessor, with its closest competition coming against a strong Lithuania squad.
Fortunately for the U.S., the definition of "closest completion" for that Charles Barkley-led squad was a 104-82 beatdown in Group Play.
Barkley led Team USA with 16 points and five rebounds as the Americans survived a strong 21-point, seven rebound performance from Lithuanian center Gintaras Einikis.
An upset at the hands of Yugoslavia in the semifinals prevented Lithuania from their second shot at the host Team USA, and the Americans skated to a 26-point victory over the Slavs for a repeat gold medal.
Sarunas Jasikevicius Misses Game-Winning Three in 2000 Olympic Semifinal
Anyone looking for the first sign of impending doom for the Team USA basketball program should look no further than the American semifinal against Lithuania.
Down just 84-82 with 4.6 seconds to go (starting at the 2:59 mark in the video), Lithuania inbounded the ball to guard Sarunas Jasikevicius with a chance to pull off a massive upset.
As Jasikevicius threw up a turnaround jumper from beyond the three-point arc as time expired, it felt as if the balance of power in international basketball was hanging in the balance.
The shot fell short.
Team USA went on to beat France 85-75 for the country's third straight gold medal, but 2004 disaster's writing was certainly on the wall.
Lithuania Drops the United States in 2004 Preliminary Round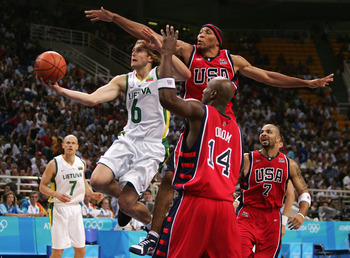 Doug Pensinger/Getty Images
The façade of the Team USA juggernaut was already exposed by the time the U.S. met up with Lithuania in preliminary round action, so the result wasn't a huge shocker.
But the Lithuanians 94-90 victory did send notice through the U.S. that their opening loss to Puerto Rico was no aberration.
Led by 28 points from an obviously motivated Sarunas Jasikevicius, Lithuania survived Richard Jefferson's only decent Olympic performance (20 points) and wound up winning Group B in a landslide.
On the other hand, Team USA wound up finishing fourth in the group and needed a huge upset of Group A No. 1 seed Spain to advance.
Bronze Medal Face Saving for Team USA in 2004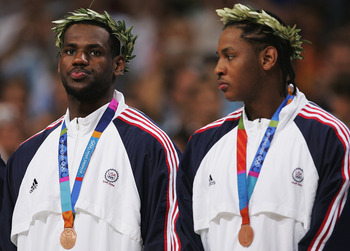 Jamie Squire/Getty Images
For a country without an Olympic contest since NBA players joined the fray, coming away without a medal in Athens would have been the ultimate embarrassment.
But spurred by a 22-point performance from small forward Shawn Marion and Lamar Odom's all-around brilliance, Team USA came secured bronze in 2004 with a 104-96 victory over Lithuania.
The victory also served as some form of redemption after the U.S. fell by four points to the Lithuanians in group play.
Lithuania was led by Arvydas Macijauskas' 24 points as guards accounted for 57 of the 96 Lithuanian points.
That loss continued the United States' three-game winning streak over Lithuania in elimination round action.
Keep Reading