Mexico vs. Senegal: Men's Olympic Soccer Live Score, Highlights, Stats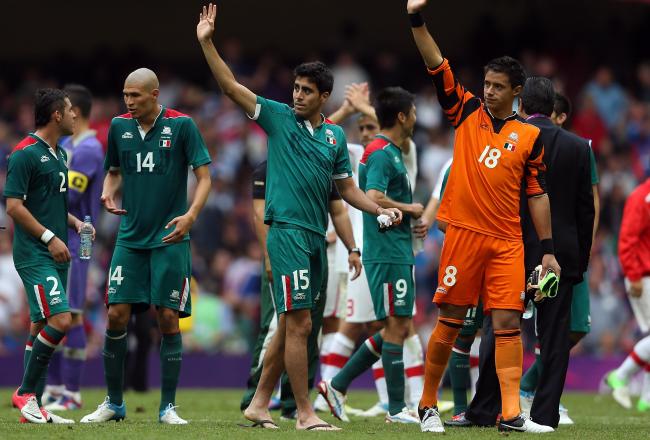 Julian Finney/Getty Images
Mexico 4 Senegal 2 (full time, after extra time)
Men's Olympic Football event quarterfinal
Scorers:
Jorge Enriquez, 9 mins, 1-0
Javier Aquino, 62 mins, 2-0
Moussa Konate, 68 mins, 2-1
Ibrahima Balde, 75 mins, 2-2
Giovani Dos Santos, 97 mins (ET), 3-2
Hector Herrera, 108 mins (ET), 4-2
Lineups:
Mexico: Corona, Jimenez, Mier, Chavez, Reyes, Enriquez, Aquino, Salcido, Fabian, Peralta, Dos Santos.
Senegal: O. Mane, Ciss, Ba, Gueye, Toure, Souare, S. Mane, Kouyate, Diame, Konate, Yero.
Well, pick out of that what you can. Maybe the best match of the Olympics football tournament so far ends in a spectacular six-goal thriller which Mexico have won, 4-2, after extra time against Senegal.
Comebacks, injuries, great saves and six different goalscorers—what more could you ask for.
We'll be leaving it here now for this match but the action continues on Bleacher Report with live commentary for the very next quarterfinal, between Brazil and Honduras which you can follow here.
Thanks for joining me today, it's been a terrific occasion, and congratulations to Mexico for reaching the semifinals. Bye for now!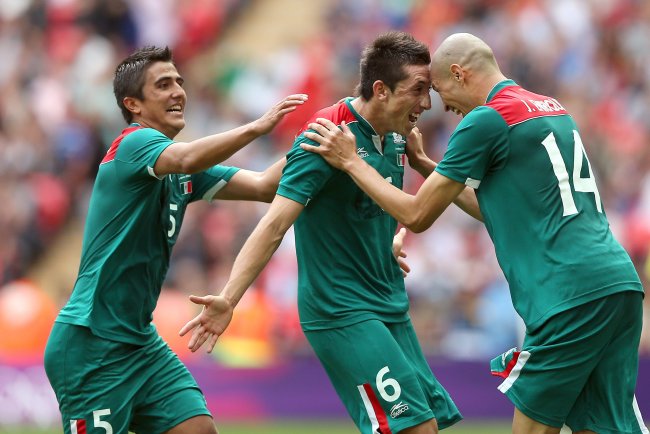 Ezra Shaw/Getty Images
Full time in the Olympics Men's Football quarterfinal
Mexico 4 Senegal 2 (after extra time)
118'—Japan against Mexico the looks like it will be the semifinal played next week, barring a miraculous two goal turnaround from Senegal in the next one hundred seconds.
116'—Mexico looking for a killer fifth: the ball is knocked down to Dos Santos but his half-volley is well over the bar. Just a few minutes away from the semifinals now, the Mexicans.
114'—Dos Santos evades Ba and is cynically tripped by the defender, who is booked for his troubles.
112'—Do Senegal have anything left now? Gueye sees an effort tipped over the crossbar by Corona, but they need two goals now in the final minutes to force penalties. Mexico let a two-goal lead slip in 90 minutes, surely they won't do the same again in extra time?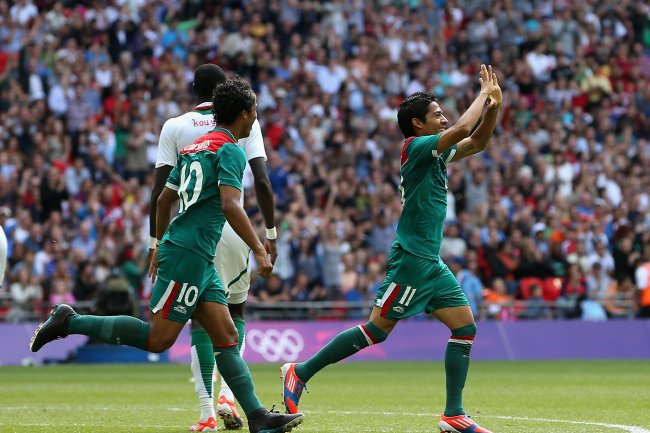 Ezra Shaw/Getty Images
It's surely all over this time! Disaster at the back again for Senegal as Ba's back-header to his goalkeeper is woefully placed and under-hit, allowing Dos Santos in again who tries to lob the 'keeper first time. Mane does really well to get a hand to it, but all he does in the end is set up Herrera who runs onto the rebound to head the ball into the empty net. It's 4-2 to Mexico, with 10 minutes left.
GOALLLLLLLL!
Mexico 4 Senegal 2
Hector Herrera, 108 mins
107'—Free kick to Senegal just outside the box; looks like the referee Clattenburg might have called that one incorrectly. Mexico hoping it doesn't cost them here. It's very central, with Kara Mbodj standing over it...but only thunders it into the wall.
106'—Mexico final sub; Peralta goes off and Raul Jimenez comes on.
105'—Here we go again then, a straight switch-around and on with the second 15 minutes.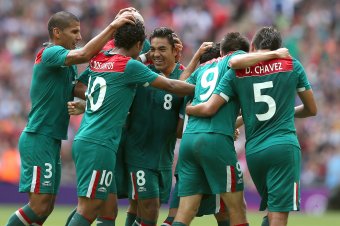 Ezra Shaw/Getty Images
Half time in extra time
Mexico 3 Senegal 2
104'—Soare finds himself back in the action down that left side, teasing over a looping cross which is headed over Corona's bar again.
One minute will be added on.
103'—Well, they almost do straight away. Corona has made a great save, diving low to his right to palm away an effort from close range with the defence standing around staring. Balde gets up from the corner and heads at goal, but it's too high and goes harmlessly over.
101'—So Senegal have to do it all over again. Can they possibly drag themselves back into the game again, and find a third goal?
100'—Mexico sub, Fabian going off and Miguel Ponce replacing him.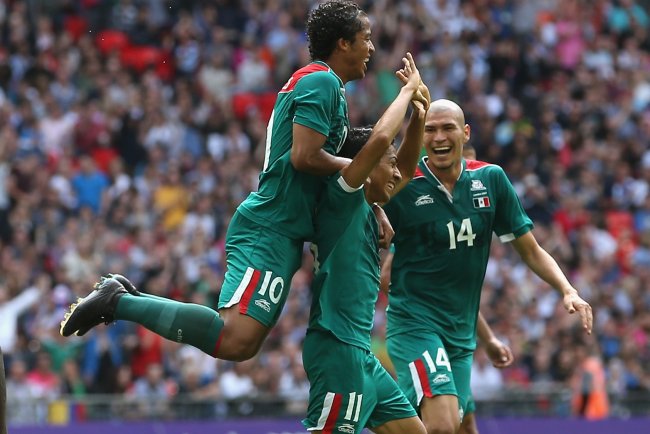 Ezra Shaw/Getty Images
Heartbreak for Senegal. Gueye fails to control the ball inside his penalty area and Mexico rob him, Dos Santos racing in to nick the ball away and calmly finish beyond the goalkeeper, into the far corner of the net. Mexico back in front with six minutes remaining of the first period of extra time.
GOALLLLL!!!!
Mexico 3 Senegal 2
Giovani Dos Santos, 97 mins
93'—Good goalkeeping again from Mane! First he races out and tackles Peralta who was onside, then a cross reaches Fabian on his own on the back post—and his first time half volley is saved by Mane's outstretched leg. It was definitely going in, and it's a really good stop from Senegal's goalkeeper, who looks to be struggling with cramp.
92'—Herrera goes close! Salcido and Peralta link up well and leave the ball nicely for the sub Herrera, but his curling shot fades away from the near post and just wide.
91'—Peralta is still looking sharp. He controls the ball 25 yards from goal, spins and heads towards goal before shooting low towards the far corner, but Mane gets down to stop the shot and pick up the rebound.
90'—Kouyate, by the way, is back on the pitch for Senegal. He went off on the stretcher shortly before the end of 90 minutes. We have yet to see more than one change from Mexico.
Ok then, extra time it is.
Two 15-minute periods will be played, changing ends in the middle as at half time, and if the score is still level at the end of extra time then the winner will be decided by a penalty shoot-out.
Japan await the winners, let's see who it is.
Full time
Mexico 2 Senegal 2
Extra time will be played
93'—Senegal have Kouyate down injured at the moment and is being stretchered off, which would be a problem for Senegal in extra time; they have no substitutes left to bring on. Mexico still have two left.
This article is
What is the duplicate article?
Why is this article offensive?
Where is this article plagiarized from?
Why is this article poorly edited?