Ivy League Football: Top 10 Players to Keep an Eye on During the 2012 Season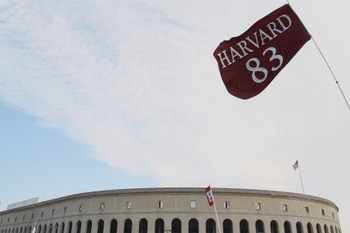 Elsa/Getty Images
While the upcoming Ivy League football season beckons questions about which teams will contend for a title come November, it is certain that the competition will be fierce.
Amongst the plethora of talented student-athletes who simultaneously play Division I-A college football and pursue degrees at institutions at the forefront of the academic world, there are some apparent standouts.
Here is a look at the 10 players to watch in the Ivy League.
10. Brandon Copeland, DL, Penn
A First Team All-Ivy member for his sophomore and junior seasons, Copeland has emerged as a run-stopping force at defensive end for the Quakers. While his pressure on the quarterback may have not resulted in a large number of sacs, his pass-rush has only improved as an upperclassmen, and his ability to read the game puts him as one of the best defensive lineman in the conference.
While Penn hopes to challenge Harvard for an Ivy League title, Copeland will have to lead the Quaker defense and continue his dominance.
9. Kurt Ondash, WR, Cornell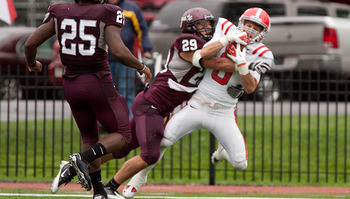 Courtesy of Cornell University Athletics
With arguably the best quarterback in Ivy League history under center with Jeff Matthews, the receiving corps of the Big Red has seen the rise of senior Kurt Ondash. A breakout season in 2011, Ondash averaged 85.6 yards per game and earned himself a Second Team All-Ivy League nod.
In this upcoming season, with more defensive attention on Shane Savage, Ondash is primed for an even bigger season, as he attempts to break the 1000-yard mark and lead another Big Red passing attack.
8. Mordecai Cargill, RB, Yale
With the graduation of quarterback Patrick Witt and starting running back Alex Thomas, senior halfback Mordecai Cargill will finally carry the load for the Bulldogs. Cargill's brilliance was apparent last year in his start against Columbia where he notched 230 yards on 42 carries and two touchdowns, leading the Bulldogs to a 16-13 victory.
With a new quarterback under center, Cargill will have the opportunity for a large workload at the beginning of the season. If he steps up in his newly-defined role, the Bulldogs could field a formidable rushing attack.
7. Chuck Dibilio, RB, Princeton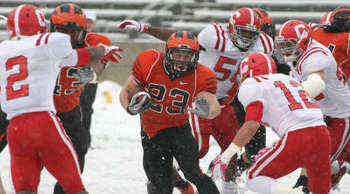 Courtesy of Princeton University Athletics
As last season's Rookie of the Year and a member of the All-Ivy First Team as a freshman, Princeton running back Chuck Dibilio carried the load for a relatively under-performing offense. The young halfback rushed for 1,068 yards, averaging 5.3 yards per carry for the Tigers. In Ivy League play alone, he rushed 815 yards—the second highest total in the last three seasons by any Ancient Eight back.
While Princeton hopes to establish more of an offensive presence in this coming season, the Tigers will look towards Dibilio as their workhorse back. With three more years in Ivy League football, Dibilio has a bright future in front of him.
6. Seitu Smith II, KR, Harvard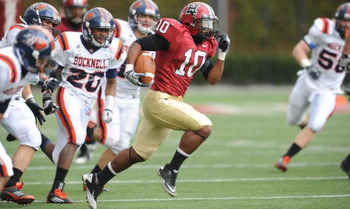 Courtesy of Harvard University Athletics
Explosive and incredibly elusive, Seitu Smith II provided a surprising and productive offensive weapon for the undefeated Crimson squad during his freshman season. Smith became the first freshman in Harvard's long history to return a kickoff for a touchdown, while averaging a monster 29.9 yards per return.
Now, only a sophomore, Smith seems primed to continue his dominance in the Ivy League. Opposing teams will be wary of kicking to the underclassmen, but when given the opportunity, Smith will not fail to deliver.
5. A.J. Cruz, DB, Brown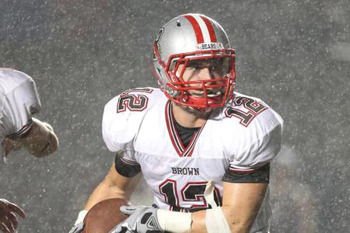 Courtesy of Brown University Athletics
A three-time All-Ivy selection, A.J. Cruz has been a dominant force at corner back since his freshman season. With airtight coverage and incredible pace, Cruz has been able to match Ivy League receivers stride by stride and enters his senior year as the premier defensive back in the conference.
In addition to his outstanding defense, Cruz has also served as the primary kick and punt returner for the Bears. Last year he returned one kickoff for a touchdown.
In his senior season, Cruz was nominated as one of Brown's team captains and will have high expectations for the Bears this season after last year's collapse in the final two games. Look out for Cruz's performance if the Browns make a title run in the fall.
4. Kyle Juszczyk, TE, Harvard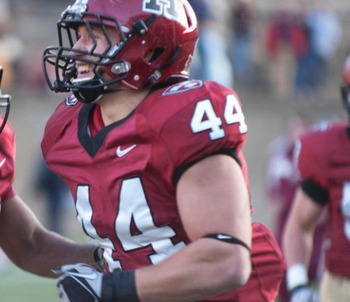 Courtesy of Harvard University Athletics
Arguably the best tight end in the conference last season, Juszczyk has been a primary offensive threat for the Crimson passing game. Leading Harvard in receptions and receiving touchdowns, Juszczyk provided an additional dimension to an offense that relied so heavily on a dominant running game.
With the return of quarterback Colton Chapple, who relied on Juszczyk heavily as a favorite target, the senior tight end seems primed for an outstanding season. If the Crimson intends to defend their league title, Juszczyk will have to remain a chief facet of the Harvard passing game.
3. Shane Savage, WR, Cornell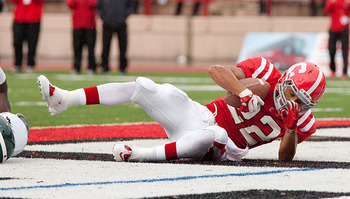 Courtesy of Cornell University Athletics
A fantastic deep threat for Cornell quarterback Jeff Mathews, Savage exploded last season finishing with 1,080 yards and twelve touchdowns—a scoring total that ranks sixth all time in the Ivy League history.
On top of that, when the Big Red were desperate for conference wins in the final two games of the season against Columbia and Penn, Savage put up 348 yards and six touchdowns and salvaged the season for his squad.
Now, in his senior season as the favorite target of Mathews, Savage looks to repeat, if not surpass his tremendous 2011 season. If Cornell intends to put up the necessary points to counteract their relatively weak defense and contend Harvard for an Ivy League title, Savage will have to soar to new heights as the premier wide receiver in the conference.
2. Caraun Reid, DL, Princeton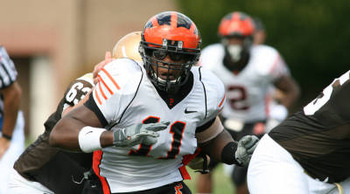 Courtesy of Princeton University Athletics
There is no other way to put it. Caraun Reid is a beast. He led all Ivy League linemen with a monster 68 tackles, including 16 for a loss and eight sacks. His sheer size and speed allows him to force his way through offensive lines and wreck havoc for opposing backs. His pass rush is purely formidable. His presence simply cannot be ignored.
While Princeton hopes to put last year's disappointing season behind them, the Tigers will look to Reid as, yet again, the driving force for the defense. As the Tigers focus on assembling an offense that can put up points, they feel comfortable defensively just by having Reid on the line. He is, by far, the Ivy League Defensive Player of the Year favorite.
1. Jeff Mathews, QB, Cornell
Arguably one of the best players in Ivy League history, Cornell's starting quarterback Jeff Mathews absolutely torched every opposing secondary last season in his campaign to Offensive Player of the Year. He shattered the Ivy League record for most passing yards in a season (3,412 yards) and in a game (548 against Penn). His per game average of 341.2 yards was a good 100 yards more than any quarterback in the conference.
With the return of his top two wide receivers Shane Savage and Kurt Ondash, Mathews hopes to lead the Big Red to title contention in his junior season. With the success of Buffalo Bills quarterback and Harvard graduate Ryan Fitzpatrick in the NFL, Mathews might have professional potential, but he looks towards an Ivy League title first.
Keep Reading