Olympic Swimming Results 2012: Day 7 Updates, Medal Winners, Analysis & More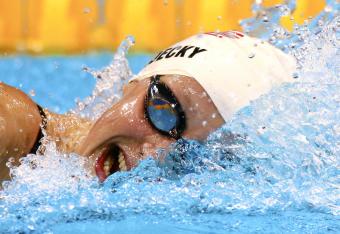 A slew of intriguing swimming events provided sensational finishes during Friday's action in London.
Michael Phelps won another gold (No. 17 overall) in his final individual race; breakout star Missy Franklin completed her sweep of Olympic backstroke competition; 15-year-old American Katie Ledecky topped Great Britain Golden Girl Rebecca Adlington in the 800 freestyle; and heralded sprinters Cullen Jones Cesar Cielo were upset in the 50-meter free.
We captured every bit of the action live right here. If you're late to the party, scroll down and revisit an incredible Day 7 of Olympic swimming competition, moment-by-moment.
Stay tuned to Bleacher Report throughout the Olympics for live coverage of sports from across the spectrum.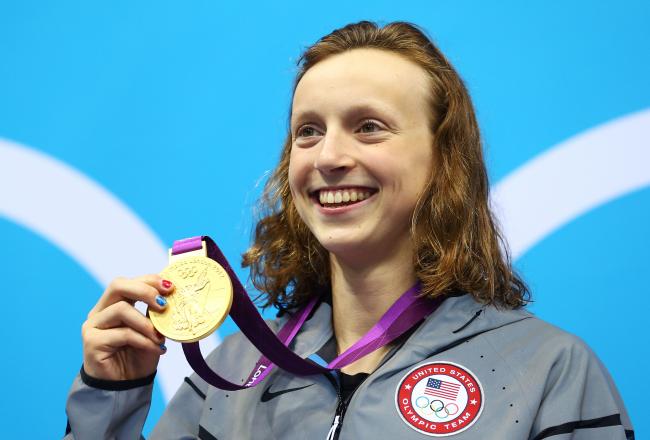 Quite the day for U-S-A...
In the pool that is, since that's the sports I've been glued to for the past 90 minutes.
Michael Phelps' swan song continues to grow sweeter each day. After his mind-numbing fourth-place finish in Saturday's 400-meter IM, we've seen him get back to his old tricks this week.
Since breaking down the doors as the most decorated Olympian of all time, he has continued to carry on without hesitation. Phelps won a third consecutive 200 IM gold medal yesterday, and matched that career feat today in the 100 fly final.
His off-the-charts Olympics career now includes 21 total medals and 17 golds. He might need to invest in a storage shed for all that bling.
As Phelps' career reaches its final stages, we saw two of America's youngest Olympic stars shine today.
Missy Franklin, 17, earned her third gold medal of these games with a victory in the 200 backstroke. 15-year-old Katie Ledecky, the youngest member of the U.S. swim team, stunned the global swimming community with a start-to-finish win in a grueling 800-meter freestyle final.
American sprinter Cullen Jones settled for silver in the 50-meter freestyle, as Frenchman Florent Manaudou emerged as a surprising winner. It was quite a fast-paced afternoon and these typing fingers are on fire.
It's been a pleasure guiding you through Day 7 of Olympic swimming action. Now go spoil the results for all your friends!
Nice moment taking place in London, as legendary British swimmer Rebecca Adlington accepts a bronze medal for her performance in the 800-freestyle final.
She won gold in the 400 and 800 free at the 2008 Beijing Games, becoming an instant icon in Great Britain. Adlington's quest to repeat in front of a homeland audience fell short, courtesy of American Katie Ledecky's prodigious performance.
The packed crowd at London Aquatics Centre rose to its feet in support of their native daughter. Unsurprisingly, Adlington gave into her emotions and tears were shed.
She is likely to retire after these Olympic games.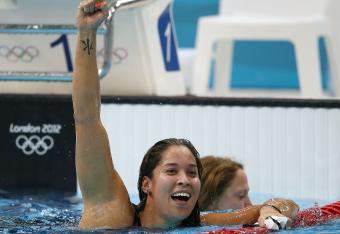 Ranomi Kromowidjojo continues to dominate in 50-meter freestyle semifinals.
The Netherlands' emerging superstar is seeking an Olympic sprint freestyle sweep. The 100-meter freestyle gold medalist made a major stride toward accomplishing that task with a textile-best finish of 24.07 seconds in the event semifinal.
She topped Belarus' Aliaksandra Herasimenia (24.45) and fellow Dutch swimmer Marleen Veldhuis (24.50).
Defending gold medalist and Olympic record holder Britta Steffen, of Germany, placed fourth in qualifying at 24.57.
They'll all be part of the eight-woman final scheduled for 2:30 p.m. EDT tomorrow.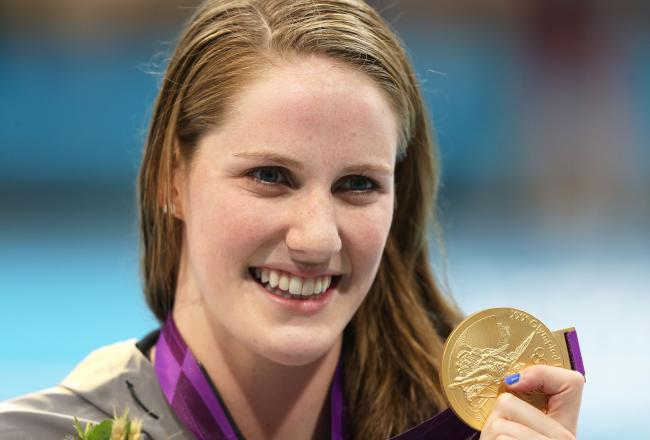 Missy Franklin: three-time Olympic gold medalist.
That has a nice ring to it, doesn't it?
Suddenly, the 17-year-old is no longer an exciting American newcomer. She's a truly authoritative figure in women's swimming across the globe.
We've seen plenty of "phenoms" wilt under the bright lights of Olympic competition. Franklin has embraced the expectations and arguably exceeded them, all while keeping a youthful grin on her face.
She earned individual gold medals by sweeping 100- and 200-meter backstroke competition. Franklin also contributed to the U.S. 4x200m freestyle relay victory and won bronze as a member of the 4x100m freestyle squad.
If Franklin's rapid ascent up the global swimming step ladder is any indication, it's the first of many Olympic awards that will eventually hang from the bright-eyed superstar's neck.
In the aftermath of 15-year-old American Katie Ledecky's astounding victory in the 800-meter freestyle final, here are a few more tidbits of information that illustrate just how historic the youngster's performance was....
Incidentally, Katie Ledecky's time is both an American record and U.S. National Age Group record #london2012... fb.me/1bw0RuB1n

— SwimmingWorld (@SwimmingWorld) August 3, 2012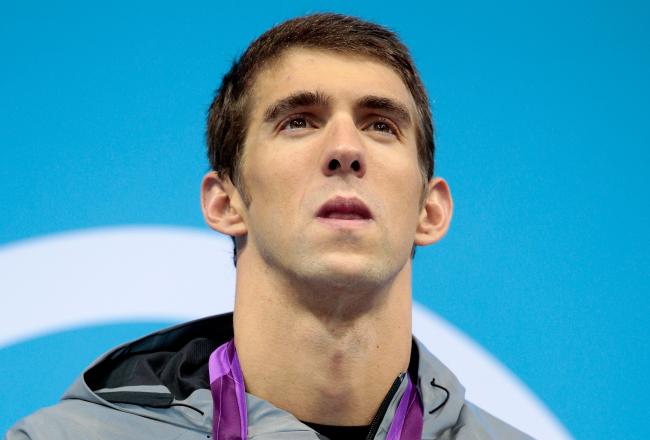 Michael Phelps stands alone atop the winner's podium for one final time. He'll have a chance to win his last Olympic gold with team members in Saturday's 400-meter medley relay.
Seeing the American prodigy stand tall with gold hanging at his chest as the Star-Spangled Banner blares throughout the arena has almost become commonplace.
Be sure to savor this one though.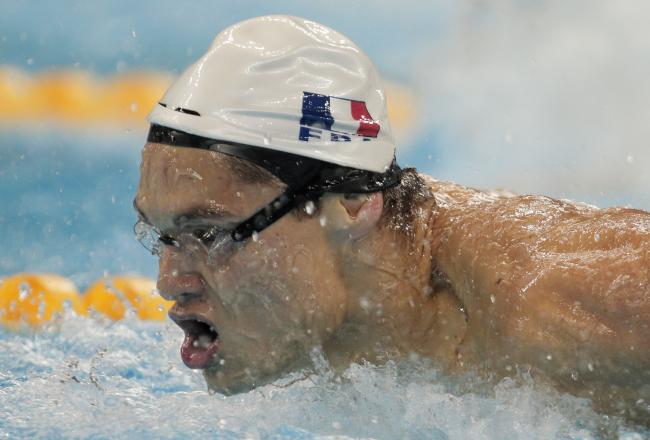 Florent Manaudou finished second in the event during the French Olympic swimming trials.
Now, he's an instant superstar in his homeland and sends some of the world's elite sprint swimmers to the locker room wearing stunned looks.
The 50-meter freestyle always looks more like a massive shark attack than a swimming race.
Churned up water, a lot of splashing and limbs flailing everywhere.
Might be the most exciting 20 seconds of swimming you'll see in London.
Surprise!
France's Florent Manaudou wins gold in the 50 freestyle, becoming the new Fastest Swimmer on Earth.
He touched the wall at 21.34 seconds, beating out American silver medalist Cullen Jones (21.54) and ending the reign of Brazil's Cesar Cielo (21.59), who placed third.
American Anthony Ervin finished fifth at 21.78.
Don't blink! Here comes the men's 50-meter freestyle.
American Cullen Jones seeking another gold medal. Brazil's Cielo, the world record holder, looking to cement his legacy.
Americans aren't the only ones having fun in the pool today.
Great Britain has to proud of it's swimming hero -- Rebecca Adlington.
Although she was upstaged by Team USA's youngest swimmer, more admiration is coming her way from the British faithful.
Congratulations again to @beckadlington - that bronze makes her the first British swimmer in history to win four individual Olympic medals.

— British Swimming (@britishswimming) August 3, 2012
Bing. Bang. Boom.
Three event, three gold medals today in the pool for American swimmers so far.
We've seen American legend Michael Phelps wrap up his individual Olympic racing career with his 17th overall gold medal. His comeback victory came in the 100-meter butterfly.
Then U.S. swimming's next generation took center stage, as 17-year-old Missy Franklin and 15-year-old Katie Ledecky finish first in back-to-back races.
Whew, catch your breath as these medals are presented...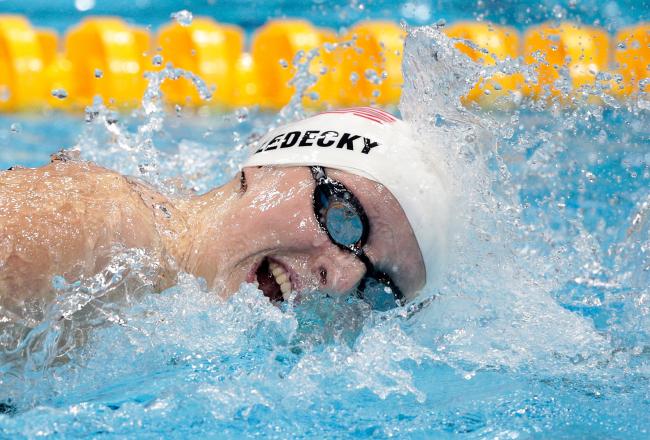 Ledecky led from start to finish to win an incredibly grueling race in 8:14.63.
That's the second-fastest time ever!
She finished nearly four seconds ahead of Spain's Belmonte Garcia (8:18.26), who took silver.
Great Britain's Rebecca Adlington claimed bronze, finishing at 8:20.32.
Move over, Missy! There's a new kid in town.
Katie Ledecky, 15, becomes the youngest gold medalist in Olympic 800-meter freestyle history.
And it wasn't even close
Through 600 meters, Ledecky remains just ahead of world record pace.
Adlington is directly behind. Remarkable, Ledecky has maintained an incredible pace and doesn't appear to be wavering.
She is now two seconds ahead of Adlington!
Katie Ledecky, U.S. swimming's youngest team member, leads after 300 meters. The 15-year-old is actually ahead of the world record pace!
She's racing in lane 3, directly next to Adlington.
Not bad for a girl who just finished up her freshman year of high school...
Now comes the most monumental moment in British swimming in recent memory...
Defending gold medalist Rebecca Adlington is seeking a repeat in the 800-meter freestyle final. She shattered the world record in the event when she won at the 2008 Beijing games.
Now the home crowd watches her swim 16 laps as anticipation builds. Can Great Britain's Golden Girl fulfill expectations?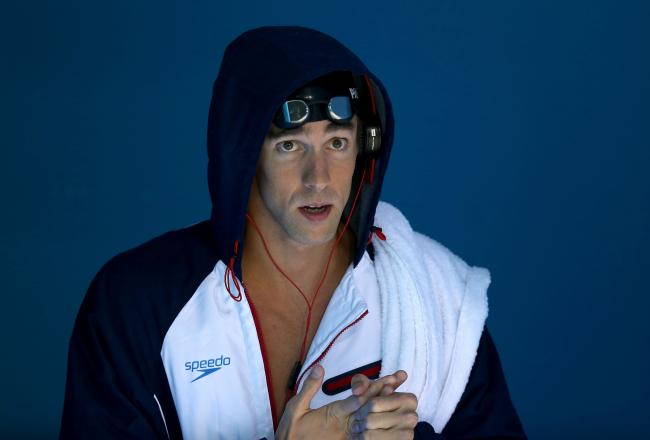 Phelps maintains that the 100 fly final was his last individual Olympic race (remember, he still has one more relay remaining).
If that truly is the case, it's yet another golden chapter in the American's brilliant career.
Phelps was in seventh place after the first 50 meters, but charged back with a powerhouse finish.
He was first to the wall at 51.21 seconds. It's the third successive Olympics in which he claims gold in the 100 fly.
For those keeping score (and that's likely most of you), it's now 21 career medals and 17 golds!
Michael Phelps does it again!
Another event three-peat for the Olympics' most decorated swimmer.
This time, it comes in the 100-meter butterfly final....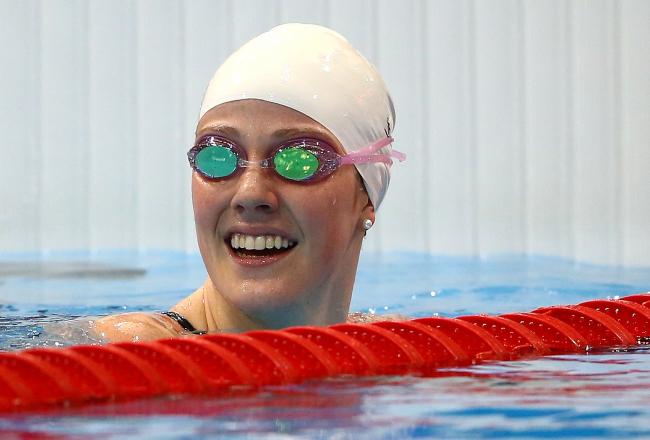 Franklin, who has taking the swimming world by storm at age 17, overcame quite a collection of swimmers in the 200 backstroke final.
Zimbabwe's Kirsty Coventry was a two-time defending Olympic Champion, while American teammate Elizabeth Beisel, 20, won a silver medal in the 400 IM earlier this week.
"The Missile" continues to make her case as the new face of women's swimming.
Franklin wins gold, sets world record!
She conquers the competiton with a finishing time of 2:04.46!
Missy Franklin dominating so far.
A 29.97-second third leg has her on a world-record pace through 100 meters.
The women's 200-meter backstroke start things off. Americans Missy Franklin and Elizabeth Beisel are each top contenders.
Both women are looking to add to their collection of 2012 Olympic medals.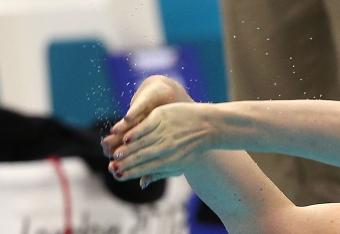 So here we are, suddenly streaking into Day 7 of swimming competition at these 2012 Olympic Games. So farwe've seen record broken, underdogs rise, Michael Phelps make history and a Chinese teenager shock the world with outlandish speed.
So what happens next?
We've got you covered right here, as action resumes at the Olympic Park Aquatics Centre .
Quick Recap of this morning's action
Women's 50-meter freestyle
Netherland's go 1-2 with Ranomi Kromowidjojo and Marleen Veldhuis (24.51 and 25.57, respectively).
Great Britain's Francesca Halsall was third at 24.61 and USA's Jessica Hardy was 12th with a time of 24.99. American teammate Joyce Kara Lynn lost the swim-off against Britain's Amy Smith for the final qualification spot.
Men's 1,500-meter freestyle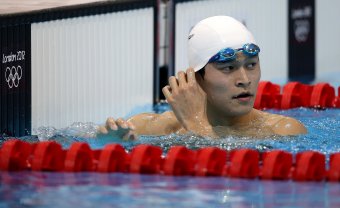 Clive Rose/Getty Images
China's Sun Yang swims an impressive race finishing in 14 minutes and 43.25 seconds to win the prelims. He's less than 10 seconds from the world record, so it is a realistic possibility.
South Korea's long distance man Park Taehwan gets sixth in the qualification at 14:56.89 and USA's Connor Jaeger was seventh at 14:57.56.
Women's 4x100 medley relay
Australia has a strong lead going into the final with a time of 3:55.42 which is more than two seconds faster than second-place Japan (3:57.87).
The USA took fourth in the prelims at 3:58.88, just 0.53 behind Denmark who was third.
Men's 4x100-medley relay
Unsurprisingly the U.S. won the men's prelims with a time of 3:32.65.
As the only ones to break 3:33.00 flat, expect the Americans to make a run at the world record because the rest of the field will be battling for silver and bronze.
From Great Britain (second at 3:33.44) to the Netherlands (fifth at 3:33.78) is just a 0.34 differential between four countries. The final will be immense.
What to watch for later today, action begins at 2:30 p.m. ET.
Women's 50-meter freestyle semifinals
The Netherlands as mentioned above went 1-2 and are reasonably expected to hold onto that standard.
USA's Jessica Hardy and Australia's Campbell sisters have a lot of quick catching up to do, though. Therefore, you can anticipate this race being potentially faster than the final as one length of the course will bring out the best in each competitor.
Women's 200 backstroke final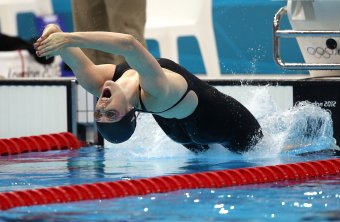 Ezra Shaw/Getty Images
USA's Elizabeth Beisel and Missy Franklin went 1-2 in the semifinals and are more than 0.50 seconds ahead of Australia's Meagen Nay (third in semis).
Expect the Americans to joust for gold while bronze remains up for grabs.
Men's 100 butterfly final
Michael Phelps swam the fastest semifinal time of 50.86 seconds and is well ahead of South Africa's Chas le Clos who bested him in the 200 fly.
That said, don't think le Clos will just let Phelps breeze in the final.
Women's 800 freestyle final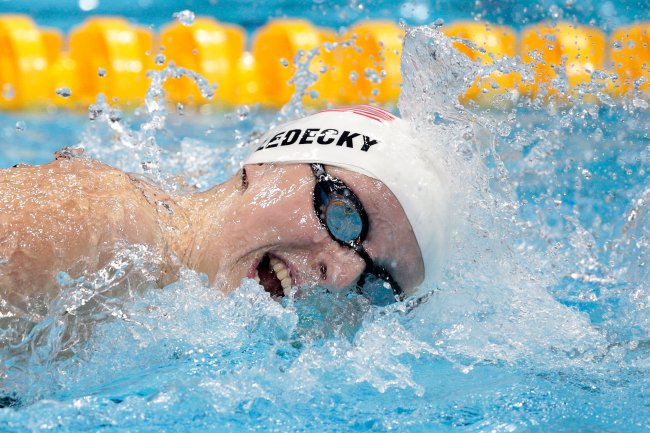 Adam Pretty/Getty Images
Great Britain's Rebecca Adlington is at the front of the pack after the prelims with a time of 8:21.78. Right behind her was Denmark's Lotte Friis at 8:21.89, so these two will stream ahead for gold.
The story here, though, is USA's Katie Ledecky who was third in the prelims and is only 15 years old.
Men's 50 freestyle final
It'll be a race for the ages despite the short length.
USA's Cullen Jones and Brazil's Cesar Cielo tied at 21.54 for the fastest semifinal swim. Only 0.08 seconds behind is Cullen's teammate Anthony Ervin at 21.62 and 0.01 after him is Cielo's teammate, Bruno Fratus.
Two countries vying for three spots with two representatives. It will be fun.
This article is
What is the duplicate article?
Why is this article offensive?
Where is this article plagiarized from?
Why is this article poorly edited?