Ivy League Football: 5 Questions Surrounding the Upcoming 2012 Season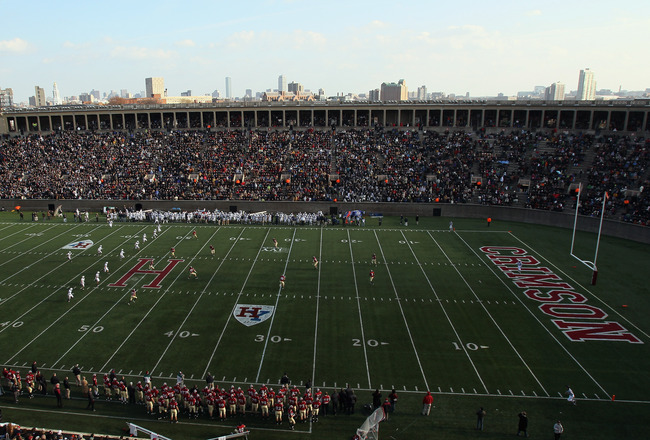 Elsa/Getty Images
As the 2012 season grows closer, Ivy League fans face an upcoming season with a lot of uncertainties on how the final standings will pan out.
With a competitive finish to last year's season that left, other than an undefeated Harvard, four teams (Brown, Penn, Yale, and Dartmouth) with records of 4-3, anything seems possible for this year.
While the eight Ivy League squads prepare for the upcoming season, here are five questions that college football fans can speculate about for 2012.
Will Harvard Go Undefeated for the Second Straight Year?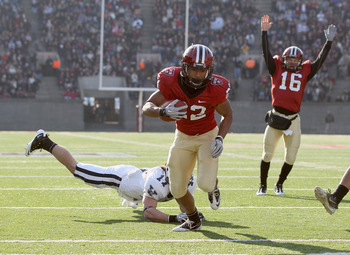 Elsa/Getty Images
Last season, Harvard's Ivy League play was dominated by a tough rushing defense and a balanced offensive attack. Battling back from an season-opening loss at Holy Cross, the Crimson seemed unstoppable, capping the season with a crushing win at rival Yale.
This season, it is no secret that the Harvard squad has its sights on another Ivy League title. Quarterback Colton Chapple and tight end Kyle Juszczyk will lead the offense, and a defense that lost many talented seniors will attempt to continue with last year's form. If the Crimson can do this, an undefeated season could be in the works.
Will Jeff Mathews Have Another Breakout Year?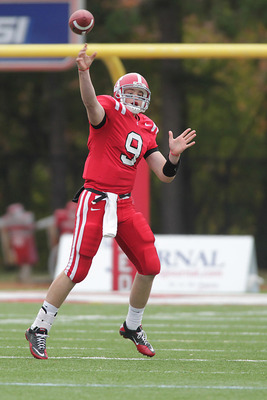 Courtesy of Cornell University Athletics
Cornell's junior quarterback and last year's Ivy League Offensive Player of the Year, Jeff Mathews, seems poised to surpass his incredible season a year ago. Passing for an Ivy League record 3,412 yards over the season and setting Big Red records with 25 touchdown passes, Mathews will have to battle great expectations this season.
An initial nominee for the 2012 Walter Payton Award, Mathews has to step up even more if Cornell hopes to finish better than 3-4 in the Ivy League. Without a decent rushing attack, Big Red receivers Shane Savage and Kurt Ondash will face tighter coverage, forcing Mathews to rise to the occasion once again.
Will Penn Make a Run for an Ivy League Title?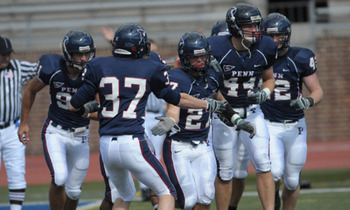 Courtesy of University of Pennsylvannia Athletics
After undefeated seasons in 2009 and 2010, Penn under-performed last season and fell to 4-3. But, like every great program, the Quakers will definitely be in the hunt this year.
With their matchup against Harvard coming in November, Penn will have relatively easy competition with a weak non-conference schedule against Lafayette, Villanova, and William & Mary.
Can Brown Become a Legitimate Contender?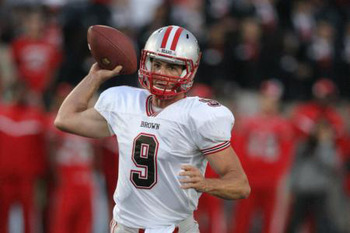 Courtesy of Brown University Athletics
Last year, Brown had a second-place finish in the bag before falling to Dartmouth and a significantly weaker Columbia team in the last two games of the season.
This year, the Bears aim to avoid such a disappointing ending and start strongly in the season opener against Holy Cross. Brown will have to face Harvard in the second week of the season, but if the Bears can pull off an upset, look for them to contend for an Ivy League title.
Will Princeton Win More Than One Game?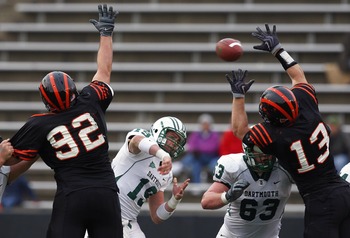 Jim O'Connor-US PRESSWIRE
After finishing last in the Ivy League for the past two years, the Tigers program that boasts the most national championships in college football history is desperately looking for a revival.
With one Ivy League win in the past two seasons, the Princeton team will need to focus on its offensive attack this year if it intends to compete. Returning defensive linemen Mike Catapano and Caraun Reid will bring the heat on opposing offenses, but it will take scoring from a young offense to bring the Tigers to more than two Ivy League wins.
Keep Reading