Leryn Franco: 2012 Olympics Track and Field Schedule, Outlook and More
Scott Heavey/Getty Images

Let me guess, you're confused about why we're putting the spotlight on a supermodel? Well, lovely Paraguayan Leryn Franco is among the competitors in the Olympic javelin competition.
She's a long shot to medal and doesn't sound overly confident in her chances. Although, that doesn't seem to bother her much.
"My situation is different from most of the other javelin throwers," Franco told Yahoo! Sports. "I am not just an athlete. I have to be honest, my career is really in the media."
Regardless of what Franco's career really is, let's see what awaits her in these Olympic Games.
Begin Slideshow

»
Franco begins qualifying competition on Aug. 7 at 5 a.m. EDT.
She launched a personal best of 55.65 meters in 2011. Unfortunately, that mark is approximately 17 meters short of the world record.
Again, Franco maintains she's just fine without an Olympic medal hanging from her neck. We tend to believe her.
"If people open a magazine, they can see me there," she told Yahoo! Sports. "Modeling and fashion is my job, too. It takes up much of my time and enables me to make money. It is flattering to me that people find me good-looking and enjoy seeing me wearing good fashion items."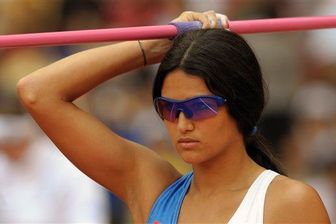 SI.com
If Franco qualifies for the final, she'd be looking to medal on Aug. 9 at 4 p.m. EDT.
South Africa's Sunette Viljoen, Germany's Christina Obergfoll and Czech Republic's Barbora Spotakova are among the top contenders for a gold medal. Franco would be thrilled to join the bunch, but she always has that modeling career to fall back on in case things don't work out.
"I am not expecting a medal," Franco told Yahoo! Sports. "The competition is very strong and there are athletes who are stronger than me. But I treat it seriously and I want to do my personal best. For me the best reward is just to be here. Getting to the Olympics is like a medal for me."