New York Knicks: Why Rivalry with Brooklyn Nets Will Be NBA's Best in 2012-13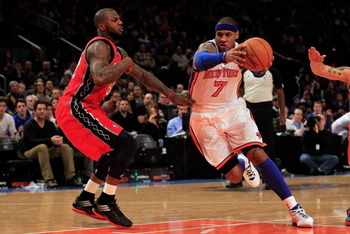 Chris Trotman/Getty Images
Over the first 66 years of its existence, the NBA has developed a number of great rivalries.
From the classics like Lakers vs. Celtics, to the more recent ones like Thunder vs. Heat, there are plenty of head-to-head matchups that always grab people's attention.
But for the 2012-13 season, an all-new rivalry will be opening up in New York City between the Knicks and the newly-relocated Nets.
The rivalry will undoubtedly be a huge storyline for both Atlantic Division sides next season, and here's why it will be the NBA's best rivalry in 2012-13.
It's New
Debby Wong-US PRESSWIRE
We're always looking for the next big thing in basketball, whether that be an upcoming star or team, but in this case it will be the brand new feel of a rivalry that will get fans excited.
Rivalries don't have to be new in order to be good—the Celtics-Lakers rivalry will tell you that much—but it still feels like it's been a while since the NBA's had another genuine rivalry.
And though they've been playing against each other for years, this is absolutely a new rivalry, as it boasts new players, uniforms, logos, arenas and even a new city in the case of the Nets.
When opening day comes and these two teams face off, all eyes will be on this matchup, and all just because it's going to be the next big thing.
Joe Johnson's Comments
Debby Wong-US PRESSWIRE
With both franchises now located in the same city, the framework is set for what should be a great rivalry.
But despite that, what we really needed was a trigger and one of the newer Nets, Joe Johnson, provided us with just the thing last month, when he said the Nets were "definitely" the best team in New York, according to the New York Daily News.
Along with Johnson's comments, Brooklyn borough president, Marty Markowitz, really got things going with words that should make the blood of any Knicks fan or player boil:
For nearly 40 years the Manhattan Knicks have shown they can't bring the championship home to New York, so it's going to take the Brooklyn Nets to get the job done. So move over Manhattan—enough airballs. You had your chance.
Having been called out, the Knicks now need to send their own on-court message to the Nets, and the Nets themselves have a lot to live up to after those brave words.
Jason Kidd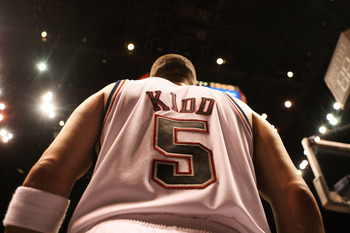 Al Bello/Getty Images
Jason Kidd may not be set to play a big role on the Knicks, but the Nets may still be hurting a little bit after he chose a move to MSG over a return to the franchise he spent so much time with beforehand.
A decade ago, Kidd was the key player on the Nets during what really were their glory years, and though it's been a while since he left, seeing their former star in their new rivals' uniforms should still trigger some emotions for Nets fans.
Kidd won't start for the Knicks, but he should see significant playing time off the bench at the 1 and 2, so he should have ample opportunity to stick it to his former team.
Defense and Physicality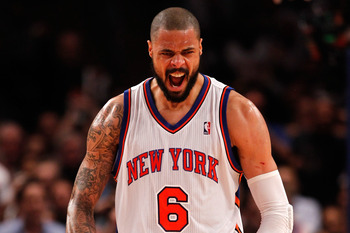 Jeff Zelevansky/Getty Images
Nothing really gets a rivalry going like physical defensive play, and there'll be plenty on display when these two teams clash.
From Tyson Chandler, Marcus Camby and Ronnie Brewer on the Knicks, to Gerald Wallace, Joe Johnson and Reggie Evans on the Nets, these teams have a lot of tough players who won't hesitate to get physical when it matters most.
Even some of the more offense-oriented players like Carmelo Anthony and Brook Lopez have notably physical styles of play, which should come to fore in their head-to-head matchups.
Both Are Fighting for the Same Thing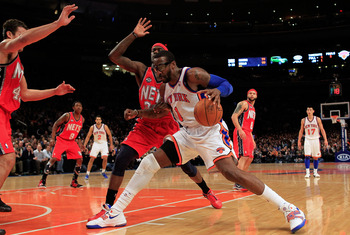 Chris Trotman/Getty Images
Not only are these two teams in the same city, but they are also two teams who'll be fighting for the same thing next season.
Though obviously every team is pushing for the Larry O'Brien Trophy, the Knicks and Nets are also challenging each other for the Atlantic Division, as well as similar playoff seeding in the Eastern Conference.
Fans will debate over which team is superior for the time being, but ultimately both will be evenly matched for the entirety of next season barring any major injuries.
These teams will meet up quite a few times next season, but considering what they're fighting for, the matchups will carry so much more weight.
Keep Reading

New York Knicks: Like this team?