WWE: Why Chris Jericho vs. Dolph Ziggler Would Be a Great Feud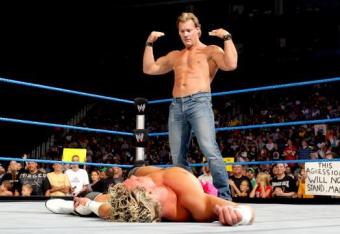 Chris Jerichos lays out Dolph Ziggler. (Courtesy of WWE.com)

Following his monumental Money in the Bank victory at the pay-per-view of the same name, Dolph Ziggler appeared on Raw the very next night to do what he does best: show off. During the midst of Ziggler's bragging, Chris Jericho made a surprising appearance to make a statement of his own.
Before Jericho could utter his first words, he was cut off by Ziggler, who then proceeded to belittle Jericho over the fact he failed to win his respective Money in the Bank Ladder Match at the event. He also stated that Y2J had yet to win an important match this year, which triggered Jericho into delivering a picture-perfect Codebreaker to Ziggler.
While some speculated that the angle was only a one-night thing, it instead continued to escalate the next week at Raw 1,000. Although the two bleached-blonde superstars were on the same side during a six-man tag team match, that didn't stop Ziggler from "accidentally" striking Jericho during the course of the contest in retribution from the week prior.
On the subsequent episode of SmackDown, Ziggler attempted to cash in his opportunity on the vulnerable World Heavyweight Champion Sheamus. Once he realized that cashing in on the Celtic Warrior wouldn't have been a smart move, he backed out and made his way up the ramp before Jericho sent him spiraling back into the squared circle, thus allowing Sheamus to connect with the Brogue Kick on The Show Off.
Moments after the ambush, Jericho picked up the scraps and delivered a Codebreaker of his own onto Ziggler. The fact that Jericho was wearing Ziggler's signature pink threads the entire time made the moment all the more hilarious, implying that the classic Jericho we once knew was finally back.
The ruthless rivalry continued this past week on Raw when the two clashed in tag team action as Chris Jericho teamed with familiar friend Christian against the Downstait duo of Dolph Ziggler and The Miz. Although Y2J's team scored the victory, Ziggler wasn't hesitant in striking the nine-time Intercontinental Champion over the head with his brutal briefcase out of frustration.
Chris Jericho disputes Dolph Ziggler's talent claims
Throughout both of their WWE tenures, a one-on-one match has yet to be contested between Ziggler and Jericho. Both skilled performers are known for their amazing abilities in the ring, so it's no secret that these two egomaniacs could create magic with one another inside the squared circle on any given night.
Their initial promo a few weeks back was a fantastic foreshadowing of what's to come going forward, as I believe they are easily two of the best mic workers in the company today. Given their vast similarities, Jericho vs. Ziggler has been a dream feud just waiting to happen, and it couldn't have happened at a better time now that Ziggler is on the cusp of breaking into the main event scene.
Undoubtedly, Jericho is the best in the world at almost everything he does, and that includes putting over younger talent. Since returning to WWE earlier this year, he's done just that with the likes of CM Punk and Sheamus, both of whom are the current reigning WWE and World Heavyweight Champions respectively.
However, in doing so, Jericho hasn't been able to gain any momentum himself, with Ziggler's recent remarks toward Y2J ringing true. Now with that overlooked aspect finally being given attention, it'll make each and every one of Jericho's matches going forward extremely important.
While I was originally down on the idea of Jericho reverting back to his fan favorite persona, it's certainly worked out for the best. The live crowds absolutely love him, and his entertaining antics are making for great television.
If Ziggler were able to defeat Jericho during their eventual in-ring confrontation, it would do wonders for the career of the former Spirit Squad member. Regardless of how many wins Jericho has failed to pick up this year, a win over the inaugural Undisputed Champion means you are destined for greatness.
Chris Jericho ambushes Dolph Ziggler
If Jericho were to be the victor of their highly anticipated contest, then he can finally prove that he hasn't "lost his touch" and is still one of the greatest this business has to offer. The ending outcome of this dream match could go either way, which makes it all the more unpredictable.
As if that wasn't epic enough, it was reported yesterday from Chris Jericho himself during an interview that he'll be leaving WWE for the foreseeable future come August 14th (via LordsofPain.net). If this piece of information is indeed correct, that means he won't be around for the SummerSlam pay-per-view, which occurs only five days following his targeted departure date.
I surely hope WWE doesn't give away this money matchup on free television, which would mean that the contest wouldn't be happening at all. I'd rather have that occur and save their inevitable bout together than to have it be wasted on Raw.
It's always possible Jericho could re-sign an extension, but in that case, it'd be interfering with his Fozzy tour he has booked for the remainder of August. Nonetheless, if the bout were to take place at SummerSlam, there's another interesting scenario that could make this dream match even more meaningful.
Since Ziggler made mention of how he was able to win his Money in the Bank match and Jericho didn't, it would only make sense if the briefcase itself was up for grabs. To even the odds, Jericho can offer to put his career on the line, thus explaining his absence if he were to take time off for the rest of 2012.
Whatever the case, I am eagerly looking forward to what Chris Jericho and Dolph Ziggler produce in coming weeks, as what they've provided us with as of late already has me intrigued. This rivalry is a win-win for everyone involved, and could quite possibly steal the show come SummerSlam in a few weeks.
Dolph Ziggler hits Chris Jericho from behind.
Thanks for reading, Bleachers, and make sure to drop a comment below with your thoughts on the recent rivalry between Jericho and Ziggler and what you expect to occur going forward. As always, your criticism and overall feedback of my latest piece is welcomed and greatly appreciated.
GSM out.
Visit my website at Next Era Wrestling, as well as listen to my SAVE US GSM radio show every Thursday at 10/9c for more of my thoughts and writings, along with WWE/TNA news, reviews, recaps and more.
Listen to internet radio with Spoilerspodcast on Blog Talk Radio
This article is
What is the duplicate article?
Why is this article offensive?
Where is this article plagiarized from?
Why is this article poorly edited?