23 Under-the-Radar NBA Free Agents Set to Make Biggest Impact in 2012-13
Doug Pensinger/Getty Images
The 2012 period of free agency has been highlighted by superstars changing teams, big-money contracts going to young players with promise and the ever-present Dwight Howard rumor mill. What has been lost in the commotion, however, is the quality pickups each team has made that may not hold weight in terms of name or star power.
The wide variety of players that make up the "under the radar" group.
While not every player from the bunch will make a major impact, there are a select few who will. From the signings who garnered no attention to the international players looking to make their first splash on American soil, the opportunities are limitless for these ballers.
As for who they are and what they offer, the following slides will answer just that.
D.J. Augustin, Indiana Pacers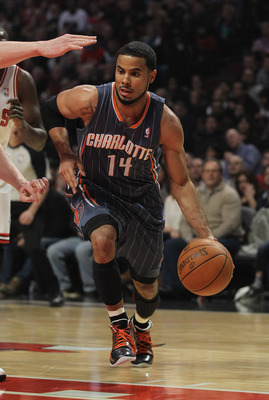 Jonathan Daniel/Getty Images
Position: Point Guard
Age: 24
Experience: 4 Seasons
The Indiana Pacers put forward a two-headed monster at the point guard position during the 2011-12 season that overwhelmed opponents with its speed, quickness and occasional jump shooting. That very duo also struggled with game management, facilitating teammates and decision-making.
The Pacers' horrid offensive attack against the Miami Heat was a direct result of such flaws.
In adding D.J. Augustin, the Indiana Pacers have significantly improved the quality of their point guard play. While Augustin may be a player with a score-first mentality, he's a much better facilitator than both George Hill and Darren Collison.
He offers a much more effective balance with Hill than the Pacers had with Collison. This is a signing that many will look back on as one of the steals of the offseason.
2012 Season Averages
14.17 PER, 11.1 PPG, 6.4 APG, 0.8 SPG
Jerryd Bayless, Memphis Grizzlies
Mike Ehrmann/Getty Images
Position: Point Guard
Age: 23
Experience: 4 Seasons
Entering the 2012 NBA season, the Memphis Grizzlies were favored to make a postseason run due to their unique combination of veteran depth and young talent. Unfortunately, their solid roster had one significant hole that was consistently exploited.
The Memphis Grizzlies lacked a point guard to lead their second unit.
With the signing of Jerryd Bayless, the Grizzlies just about hit the jackpot with their signing. Bayless is an outstanding ball-handler who has a history of putting up 20 to 30 points when on his game. He also has a history of torching opposing defenses and pacing his team with his competitive edge.
Bayless will change the dynamic of the Memphis Grizzlies offense and expedite the rapid development of Mike Conley, Jr. Very few teams made as good of a signing as Memphis did here.
2012 Season Averages
17.80 PER, 22.7 MPG, 11.4 PPG, 3.8 APG, 2.1 RPG, 0.8 SPG
Marco Belinelli, Chicago Bulls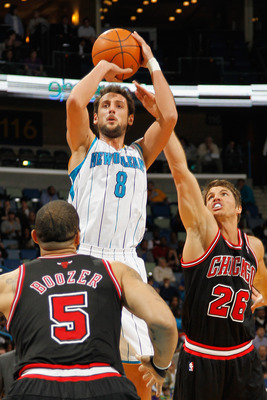 Chris Graythen/Getty Images
Position: Shooting Guard
Age: 26
Experience: 5 Seasons
The Chicago Bulls have been in search of a consistent option at the 2 since star point guard Derrick Rose first arrived. While some would argue on Richard Hamilton's behalf, his slew of injuries have virtually derailed the validity to any praise.
Fortunately, general manager Gar Forman acted fast this offseason and landed sharpshooter Marco Belinelli.
The Bulls never needed a star at the position. Instead, they were in search of a consistent jump shooter who could spread the floor and take the scoring load off of Derrick Rose. Marco Belinelli offers just that as he's lights out from distance and much better off of the dribble than he's given credit for.
Pair him with Richard Hamilton, and the shooting guard position has finally been solidified.
2012 Season Averages
12.00 PER, 11.8 PPG, 2.6 RPG, 1.5 APG, 37.7% 3PT
Aaron Brooks, Sacramento Kings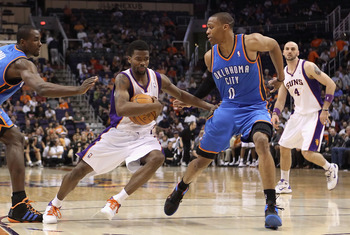 Christian Petersen/Getty Images
Position: Point Guard
Age: 27
Experience: 4 Seasons
Since the Chris Webber era came to a close, the Sacramento Kings have always seemed to have talented players that don't meet their potential. One of the primary reasons for this issue has been the imbalance of young talent and veterans, something Aaron Brooks will likely change.
Brooks offers a veteran presence at the point guard position that both Isaiah Thomas and Jimmer Fredette needed in 2012. Aside from the leadership qualities are a handful of qualities that could define the Kings' backcourt.
For instance, Brooks is a lightning quick player who can take just about any opponent off of the dribble. Although inconsistent, he's also a player with deep range on his jump shot. Throw in the fact that Aaron Brooks rarely turns the ball over, and you have a legitimate weapon at the point guard position.
Hence the Most Improved Player of the Year award sitting on Brooks' mantle piece.
2011 Season Averages
13.20 PER, 21.8 MPG, 10.7 PPG, 3.9 APG, 1.3 RPG,
Kwame Brown, Philadelphia 76ers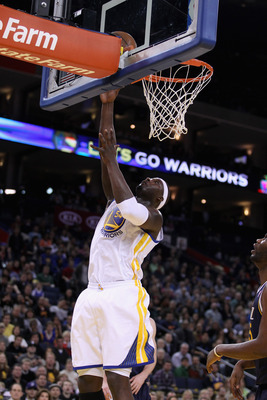 Ezra Shaw/Getty Images
Position: Center
Age: 30
Experience: 11 Seasons
Could it be? Could this actually be a slide praising a team who signed Kwame Brown? Believe it or not, the answer is yes.
The Philadelphia 76ers lost a veteran presence in Elton Brand this offseason. They also lost 28.9 minutes per game and needed to fill that void with another big who can hold their respective position down. Fortunately for the Sixers, Kwame Brown was available.
Putting aside the fact that he was once the first overall draft choice, Brown is a great presence to have inside. He's a big body who can alter shots and attack the glass. While he won't offer much on the offensive end of things, he doesn't take many shots to begin with.
Consider this a low-risk signing that will offer serious depth at a position of need. Regardless of your personal opinions, one cannot deny the value here.
2011 Season Averages
12.89 PER, 26.0 MPG, 7.9 PPG, 6.8 RPG, 0.6 BPG
Shannon Brown, Phoenix Suns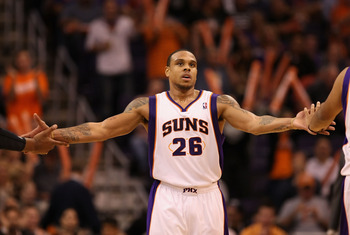 Christian Petersen/Getty Images
Position: Shooting Guard
Age: 26
Experience: 6 Seasons
The Phoenix Suns responded to the loss of Steve Nash in a major way, signing the upside-ridden Goran Dragic and Michael Beasley. What the Suns failed to do, however, was land either Eric Gordon or O.J. Mayo; the two most highly-touted shooting guards in this class of free agency.
A perfect plan for the future was beginning to fall through.
Fortunately for Phoenix, an opportunity to re-sign a key contributor from 2012 arose. With Shannon Brown looking for offers, the Suns opted to bring back the athletic swingman, a move that could save the team from a major letdown in 2013.
The former Michigan State Spartan had a career year in 2012 as he averaged 11.0 points per game in just 23.7 minutes of playing time. Those numbers are likely to increase this year, and his ability to shoot the three-ball could change the dynamic of this offense.
The young guns just got a little more dangerous.
2012 Season Averages
23.7 MPG, 11.0 PPG, 2.7 RPG, 1.0 APG, 0.7 SPG
Randy Foye, Utah Jazz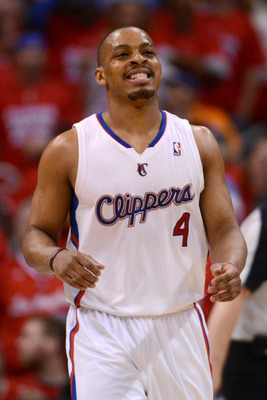 Harry How/Getty Images
Position: Shooting Guard
Age: 28
Experience: 6 Seasons
The Utah Jazz have spent the past two seasons pounding the ball down low and struggling to find even the smallest form of consistent success on the perimeter. Their lack of jump shooters has led to the constant double-teaming of their interior scorers and consistent dry spells on offense.
With the addition of Randy Foye to an improving backcourt, the Utah Jazz have suddenly cured those woes.
Foye shot 38.6 percent from distance in 2012 and displayed a great chemistry with Mo Williams, another former L.A. Clipper who made his way to Utah.
It's fair to assume Foye and Williams will re-discover that chemistry with the Jazz, thus leading Utah's attack to a point in which opposing defenses actually respect its attempts from the perimeter.
Something that will push the Jazz into major contention.
2012 Season Averages
13.56 PER, 25.9 MPG, 11.0 PPG, 2.2 APG, 2.1 RPG, 38.6% 3PT
Gerald Green, Indiana Pacers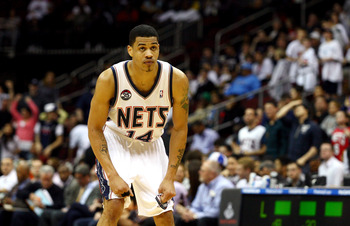 Chris Chambers/Getty Images
Position: Small Forward
Age: 26
Experience: 5 Seasons
Gerald Green was once a freak athlete with little to no basketball skills. After an extensive stint in the NBA D-League, however, Green has become a well-rounded small forward who can fill up a stat sheet and alter the pace of any game with his monster slams.
Witness Exhibit A.
As the offseason rolled around, Green seemed poised to sign with a team in need of a starter. Instead, he fell off of the radar for most franchises and ended up signing on to be a reserve on a contender—a contender that just grew significantly stronger with the 2007 Slam Dunk Champion.
The Indiana Pacers acquired something they've desperately needed over the past two seasons, a second-unit player who can light up the scoreboard. They also acquired a player with excellent footwork on the defensive end and explosiveness in transition.
He makes the Pacers all the more dangerous.
2012 Season Averages
15.88 PER, 25.2 MPG, 12.9 PPG, 3.5 RPG, 1.1 APG, 0.9 SPG
Spencer Hawes, Philadelphia 76ers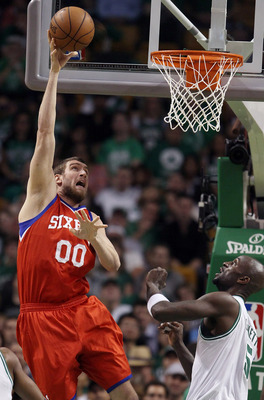 Elsa/Getty Images
Position: Center
Age: 24
Experience: 5 Seasons
One of the quiet stars of the 2012 postseason was Philadelphia 76ers' Spencer Hawes. While his numbers weren't stellar, he came up with key stops on defense and made clutch shots on offense during the 76ers' first-round upset of the Chicago Bulls.
In 2013, expect the minutes to increase and the production to come with it for the 7'1" center.
Hawes may or may not reprise his role as starter for the Philadelphia 76ers. Regardless of when he comes in the game, there's no question about his efficiency and ability to score, rebound and block shots while on the floor. This will be key for the Sixers, who got a lot younger when they dropped Elton Brand from the frontcourt.
As a result, the pressure is on Hawes.
2013 could be the year Hawes finally erupts.
2012 Season Averages
18.19 PER, 24.9 MPG, 9.6 PPG, 7.3 RPG, 1.3 BPG
Brendan Haywood, Charlotte Bobcats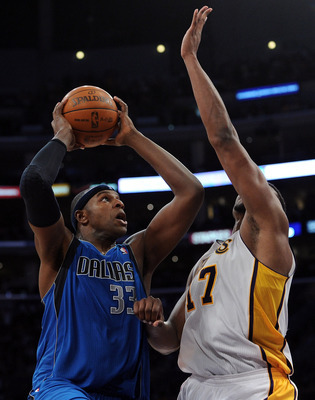 Harry How/Getty Images
Position: Center
Age: 32
Experience: 11 Seasons
When a veteran player is added to a non-contender, we often jump the gun and assume that there is no value in the signing. Considering the fundamentally sound Brendan Haywood has entered a Charlotte Bobcats frontcourt in which the players are all athletically gifted but fundamentally inept, the value is undeniable.
Players such as Bismack Biyombo, B.J. Mullens and Tyrus Thomas could all benefit from the former NBA champion's presence. Haywood has made a living by fulfilling his role and making the best decisions on each play, which is the type of knowledge he can relay to the young Bobcats.
Now if that's not value, someone needs to explain what is.
2012 Season Averages
12.95 PER, 21.2 MPG, 5.2 PPG, 6.0 RPG, 1.0 BPG
J.J. Hickson, Portland Trail Blazers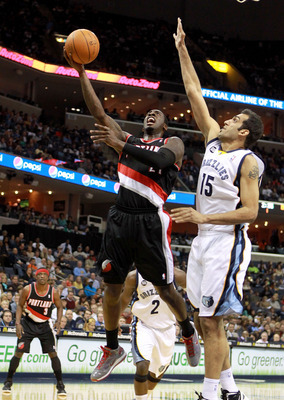 Andy Lyons/Getty Images
Position: Power Forward
Age: 23
Experience: 4 Seasons
As a member of the Sacramento Kings, J.J. Hickson was horrific. The former NC State star fell into irrelevancy as he posted averages of just 4.7 points, 5.1 rebounds and 0.5 blocks in 18.4 minutes minutes per game.
Upon joining the Portland Trail Blazers, however, everything changed.
Hickson came out firing, posting averages of 15.1 points, 8.3 rebounds and 0.9 blocks per contest. This came as a result of more consistent playing time, trust from his head coach and an overall improvement in his confidence.
All of which J.J. Hickson is looking to replicate in 2013.
While many have speculated that Meyers Leonard will take minutes away from Hickson, that doesn't sound too likely. Leonard is an exciting athlete with great mobility and a knack for finishing around the basket. He's also a rookie, however, and we need not forget how limited a rookie's playing time can be.
Hickson will offer stability and continue to build chemistry with star power forward LaMarcus Aldridge.
2012 Season Averages
23.0 MPG, 8.4 PPG, 6.2 RPG, 0.6 BPG
Jordan Hill, Los Angeles Lakers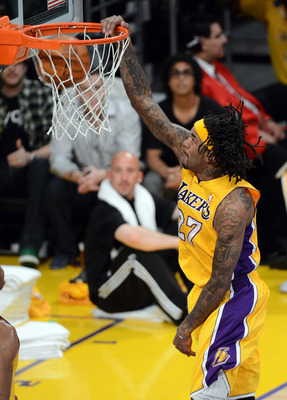 Kevork Djansezian/Getty Images
Position: Center
Age: 25
Experience: 3 Seasons
The Los Angeles Lakers' offseason has been one to remember. What may be remembered as one of their more significant moves, however, was the re-signing of rebounding machine Jordan Hill.
The second unit is solid with Antawn Jamison scoring at the 4. But a young, athletic big is something the Los Angeles Lakers most certainly will utilize, and Hill fits the bill, as he showed when he averaged 7.3 rebounds in 20.3 minutes per game against the Denver Nuggets during the 2012 postseason.
During the regular season will come an opportunity to repeat that success.
Hill will be the best rebounder on the second unit. He'll also be the most reliable big on defense and a cornerstone for the Lakers' future beyond Pau Gasol. No matter how far you look down the line, Jordan Hill is a key to the Lakers' success.
2012 Season Averages
15.80 PER, 14.1 MPG, 5.0 PPG, 4.8 RPG, 0.7 BPG
Jon Leuer, Cleveland Cavaliers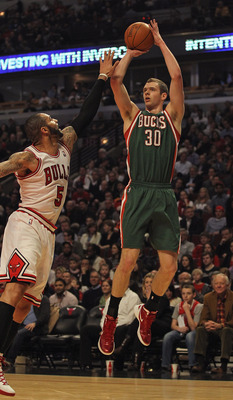 Jonathan Daniel/Getty Images
Position: Power Forward
Age: 23
Experience: 1 Season
With Antawn Jamison out of the picture, Tristan Thompson becomes the starter at the 4. Behind him, however, is a situation in which no player has truly emerged as a favorite. Samardo Samuels is inexperienced and inconsistent while Tyler Zeller is a better fit as a center.
Recently signed big Jon Leuer will get a shot to compete for playing time, an opportunity Leuer will make the most of as he returns to the form he flashed during the opening months of the 2012 season.
When on the floor, Leuer always seemed to be doing something positive. He's a stretch 4 whose jump shooting is an asset to any offense. The fact that he's 6'10" simply adds to the list of reasons to love his game.
He has an outstanding motor that will help him carve out a consistent role in Cleveland. His ability to score and rebound will simply help him hold onto the job.
2012 Season Averages
15.31 PER, 12.1 MPG, 4.7 PPG, 2.6 RPG
Pablo Prigioni, New York Knicks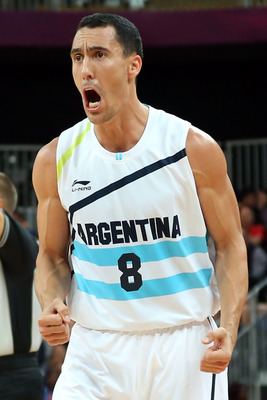 Christian Petersen/Getty Images
Position: Point Guard
Age: 35
Experience: N/A
Pablo Prigioni has spent the better half of the past decade playing international basketball for the Argentina national team. In his international career, he's picked up experience playing alongside NBA stars and opposing the NBA's elite.
Due to this fact, Prigioni is not only the oldest rookie in NBA history but the most NBA-ready.
Many question how he'll find playing time behind both Raymond Felton and Jason Kidd. What we seem to forget, however, is that Felton is consistently out of shape and Kidd showed every sign of his age in 2012. Prigioni can do all that Kidd can and better at this stage.
Even a big-name player like Kidd cannot stop what is bound to happen. Prigioni will see significant playing time this season, regardless of whom he has to topple.
In that time, expect Prigioni to be an excellent facilitator and a menace in the passing lanes. He led the EuroLeague in steals this past season and was voted the best point guard in 2006, 2007 and 2009. Since then, he's maintained a solid pace and ranked in the top 10 in assists each season.
Expect big things from Argentina's lead guard.
2012 EuroLeague Averages
27.7 MPG, 6.6 PPG, 3.9 APG, 3.3 RPG, 1.8 SPG
Anthony Randolph, Denver Nuggets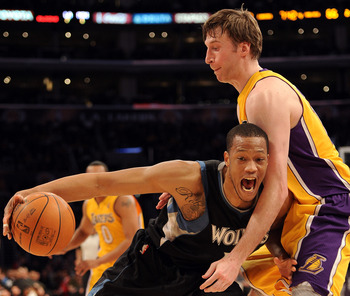 Harry How/Getty Images
Position: Power Forward
Age: 23
Experience: 4 Seasons
There has never been a question about whether Anthony Randolph could play at an NBA level. He's proven time and time again that he has superstar ability, with sporadic 30-point performances. Randolph simply hasn't sustained a consistent level of playing time in any of his four years in the league.
In Denver, that could all change.
Al Harrington and Kenneth Faried are both solid options at the power forward position. Harrington is a legitimate scoring threat while Faried has already established himself as one of the game's elite rebounders. Randolph, however, has greater size, upside and athletic ability than all players listed above him.
A two-man rotation at the 4 with Faried and Randolph certainly makes sense, even if that does mean sacrificing Al Harrington's sixth man-worthy talent.
Anthony Randolph should compete for a significant role in the offense early and benefit greatly from George Karl's tutelage. Pairing him with JaVale McGee in the frontcourt would instantly create one of the most promising duos in the league.
The question is, how long will it take for Anthony Randolph to gain that position?
2012 Season Averages
17.60 PER, 15.2 MPG, 7.4 PPG, 3.6 RPG, 1.0 BPG
Nate Robinson, Chicago Bulls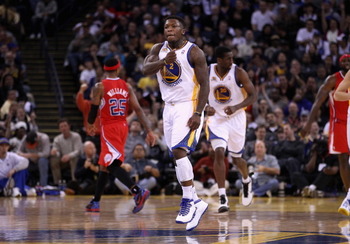 Ezra Shaw/Getty Images
Position: Point Guard
Age: 28
Experience: 7 Seasons
The Chicago Bulls currently have four point guards under contract and three of them active. That's Derrick Rose, who is sidelined by injury, and the trio of Kirk Hinrich, Marquis Teague and Nate Robinson. Due to this fact, it's hard to imagine any reserve seeing significant playing time.
Fortunately for Lil' Nate, appearances can be deceiving.
Kirk Hinrich is a shell of his former self and constantly plagued by injuries. Marquis Teague, meanwhile, is a rookie with only one year of college experience; something Tom Thibodeau may not take a liking to right away. Nate Robinson, meanwhile, is coming off of a year in which he averaged a career-best 4.5 assists per game, an average of 1.7 assists more than Hinrich, despite the fact that Hinrich saw more playing time.
Furthermore, Nate Robinson has a history of great performances in the postseason as a member of the Eastern Conference. He's more than capable of putting up 20 on any given evening and will spread the floor with his shooting, just like C.J. Watson did in 2012.
While he has a tough battle ahead of him, Robinson should firmly establish himself as the floor general for the second unit.
2012 Season Averages
18.05 PER, 23.4 MPG, 11.2 PPG, 4.5 APG, 2.0 RPG, 1.2 SPG
Alexey Shved, Minnesota Timberwolves
Christian Petersen/Getty Images
Position: Combo Guard
Age: 23
Experience: N/A
Alexey Shved is a 6'6" combo guard whose athleticism, passing ability and ball handling could make him a star at the NBA level. Throw in the fact that he's a knockdown three-point shooter, and you have yourself the perfect mix of ability and upside.
For the Minnesota Timberwolves, expect Shved to split between the point and 2 as he helps the team cope while Ricky Rubio recovers from injury. As the season progresses, Shved is likely to play a Jamal Crawford-like role, significant time with the ball in his hands as he creates shots for himself and others.
Throw in the oft-injured Brandon Roy, whose minutes could be limited, and you have a serious opportunity for the Russian star. A major season could be on the horizon for Minnesota and its young weapon—a weapon who will play alongside Olympics teammate and fellow countryman Andrei Kirilenko.
2012 Season Averages
21.6 MPG, 10.6 PPG, 3.0 APG, 2.6 RPG, 49.3% 3PT
Greg Stiemsma, Minnesota Timberwolves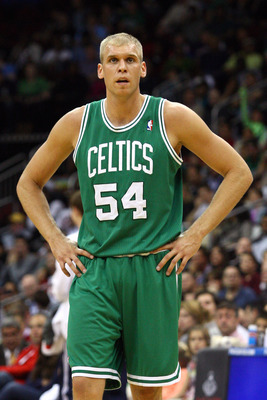 Chris Chambers/Getty Images
Position: Center
Age: 26
Experience: 1 Season
The Minnesota Timberwolves have a starting frontcourt that should impose fear in the hearts of opponents. Kevin Love is a top-10 player in the NBA, while Nikola Pekovic is a physical interior defender capable of putting up solid scoring numbers. Unfortunately, there was nothing to back them up on the second unit.
Until now.
The T-Wolves added center Greg Stiemsma, who spent his rookie season swatting every shot that came his way and developed a consistent mid-range jump shot. As a result, Doc Rivers and the Boston Celtics trusted the Wisconsin alum more than the casual rookie.
For Minnesota, those same abilities will be of unlimited value.
Kevin Love is a very poor defender while Nikola Pekovic is too often in foul trouble. Stiemsma, meanwhile, has excellent footwork and timing on his leap as he goes for block after block.
Stiemsma is an intelligent player whose presence will improve the quality of Minnesota's interior defense in a major way.
2012 Season Averages
13.62 PER, 13.9 MPG, 2.9 PPG, 3.2 RPG, 1.5 BPG
Mirza Teletovic, Brooklyn Nets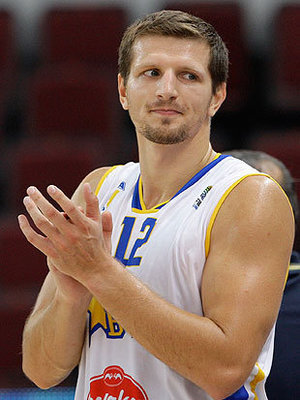 Photo Credit: Yahoo! Sports
Position: Power Forward
Age: 26
Experience: N/A
Mirza Teletovic has been dominant in Liga ACB since first joining Caja Laboral in 2006. This past season, he put up averages of 20.7 points, 6.0 rebounds and 1.0 blocks per game. In case you're wondering, those 20.7 points were the highest mark in the league.
It's safe to say the Brooklyn Nets have found themselves a player of extraordinary talent.
This is important for the Nets as they're looking to contend for a title right off of the bat. With a lack of depth at center, Teletovic's size provides an opportunity to shift reserve Reggie Evans over to the 5 for short periods of time. Considering Brook Lopez is the team's only true center, that should be welcomed news.
If nothing else, Teletovic is the yin to Kris Humphries' yang. Humphries will dominate the glass, and Teletovic will light up the scoreboard.
2012 Liga ACB Season Averages
20.7 PPG, 6.0 RPG, 1.2 APG, 1.0 BPG
Hasheem Thabeet, Oklahoma City Thunder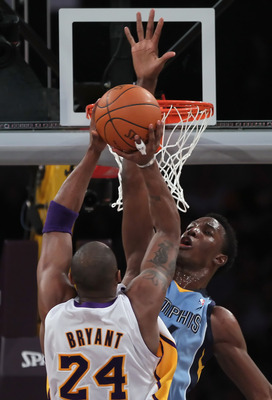 Jeff Gross/Getty Images
Position: Center
Age: 25
Experience: 3 Seasons
There's no denying the misconception given to this signing.
In the eyes of many, Hasheem Thabeet signing with the Oklahoma City Thunder means he's certain to maximize his potential. After the franchise brought elite level play out of under-23-year-olds Kevin Durant, Russell Westbrook, James Harden and Serge Ibaka, that's certainly understandable.
Just don't assume every situation will end in the same way.
With that being said, the signing of Thabeet was a brilliant move by the Oklahoma City Thunder. He's gigantic at 7'3" and can alter shots with the best of them. A pairing with Serge Ibaka and mentorship from Kendrick Perkins certainly sounds promising.
Whether he'll be able to discover the fundamentals is in question. The fact that Thabeet is 7'3" is not, however, and his size alone will benefit the Thunder on defense.
2012 Season Averages
12.42 PER, 7.0 MPG, 1.8 PPG, 2.1 RPG, 0.5 BPG
Jason Thompson, Sacramento Kings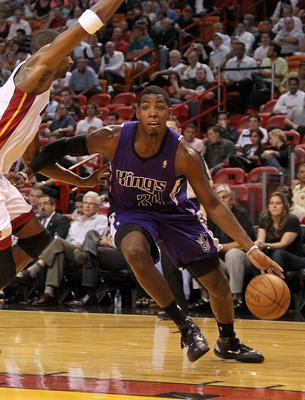 Mike Ehrmann/Getty Images
Position: Power Forward
Age: 26
Experience: 4 Seasons
When the Sacramento Kings selected Thomas Robinson with the fifth overall selection in the 2012 NBA Draft, fans began to salivate over the possibilities.
With Robinson's toughness, maturity and leadership skills, the Kings could finally turn things around. With his defensive prowess, rebounding dominance and scoring versatility, a pairing with DeMarcus Cousins could be nothing short of elite.
If we're basing this off of potential, it's safe to say the duo could one day make up the best frontcourt in the NBA. The key phrase, however, is "one day."
It's been noted in a previous slide that the Sacramento Kings' shortcomings have come as a result of their imbalance of youth and veteran leadership. Fortunately, the Kings have gone a long way toward addressing those needs as they signed Aaron Brooks and re-signed Jason Thompson—a player who can guide and mentor Robinson.
While we could note how solid Thompson is in every area, it's more important to acknowledge his NBA experience. He will force Robinson to fight for and earn his spot in the starting lineup.
Although Robinson may have a higher upside, it's not a bad idea to take advice from Jason Thompson considering he has started 200 games in four years.
2012 Season Averages
16.41 PER, 25.9 MPG, 9.1 PPG, 6.9 RPG, 0.7 BPG
Ronny Turiaf, Los Angeles Clippers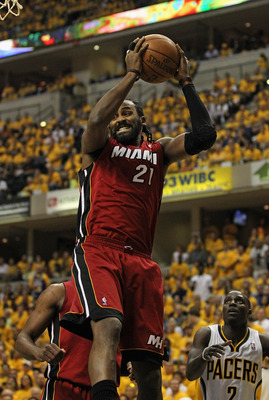 Jonathan Daniel/Getty Images
Position: Center
Age: 29
Experience: 7 Seasons
The Los Angeles Clippers lost a valuable player this offseason, trading power forward Reggie Evans to the Brooklyn Nets. In response to this move, the Clippers signed a player of the same abilities and greater pedigree.
Ronny Turiaf spent the 2012 NBA season playing the role of enforcer for the NBA-champion Miami Heat. He blocked shots, grabbed rebounds and gave an all-out effort on every possession. In Los Angeles, he'll be expected to do the same thing and tack on the role of leader to his check list.
Turiaf joins Chauncey Billups and Lamar Odom as the resident NBA champions. Turiaf's experience will add an even greater championship pedigree to the young Clippers core.
Most importantly, Turiaf will be the type of player who can get DeAndre Jordan's head, effort and game where it needs to be.
2012 Season Averages
12.27 PER, 16.4 MPG, 3.0 PPG, 4.1 RPG, 1.0 BPG
Delonte West, Dallas Mavericks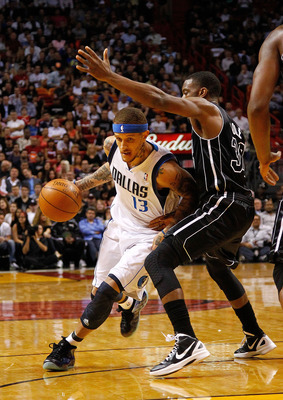 Mike Ehrmann/Getty Images
Position: Guard
Age: 28
Experience: 8 Seasons
The Dallas Mavericks have one of the most unpredictable backcourts in the NBA. On one hand, the combination of Darren Collison and O.J. Mayo could create chaos as their speed, quickness and shooting ability opens up Pandora's Box on opponents.
Just as likely is the duo failing to come together or perform individually, thus leaving the Dallas Mavericks' season in question. Thank the lord for the undervalued veteran presence.
Delonte West is one of the most versatile players in the NBA. His size and length enable him to play the 2, while his ball-handling and passing abilities open the door to run point. Regardless of where West plays in 2013, he'll add the necessary depth and poise that could lift this backcourt to a postseason-ready level.
2012 Season Averages
15.35 PER, 24.1 MPG, 9.6 PPG, 3.2 APG, 2.3 RPG, 1.3 SPG
Keep Reading