As the Dwight Howard saga continues to drag on, the NBA's best center continues to not only harm his own reputation and future, but also those of the people around him.
The NBA is not a league filled with second chances and extended opportunities. For the most part, it's win or go home.
We've seen countless players last just one season with a team before the organization moves in a different direction and chooses to either trade or release the ineffective player. We've seen countless coaches sit down on the bench with a clipboard in hand at the beginning of a season, only to be polishing up their resume halfway through the campaign.
If you don't win, you might not get another opportunity to win.
While this applies more to the players and coaches on the court than the members of the front office, it does still hold true for the latter group of basketball minds.
Rob Hennigan won't be an exception, even though he was only recently hired at age 30.
I'm not suggesting that Hennigan will be out of a job by the end of the year, but rather that Howard is crippling his chances of holding the general manager position with the Orlando Magic for the long run.
Howard is leaving him in between the proverbial rock and hard place. Either Hennigan caves and deals him for a lesser package of players and draft picks before the season; waits and trades him during the season for a lesser package of players and draft picks while ensuring that the Magic don't "earn" a top draft pick; or holds onto him and loses him for nothing.
So I guess Hennigan is actually stuck in between two rocks and a hard place.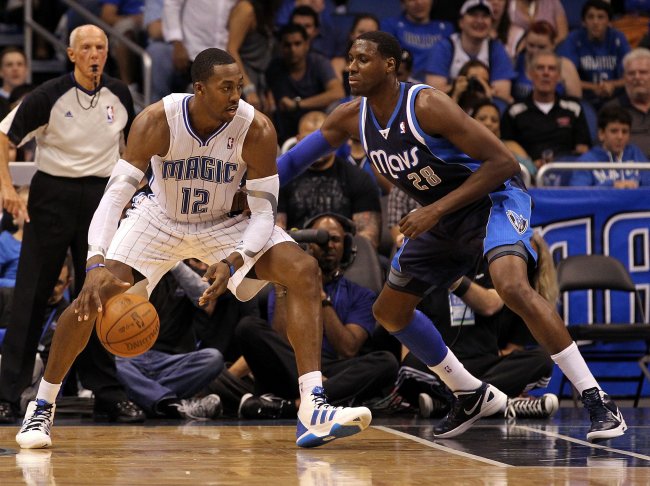 Sam Greenwood/Getty Images
Had Howard originally decided that he'd sign an extension with the Los Angeles Lakers, a trade might already have been made and the Magic could have used this offseason to sign free agents that meshed with the new players.
Now, any trade that is made will no longer be entirely on the Magic's terms, and Hennigan will have to wait to start building the roster he desires.
Once Dwight leaves—and it is a "once" and not an "if"—this is a threadbare roster without much talent to work around. The clock will be working against Hennigan no matter how newly arrived he may be.
Hennigan himself isn't making his job any easier either. According to Fox Sports Ohio's Sam Amico, Hennigan's indecision has been frustrating to other teams:
Mostly, what seems to be the sticking point in this deal is not an agent or player, but the indecisiveness of the Magic — and their new GM, Rob Hennigan.

According to sources, the Magic have frustrated potential trading partners by continuously changing terms at the last minute. This supposedly dates back to their dealings with the Nets a few weeks back, when Nets GM Billy King felt an agreement that would send Howard to Brooklyn had been finalized, sources said.
The general manager has a great pedigree and plenty of experience working with the San Antonio Spurs, one of the NBA's model organizations, but he's not off to the greatest start with his new team.
Howard isn't exactly making his job any easier though.