Breaking Down the Differences Between LeBron James and Kevin Durant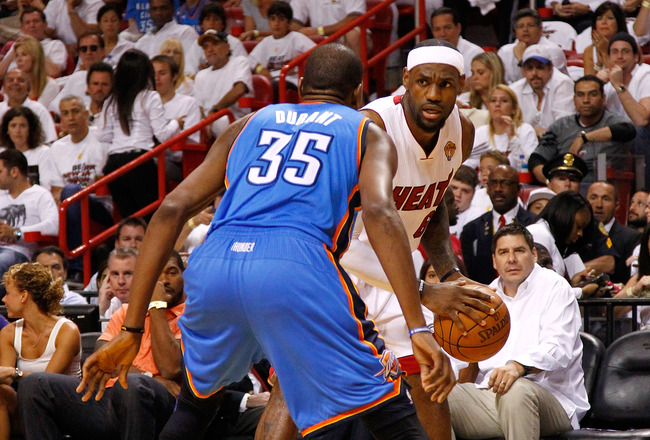 Mike Ehrmann/Getty Images
LeBron James and Kevin Durant are being coined as "the future of the NBA's next generation."
That is certainly true, but they aren't exactly on the same level. LeBron and Durant are two different players, who bring varying skills to different facets of the game.
Instead of just comparing them in a "who's the best" fashion, let's take a minute and break down which player excels in each and every facet of the game of basketball.
Ahead is a breakdown of the differences that exist between LeBron and Durant.
Scoring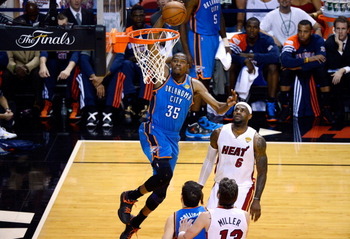 Ronald Martinez/Getty Images
LeBron 2011-12 Per-Game Stats: 27.1 points, 53.1 FG%, 36.3 3P%, 77.1 FT%
Durant 2011-12 Per-Game Stats: 28.0 points, 49.6 FG%, 38.7 3P%, 86.0 FT%
Scoring is what Kevin Durant does. It's not only his specialty, it's also what makes him such a dangerous and elite player.
With that being said, LeBron isn't exactly a slouch on the offensive side of the ball either. The main difference between LeBron and Durant is that they approach the game, offensively speaking, a bit differently.
LeBron is more aggressive when it comes to getting into the paint and finishing with authority. Durant is a more lethal scorer on the perimeter, and he's the kind of player that once the scoring starts, it's hard to stop.
While both players are elite talents with the ball in their hands, there's no getting past the fact that Durant is the most prolific offensive talent in the NBA. The nod here goes to the three-time NBA scoring champ, Kevin Durant.
Passing/Offense Facilitation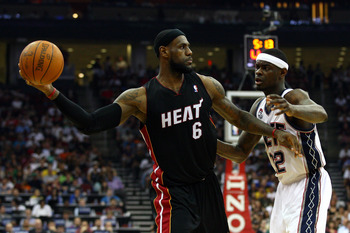 Chris Chambers/Getty Images
LeBron 2011-12 Per-Game Stats: 6.2 assists, 3.4 turnovers
Durant 2011-12 Per-Game Stats: 3.5 assists, 3.8 turnovers
When it comes to being able to facilitate offense, LeBron James gets the nod, hands down.
What makes LeBron so special in this area is that he's able to play nearly any position on the court, and that includes running the point.
While Durant certainly isn't incapable of doing that, he's not nearly as efficient or productive, as evidenced by averaging more turnovers than assists per game last season.
Every once in a while Durant shows flashes of brilliance controlling the Thunder offense, but those "flashes" are what LeBron brings to the court night in and night out.
Any time you have a 6'8'', 250-pound power forward who's a legitimate triple-double threat every night, you have a once-in-a-lifetime talent, and that's exactly who LeBron is. LeBron clearly gets the nod here, as he certainly excels in what is one of Durant's biggest areas of weakness.
Court Awareness/Transition Offense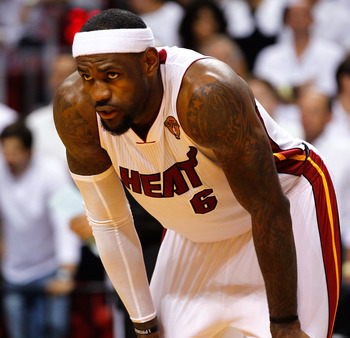 Mike Ehrmann/Getty Images
LeBron and Durant are without a doubt two of the best transition players in the NBA.
When a rebound comes down, LeBron and Durant are always two of the first players down the court, trying to find open space to create easy baskets.
While both players certainly excel in this area, LeBron certainly has the advantage because of his athleticism and his ability to view the floor from a point-guard perspective—which is something that Durant has yet to develop.
Durant is certainly dangerous running out on the wing and going up for an alley-oop, but he's not nearly as dangerous as LeBron with the ball in his hands in transition.
Whether LeBron is looking to score or find a teammate in transition, he's going to make it happen, and that kind of certainty doesn't exist in Durant's game—mainly because he's not as physical as LeBron is in transition.
LeBron has the advantage here, and unless Durant puts on 25 pounds of muscle and becomes more aggressive, LeBron will always own this category.
Ability in the Clutch
While LeBron certainly stepped up his game during the 2011-12 regular season and the 2012 postseason, there's no doubt that Durant is the more clutch player.
Most of the time Durant has ice running through his veins, hitting game winner after game winner.
LeBron is certainly getting there, and he's understanding what he needs to do to help his team win games, but when it comes down to pure clutch ability to score, Durant is the clear choice.
When you throw concepts like "clutch-time defense and clutch-time facilitation" into the mix, LeBron inches closer to Durant in this area, but there's just no way to get past Durant's pure ability to sink jumpers when the game is on the line.
Durant is the most clutch player in the NBA—sorry Kobe—and it looks like it will stay that way for a long time.
Defense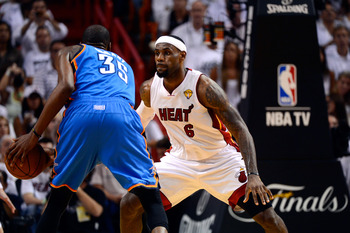 Ronald Martinez/Getty Images
LeBron 2011-12 Per-Game Stats: 1.9 steals, 1.5 personal fouls, 0.8 blocks
Durant 2011-12 Per-Game Stats: 1.3 steals, 2.0 personal fouls, 1.2 blocks
Shockingly enough, Durant averaged more blocks per game last season than LeBron. While that's impressive, blocks and steals aren't all that matter on the defensive side of the ball.
The biggest factor here is which player can truly shut down elite-level NBA talent, and that player is certainly LeBron.
In clutch situations, it's not uncommon to see LeBron play defense against nearly every player on the court. LeBron can guard All-Star point guards like Derrick Rose, elite shooting guards like Kobe Bryant, and even dominant seven-foot power forwards like Pau Gasol.
LeBron's versatility on defense is at the foundation of what makes him such a special player, and it also helps him stand out in comparison to Durant. As they say in tennis matches—"advantage, LeBron."
Leadership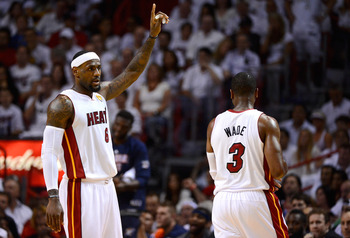 Ronald Martinez/Getty Images
Intangibles are a major component of basketball, and while both LeBron and Durant certainly have a number of them, like discipline, hard work and maturity, LeBron embodies the most important one—leadership.
LeBron is the leader that Durant will never be, and it's not because of what he says or what he does in the locker room, it's because of how he approaches the game on the court.
While there have been times in his career when he failed to leave his team, LeBron has finally become the leader we all knew he could be, and that's best evidenced by his performance in the 2012 NBA Finals.
Durant didn't let his team down, but he failed to lead them, and that's what truly separates him from a player like LeBron.
We won't be calling LeBron's intensity and work ethic into question anymore, and that's because he's finally figured out how to lead with his actions instead of his words.
Durant needs to learn how to do both, and once he does, the NBA better watch out because that will signify his transition from being a scoring champion to being an NBA champion.
Marketability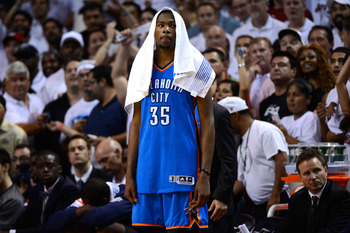 Ronald Martinez/Getty Images
LeBron's Endorsement Deals: State Farm, Nike, Coca-Cola, Upper Deck, McDonalds, Powerade
Durant's Endorsement Deals: Nike, EA Sports, Gatorade, Panini America, Sprint, Degree Men
Marketability is an area where both LeBron and Durant excel.
They are both currently coined as being the next great rivalry in the NBA and as the face of the NBA's next generation. While that's certainly true, one player is certainly more marketable than the other, and that player is Kevin Durant.
The main reason why Durant is more marketable than LeBron is simply because LeBron did a lot of damage to his like-ability two years ago when he decided where he was going to take his talents.
While companies like McDonalds, Nike and Coca-Cola could care less where LeBron is playing, he certainly hurt his image in the public eye and that is going to take a very long time to redeem.
Durant, on the other hand, is an extremely likable person with a perfectly marketable personality. His calm, cool and, most importantly, humble demeanor, helps him be one of the most marketable players in the NBA.
Humility gets the nod over self-gratitude any day of the week, so Durant certainly has the advantage here.
Overall Winner: LeBron James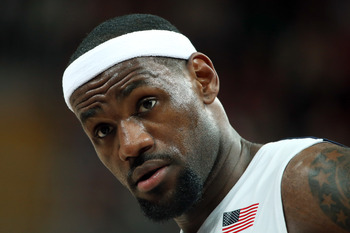 Christian Petersen/Getty Images
No, LeBron James isn't exponentially better than Kevin Durant, but he is slightly better than him in enough categories to make him a better overall player.
LeBron and Durant are without a doubt the future of the NBA, and the NBA should be extremely happy about that.
There will be a constant battle and a never-ending debate regarding which player is better, but this time, the nod goes to the player with the ring—LeBron James. Doesn't that sound odd to give LeBron an advantage because he finally has a ring?
Keep Reading