The 15 Most Embarrassing Hockey Fan Moments on YouTube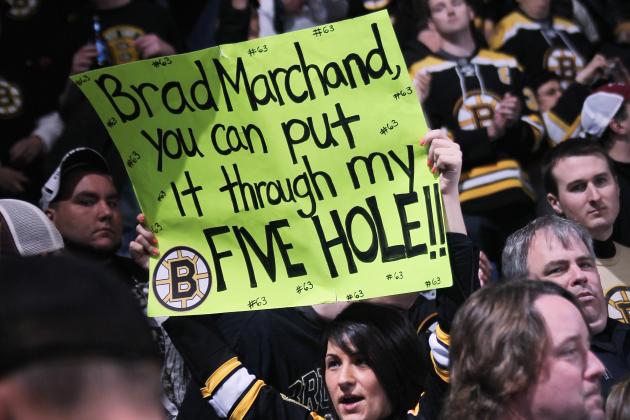 Bruce Bennett/Getty Images

Everybody knows about hockey bloopers, and most of them take place on the ice. But remember, fan is short for fanatic, and fanatics can do some silly and over-the-top things sometimes.
With that in mind, here is a look at 15 rather embarrassing moments for hockey fans as found on YouTube.
I hope you enjoy the list, and feel free to add links to your own favorites—that's always part of the fun.
Begin Slideshow

»
So many NHL arenas now have kiss cams, where during breaks in the action, various couples are shown on the scoreboard and encouraged to kiss.
Well, things don't always go as smoothly as fans would like. Here's a look at some kiss cam moments.
Sometimes, karma comes around quickly and provides revenge for one party and embarrassment for the other.
In this case, a fan got on the case of Steve Sullivan, only to have Sullivan get the last laugh...
During breaks in the action, cameras also often focus on fans who dance to pumped-in music and get on the scoreboard for a few seconds. Most of them are not all that memorable. Then there's this guy, whose name is, apparently, Kevin.
Most Blue Jackets fans may want to forget Kevin...but they can't....
This became a dance contest between two Bruins fans. Who do you think won this one? Your comments are always welcome.
During the three-stars announcement, players routinely give away their sticks to lucky fans.
When Scott Niedermayer of the Anaheim Ducks tried to give his stick away, all heck broke loose and two fans and their friends or families came to blows over who got this keepsake first.
Streaking has a tradition at hockey games dating back to the 1970s, when a female fan skated across the ice at a California Golden Seals game wearing just a couple of carefully placed stickers.
Here is a streaker at a minor league game. Remember folks, ice is cold....
This streaker took things to another level, actually getting involved in the mascot race that was being held on the ice.
He proved elusive, but...
And FYI, I tried to find a female streaker, guys, but there wasn't one at a hockey game that I could show in this slideshow...
This fan made the mistake of wearing a Lightning jersey to a game in Calgary. Then he met the wrath of the Flames mascot, although it was all in good fun.
A female fan was badgering some Red Wings players whenever they were sent to the penalty box. When it was Brendan Shanahan's turn, he got a little revenge on the young lady.
I wonder if Shanny would suspend himself if the incident took place today?
OK, this one isn't really embarrassing, but I had to include it because this kid was so cute and it was a classic fan moment.
Watch this little kid imitate Flames goalie Miikka Kiprusoff's warm-ups move for move while wearing a full uniform and goalie gear.
OK, this one was also more cute than embarrassing, but I had to put it in. Jack Johnson of the Kings gets into a staring contest with this young fan. Guess who wins...
OK, if you're drunk and foolish enough to think you can fight a hockey player, here are a few rules:
1) Don't challenge the other team's best enforcer; he fights all the time and is darn good at it.
2) If you are going to jump over the glass to fight, land on your feet and at least give yourself some small chance not to look like a complete moron.
This guy didn't follow either of these rules and was kicked out of the game, and arrested to boot...
This fan took his foolishness a step further. He went on the ice and took on the Sabres' bench. Tough guy Rob Ray made sure he was thoroughly embarrassed, not to mention sore.
As you have seen in the past few slides, fighting a hockey player is generally not advisable.
This unfortunate fan at Madison Square Garden had several Bruins players chase him up into the stands at the end of this December 1979 game between the Rangers and Bruins.
Eventually, Mike Milbury knocked the fan down, took a shoe off his foot and started beating him with it.
Getting beaten with your own shoe? That's embarrassing.
Note to self for this guy: If you are going to propose to your girlfriend in a very public way in front of 18,000 fans attending a hockey game and many more watching on TV, make sure she's going to say yes first.
Look what happened when this guy popped the question...Now that's embarrassing.