USA vs. Nigeria: Live Score, Stats & Recap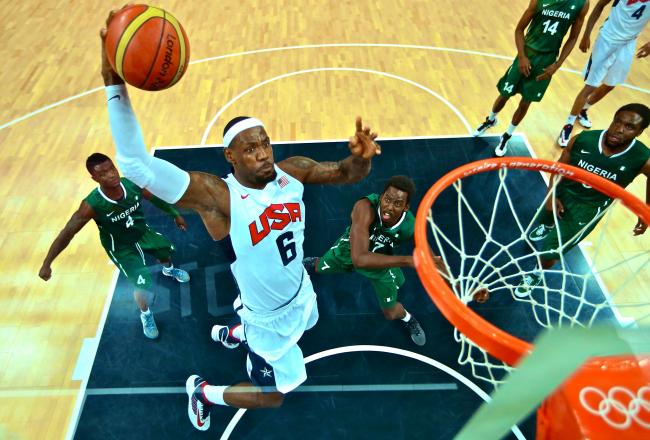 Team USA faces off against Team Nigeria in the third Group A matchup in the 2012 Olympics. Team USA is coming off a dominant win over Tunisia while Nigeria is looking to stay alive with an improbable win over the Americans. Stay tuned for updates and a live recap of the U.S. quest for gold.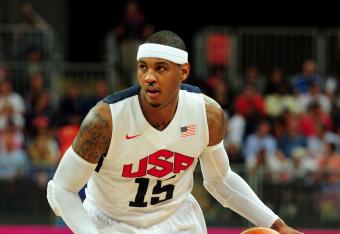 Alright folks, I'll go ahead and wrap this one up giving some well-deserved love to Carmelo Anthony.
He's gotten a lot of hate lobbed his way over the past few months, but he just scored 37 points in 14 minutes on 13 of 16 shooting. Over the past two games he has scored 56 points on 19 of 22 shooting in just 26 minutes.
Be afraid, rest of the word, be very afraid.
Final Score: USA 156, Nigeria 73
Well, I wish I could say that it was an gutsy, hard-fought performance by Nigeria, but even I can't rationalize an 83 point loss.
I'll go ahead and leave this gif of Tony Skinn breaking James Harden's ankles as my last thought on them for the night.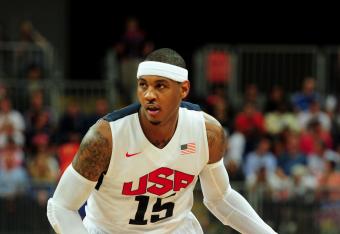 Okay, let's see how many of these I can squeeze in here.
Team USA scored the most points by a team in Olympic History with 156, the most three-pointers in Olympic history with 29. Carmelo Anthony scored the most points in USA Olympic history with 37 points. It was the largest margin of victory by any USA team, winning by 83 points and they tied the Olympic record for most assists in a game by a team with 41. I'm sure there has to be a few that I missed.
Needless to say, Team USA just went all Michael Phelps on Nigeria.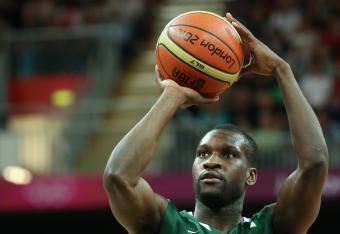 Chamberlain Oguchi puts in a lay-up with a drive to the lane, but Anthony Davis gets fouled on his streak to the lane, sinking one of two free throws missing the second one which finds the bottom of the net after a Kevin Love tip-in.
USA 156, Nigeria 73. Final Score. No Joke.
Kevin Love puts in two threes in a row, putting the US at 29 of 45 from three. They're up by 82 points. Seriously, that's not a joke.
USA 153, Nigeria 71 with 0:45 remaining.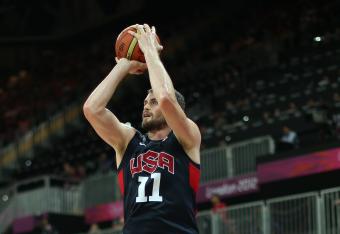 James Harden misses a three but Kevin Love gobbles down a rebound and puts it back in, inching the US ever closer to 150 points.
USA 147, Nigeria 68 with 2:12 remaining.
Iguodala puts in a three to give Team USA the most points in a single game in Olympic history for any nation. Doug Collins is a proud coach.
James Harden puts in a three of his own on one possession and Deron Williams does the same on the next.
USA 145, Nigeria 68 with 3:08 remaining.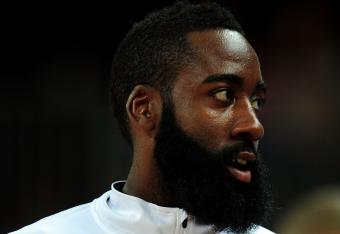 Two missed shots in a row for the US, that may very well be their longest streak of the day.
An errant pass from Nigeria leads to a fast break and an alley-oop to James Harden on the other end as the US is within two points of the record.
USA 136, Nigeria 68 with 4:40 remaining.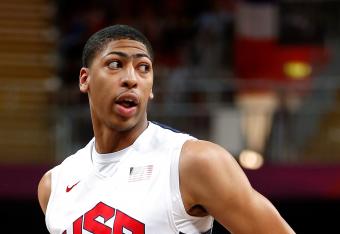 A dish to Anthony Davis in the post leads to a rim-rattling jam to bring Team USA within six points of the all-time record.
Ike Diogu floats a shot in over Davis who gets him back with another dunk.
USA 134, Nigeria 66 with 5:41 remaining.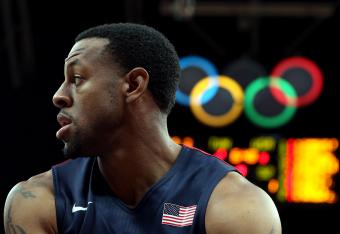 Another three from Iguodala gives Team USA the highest scoring game in USA Olympic history, just eight points away from the highest scoring game in Olympic history.
USA 130, Nigeria 64 with 6:12 remaining.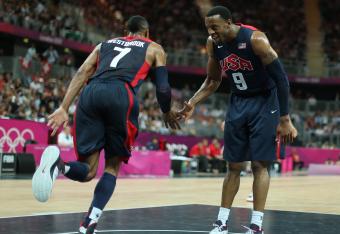 Anthony Davis puts down a jumper for his second bucket of the day as Ike Diogu matches him on the other end.
Andre Iguodala gets in on the action on offense, draining a three of his own.
USA 127, Nigeria 64 with 7:25 remaining.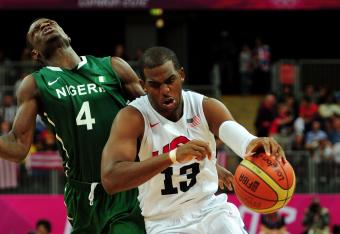 Chris Paul lines up and opens up the scoring with a three from the corner as Nigeria stands around on defense.
USA 122, Nigeria 62 with 8:27 remaining.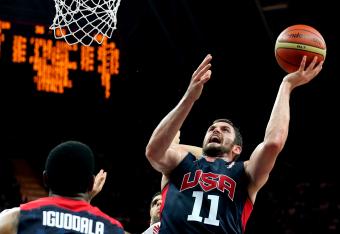 Kevin Love might have just been the first USA player to pass up an open three as he drives in and puts in a hanging hook.
Westbrook gets the ball with time winding down, lobs it to Kevin Love who then lobs it back to Westbrook for a huge slam to end the quarter.
USA 119, Nigeria 62 after the third quarter.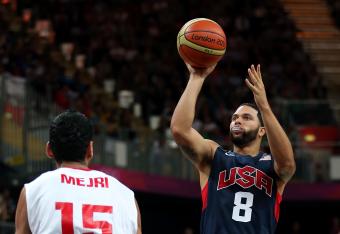 Deron Williams puts in a fast break lay-up as Chamberlain Oguchi matches him on the other end.
Russell Westbrook gets back to the line and puts in two free throws.
USA 115, Nigeria 62 with 0:50 left in the third.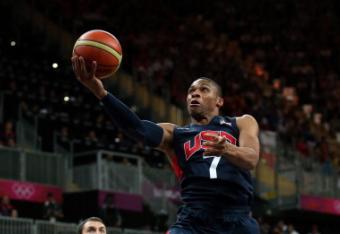 A Russell Westbrook three gives the US another three points and Ike Diogu drives into the lane for an easy two.
Westbrook takes another three and draws the foul, making two of three free throws.
He misses the final free throw, gets the ball back on the three point line and puts that down too. That's a five point possession right there.
USA 111, Nigeria 60 with 2:46 left in the second.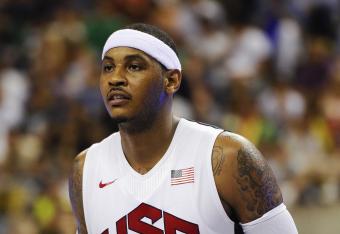 Seriously though, how is Carmelo Anthony still getting open looks. He just hit his 10th three pointer of the game, putting him up to 37 points on the game.
They finally take Carmelo out and put Chandler back in, but the damage is done.
USA 102, Nigeria 56 with 4:15 left in the third.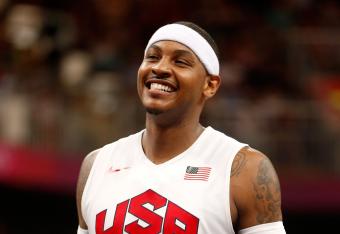 Carmelo Anthony is playing like a robot. Somebody seriously needs to check and see if he's not a terminator sent from the future to annihilate the basketball world.
With two more threes Carmelo has passed Stephon Marbury with the highest scoring game in US Olympic history with 34, three ahead of Marbury's 31.
He's only 21 behind Oscar Schmidt for the all-time Olympic record.
USA 97, Nigeria 54 with 5:16 left in the third.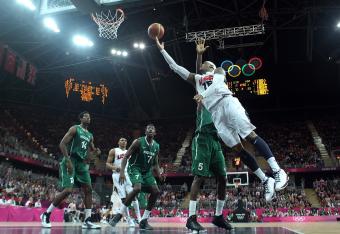 Carmelo Anthony drops down another three for the US, followed by a drive to the lane by Ike Diogu and, you guessed it, another three from Carmelo Anthony.
USA 91, Nigeria 54 with 6:15 left in the third.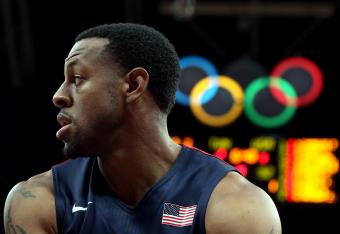 Derrick Obasohan drains a three for Nigeria, but Carmelo Anthony comes back to the other end and gets into the lane for an easy bucket.
Carmelo leaks out again after a missed shot from Nigeria and gets fouled on the transition, making one of two shots.
An offensive rebound from Andre Iguodala leads to a lay-in from Chris Paul.
USA 85, Nigeria 50 with 7:40 left to play.
Third quarter starts with an alley-oop from Carmelo Anthony to Anthony Davis. I'm putting the over/under at 5.5 for number of alley-oops thrown to Davis this half and betting the over.
USA 80, Nigeria 45 with 9:25 left to play.
The record for the most points in an Olympic game is 138 points by Brazil, the US is on pace for 156 points at halftime.
They probably won't end up with 156, but that 138 is definitely in trouble.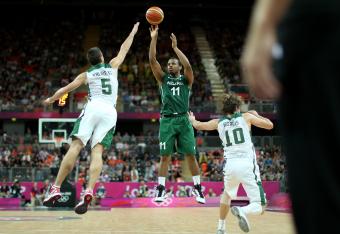 A slick little juke and jive from Tony Skinn shakes his defender, he steps back and drains a three for Nigeria.
Al-Farouq Aminu tries to get an alley-oop up to Alade Aminu, but Carmelo Anthony gets in the way just enough to make them look foolish as they fumble the ball out of bounds.
USA 78, Nigeria 45 after the second quarter.
This article is
What is the duplicate article?
Why is this article offensive?
Where is this article plagiarized from?
Why is this article poorly edited?