Brock Lesnar vs Triple H: Stipulations That Would Enhance Huge SummerSlam Match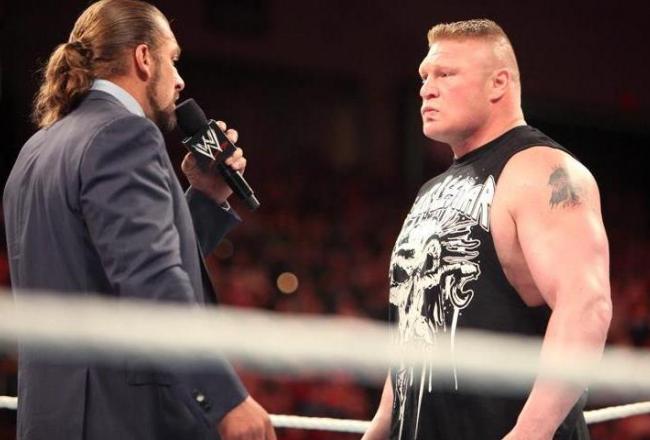 Photo courtesy of WWE.com

It would be fair to say that the buildup for Brock Lesnar vs. Triple H at SummerSlam hasn't been the greatest thus far, but with the event just a couple weeks away, that should soon change. Seeing as they are both legends in the wrestling business, the match will be fantastic, but some stipulations could make it even better.
Lesnar has appeared infrequently on television since his contract contains limited dates, but I would expect him to show up over the next couple weeks and that should lead to some stipulations being handed down. There are tons of possibilities and many ways to add some intrigue to an already exciting match.
Here are three possible stipulations that would make one of SummerSlam's main attractions even better.
Brock Lesnar Receives Big Contract
As the storyline goes, Lesnar and Triple H began their feud after Triple H voided a contract given to Lesnar by John Laurinaitis. The contract included many perks and Lesnar bullied Laurinaitis into offering it. Lesnar technically isn't a member of the WWE roster right now since he quit afterward, so Lesnar is just a guy off the street wrestling Triple H at SummerSlam.
In order to explain him remaining with the WWE after this match, a stipulation could be enacted that states he gets the contract that was previously voided if he beats Triple H. I don't believe there is any doubt that Lesnar will win since he already had to put John Cena over, so that means that Lesnar will make infrequent appearances before starting a WrestleMania program with someone like The Undertaker.
Lesnar and Heyman Drop Lawsuits Against WWE
As previously stated, I would be surprised if Triple H beat Lesnar, but there has to be some sort of stipulation added that would work in his favor as well. The only thing that would make sense is Lesnar and Paul Heyman dropping their lawsuits against Triple H and the WWE. They filed separate lawsuits for breach of contract and for assault, as Triple H attacked Heyman on a couple occasions.
All of this is kayfabe, of course, but if we're supposed to believe that it's real, then Triple H would certainly want to get those lawsuits out of the way. It wouldn't really mean much from a storyline perspective, but Lesnar losing would pretty much leave him out of the picture. He technically wouldn't have a contract and wouldn't have any suits against the WWE, so that would be a way to write him off for a while if the company chooses to go that route, but I doubt it.
John Laurinaitis Reinstated as Raw GM

Which stipulation would you most like to see?
While Laurinaitis has been out of the picture for a couple months, he continues to wrestle at house shows and there was recently a kayfabe report that he stepped down as vice president of talent relations. He hasn't actually had that job for quite some time, though, so that leads me to believe that there are plans for Big Johnny. If the WWE was done with him as an on-screen character, then he would have faded off into the sunset by now.
Laurinaitis is the one who gave Lesnar the big contract, so I can see a possible stipulation being that Lesnar gets to pick a new Raw general manager if he wins. That would then prompt him to select Laurinaitis, who would go back to favoring Lesnar. Also, I have a feeling that CM Punk and Big Show will end up working together with Laurinaitis pulling the strings, and that could lead to a dominant stable including Laurinaitis, Punk, Big Show and Lesnar with Heyman as the mouthpiece.
Follow @MikeChiari on Twitter and listen to him on Ring Rust Radio.
This article is
What is the duplicate article?
Why is this article offensive?
Where is this article plagiarized from?
Why is this article poorly edited?